Years ago I was lucky enough to have a co-worker who loved to run. Most days you would find the two of us running three to six mile routes around our complex at lunch time. It was 27 degrees, we wore beanies and gloves. It was 94 degrees, we ditched the beanies and gloves and just tried not to faint. Then she moved away and I stopped running as much. Okay I stopped running almost altogether. It's been 4 years. A couple of times a year I road trip to where she lives now to run in an event with her for old times sake in an attempt to maintain our Sisterhood of the Traveling Running Shoes. All that leads to a conclusion that exploded in my mind about mile 9 of the Full mOOn 25K trail run: running with a partner can be an important weapon in your arsenal.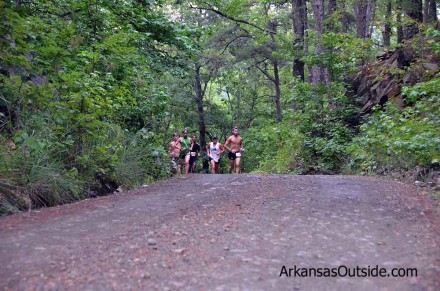 The Full mOOn 25K/50K Trail Run started a few years ago as part of a birthday celebration for the run organizer's spouse. The current race director continues the tradition by celebrating the birthday of her Mom. Both ladies were on hand for this year's race, inspiring a rousing rendition of the Happy Birthday To You song at the start line and an admonition to say Happy Birthday at the aid station where the other birthday girl was handing out drinks, fruit and much needed sugar boosts. By talking to friends who have done this run in previous years, we discovered it has a reputation of being a party atmosphere with many runners choosing to stick around and camp after the race. This makes perfect sense as the race doesn't begin until 8:00 p.m. and runners are expected to continue arriving at the finish well into the wee hours of the morning.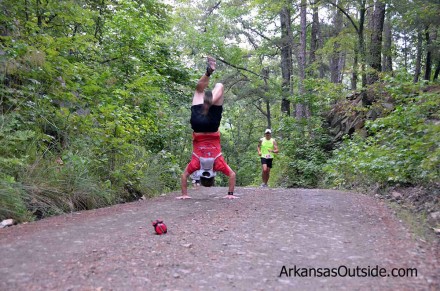 Some of what leads to the party atmosphere is the camaraderie in this group of runners, many of whom run together for weekly training runs, see each other at races all through the race season and many have known each other for years. Some are working to bring new sheep into the fold by running with beginning runners or sometimes going back after they've finished to run others in, encouraging them to finish strong. These types of races are attractive to a broad range of runners to include those who mostly walk or speed hike. At the finish line feed trough I spoke briefly with two women who were part of a larger group who had rented a bus to travel from Baton Rouge to compete. There were folks from Texas too so we know that people are willing to travel to join in the fun. I've been encouraged to participate by Arkansas Outside contributors Jen Freilino and Nicholas Norfolk and our friend Erik. It's a party with all your friends but your house doesn't get messed up and you can be fairly certain that you've burned enough calories to not feel guilty about that Chili Cheese Pie you're going to eat afterward like a certain well known local distance runner we saw enjoying the post race food.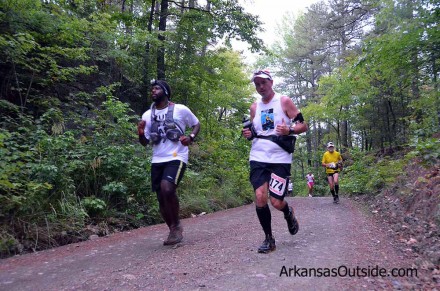 This was my first foray into organized distance trail running. While trail running /speed hiking is one of my favorite workouts, until a few months ago I hadn't considered jumping in to try the 15-50K runs that are part of the sanctioned ultra runs. The Arkansas Ultra Running Association promotes distance trail running around the state and the races included in the Ultra Trail Series runs. With 200+ people expected to participate in the Full mOOn Run, I was confident that I would not be alone in my "first" experience. Coming back to my revelation at mile 9, for the first 7.5 miles I had the joyful company of Ravan who was also out for her first ultra trail run. I was wearing a pack with my iPhone in the back pocket. I am terrible about using any type of time or pace-keeping paraphernalia. I was thankful that Ravan had her device set to let us know each mile that passed and what kind of time we were making. We were cruising along the gravel roads at just over 10 minute miles, keeping an easy conversational pace and enjoying the sunset. I was feeling so good at the 7.5 mile turnaround/aid stop that I asked if she minded if I was quick about getting back to it because I wasn't sure how long it would be before I started losing it. I was sure that she would be catching up to me as I knew the loose gravel and banked roads were wreaking havoc on my knees. It didn't take long before I realized that time seemed to be passing much more slowly and I missed the company of a partner. While running in the dark with nothing but the occasional bobbing of another headlamp up in front of me, my thoughts turned to how much I miss running with a partner and how that has probably impacted my lack of training. Many of the participants were running in couples or small groups but there were still a lot of solitary runners. I suppose it is a personal preference, especially when it comes down to racing for time.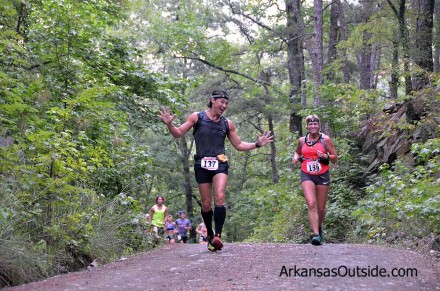 According to my RunKeeper, the route was almost a perfect 15 miles, as advertised, with 2,090 feet of elevation change. The route took the road from the Lake Sylvia day use area south on fairly smooth asphalt for a mile or so before becoming a bit rougher with more gravel.  The route took us to FR 132 turning west into the setting sun and a very long gradual uphill climb of loose gravel. Luckily the recents rains kept the dirt roads from being too dusty. Those of us who ride our mountain bikes on these roads recognize this section of road as either the saweeeeet coasting end to the ride, or the warm up hill depending on our choice of loop direction. At close to the 7 mile mark the route turns south again onto FR 135 and up the steepest and longest hill of the 25K route. At the top of that seemingly endless calf burning march was an aid station stocked with the best of energy boosters: salty snacks, sugary goodies, and lots of liquid replenishment to choose from. At this point the 25K runners would turn and head back. I can't speak to the rest of the route for the 50K, but from biking experience it is much of the same rolling hills with limited flat sections.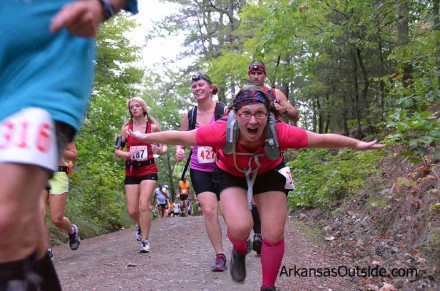 The next AURA  run is at Mt. Nebo State Park. It's a 14+ mile run classified as a "fun run". I have to give a plug for Mt. Nebo, we've done a couple of stories about hiking trails in the park and a shorter trail run. It's a beautiful, magical place. If you're doing the run, I highly recommend planning to spend extra time there to enjoy the trails at a slower pace. The CCC work in the park is incredible. The cabins are first rate and the sunrises and sunsets are phenomenal from atop the mountain. Cabin 61 is a personal favorite, but it stays booked most of the year so reserve early!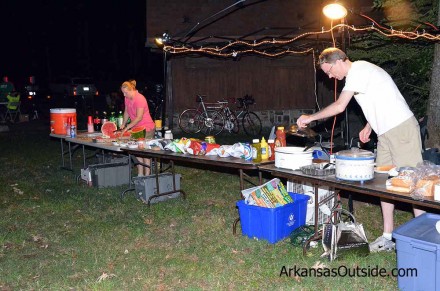 Thanks to Race Director Queen and Supreme Commander Susy Phillips and her team of incredible volunteers for a great race! The fading light led to some photography difficulties but we got a few so check our Flickr page to find yourself.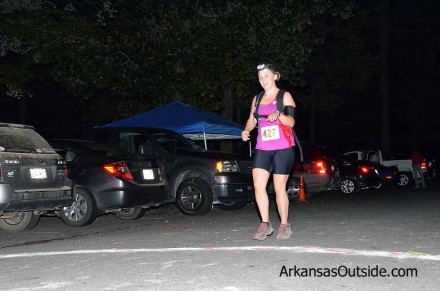 [smugmug url="http://arkansasoutside.smugmug.com/hack/feed.mg?Type=gallery&Data=24421881_5PZM8w&format=rss200″ title="Full%20Moon%20Photos" imagecount="1″ start="1″ num="100″ thumbsize="Th" link="smugmug" captions="false" sort="true" window="true" smugmug="true" size="XL"]
(We apologize that there are not as many photos as usual and some are not as sharp as usual. The light dropped quickly.)