(From Media Release)
Climb Bentonville opening Fall 2018
Bentonville AR – Climb Bentonville, a branch of Climb Nashville, will open Fall of 2018. Climb Nashville is one of the Southeast's premiere climbing facilities, and this is the company's first location outside of Middle Tennessee. Climb Bentonville is a joint venture with local businessman Dennis Nelms.
After 14 years in business, Climb Nashville owners Drew Sloss and Lance Brock have partnered with Nelms to open their newest indoor rock climbing facility and Bentonville's first climbing facility. Climb Bentonville will open in Fall 2018 in a new 22,000-square-foot build at Highway 102 and SW I Street in Bentonville.
The new facility will boast more than 16,000 square feet of climbing terrain and will feature walls measuring as high as 45 feet vertically, built by industry leader Walltopia. The building's two-story interior will include a workout room, yoga/fitness class space, restrooms, locker area, retail store, and kids' climbing area. There will also be a party room for birthday parties and private events.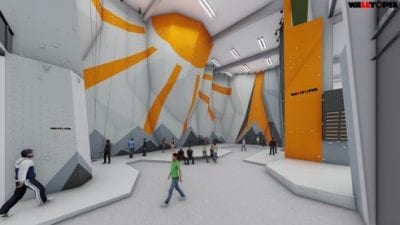 Active Community
"We're excited to be opening a new climbing space in such an enthusiastically active community. While we looked at multiple sites, we're happy to have landed in Bentonville, adjacent to Osage Prairie Park, and at such a visible intersection," Brock said. After visiting Northwest Arkansas with Nelms in late 2015, Sloss and Brock agreed that Northwest Arkansas would be a great next place to share their love of climbing. "My wife is from Arkansas and so there is a natural connection for us personally," Sloss said. "There is already a great outdoor community, and with such easy access to outdoor sports like climbing, biking, and hiking, it seemed like a great fit."
Dennis Nelms, a long-time resident of Northwest Arkansas, began a passion for climbing here in the Ozarks. Now, almost three decades later, he sees this balance of passion and business coming together in Climb Bentonville.
Social Activity
"Climbing is a great way to stay in shape, increase flexibility and build strength. It's also a very social activity; I met my wife climbing! After meeting with the Climb Nashville Team, I knew this was a natural fit for me and for Northwest Arkansas," Nelms said.
The design-build team for Climb Bentonville includes local architects Audy Lack, Matt Hoffman, and Shay Hawkins of Miller, Boskus, Lack Architects, PA; Scott Archer, Jeremy Calloway, and Rob May of HSA Consultants; Heath Rheay and Mark Dillard of Kinco Construction; and Brahm Driver and Alison Jumper with Ecological Design Group.
Memberships
Memberships to the facility will include access to indoor climbing and all gym amenities, such as training equipment and group fitness classes. Day passes will also be available. Gym staff will include personal trainers for one-on-one and small group coaching. Special programs such as youth camps, after-school programs, personal climbing instruction, and outdoor guiding will be available. Private events, such as corporate team-building and kids' birthday parties will be among the gym's unique offerings.
Climb Bentonville. Where fitness meets adventure.
Climb Bentonville Virtual Walk Through from Ghidotti Communications on Vimeo.