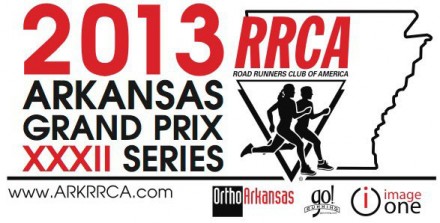 I had the pleasure of interviewing Arkansas RRCA State Representative David Meroney after a Little Rock Roadrunners (LRRC) Meeting.   We tried to ignore the background noises of Flying Saucer.  If you haven't read his latest blog post about kicking off the new Grand Prix season, you're missing out on good information.
[Nicholas] Tell me a little about yourself. 
[David] I'm a mid-pack runner.  I enjoy the competition, but I have limited abilities.  What got me into where I am now is running all of the races and getting to know all of the different races around the state in the Grand Prix.  The previous State Rep said, "you seem like a good person to take over my role."  I've been doing it for one full year and just starting my second year.  It's going to be the 32nd running of the Grand Prix.
[Nicholas] Was your first year what you expected? 
[David] It's what I expected.  There are times when it's nearly a full time job.  Maybe in a week I might be doing 20-30 hours of work for the Grand Prix, but it's fun.  I really enjoy travelling the state.  I feel it's a duty to visit the clubs around the state.  One, to reach out to the clubs to make them feel appreciated.  But also to get to know them and find out what they need.  For me that's been a huge enjoyment.  I see it as a perk of my job.
[Nicholas] What are you the most excited about for this upcoming Grand Prix season?
[David] I see perhaps a change in the landscape in the competitive side of the Grand Prix.  The things that make the Grand Prix, distributive races across the state, people getting together, and it being a social event, will remain the same.  It seems like in some ways the LRRC team may not be as dominant this year because some of the runners may represent different clubs.  I see that as a positive and a negative.  As a Little Rock Roadrunner, the home team may not do as well.  But as a positive, it's a chance for other teams to shine and not have one team that is always so dominant.
[Nicholas] Out of the twenty races, which one are you looking forward to the most and why?
[David] I enjoy all the races in different ways.  I'm looking forward to Run the Line Half Marathon.  I like that race a lot.  It'll be the third time we're doing the Arkansas-Texas Challenge.  So far, Arkansas has won the first two.  That's due in large part because Texas runners don't care about it as much as the Arkansas runners.  But, that's okay.  We'll kick their butts happily.  I'm also looking forward to pacing my wife at that race.
[Nicholas] Since, the Hogeye Marathon is back in the series as a marathon that means the relay is out for team only points.  Do you think we'll see a return for a team only event in the future? 
[David] Knowing the history of the team relay, it was kind of a compromise event to get the Hogeye involved.  That impetus may not exist for other races.  But, a lot of people did enjoy the team aspect of Hogeye.  It may be the case that we'd rotate, unless another race stepped up, in between Hogeye and Midsouth for the marathon.  There is nothing predetermined as this is a yearly decision.  Each year races have to bid to be part of the Grand Prix.  Things could change.  If a race wanted to put together a team relay for an entirely different event, we'd certainly welcome the bid.
[Nicholas] It's my understanding that the in addition to the Go! Mile being a State Championship race, it's also a Regional Championship race.  For those that are unaware, what does that mean and how can it benefit the Grand Prix? 
[David]  We did do a shift in the state championship races.  Go! Running wanted to have a State Championship designation for the Go! Mile.  We took the Rock Run 8k off championship status.  I also encouraged them to put in a bid for a Regional Championship.  Out of the entire Southern Region (11 states), there is one one-mile race that's a Regional Championship and it's the Go! Mile.  I'm a little dubious.  I can't imagine people travelling from Kentucky to Arkansas to run a one-mile race, but there may be someone that will do it.  It's the first Regional Championship race we've had in a while, if we've ever had one.  It's not because we haven't had good races.  It's because we haven't actively bid for them.  In terms of the Grand Prix, I hope having a Regional Championship will encourage other races to bid in the future.
[Nicholas] Last year the Western Arkansas Runners (W.A.R.) came on strong and had two members have Iron Seasons.  Which club will have a breakout year this time? 
[David] Right now we are at three hundred registrations, which is not at the same level we were last year.  I think Arkansas Ultra Running Association (AURA) will show a lot more this year than in the past.  In terms of enthusiasm, W.A.R. is still a very enthusiastic club.  I see so much grass level interest in the Grand Prix and not just their president, who has been amazing, but in other runners that have participated in it getting others to sign up and get exposed to what the Grand Prix is.
[Nicholas] What are your goals for the Grand Prix season this year? 
[David] Having more runners is not a goal.  I want more people to be exposed to the Grand Prix and to get involved because they would enjoy it.  My hope would be to expand the reach of the Grand Prix.  Every month I run into people who may have heard of it, but think it's not for them.  They think it's a race only for elites.  There's definitely a lot of hesitation.  Anyone who is a runner that enjoys competition and the social aspect of running would enjoy the Grand Prix.  You could show up to a race, run it, and leave and never say a word to anybody except for the people at the registration table.  It's different when you can say, "Hello" to somebody that you saw out on the course and get to know him or her.  I think that is something that so many people would want and all the other runners out there would welcome.
[Nicholas] Each season there are runners attempting to do every race.  I like to call it a pulling a "Joe Milligan."  Last year there were eight and the previous year there was the highest number ever with seventeen, which we were part of that group.  Throwing a number out there what is your guess for this year? 
[David] I'm going to say eleven.
The Grand Prix season brings with it promise, ambition, and fun.  This year the party starts in Danville with the One Hour Track Run.  I hope they are ready for this group of runners.  In regard to the competitive landscape changing, the Little Rock Roadrunners, Evil Empire to some, have amassed thirteen male and eighteen female titles since the team competition commenced in 1989.  Both teams are streaking with the males at five and females at seven.  AURA Dirty Girls were second last year, but if the runners on their roster make it to races and perform as they have in previous years, it would not be a surprise to see them capture their first title.
LRRC isn't the only club streaking.  Saline County Striders' male team has scored in every race for the last three years.  Eugene Atha, Cabot Country Cruisers, has been an IronMan for the last four seasons.  Joe "IronMan" Milligan, Arkansas Running Klub, has done it for the last eight seasons.  Will anyone's streak end this year?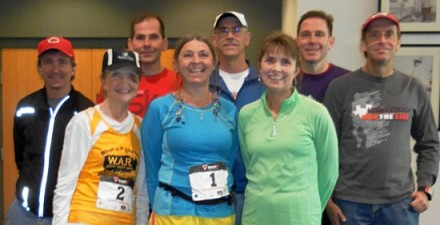 The WARriors have declared war on the Grand Prix.  They currently have the most runners of any club signed up with 46.  The club's first year in the Grand Prix (2011), neither team scored in more than two events.  Last year the male team placed ninth and the female team placed fifth and scored in every race.   Jeremy Maxwell, W.A.R. President, was Outstanding Club President last year.  This club is on the rise.
Here is to a great season for all of the 32nd Annual Grand Prix Series participants.
When I'm not running, volunteering, or writing, you can usually find me lurking on Twitter @absolut_zer0 or blogging at ICEdot Athletes.