Colorado is a beautiful State, combining both plains and mountains, amazing rivers, trails galore, and an outdoor spirit….but the same can be said for Arkansas.  In fact, the Arkansas River begins in the Salida valley of Colorado and then works its way to the great State of its name sake.  While standing on the small concrete bridge straddling the 20 yard wide Arkansas River in downtown Salida, Colorado. I have wondered how long it takes for the water passing underneath to reach the Big Dam Bridge in central Arkansas (post your answer in the comments below please).   While Colorado has the amazing Royal Gorge bridge, Arkansas has the Big Dam Bridge, Clinton Bridge, and Two Rivers Bridge (link) all dedicated to pedestrian and bicycle traffic.  Did I mention all the Arkansas bridges have awesome LED colored lighting too?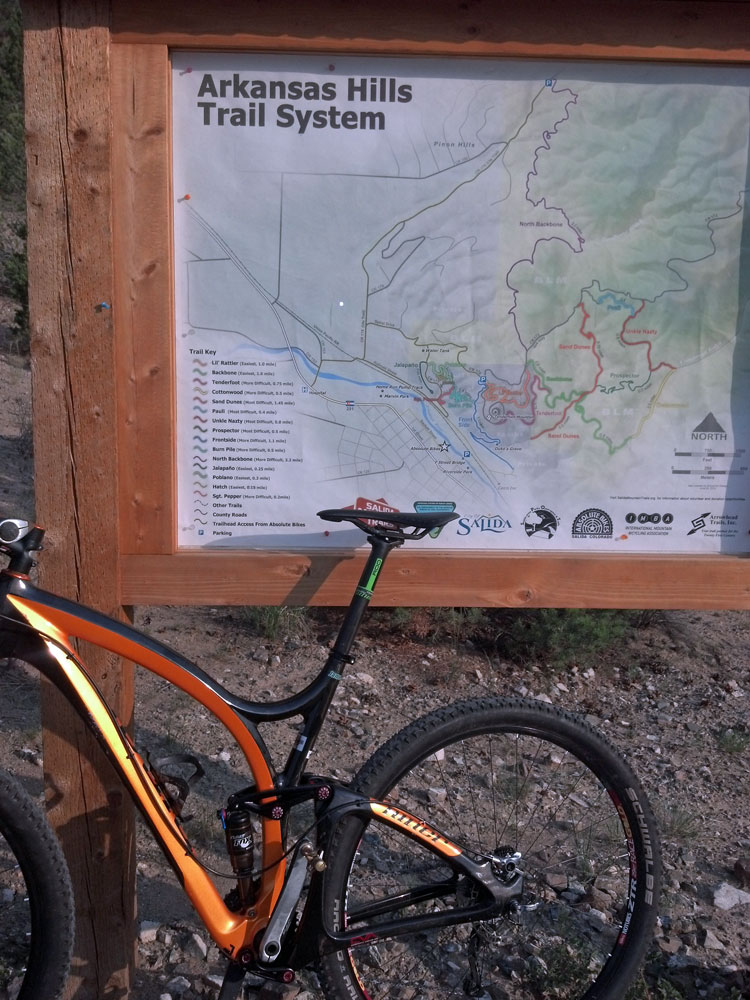 For us folks who read Arkansas Outside, we care about being outside and going and doing outside related activities and not necessarily about counting bridges and colored lights.  Can I get an "ARKANSAS OUTSIDE!"  But you may say "James, you are moving to Colorado and abandoning Arkansas, trying to leave all this behind so aren't you biased and just making a point that we should all move to Colorado?"
Let's examine the facts.  I am currently training for the Leadman right here in good ole' Arkansas for one simple reason.  Arkansas is the best place to be to enjoy outside activities for a majority of the year.  As an example, I rode in the awesomely difficult Ouachita Challenge mountain bike race a few weeks ago.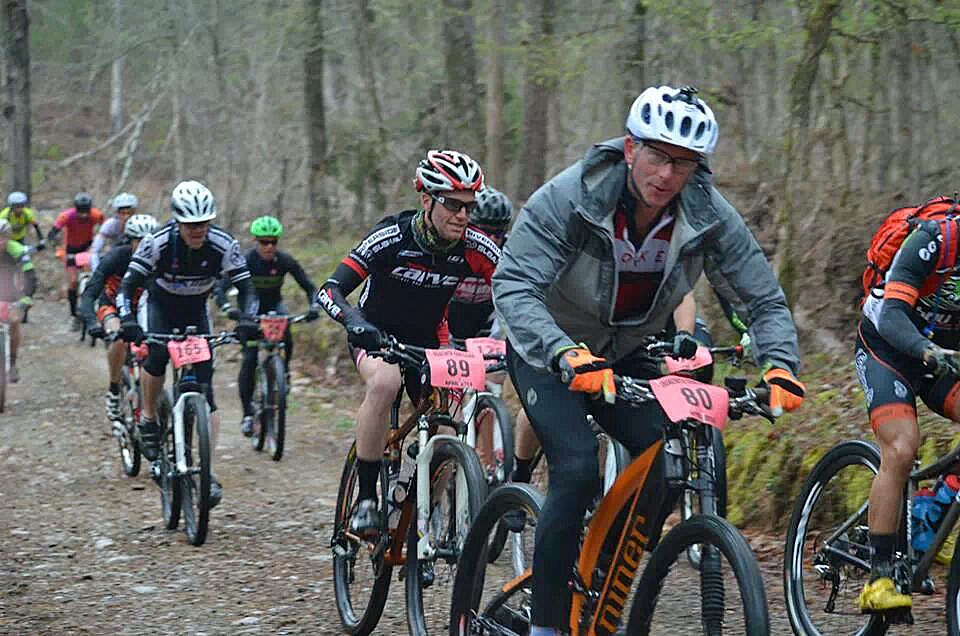 The OC race covered 60 miles of amazing single track, including the Womble which is an IMBA "Epic" trail, with 6000+ feet of vertical climbing.  Could I of done that in Leadville on the same day….uhhhh, no sir.  Leadville has a pile of snow on the ground and the trails are closed, opening TBD.  Arkansas has many incredible trails and training areas within its borders.  Just take a look at the venues for the Arkansas Mountain Bike Championship Series and you will see 10+ great trails, and please don't forget the amazing Syllamo MTB and running trails, also an IMBA Epic trail, with 3 Days of Syllamo and the Arkansas Trail Running Series.  That's some incredible MTB riding, running and racing that will keep you busy all year long!
"MTB training" versus "MTB fun riding" are two different and distinct activities.  For training you need consistent long sections or loops allowing the opportunity to practice form as well as for working on developing strength and power.  My two favorite places to MTB train for the Leadville 100 were Pfiefer Loop on the NLR side of the Big Dam Bridge bridge (be careful going fast only when pedestrians are not present…like at night with lights is the best time and the most fun) and Northshore loop in Maumelle.  The Northshore loop ridden clockwise (Northshore Place, Northshore Lane, Northshore Drive) provides a safe, wide, low traffic, large loop without stop signs where you can get in some awesomely tiring and long intervals.  Much lactic acid created and sweat excreted on that loop.  But don't forget the popular climbs up Ft. Roots, both the paved and amazing Emerald Park switch-back unpaved sections are fun for road bikers and MTB's respectively.  Chad Cragle dares you to try to take his Strava KOM on the MTB section.  The mother of all training areas in Arkansas, at least for Leadville like events, is Lake Sylvia .  You are guaranteed 1,000 feet of climbing ever hour you spend grinding gravel out to the West of central Arkansas only about 35 minutes, and there are some sections that are super steep.  This space is home of the Slobber Knocker MTB endurance event and the famous Arkansas Traveler 100 mile running event.
Running requires regular training, and in prep for Leadville I am learning to use trekking poles .  These special light weight poles help the hiker or runner ascend and descend steeper terrain more effectively and quickly, using arm muscles to push the user up the hill while the poles stabilize your efforts.  Yeah, they are awesome.  But, trekking poles require practice and experience.  One of my running friends did not practice and could not figure out why her poles were dangly and unhelpful until someone showed her how to expand them….always practice with your equipment in situations similar to race/event conditions prior to the real thing.  This helps shake out the bugs and ensures your comfort and confidence.
So, here I am in Arkansas needing to learn to use trekking poles…what to do.  In Colorado could I use them….no, there is a bunch of snow on the ground.  But, how convenient is it that Pinnacle Mountain State Park is so handy and perfect for trekking pole intervals?  Quite convenient!  Trekking pole runs and Pinnacle climbing repeats are excellent practice for learning to climb, descend and run trails with poles.  There is a variety of trails around the mountain from the Ouachita Trail which extends to ….longer than I want to run, and multiple ascents up Pinnacle offering varied degrees of technical terrain to practice on, from easy dirt paths to super big piles of large granite rocks.  The Ouachita Trail 50 is this month too!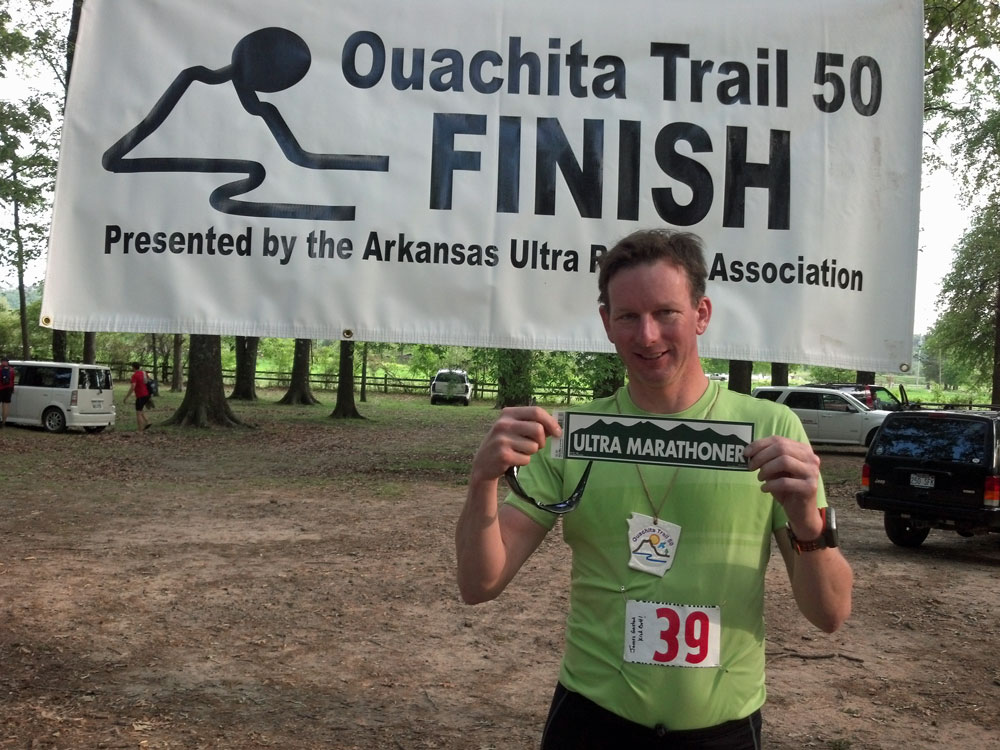 But we all know what really matters….don't *we*.  Yes, *we* do….it's the people, it's *you* the Arkansas Outside readership and all your friends and family.  People make the difference…from AMBCS  to CARP  to a myriad of running clubs.  We are so lucky to be a part of the outside scene in Arkansas….so many beautiful vistas (Vista LOVIT Trail just finished April 11th!), rivers (Buffalo, have to mention the Buffalo), and outdoor opportunities (AO Calendar) mean infinitely more when experienced with friends and family.  That's why Arkansas will always be home and it will be so easy to come back after kicking Leadman's butt.
Good luck out there.
James
Editors note – Check out the entire "Road to Leadman" Series: