My friend Cassandra came by to pick me up on the way to northwest Arkansas for our long awaited girls weekend with Stephanie and Lara. When most people think of a weekend getaway with the girls, the automatic assumption is that it will be a weekend of shopping, good food and maybe a little wine as moms and harried working women escape the stress of their busy lives. Maybe two out of three ain't bad. We weren't planning on shopping, we were on our way to run the War Eagle Tail Twister 25K Trail Run; but, good food and possibly a little wine would probably be in the mix. Running is something we do together often, sometimes weekly, but we rarely spend an entire weekend enjoying each others company. The girls were set to run amok, giving the Old Boys Clubs a run for their money.
We arrived in Bentonville with ten minutes left to pick up our race packets from Rush Running Store before the 5:30 cut-off. We met the other girls at our hotel, checked in and quickly unloaded our luggage so we could head right back out to find sustenance. Thinking we wanted a pasta carb loading night, we chose Tavola Trattoria just off the square in Bentonville. By coincidence, last year on the night before this race, we chose to eat at the the Trattoria's sister restaurant, Table Mesa. Whenever I travel for races, I like to try new restaurants and attempt to experience at least some of the local flavor of the town by sightseeing. We were happy to find that the Trattoria had good options for our vegetarian contingent as well as a great wine and beer list because yes, pre-race beer is still considered carb loading. We enjoyed our meal so much that the time passed quickly and too soon we realized it was time to try to get a good night's sleep before the next morning's adventure. When the alarm sounded at 4:45 a.m., there were groans and grumps, but the girls dragged themselves out of bed, pulled on running gear, filled water bottles, and ate bananas with almond butter toast before loading into the car for the 30 minute drive to Hobbs State Park.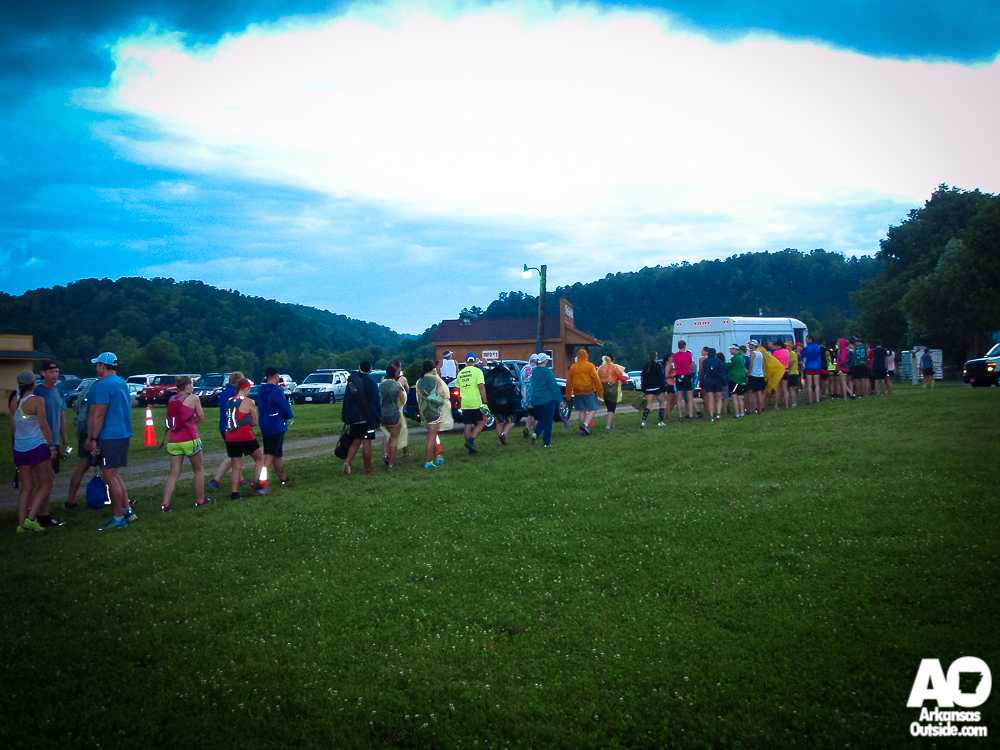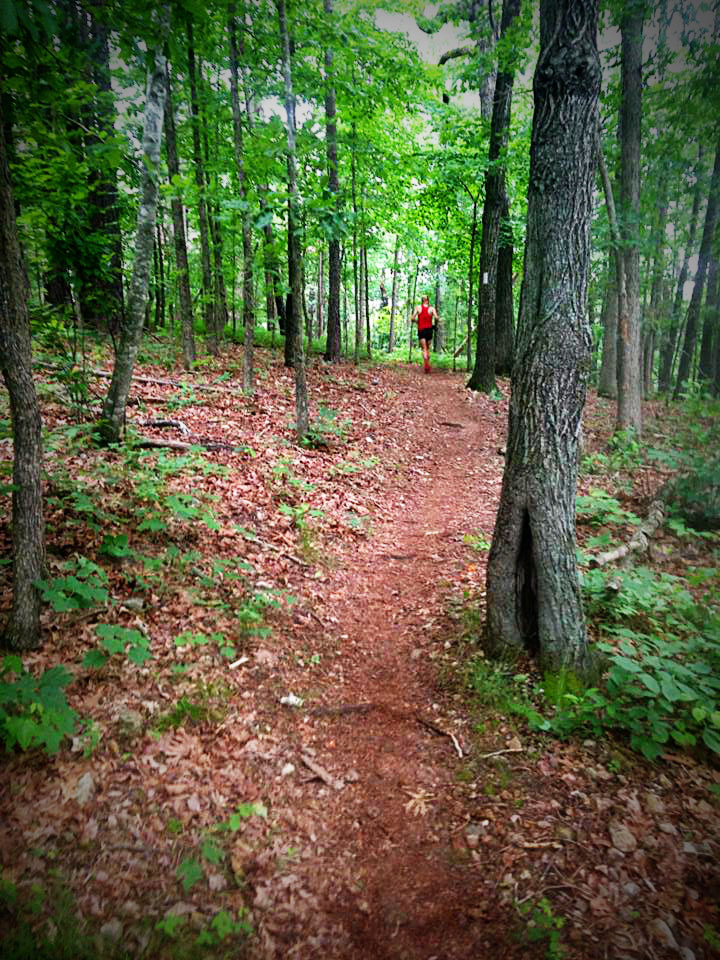 The line waiting for the shuttle from the parking to the start was long. I also noticed there were a lot of women. A lot of women.  This is not necessarily a new trend; but, certainly the past few years have seen an explosion of female participation in outdoor sports. The lines were so long that as race time approached, extra vehicles were conscripted to help in the effort and we caught a ride with 7th place overall 25K finisher Atticus Mulkey. Not only is he a fast runner but also nice guy for helping wet runners get to the starting line a little faster.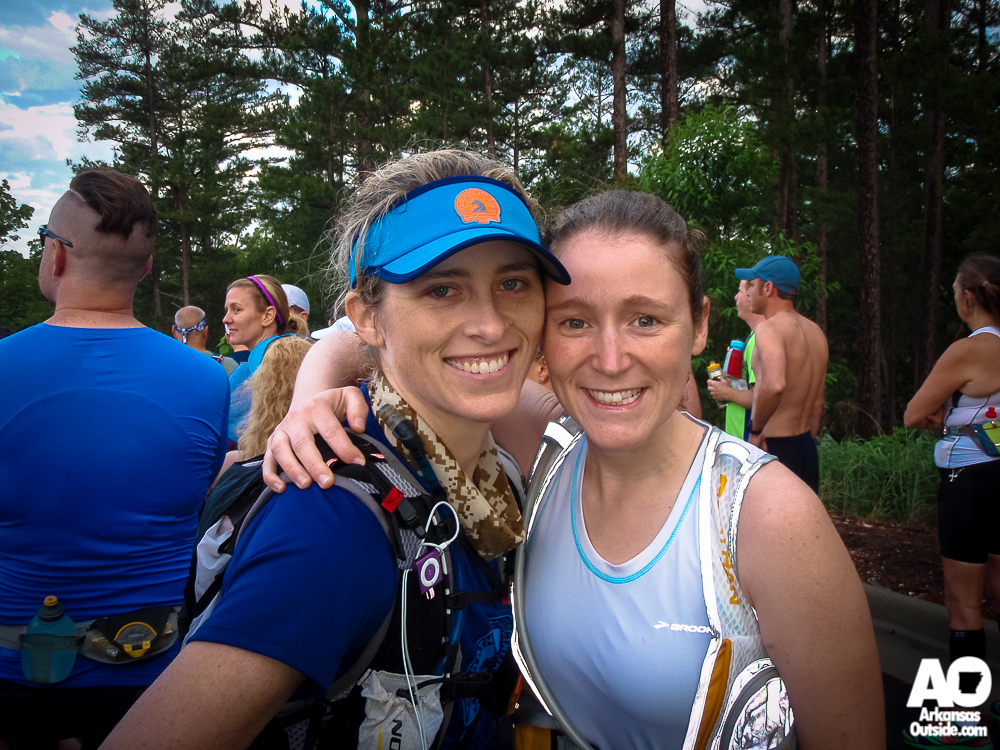 As we were lining up at the start I was surrounded by my female comrades. We laughed, we hugged, we mugged for photos, and when the starter yelled "ready, set, GO!", we went. Along the course I was greeted by friends both male and female, sometimes as I passed them but more often as they passed me with an encouraging word or pat on the back. About 8.5 miles in to the run, I had a hometown run-in when my dental hygienist, Janet,  passed me and slowed to chat for a minute. We would finish less than two minutes apart, with her at the line to cheer for me. I ran a couple of miles with a woman named Sennet, talking about the beauty of the trail system and what a splendid day it was for a run considering the forecast had been for rain. It was a little warm and humid; it could have been worse. The torrential downpours I had mentally prepared myself for never happened. I stopped at the final aid station where I caught up to Janet who was just leaving. I fueled with a quarter of a PB&J, refilled my water and took off again to finish those final miles. Sennet had been behind me but the immediacy of the finish line gave her a boost I just couldn't muster and she passed me with a shout of  "C'mon, you've got this!" and chasing her led me in about 45 seconds behind her. Having so many women on the course is a boon and a blessing as the sisterhood shares the highs and the lows of competition. Of the 231 runners on the 25K course, 113 were women. Watch out boys.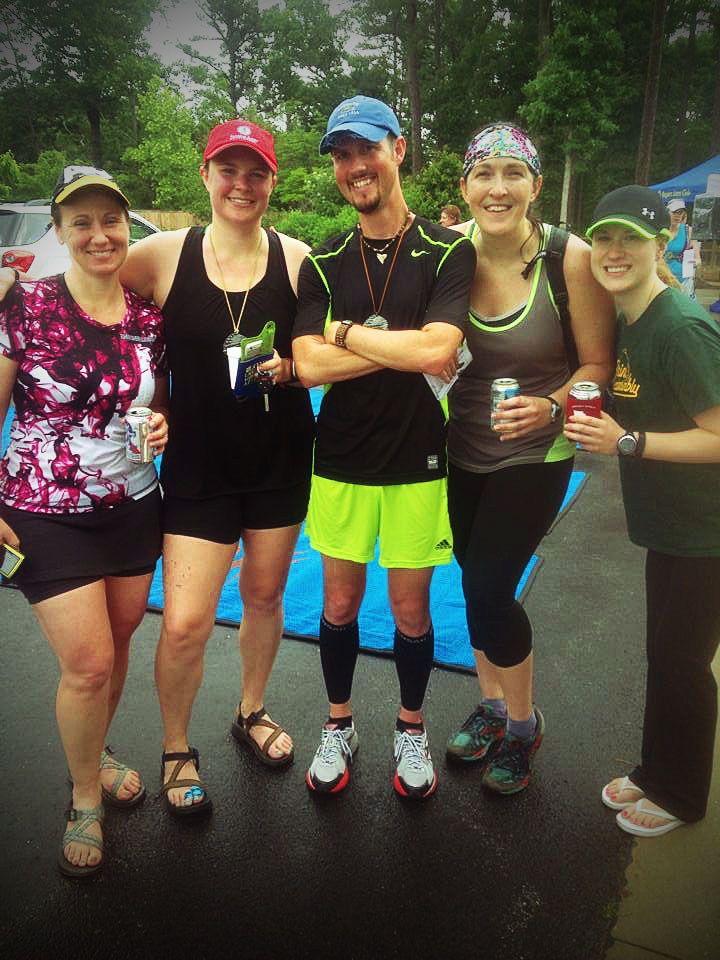 We are family, I got all my sisters with me, We are family, Get up ev'rybody and sing!