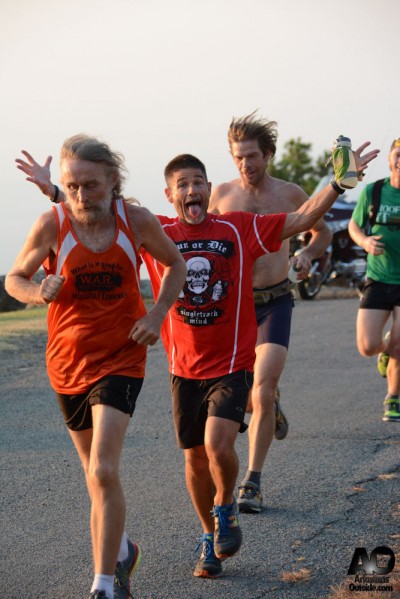 Fun Run, it's a catchphrase used for everything from one mile races for little kids to late night runs for grown ups that may or may not include Jell-O shots. The point is they're supposed to be fun. There are several fun runs out there on race calendars that claim the status of Fun Run, usually meaning that they are low or no entry fee, no timing chip, no frills runs. Depending on your definition of fun, the Mt. Nebo Trail Run fits the bill. This is the second race in the Arkansas Ultra Trail Series which started last month with the Full Moon 50K.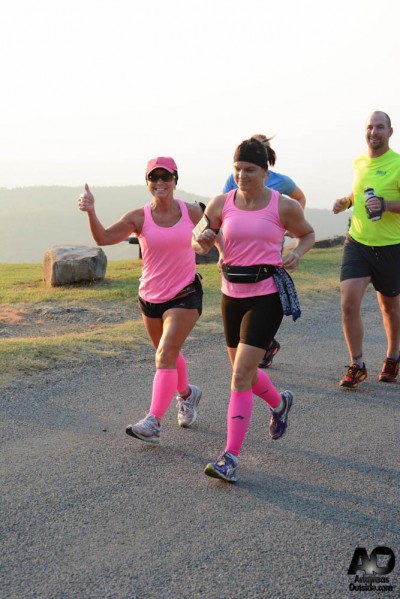 Ninety two brave souls arrived at the top of Mt. Nebo State Park planning to run. Another  20 or so volunteers and family members were there for support. I'd venture to say all of them arrived by motorized transportation even though a sighting of a cyclist cranking up the long drive is not unheard of.  If you have never driven, run, walked or biked the road up to the park, the description includes the words very steep and very curvy. Many locals use it as their workout and many people were out in the early morning hours getting their heart rates up by walking up the road.
At the starting line, as is always true with trail runs, groups mingled, friendly greetings were hollered and trash was talked. Race director Tom Aspel started out by giving directions with the "go that way and follow the flour arrows" approach. The pledge of allegiance was recited in place of the singing of the Star Spangled Banner and the Race  Fun began!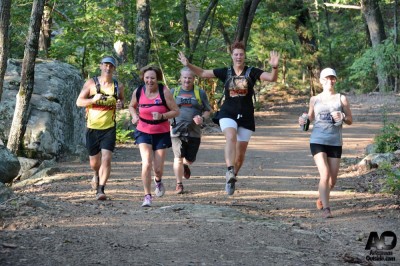 If running down the road, through the woods on dirt and rock trail and occasionally getting a peek at beautiful views for about 10 miles is your idea of fun, this is fun. If your idea of fun is running down the trail, gasping for breath and trying desperately to keep up with a group or to catch that guy in front of you, this is fun. If your idea of fun is tearing down a steep road at full tilt trying to chase that PR you've been working on for the past couple of years, praying that your knees don't wobble on you and you don't end up sliding across the asphalt and getting road rash worse than a cyclist crashing at 25 mph, this is fun. If, when your quads are on fire and your legs are weak, you feel you should turn around and attempt to run/walk back up that hill till your calves cramp and your breakfast is threatening to jump violently out of your body, this is fun. I decided just to lie down in the road for a minute to ease my pain.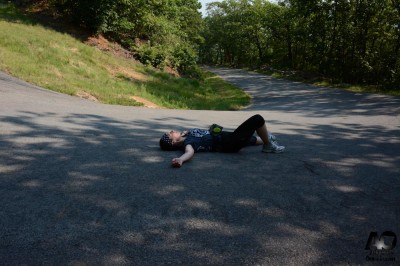 If your idea of fun is hanging out with friends, participating in something you all love to do and swapping stories for an hour or three, this is fun. There's nothing like the little pump you get from seeing a friend out there on an out and back or having someone along to keep your mind off of the pace, the heat, or whatever might be planting negativity in your head. So thanks Josh, for keeping me company for those first few miles. Thanks for all the "hey" and "looking good" and "you're almost there" from my friends and the ones from complete strangers. And thanks to Sam for running me in and for making that last mile more bearable. So when your friends say "It'll be FUN!" you can believe that at least part of it will be.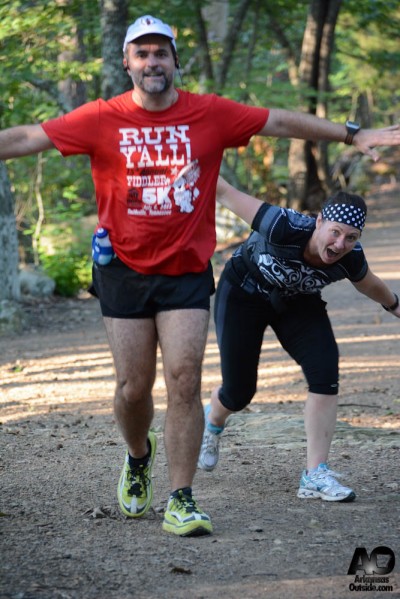 This Fun Run on the Mt Nebo State Park trails was just over 13 miles, my Garmin clocked it at 13.32, with 1871 feet of elevation gain. And to help all those tired legs and lungs after the race, there was cold watermelon, hamburgers, camaraderie and for those that stuck around a little while, a pool party. Thanks Tom Aspel and the River Valley Runners for another great race.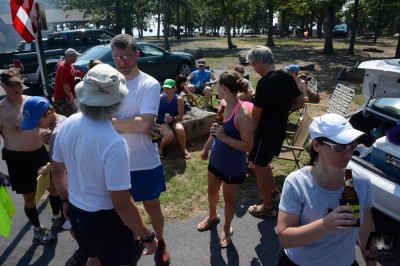 Results are posted
We have a mountain of photos available for free download, tagging and sharing on our Facebook page.
The next race up in the AURA Ultra Trail Series will be across the big river at the Bartlett Park Ultra in Nesbitt Park, Bartlett, TN. The next big one on this side of the state line will be the Arkansas Traveler 100.