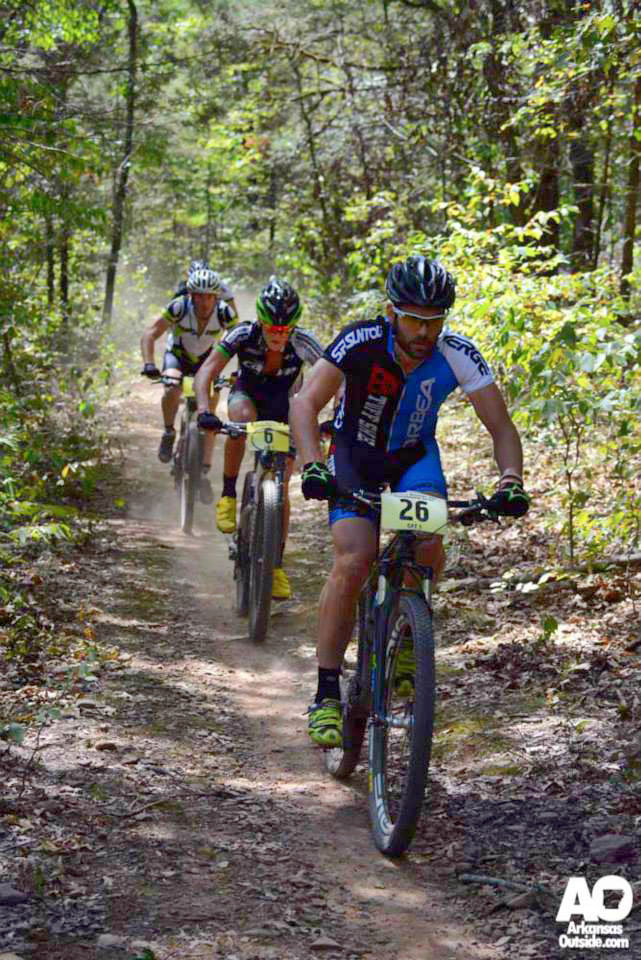 2013 kept the Arkansas Outside crew pretty busy but the truly busy group this past year was the mountain biking community in Arkansas. Here is a short list of mountain bike based projects that got rolling in Arkansas this past year:
The International Mountain Bicycling Association named local mountain biker, Steve Schneider as our local representative. Steve had been very active with the Ozark Off-Road Cyclist group out of Northwest Arkansas and now works directly for IMBA out of an office in Bentonville.
The Buffalo Headwaters Trail System is coming into it's own. Backed by the US Forest Service and the Walton Foundation the Ozark Off-Road Cyclists have enlisted the help of Progressive Trail Design to formalize what we believe will be the next great trail system in the Arkansas mountain biking arsenal. With trails for every skill level and covering over 30 miles of one of the most beautiful places in the country, The Buffalo Headwaters Trails will be a destination ride like the Womble and the Syllamo. (Information on the Buffalo Headwaters Challenge)
Expansions at Iron Mountain Mountain Biking Trails will allow more racing including a new fifth race in the Arkansas Mountain Bike Marathon Series in 2014. The groomed, fast, flowy trails already host one of the Arkansas Mountain Bike Championship races plus a couple of Xterra races and local trail runs.
After years of hard work by a handful of volunteers, The Syllamo Trail system was struggling and risking losing it's listing as an IMBA Epic trail. Steve Schneider has stepped in with IMBA backing and we are seeing the possibility of a stronger trail maintenance group, a better relationship with the forest service and a new focus. Watch for big things in one of the top mountain bike systems in the country. (You can help by attending the trail work weekend coming up.)
Arkansas State Parks, a long time proponent of mountain biking in the Natural State is stepping up their support of the mountain bike community. In 2013, the parks began construction of mountain bike trails in two more state parks, Lake Fort Smith and Woolly Hollow. Besides having trails at these two parks there are singletrack mountain bike trails at Hobbs, Devil's Den, Pinnacle Mountain, Bull Shoals, Cane Creek, Mount Nebo, Village Creek and White Oak Lake. Arkansas State Parks continues it's over 26 year history of supporting mountain biking.
A new kid on the block, the Central Arkansas Trail Alliance (CATA) was formed in 2013 and is finding it's feet in 2014. First order of business, fix the Boyle Park Trails in Little Rock…done. A multi-use, natural surface trail advocacy group dedicated to trail maintenance and building that is looking to mimic the great work of the Ozark Off-Road Cyclists and is already showing signs of being a major trail advocacy group with strong ties to local and state government.
Orbea USA expanded it's presence in central Arkansas moving to  a new location on Main Street in Little Rock allowing them to bring bike shop owners from across the country to visit local trails and catch the Arkansas cycling vibe.
In Conway, the Conway Off-Road Group (COG) not only started the process of creating a new mountain bike park in a retired city landfill, they also cleaned up the Cadron Settlement Trail System creating a small but wonderful local trail.
There are many other wonderful things happening like improvements to trails all over Northwest Arkansas including Mt. Kessler, Lake Fayetteville, Mount Sequoyah, etc.
This brings us into 2014 and what is shaping up to be another big year in Arkansas Mountain Biking. Mountain bikers are beginning to team up with bicycle and pedestrian advocacy groups, a new exhibit is set to open this Spring at the Old Statehouse in Little Rock featuring the history of cycling in Arkansas and be prepared for more trails coming soon including the opening of a 9 mile mountain bike trail system at Woolly Hollow State Park near Greenbrier.
Here's a little more about cycling in Arkansas…