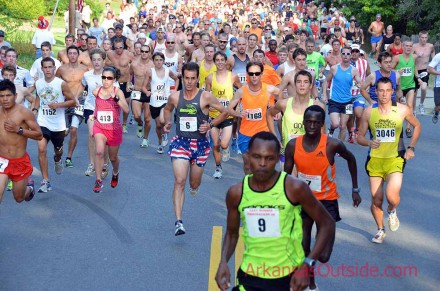 "Someday, the pukers won't beat me." That quote is filed under things you might hear after a race that make you wonder about people who race. I have to give credit for this one to Erik Heller from Gearhead Outfitters who uttered that phrase while we were congratulating him on his 5K PR and great finish at the Easy Runner Firecracker Fast 5K, a 4th of July tradition in Little Rock. There were a few of the faster runners who had laid it all out on the mostly downhill course and consequently lost what little was in their stomachs at the end. Which explains Erik's desire to stay in front of them. The course starts near Kavanaugh and Arthur and travels east on Kavanaugh from near University Avenue, crossing Cantrell and down the hill to turn south onto Van Buren heading toward the Little Rock Zoo. It then turns east on Zoo Dr. and then takes a turn north on Monroe to the finish line across from the new walking paths at War Memorial. The starting line was new this year, taking out the turn off University onto Kavanaugh.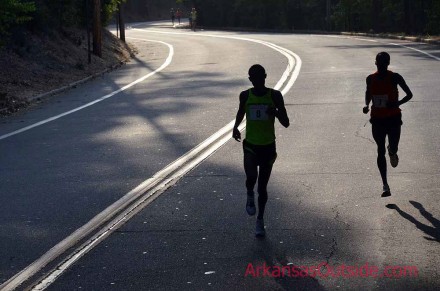 In the 36th year of this traditional race, over 1200 athletes would be running. For some it would be their 2nd, or 5th, or 10th, or even 20th Firecracker Fast 5K. And many, like myself, would be running their first Firecracker. Or it could be not only their first Firecracker, but their first 5K. I had the luck/opportunity to run for much of the course alongside a young lady named Colette and her dad, Gerald. Colette was running her first 5K. He gently coached her, giving her tips on footfall, pace, even how to handle getting water at the aid station without breaking stride. When I said out loud that I wish I'd had a coach like that as a kid, a gentleman coming up behind me started giving me great pointers too, "pick one foot up put the other one down" kind of thing. I thanked him for his willingness to step up.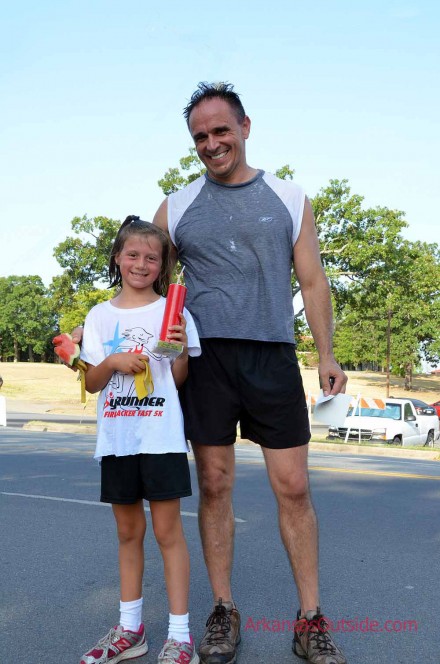 Colette and her dad would finish the race in just over 30 minutes. I ran into them again after the race while she was carrying her lovely Firecracker Trophy. To give a quote or at least a paraphrase one to make up for the puke reference, Colette, her dad and I had a discussion about the "finish feeling". "You were right,"she was telling her dad as we were walking together. Near the finish when she started to get fatigued and it was beginning to hurt, he told her how good it feels to finish even if  hurts a lot to get there. And he was right. Congratulations Colette. I see many more successful 5K's in your future.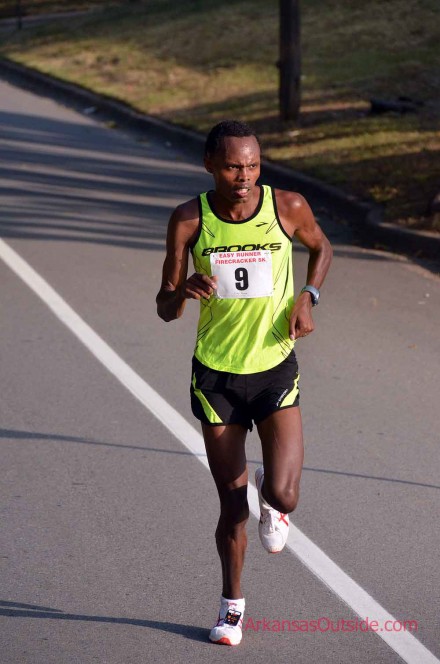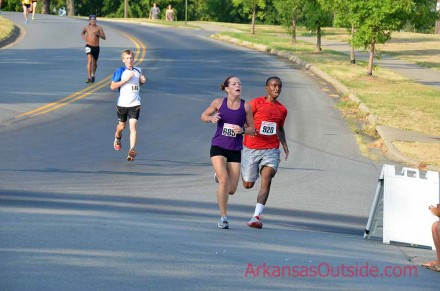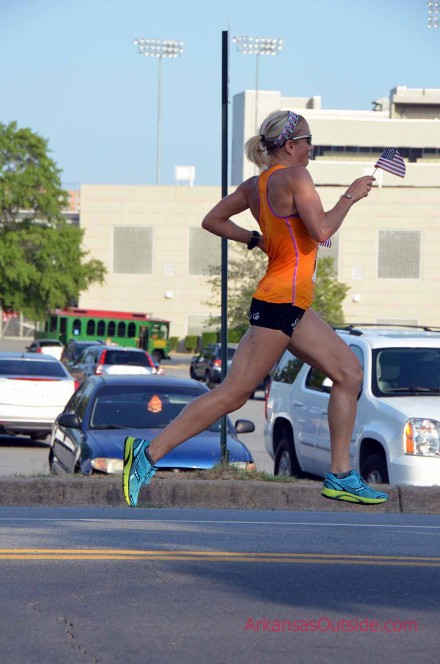 The Arkansas Outside team would like to thank Bill Torrey and Gary Smith of Easy Runner for giving Joe a lift in the lead truck so he could get pictures of the start. Also thanks to GO!Running for their excellent support of the race in opening early in the morning for bag drop offs and for lending their bathrooms to antsy racers. And especially for providing post race patriotic waffles, cold beverages, music, games and a great atmosphere for runners and families to hang out in and enjoy the post race glow.

Runners enjoying the after-party at Go! Running.
Results are available from Mac's Race Timing.
[smugmug url="http://arkansasoutside.smugmug.com/hack/feed.mg?Type=gallery&Data=24571667_kMhhkf&format=rss200″ title="Click%20for%20photos" start="4″ num="3″ thumbsize="Th" link="smugmug" captions="false" sort="true" window="true" smugmug="true" size="L"]