The Onion recently circulated a video promoting a new app that tells users not only the distance and speed of their runs, but the reason they are running. The Onion's reasons vary from loneliness, fear of death, shame, a lack of friends, to a loveless marriage. We know it's all in jest, but every athlete has people in their lives who constantly ask, "why?".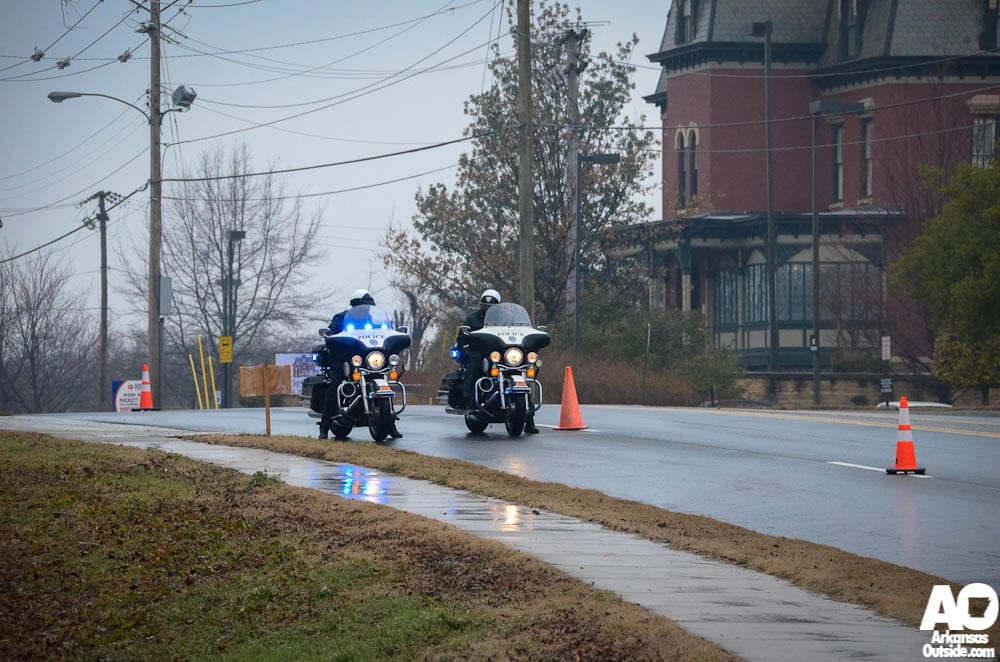 Once again, in a repeat but uninvited Little Rock Marathon appearance, the cold rain blew in for a day-long performance. Much like last year, runners spent a lot of time during the week prior to the race checking weather forecasts and culling gear. Poofy shirts, long jackets and tricorn hats influenced by this year's pirate theme could be cumbersome in a downpour. And yet there they were, pirates and wenches amongst the folks who decided to wear their regular ol' running clothes, or trash bags. Thousands of runners came out on a cold, wet Sunday morning to run 6.2, 13.1 or 26.2 miles. Why?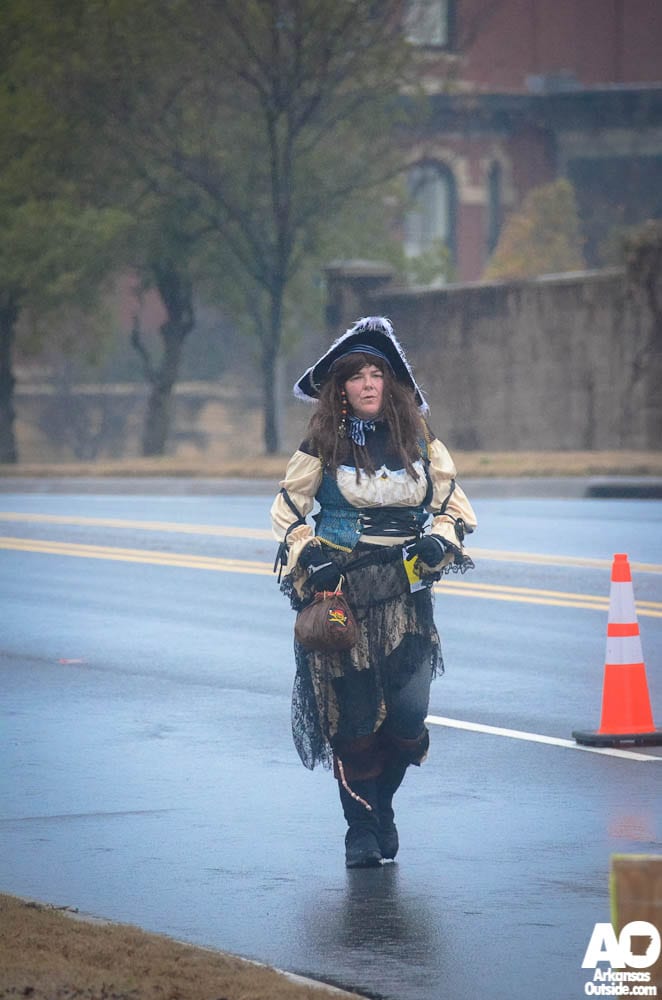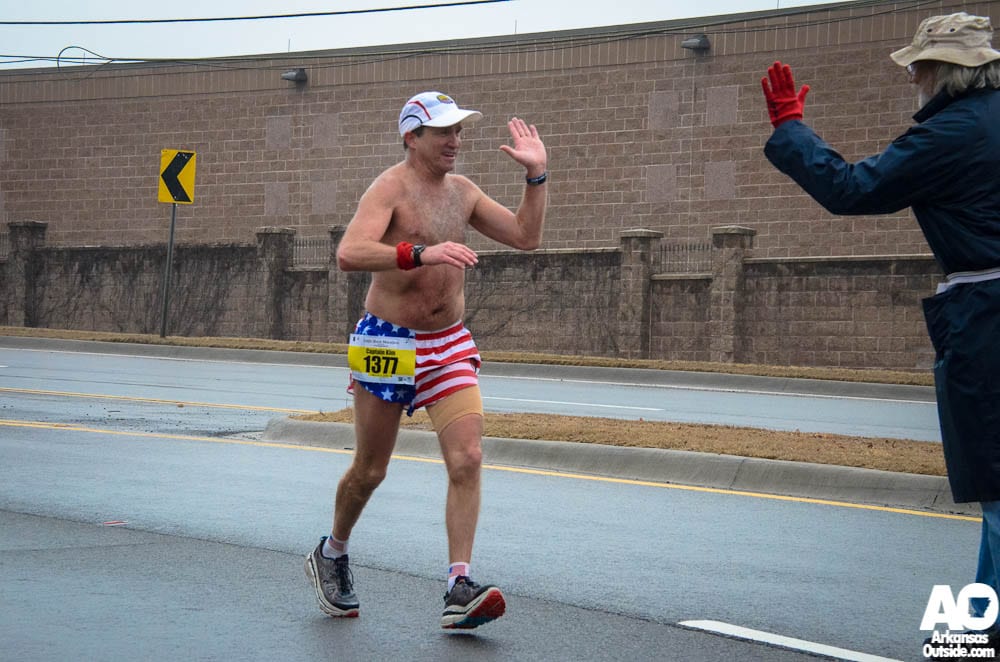 For many, it is the culmination of months of training; the icing on the cake of early mornings, blisters, and piles of smelly clothes. For others, it was the third 26. 2  in a matter of a few short weeks as initiation into Marathon Maniacs or even more 13.1 races in succession to be a Half Fanatic. As the waves of runners flowed past our station at mile 24.5, the bright yellow and pink of the maniac and fanatic shirts were a common sight. There were even a few 50 States singlet sightings of those who've managed to run at least one marathon in all 50 states. For many of them, meeting the goal of the first 50 is the catalyst for doing it all over again.
Sometimes friendship is the impetus for a long race, or a potentially friendship ending dare. While there are always a good number of solo runners concentrating on their own run, runners in pairs and small groups emerged out of the mist coming toward our station stocked with all important bananas, pickles, and oranges. Peanut butter crackers, M&Ms, and pretzels covered the table as cups of water, Gatorade and sometimes other refreshment was handed up to grateful runners. Being on the course so close to the finish allowed us a glimpse into the highs and the lows of distance running. Some runners arrived looking as if the final 2 miles would be a battle while others arrived looking like they'd already won the battle. In truth, as the saying goes, everyone who got off the couch and on the course won the battle.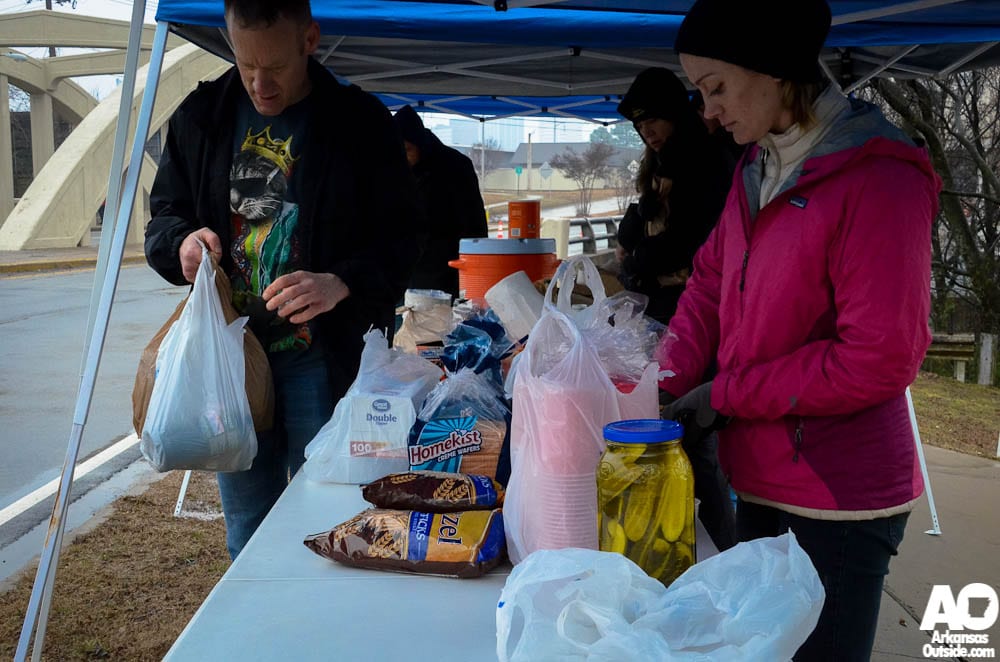 With a time of 2:44:49, this year's winner is Yao Long. Yao is from Changchun City, Peoples' Republic of China. The 2015 Little Rock Marathon was his first marathon in the United States. He is taking part in an exchange program organized by the Little Rock Sister City Commission, a partnership that is in its twenty-first year. Last year runners from Little Rock participated in a race in Changchun City. While the sister city affiliation also considers trade, business, and art, this exchange of athletes confirms the value with a winning run and a successful visit to Little Rock.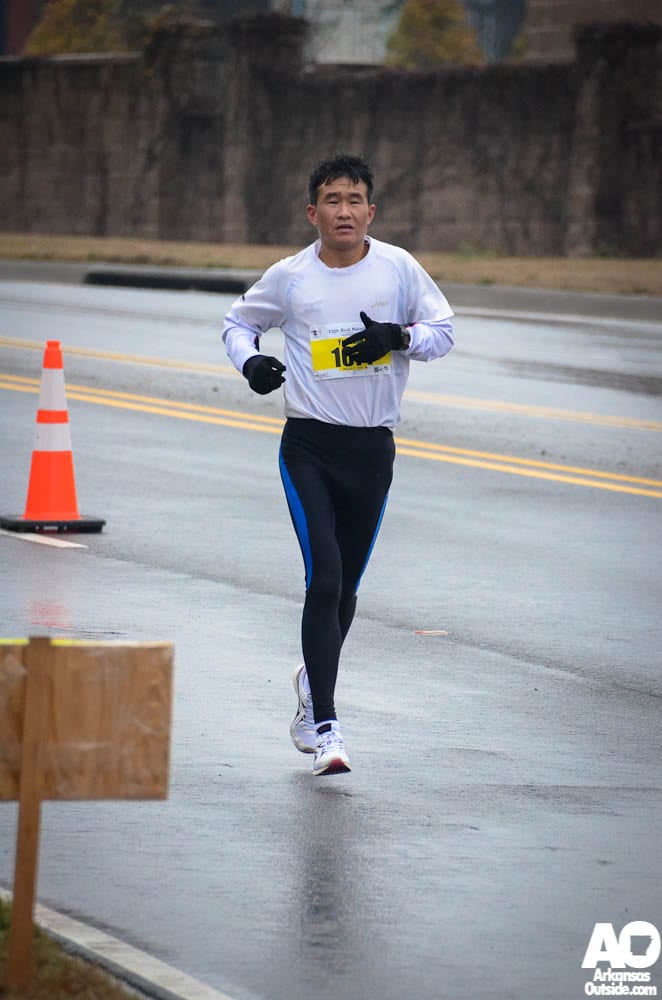 The first place female, Angie Zinkus of Memphis, Tennessee passed our station with a fierce face, focused and intense. She was chasing a goal and crossed the mat with a chip time of 2:59:59.7, just beating the three-hour mark.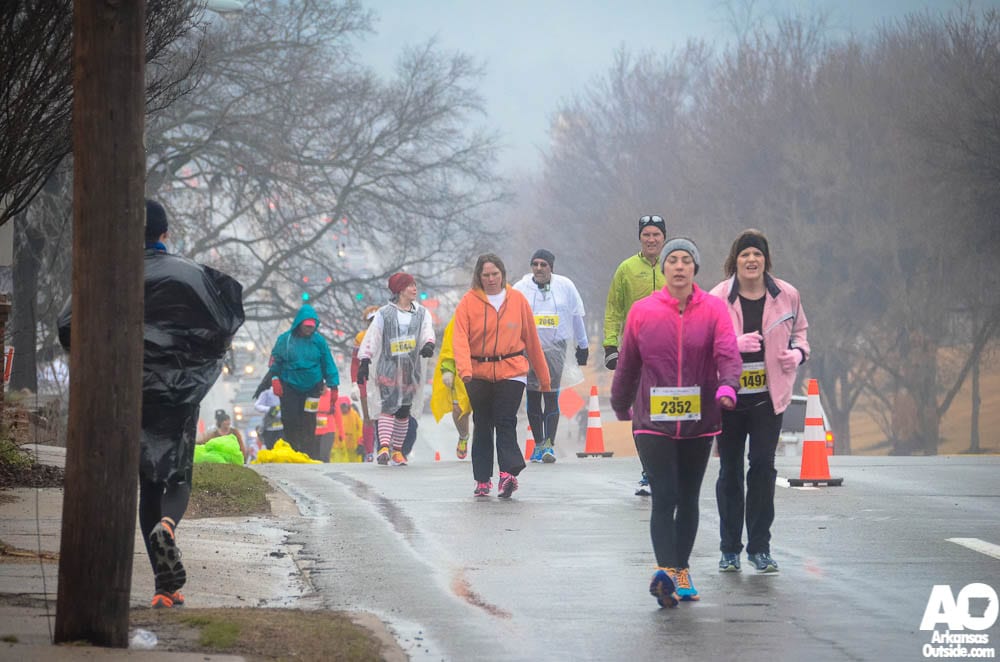 Whether from the other side of the globe, the four corners of the United States, or five miles away, runners come to the Little Rock Marathon for the fun atmosphere, for the course with a reputation for hills, and for the incredible staff of volunteers that takes care of everything and everyone. Official and unofficial volunteers numbered over three thousand. We hope we did our part to make your day enjoyable. Ahoy Maties!