Running during the summer is not an easy task.  The heat and humidity can be discouraging even in mild summers.  To help runners push through a time when motivation can be lacking, James Titus of Set The Pace created the Summer Scorcher Bandit Series.
The series consisted of three races during the month of August.  Keeping it interesting, distances and locations were never the same.  Instead of being typical weekend races, James wanted to try some different by having them in the middle of the week.  That wasn't the only twist.  The first two races were used to determine the handicap for the last race, which was a pavement/trail hybrid.
Race 1 – Monday, August 12 – Burns Park – 5K
Excitement wasn't the only thing in the air for the first race of the series.  A downpour of rain and lighting caused the race to be delayed by 15 minutes.  Undeterred, the runners finished the 5K with a cooler temperature of 75 degrees.
Race 2 – Tuesday, August 20 – Two Rivers Bridge – 4.2 mi.
Many races happen at Two Rivers Park, but I'm not familiar with any foot races that use the course James outlined.  Starting underneath the overpass, the runners crossed Two Rivers Bridge going toward Two Rivers Park.  The runners finished looped back around and finished where they started.  With temperatures in the 90s James said, "The series now was a real scorcher."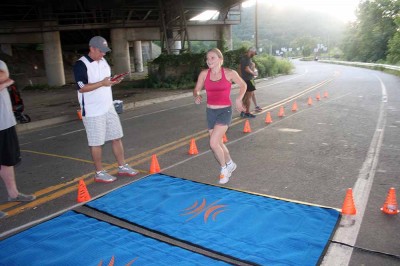 Race 3 – Wednesday, August 28 – Pfeifer Loop – 3.3 mi.
The last race began on Isabella Jo Trail near the Big Dam Bridge.  The handicap had the fastest runners starting last, as averaged from the first two races.  It didn't matter how well you ran in the first two races.  To win, you had to overcome the handicap.  To add to the difficulty, the trails at Pfeifer Loop were part of the course.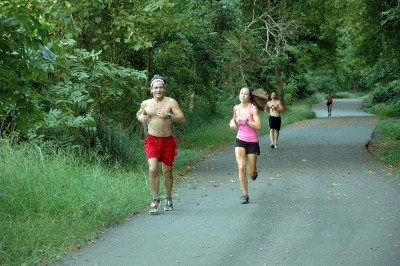 Ron Mitchell won the first two races and despite a 6:55 handicap, ran down the field to win the series.  "Ron dominated the series," according to Erik Heller.  Caleb Ault was second and Nicole Hobbs was third.  They all received series medals and Ron left with a nice overall plaque.
James has started to think about what he'll do differently next year.  Using the first two races to determine a handicap was cool twist.  To prevent people from sandbagging next year, there may or may not be a handicap.  If so, it may be determined in some other manner.  And, you never know how the course will change.  All you can do is be ready to run like a bandit.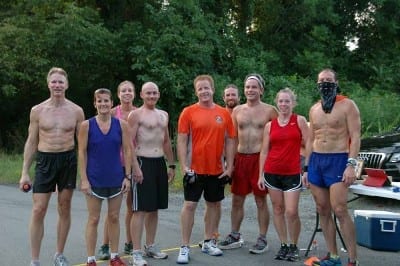 When I'm not running, volunteering, or writing, you can usually find me lurking on Twitter or blogging at ICEdot Athletes, #Runchat, or Trail and Ultra Running.