In February, I signed up for this season's first run of the Arkansas Trail Running Series. The series continued with  runs in March and April and the final championship run scheduled for June. It seemed the spring was gone far too soon. The first run, while not cold, encouraged many including myself to wear long sleeves or at least keep jackets on until the last minute. By the March and April runs, some felt warm enough to go shirtless. The day of the Championship run on June 24th, the projected high temperature would reach 100 degrees. Shirtless weather indeed.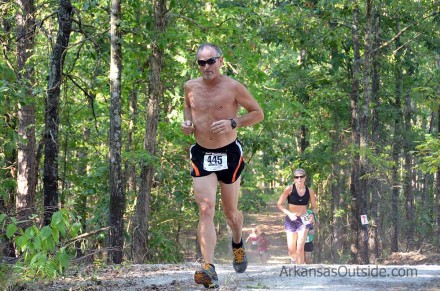 With a sprint road triathlon, duathlon and an XTERRA happening on the same morning at the same venue as the trail run, there were many athletes looking for ways to stay or to get cooled off. Luckily the organizers had a fountain spraying water after the finish line for a quick cool-down. But to get to the finish line spray down, we had to get started.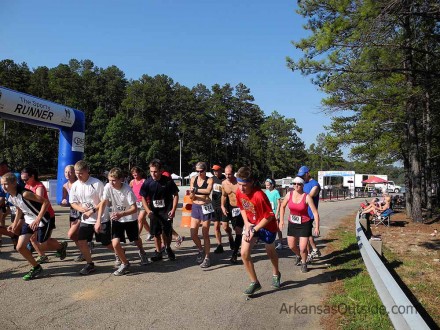 Over the months some names and faces have become familiar. Especially at awards time. The Freyaldenhoven family name has been called countless times, and maybe by next year's series DLT Events owner, race organizer, and all around good guy Fred Phillips might be able to pronounce it.  He gets closer each time he tries. The Rail family runners often heard their names called also. It's a good thing for Fred that Rail is a bit easier to pronounce.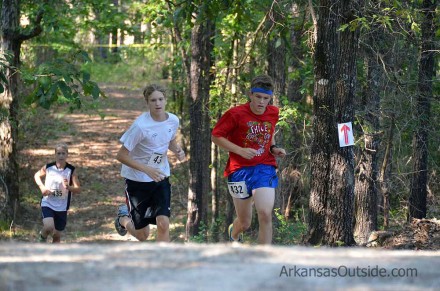 I've had the privilege of running with a lovely high school exchange student named Dear during the first race and for the Scout Trail run I had good company in Chris from Conway who was trying to get back into running following a high school cross country career that had been put on the back burner after college. Becoming familiar with fellow runners pays off in strange ways sometimes. A couple of weeks ago we ran into someone I recognized from the run series while we were mountain biking. He and a friend were finishing their ride as we were beginning ours and as we packed up to leave afterward, we noticed that one of them had left a pair of shoes and socks in the parking lot. The day before the championship run, there was a mountain bike race at the same venue the trail run would use. Luckily our shoeless friend was there to race his bike. When I told him we had his shoes he was at first confused, then surprised. It seems he had been nursing an injury and hadn't run in the two weeks leading up to the race so hadn't discovered yet that he was missing his trail shoes. He expressed his thanks and was very happy on Sunday when we saw him after he finished his XTERRA race. Doing that without trail shoes might have been rougher than necessary.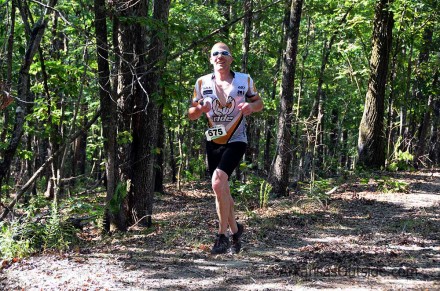 Some of us will find any excuse for not performing quite up to par. Admittedly, I used the heat of the day to take it easy, jog along at an easy pace and just have a good time chatting with Jana from Texas about running and traveling. Joe is always telling me that if I'm talking, or thanking volunteers or jumping in the air for photo ops, I must not be working hard enough.  I'm sure he's right but I do it anyway.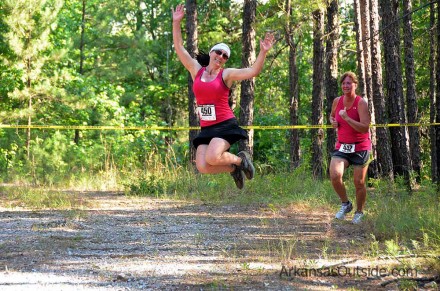 While the nature of a series is to encourage competitors to participate in all of the races, every race brought new people to the series family. Sunday I met people who had come from as far away as Missouri and Texas who were doing the championship as their only run of the series.  As I was lamenting out loud that I couldn't find my husband to hand my camera to while I ran (because I had been busy taking photos of the Duathlon, XTerra and Tri athletes starting and he was already headed to woods to start shooting  runners) Charles from Missouri offered to have his wife hold it for me. Not only did she guard it for me, but she took start and finish photos too! THANKS!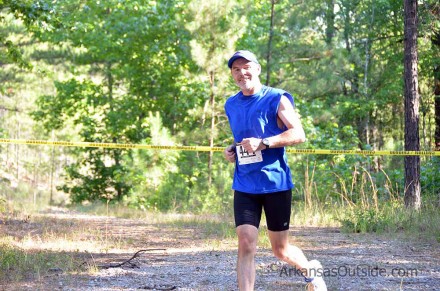 As far as organized runs go, the Arkansas Trail Running Series was small. The field was typically around 40 people with a  range of abilities. I would encourage anyone who enjoys getting off the pavement every once in a while, whether your race style is 5K or Marathon, to check  this series out next year. Don't miss out on the fun, we'll announce it as soon as we find out the dates so be watching our calendar!
More free photos from the event are available on our Flickr Page.
Relive the series with these stories: