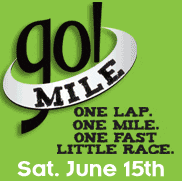 As June 15th fast approaches, our excitement about the Go! Mile is mounting. There really is something almost magical about it…. you may typically be the type of person who arrives at a race with just enough time to get in your warm up, and jogs just enough beyond the finish line to get back to your car to go home. Not at the Go! Mile. There is something alluring about the shorter distance…the circular course that is almost like an imperfectly oversized track. There is a rhythm to the feet striking hot pavement at such a cadence….that it draws you in. We thought maybe this was just us, our biased opinion of our own race, but we have found that we are not alone in our thoughts. Runners who lace up to win, who are coming out to clinch a Regional Championship title, are staying to cheer on the newbies and the masters runners. People who once came to cheer on their kids, significant others, or parents, are now choosing to participate in the run themselves. It is an atmosphere that is wonderful for spectating….but you'll find it looks like so much fun, you want in on it too. We got a chance recently to chat with Jeff Matthews, who is a perfect example of this. Jeff, having emceed the Go! Mile in previous years, will be toeing the line himself again this summer.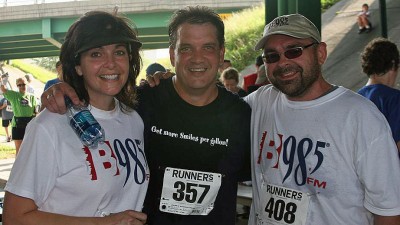 [Leah] You have participated at many events over the years as an emcee, how is being an emcee for an event like the Go! Mile different? What makes it special for you?
[Jeff] I love the fact that it is so inclusive to any fitness level. Elite runners can come have fun….but so can someone who has never run a mile. They can decide that this will be the first mile that they run, and turn their life around and get healthy!
[Leah] Would you have ever imagined  the first time you emceed the Go! Mile, that one day you would be the one crossing the finish line?
[Jeff] Not before the first one!  But once I saw the event, and the encouragement from the running community,  I knew it was something I wanted to do – one time is all it took!
[Leah] What inspired you to start running?
[Jeff] The desire to start and finish something new. I had been at many finish lines, but never crossed one myself.  There is something very powerful in finishing!
[Leah] As someone who is a non-runner turned runner, what do you think it means to the newbies out there to have a special heat (The First Mile) at the Go! Mile dedicated specially to them?
[Jeff] I think it means the world to them! It allows someone new to not feel like they are getting in the way….which is such a misconception anyway…but with a dedicated heat it allows them to eliminate that thought, and not be intimidated.
[Leah] What advice or words of encouragement would you give to someone who plans to come out and run The First Mile this year?
[Jeff] I would encourage them to tell friends and family.  It's similar to an accountability partner in some ways! If you wake up that morning and have a thought of NOT going…then that friend will get you there and you will not regret it. Being cheered for as you cross the finish line is a feeling that you will not forget.
[Leah] How has running changed your life, and what might you say to a spectator on the sidelines if they told you "oh, i'm not a runner…"?
[Jeff] Running has given me a confidence which I didn't expect.  I have been amazed by the motivation within myself to try new things I would not have tried before I started running. I made a lot of excuses before!
[Leah] We hear that your family has quite the passion for running, one member in particular….can you tell us about your daughter's story?
[Jeff] My 9 year old, Mary Grace, has taken to running and we love it! She is very athletic and competitive.  Running is a perfect outlet for her. She and her Mom run quite a bit together, and that has been a special time for them to share. They are also in the process of starting a running club at her school with hopes of encouraging more kids to get out and run! My 7 year old daughter Ellie is a shoe girl – so needless to say she is getting interested also!
[Leah] Do you all plan to participate in this year's Go! Mile? Who would you say is "the one to watch out for" in your family?
[Jeff] We all plan to be there! I am sure the one to watch for is our 4 year old son, Beckett. If he can somehow get all that little boy energy into his legs he would be unstoppable!
(Watch for another interview every Wednesday this month and while you're waiting, go ahead and get registered for the Go! Mile.Also enjoy an evening of running with friends every Thursday night at the Go! Running Shop.)