Update: It was announced today that Coach McDonnell has passed away at age 82. Below was from an opportunity we had to meet this coaching legend in 2013.
We dodged the cold misting rain to find the Go! Running store bustling with people, most standing in line with a book tucked under an arm. They were waiting for their turn to have a word with the winningest coach in NCAA history. John McDonnell came to the University of Arkansas in 1972 when the University didn't even have a track. Athletes had to run at the High School track for practice and the track team was near the bottom of the pack at the Southwest Conference Outdoor Track Championships. Frank Broyles was transitioning from his sideline coaching to become the renowned athletic director of the Razorback athletics juggernaut. He had little money and no facilities to woo a great track coach to Arkansas so he settled for a young runner who had been an Irish National Champion six times in the mile and represented his country at the International (later the World) Cross Country Championships. A successful runner at the University of Southwestern Louisiana, a young Irishman with a heavy accent named John McDonnell. In return Coach Mac eventually gave the University:
12 consecutive NCAA Indoor Track Championships, the longest string of NCAA titles by any school in any sport
5 NCAA Triple Crowns
25 Consecutive Conference Championships
and 42 NCAA Championships, more than any coach in any sport in the history of college athletics
In appreciation for his dedication to the sport and his mentoring of young athletes, John McDonnell has been awarded the Conference Coach of the Year 50 times and was voted the National Coach of the Year an astonishing 30 times. The young Irish farm boy who only started running in his teenage years had built a Track and Field dynasty, from the ground up. The 185 All Americans, 54 individual National Champions, and 23 Olympians that John McDonnell coached are a testament to that dedication.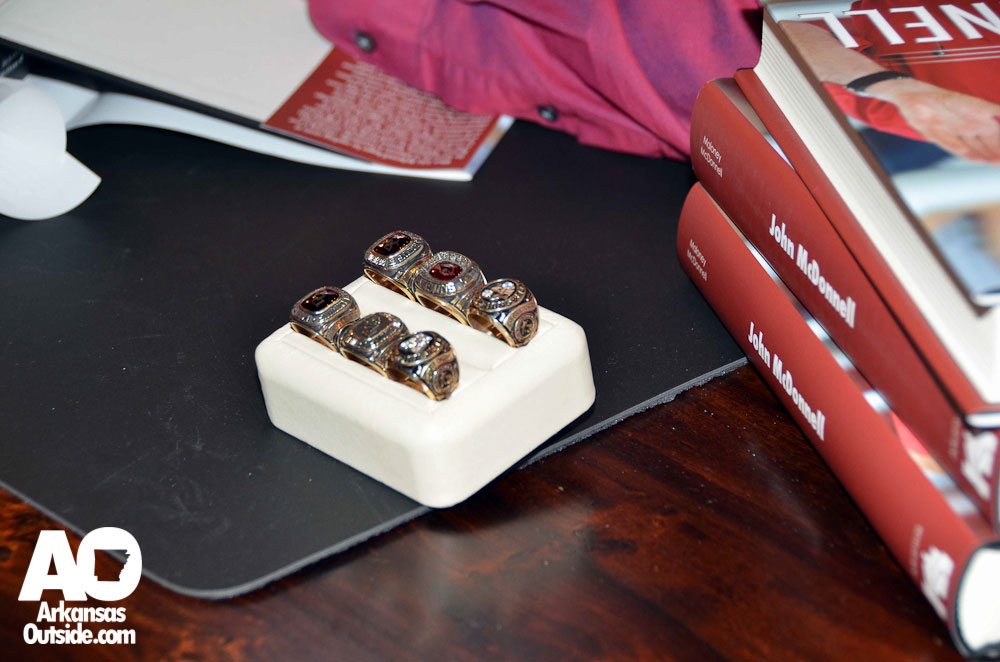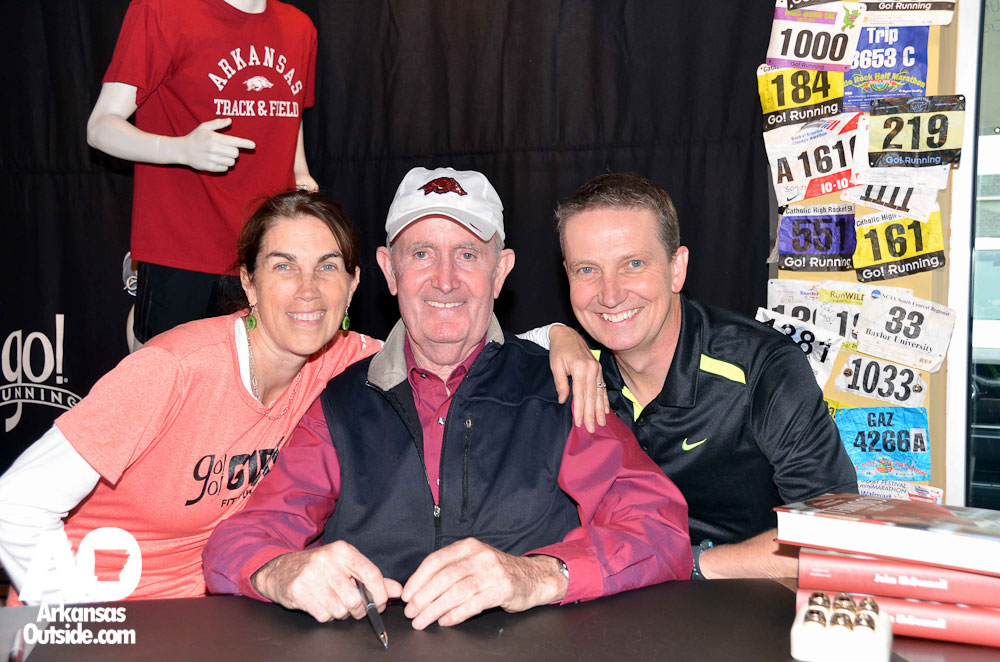 Go!Running owner and Chief Running Officer Gary Taylor ran for Coach McDonnell at the Uof A.  He too was keeping watch over the action in the store as the Coach signed book after book. The signing was scheduled for noon to 4 pm but the Coach showed up at 10:45. As co-owner Erin Taylor pointed out, "there were people already waiting in the parking lot, sitting in their cars" at that time, McDonnell did the characteristic thing, he went right to work.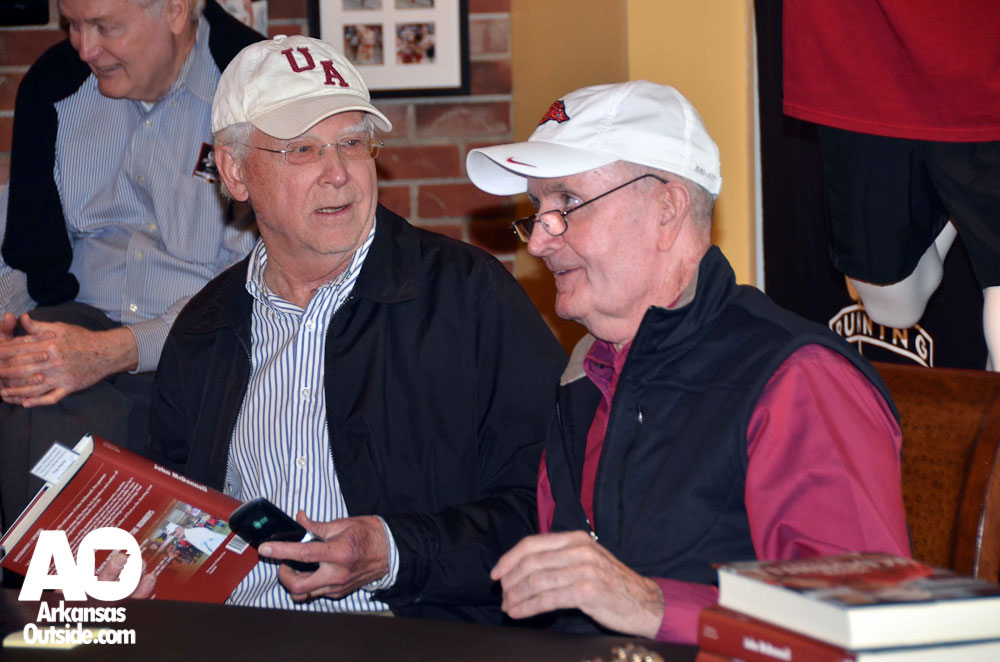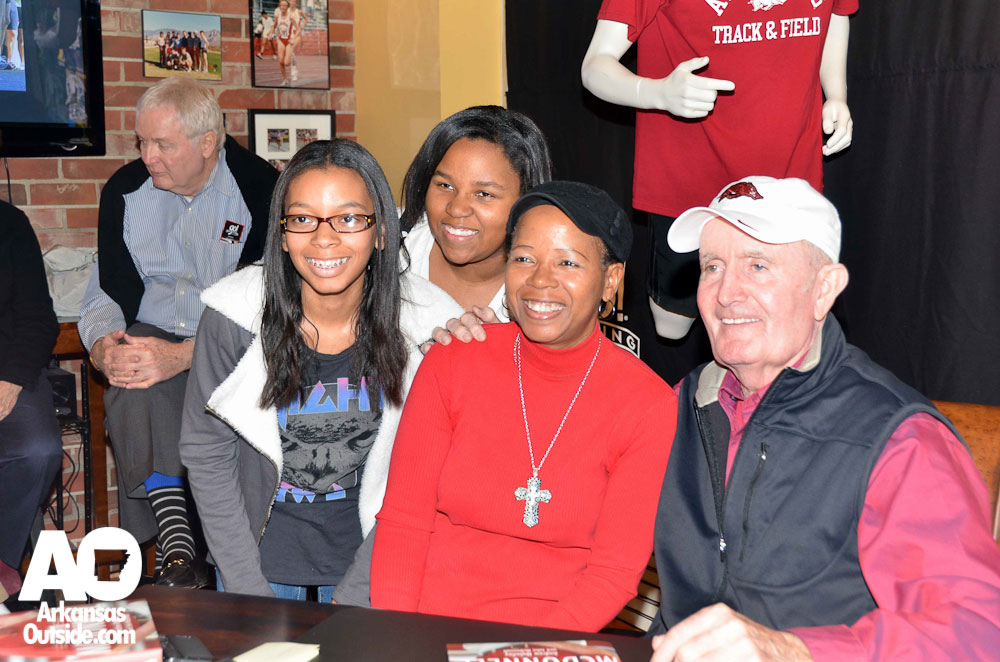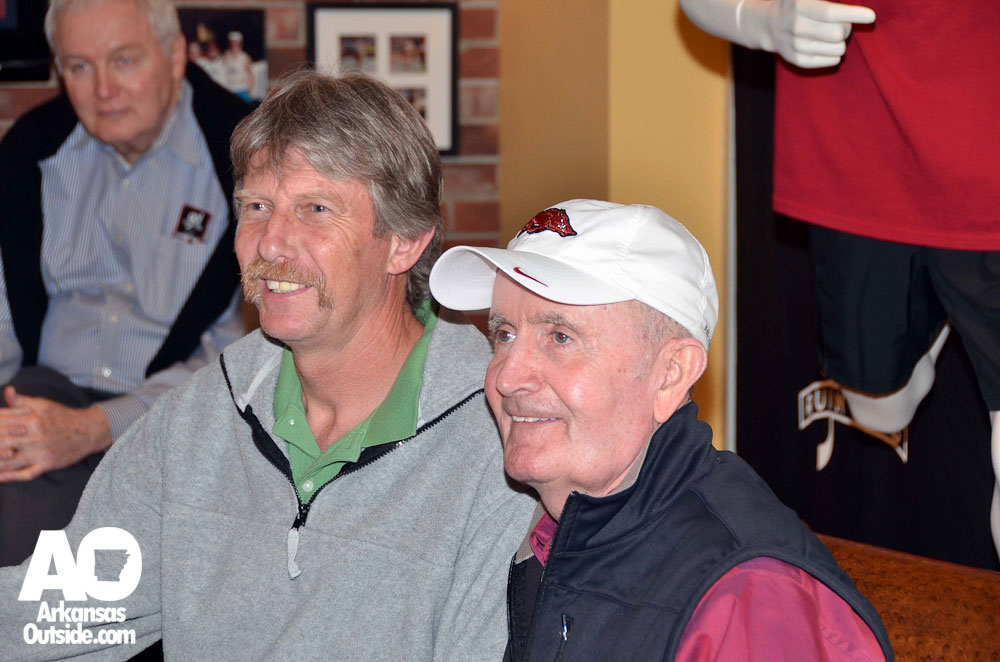 We watched and listened as the line of men and women traded gentle barbs with the Coach, memories of long ago or perhaps just last week. They might have been runners under Coach Mac's tutelage, many were fans of the program he built. Some were friends from the Irish Cultural Society who came to encourage the Coach in other ways.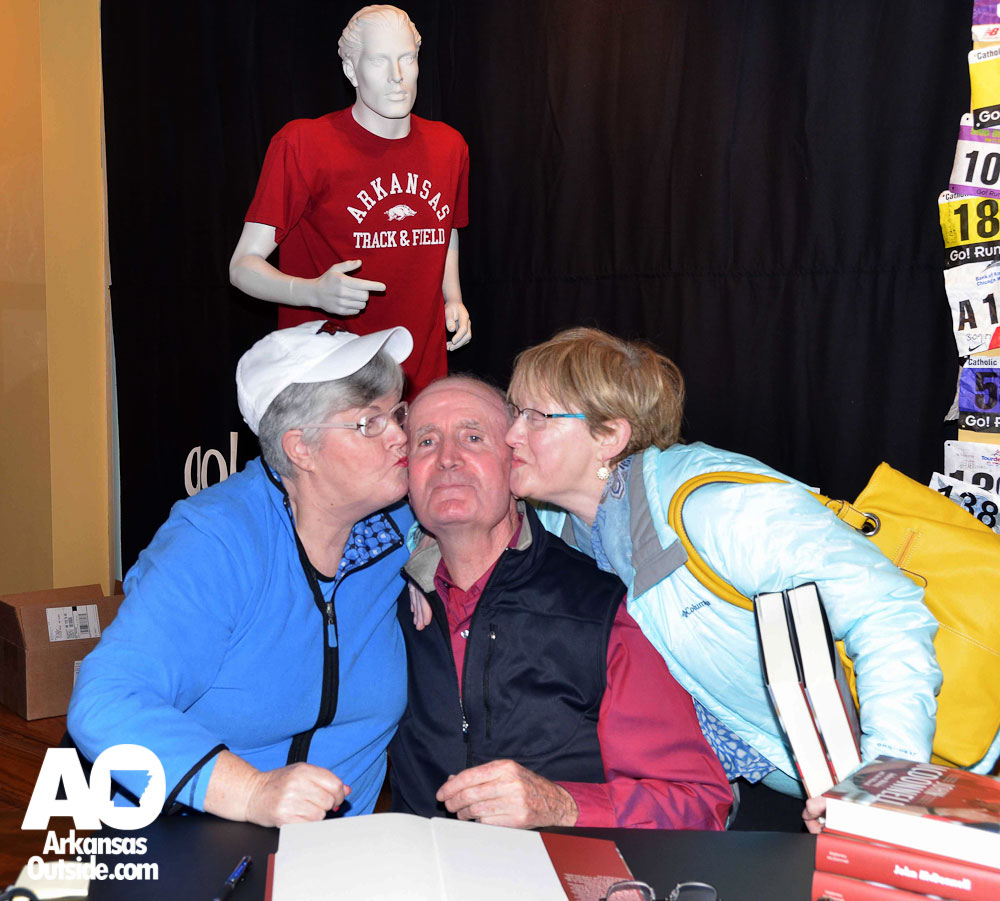 There were young runners who came to be inspired and to ogle his display of championship rings, perhaps dreaming of a day that they might have their own and hoping for a coach who would give them what John McDonnell has given so many other athletes: drive.
You knew the way he looked at you what he expected. He expected the best out of you and had a way of explaining things to you that was down to earth. He made you want to win for him. He could say "Twenty points," and I'd say "Got it, Coach." I just wanted to do it for him ~Ten-time NCAA Champion Erick Walder
For a fascinating look into the life and career of John McDonnell, the most successful coach in NCAA history, pick up Andrew Maloney and John McDonnell's book, John McDonnell.We are told they still have both signed and unsigned copies at the store so get them while you can. 
Also, put Saturday, March 30th on your schedule and go by the store to meet Jeff Glasbrenner, 3-time ParaOlympian and 20-time Ironman. Jeff will be signing his book, The Gift of a Day.