Three days, three parks, three hiking trails, and horses. Last year we spent the entire Labor Day Weekend camping at Lake Ouachita State Park and had a wonderful time kayaking, swimming, geocaching and hiking. This year we opted for something a little different due to other commitments.  Saturday started with a quick run/hike at Pinnacle Mountain State Park.  Just the simple around, up and over that I have always loved.  It was a little tough as I am just coming off a couple of months with little working out, I survived.  Later in the day we had lunch with my daughter and her fiance at a local Mexican restaurant, Senor Tequila's, a family favorite. We would have taken advantage of the outdoor patio but we were in the middle of our only rain of the weekend.
On Sunday we took it easy, you know gotta sit around and read the paper after sleeping in (this was Labor Day weekend after all).  After running a few errands we couldn't handle sitting around anymore so back to Pinnacle again for another short trail run on the Rocky Valley trail.  L continued to run a second lap while I went and GPS'd a portion of a new trail I have been laying out in the park.  She had to wait on me awhile while I bushwacked through the woods for about an hour.
Monday, Labor Day, had been somewhat planned.  The plan? Head to Lake Catherine State Park and do some hiking have a picnic and see what else we could entertain ourselves within the park.  Lake Catherine State Park is one of the original Arkansas State Parks and the first facilities were built by the Civilian Conservation Corp. It is famous for it's beautiful campground, cabins, trails and of course, the lake. Arriving around 11:00 am we headed straight for the Horseshoe Mountain Trail.  At 3.5 miles long it is the second longest in the park and has some nice elevation gain.  We started up and quickly came across a family of deer. Three does and three fawns paying us almost no mind.  Then it was up, up, up.  We followed the trail to an overlook where we could see the lake pretty well and decided that this would be a great place to see fall color.  After winding down the trail and getting back to the trailhead we headed over to the swimming area to see about a picnic lunch.
L had made some sandwiches and we had some cheddar potato chips for lunch, finished it off with some brownies, mmmmm. We had considered going swimming but it looked a little crowded so we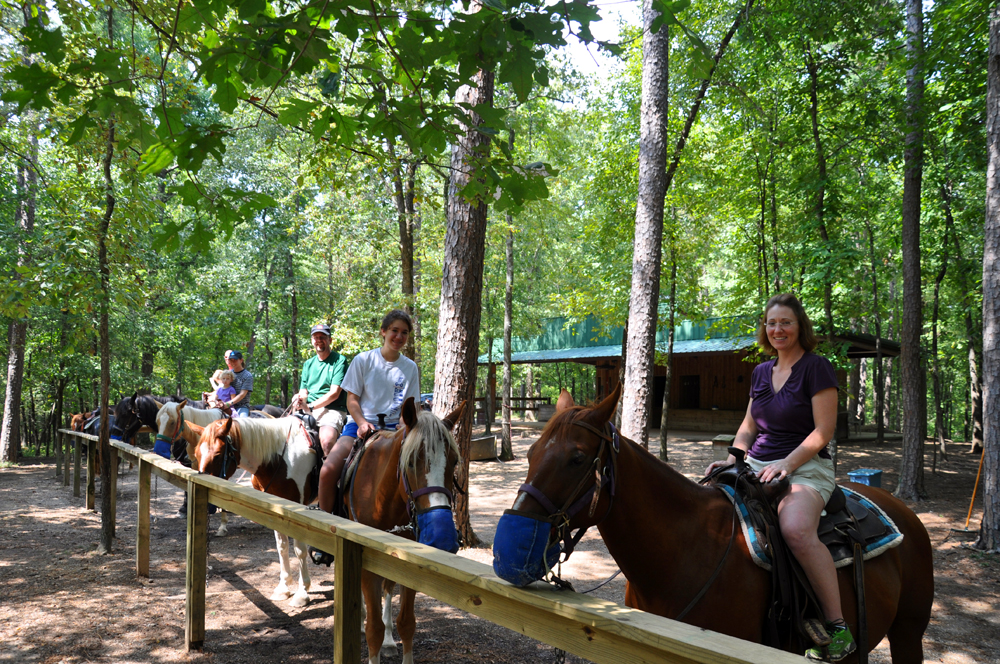 opted for horseback riding. The park does not have trails for people to bring their horses on but they do have a wonderful stable where a concessionaire takes guests on hour long guided trips through the woods.  We arrived at the very clean family friendly operation and met Ray Lovett, the owner.  Ray got us set up with horses and introduced us to our guide, Jesse.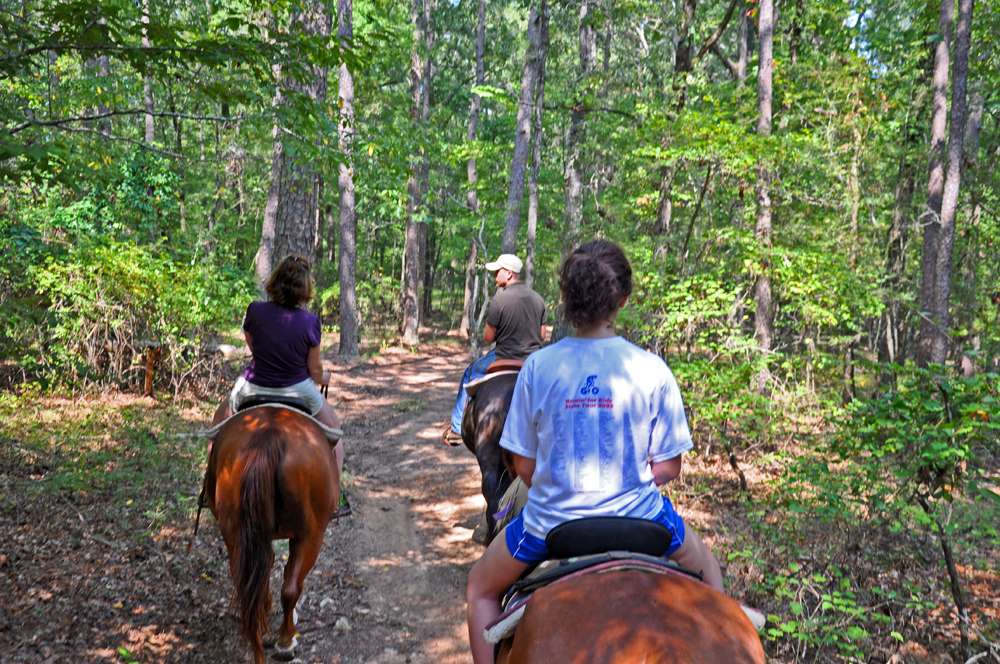 We were accompanied by another couple and their two cute children.  Soon we were meandering along the trail on well behaved horses.  We saw several deer along the trail and just really had a great time.  I think it was the highpoint of M's weekend.
Afterward it was back home to grill out steak and fresh corn out on the deck.  Another perfect weekend in Arkansas.