(Part one of our trip following several Arkansas mountain bikers to Leadville, Colorado to cover their attempt at one of the most difficult races in the world)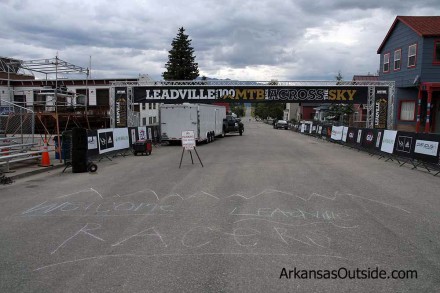 Friday, August 10th, 2012, the day before the Leadville 100 Mountain Bike Race, one of the premier races of the Leadville Race Series is a day filled with anticipation. It's one of the toughest things most people have ever done, or ever will do. 100 mile mountain bike races are scattered across the world but this one, known as the Race Across the Sky is different. It's not that a couple of movies have been made about the race, it's not that it is in it's 19th year, it's not even that Lance Armstrong has raced it a couple of times. The thing that makes this race different is how it beckons bicycle racers like a siren call. Professional road cyclists, Tour de France winners, cross-country and marathon bike racers, amateur cyclists, mountain bikers from around the country, mountain bikers from around the world, they come to test their mettle against this course. A course that will take them up climbs as long as 10 miles to above 12,000 feet, fast downhills on rutted jeep trails, enduring temperatures ranging from freezing to 80 degrees Fahrenheit in one day. Many train for months and years to have a chance at…..a belt buckle.
Those racers finishing in under 12 hours earn a silver belt buckle, for those strong enough to finish under 9 hours, a larger, gold buckle is the trophy. These buckles represent a lot of hard work and determination. What it takes to finish the race is best summed up by the man who started all this craziness, Ken Chlouber, an ex-miner from Leadville. He gives what you might call a motivational speech every year at the pre-race meeting held in the Lake County High School Gymnasium.
"Dig Deep"
Ken also has a habit of calling out the Arkansans, this year saying, "We have racers from all 50 states, even Arkansas, they make us look good." I'm not sure what his connection with the Natural State might be, maybe it's the fact that the Arkansas River starts right there in Lake County, Colorado, but it's kind of cool to hear him bring us up even if it's with a little dig. This year Arkansas would be represented by 18 riders at the starting line including many first time riders, a singlespeeder, a tandem team and one guy going for a Leadman designation which means he is doing several of the races in the series including the 100 mile run a week after this race. Tough folks.
For a little icing on the cake, Lance Armstrong showed up at the pre-race meeting. I don't know that it was necessarily encouraging when the seven time Tour de France winner said this was tougher than any race he had ever done. Past winners Dave Wiens and Rebecca Rusch were also on hand. Rebecca is the current women's record holder for the race and would be racing the next day. Once the pre-race meeting was over we had the chance to check out all the sponsor booths outside the school gymnasium, visit with some of the home state racers and then head off to scout the course and develop our plan for the next day. First stop was the base of Powerline.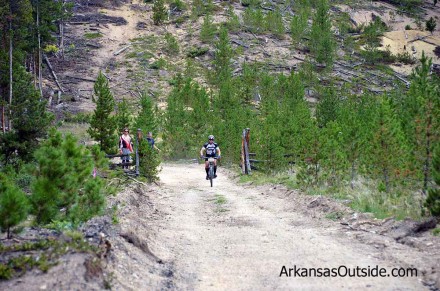 After walking a short distance off the road the rough jeep trail suddenly comes out into the open area and turns left. As I rounded the corner a gasp escaped my lips. A powerline swath heading straight up a mountain stretched before me. The next morning the racers would be coming down this thing at about mile 20 in the race. That wasn't the problem. Since the Leadville course is an out and back, this massive obstruction would be waiting for riders at mile 80.  I couldn't even begin to imagine trying to ride up this with fresh legs much less riding it after 80 tough miles. To add to the drama of the climb, the powerlines overhead constantly hum and pop. It's a bit unnerving.
We then headed over to the Pipeline Aid Station. This would be one of the major feed areas. I was really glad that we came here to scout it out. The original course had been changed and our map was a bit off. We found our way without too much trouble but were glad to not have that surprise in the morning. I also saw a place that I thought would make for a really interesting photo the next day. The CARVE (Central ARkansas VElo) guys had set up a canopy in a very prominent spot complete with a Razorback flag. It would be easy for our riders to find their feed station as they rode through. Just past the feed area on the outbound leg the riders would find another tough climb before heading into the Twin Lakes area and the start of the Columbine climb.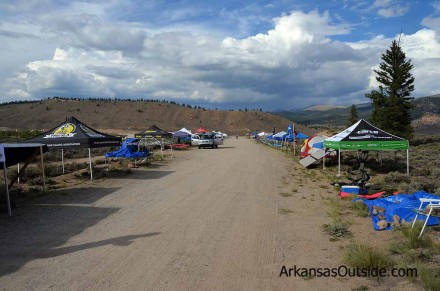 Columbine…At mile 40, riders come to a feed station before heading up. For the next 10 miles riders would go up starting at around 9600 feet they would eventually top out at over 12,000 feet. It would be colder and harder to breath up there. A neutral feed station would be waiting for them but crews and media were only limited to as far up as they cared to walk.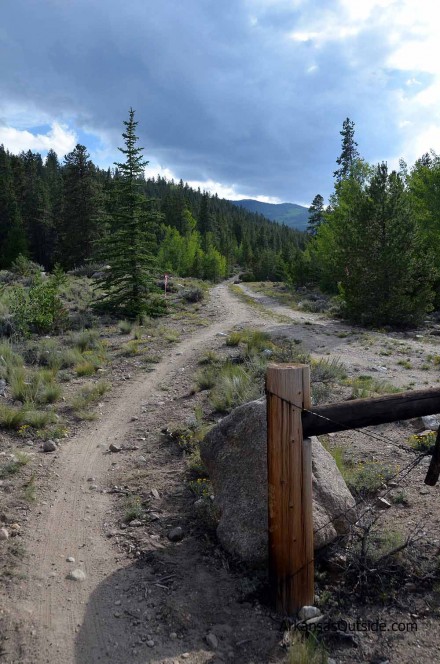 After all that hiking to check out the course we were ready for dinner. It seems that steak is pretty inexpensive in Leadville so we treated ourselves to juicy ribeyes with baked potatoes and all the fixins. We walked out of the restaurant only to find that it was pouring down rain. We headed straight back to the campsite and once in the tent fell asleep to the sound of the rain wondering how miserable it would be for the racers if it was still raining in the morning with temperatures in the low 40's.
Photos from Friday are available on the Flickr site.
(When covering a 100 mile mountain bike race it's best to have help. I had better than that, I had a friend, fellow mountain biker and one heck of a photographer, Cliff Li. The photos and videos in this series of articles were taken by both of us over a four day trip to the highest elevation incorporated town in the continental United States.)