(Part three of our trip following several Arkansas mountain bikers to Leadville, Colorado to cover their attempt at one of the most difficult races in the world. If you haven't read it yet, please read part one and part two.)
By the time Cliff and I came down off Columbine into the Twin Lakes Aid Station many of the support crews were packing up to head back to Leadville for the finish. The distance to the finish line was about 40 miles and the top racers had been through here an hour or two earlier and would be closing in on the finish.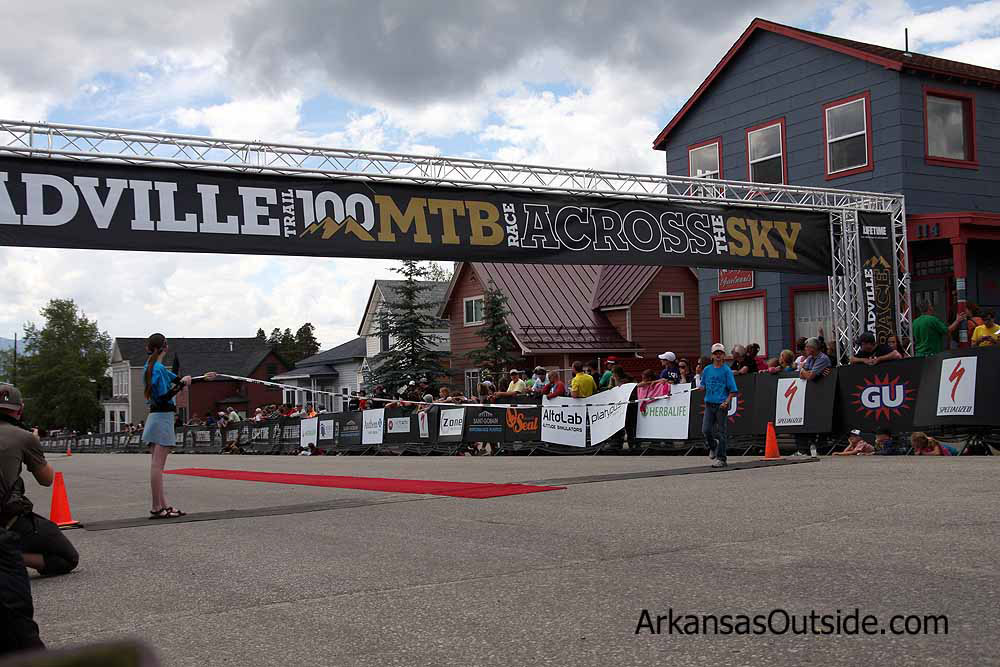 Several racers had already finished by the time we reached town. We took opposite sides of the finish line along with the other media and waited for the Arkansas riders to come in.
Nineteen riders from Arkansas had started the race and we had no idea how the back half of the race was going for them. As far as we could tell when we saw them on Columbine, most of them looked pretty good. However, seeing a rider in the middle of a long descent is not the best way to judge their health and attitude. Anticipation made the clock move slowly awaiting our riders at the finish line.
The finish line on 6th street was also the start line but the riders would be coming back to it from the opposite direction they rode out. The paved road is at a slight incline so riders have to pedal all the way through. The atmosphere is incredibly festive. Music playing through loudspeakers up and down the street, vendors selling hot dogs, the announcer calling out the name and home state of each rider as they cross the line. People were cheering and yelling up and down the line. The clock kept ticking away.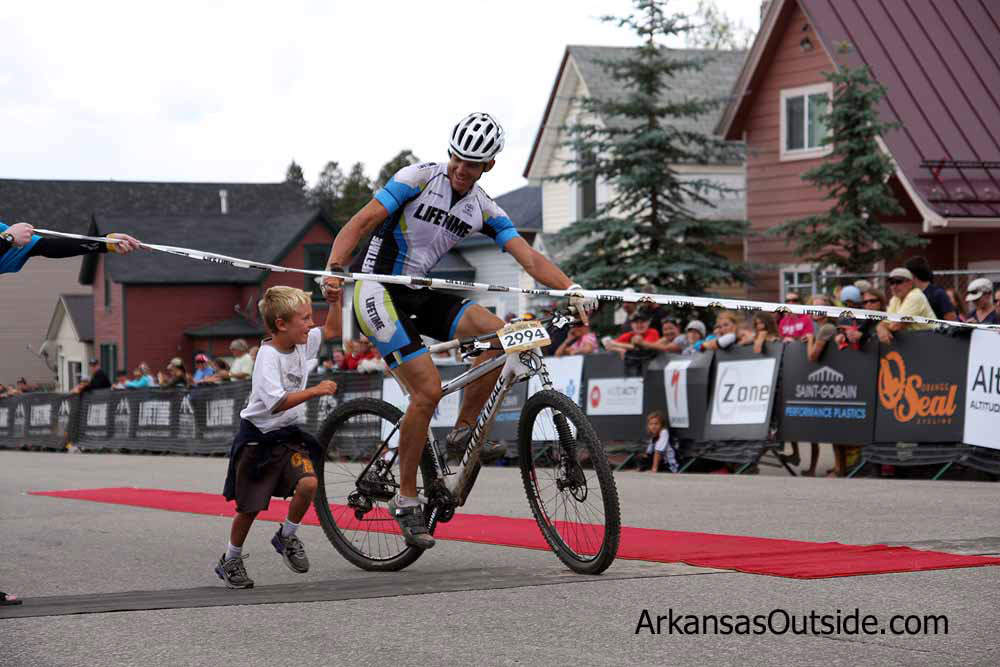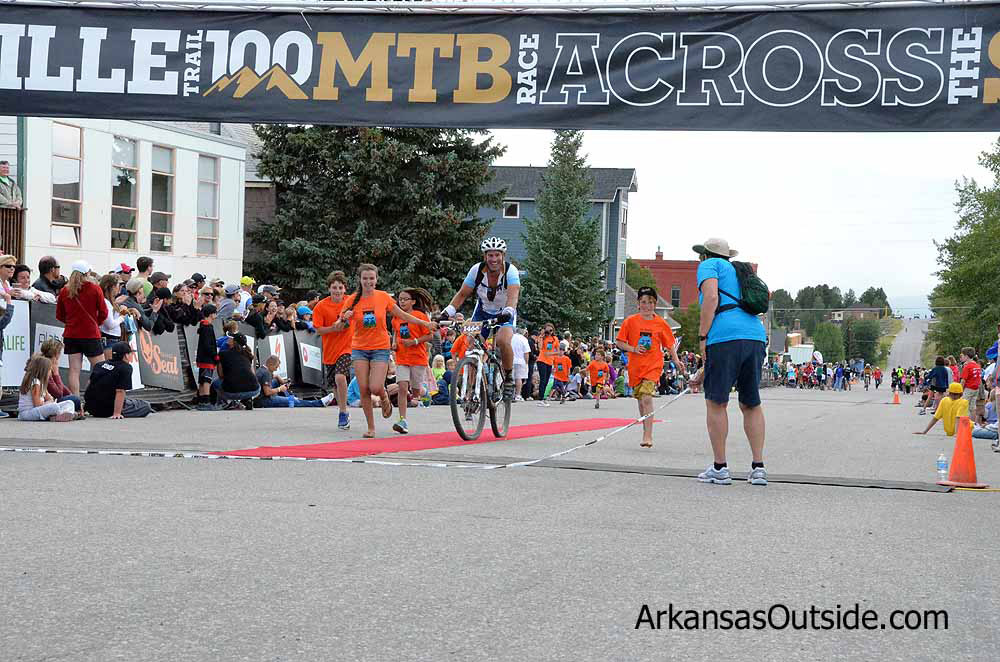 The Leadville finish line is a magical place. Race Director Merilee Mauqin is on hand to put medals on every finisher and hug them all. As Ken Chlouber said in the pep talk, "Merilee will be waiting for you, don't let her down." There are as many ways of crossing the line as there are competitors. I saw wheelies, hops, family running with the finishers, arms up, vacant looks, smiles, fist pumps, tears, hoots and hollers.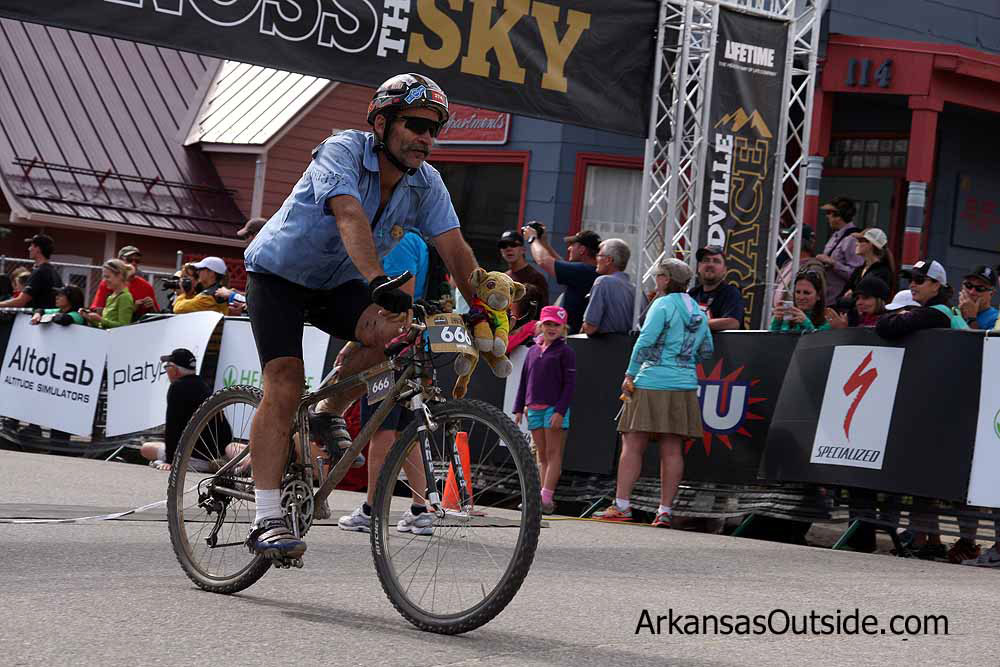 The first Arkansan to finish was Ben Stone of Sigma Human Performance followed in short time by Richard Machycek of Arkansas Cycling and Fitness. Both earned gold belt buckles for finishing in under 9 hours.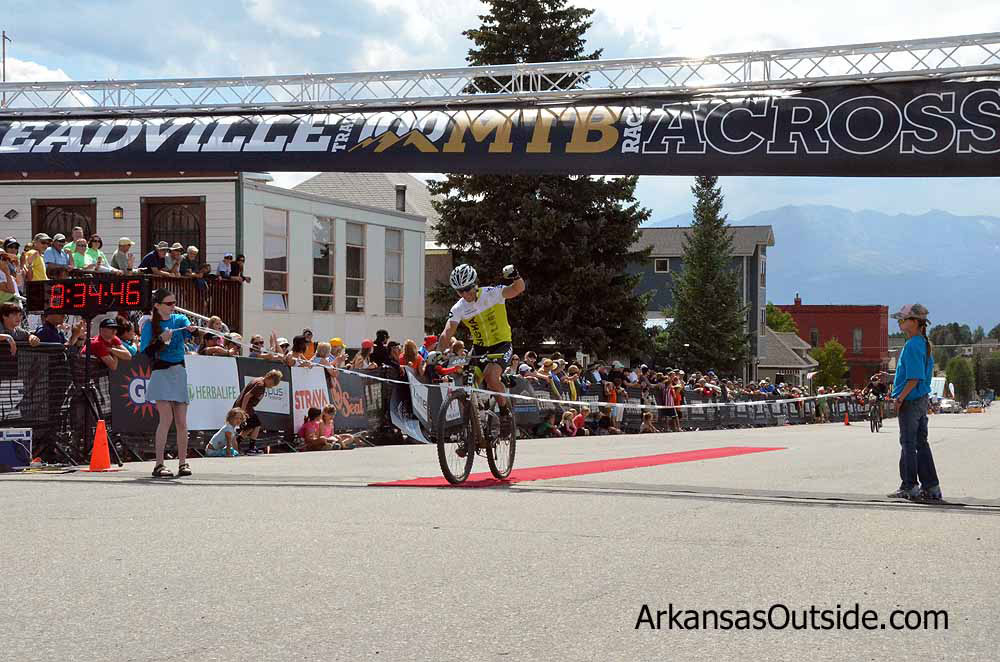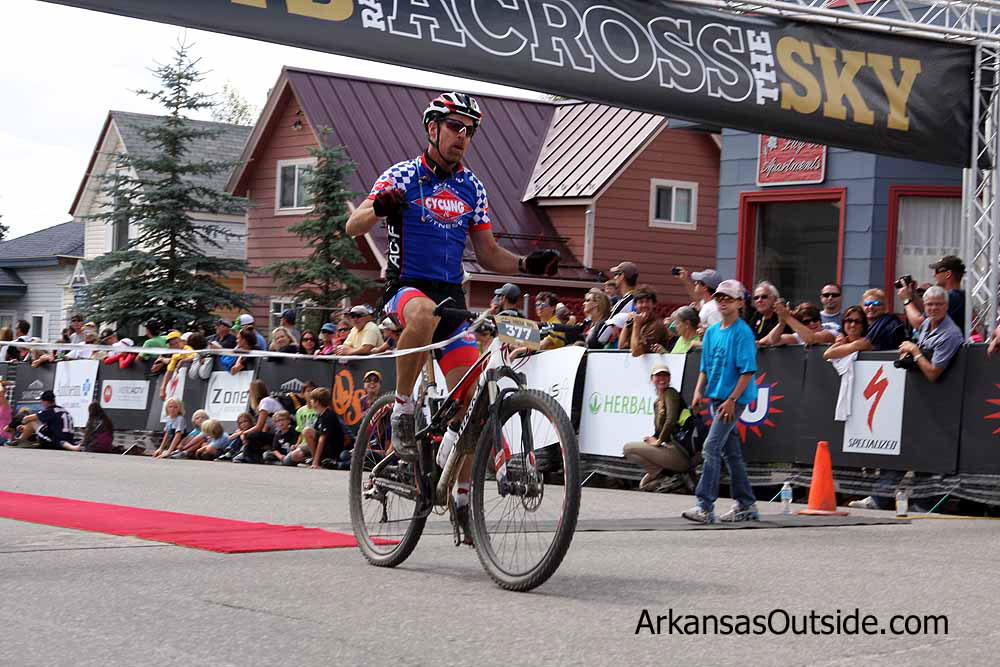 From Richard –
"Got my 2nd gold Leadville 100 belt buckle today! It hurt worse than last year… Was 28 minutes slower! Couldn't get my legs to work for the first 50 miles! I think 2 buckles may be plenty…"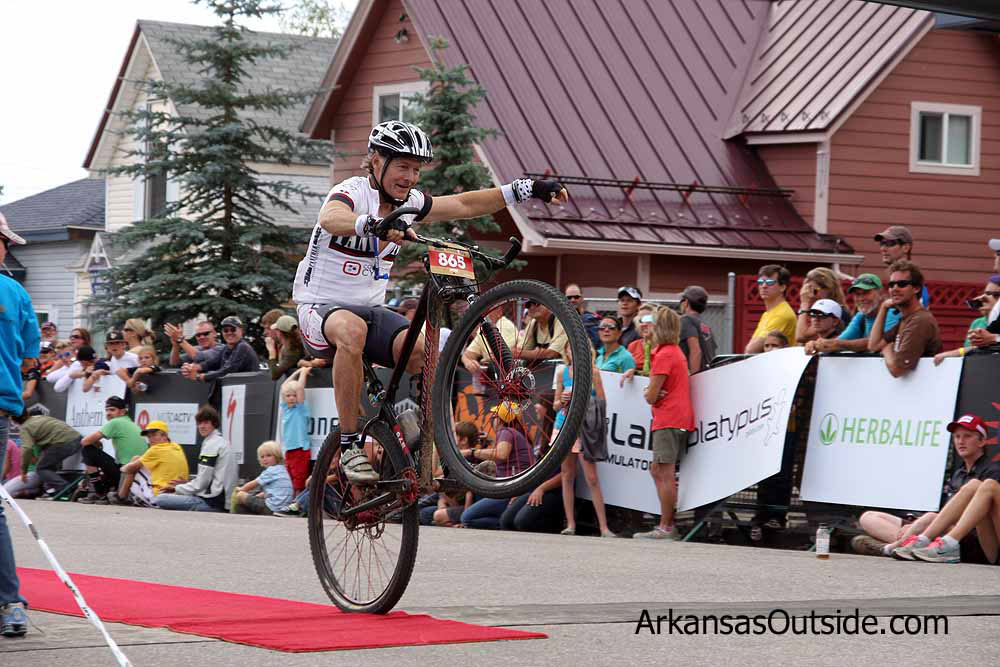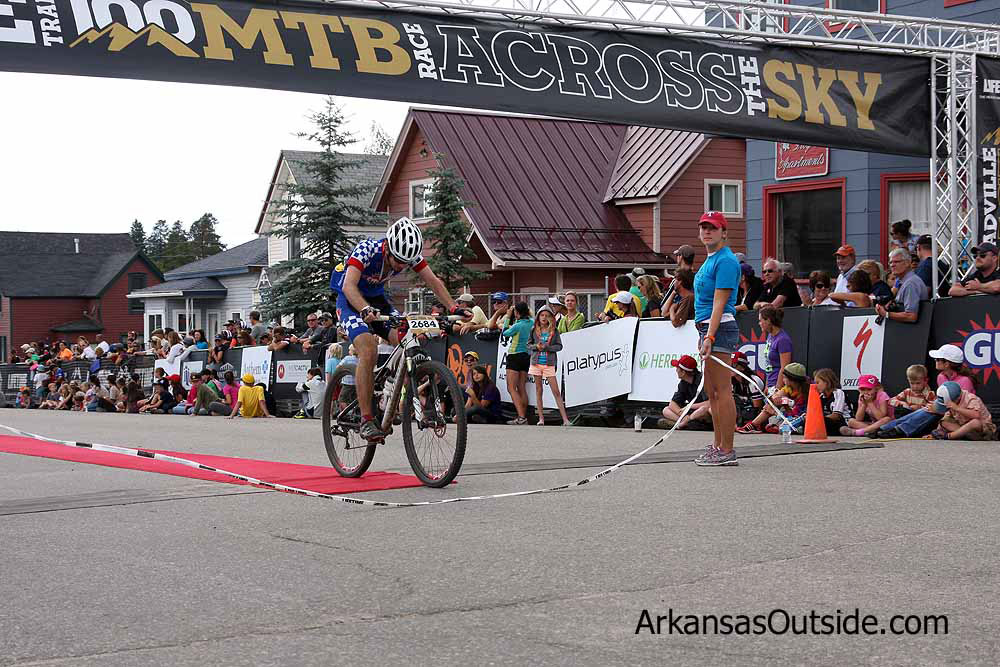 From Chad –
"I was 10 miles from the finish and had 20 minutes until the 9-hour mark. Obviously, that wasn't long enough. However, at the time, I had the math skills of a hamster. So, I decided to push as hard as possible and pay attention to how long it was taking me per mile. I put my elbows on the handle bar and put everything I had into it. After one mile, I realized that there was no way I was making it before 9 hours. I moved over to let one of the other riders I had picked-up take a pull. A girl rode up beside me and asked if I would help her. I thought maybe she needed some food, which confused me because we were only a few miles from the finish. Turns out she was actually 9th or 10th overall for the women, and we had just recently passed the next woman back. She was asking if I would pull her. My answer was "hell yes, hold on". In my pain-bent mind, I was a domestique pulling my team leader to the finish. At about 3 miles from the finish, I had dropped my very last hammer and had nothing left. I told the girl to go on and get her top ten. She thanked me and pedaled away. I pedaled slowly to the finish, totally pleased that I had helped someone else reach a goal, even though I was going to be about 20 minutes late for mine."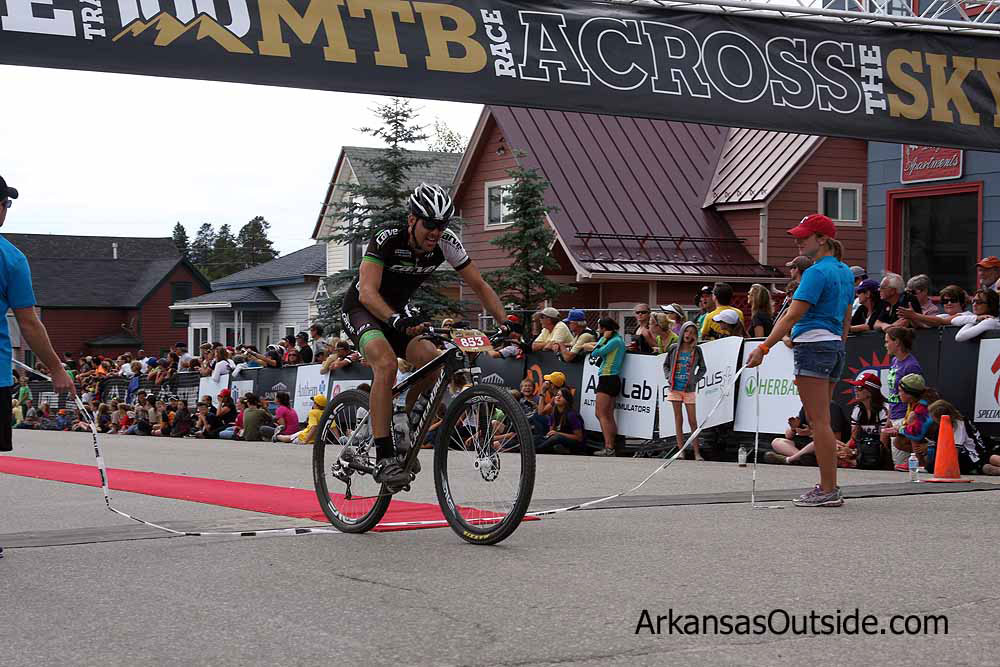 From Scott –
"The coolest part of the race for me was the amazing amount of support I received from the Aid-station crew.  I absolutely know they were rooting for all of us. They went through all of the emotional highs and lows throughout the day and were happy to see us at the finish. Honorable mention goes to the Leadville Organizers.  This was my 4th attendance (3 race/1 volunteer) and I am still amazed at how well they execute this event.  This event is like no other to me.  I can't say when, but I know I'll line up again at some point in my life."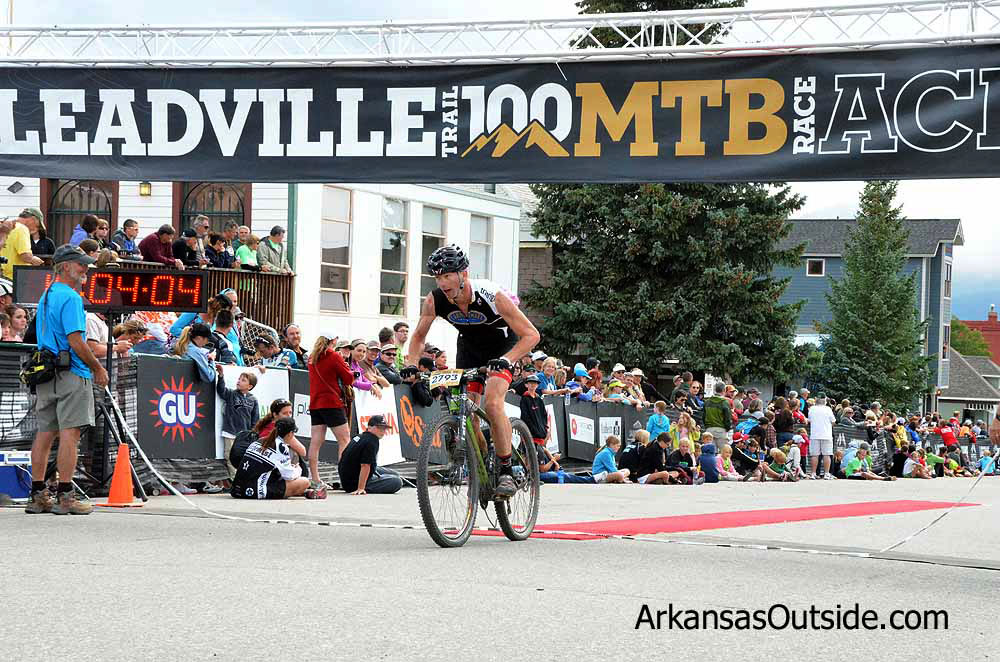 From James –
"There is no coolest part of the race…the coolest part is the entire experience, from when I first signed up to hugging my friends goodbye in Leadville after the race.  Everyone has been so supportive, encouraging, understanding, truly loving.  I am so glad so many of my fellow Arkansas mountian bikers participated and where here to share this with me.  I am so grateful to our Bike Nerds back home who were patient with me, listened (mostly) when I went on and on about what my coach said to do, who went on countless long hard rides with me, who gave me advice about how to do so many things that I needed to survive and perform in this race.  So many friends rallied and sent notes of encouragement, made phone calls, were just wonderful.  They all celebrated as we rode and followed the live updates…from Pittsburgh to, Nashville, to Chicago, and all over Arkansas I had friends cheering for me, and all of us that were racing and putting out our all.  That is the coolest part of the race."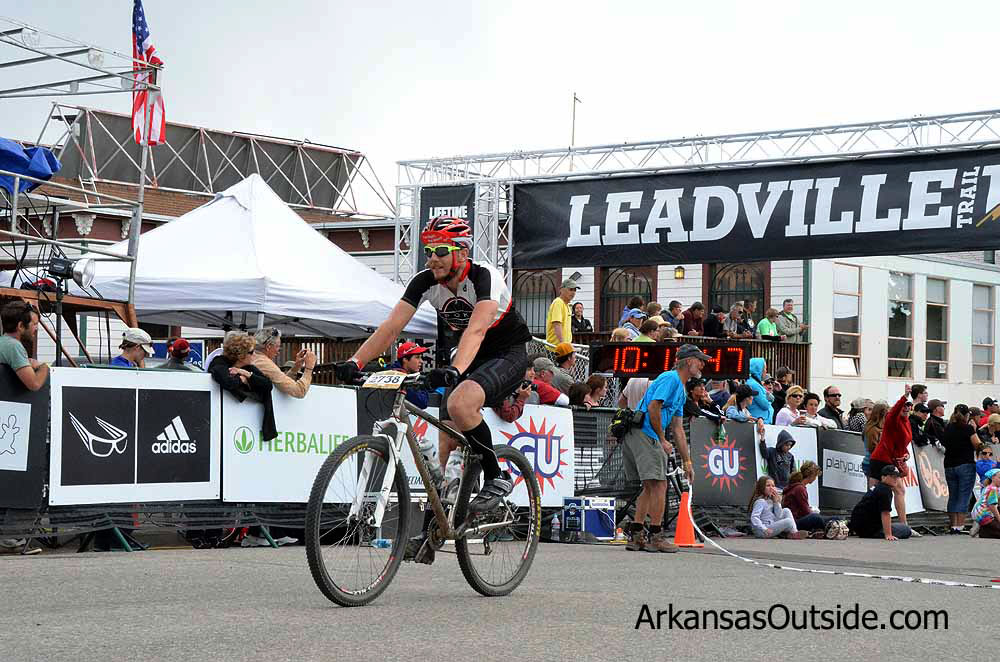 From Stephen –
"The coolest part of Leadville was having absolutely amazing crowd support the entire way even when I had absolutely no gas in the tank near the end of the race.  There were times that I was climbing so slow and pathetic toward the end, but the bystanders were cheering me on with full enthusiasm like I was a pro rider who had just outsprinted my rival and was on the way to a glorious win.  This kind of support really meant a lot to me.  Heck, I even got a sprinting push up powerline from a guy in a full body pizza slice costume.  Arkansans could learn a lot from this enthusiastic bunch."
(editors note: Stephen may have been hallucinating. Really? A full body pizza slice costume? Sure. 🙂
Here is a list of all 16 Arkansas Finishers:
| | | | |
| --- | --- | --- | --- |
| Place | Name (Bib#) | Division | ChipTime |
| 162 | Benjamin Stone (#486) | Male 30-39 | 8:34:33 |
| 236 | Richard Machycek (#377) | Male 40-49 | 8:49:33 |
| 313 | Craig Zediker (#865) | Male Singlespeed | 9:06:30 |
| 338 | Ted Herget (#539) LM | Male 30-39 | 9:12:34 |
| 365 | Chad Cragle (#2684) | Male 20-29 | 9:17:34 |
| 373 | Scott Penrod (#853) | Male 40-49 | 9:20:38 |
| 579 | Brian Jenkins (#2909) | Male 30-39 | 10:01:21 |
| 580 | James Gaston (#2793) | Male 40-49 | 10:02:37 |
| 640 | Stephen Durham (#2738) | Male 30-39 | 10:11:25 |
| 759 | Steve Jones (#1835) | Male 50-59 | 10:32:39 |
| 773 | Robert Mooney (#795) | Male 30-39 | 10:34:33 |
| 1062 | Mark Little (#821) | Male 50-59 | 11:20:20 |
| 1174 | Mark Singleton (#3228) | Male 50-59 | 11:31:37 |
| 1244 | Rodney Small (#3234) | Male 40-49 | 11:41:23 |
| 1356 | Natalie Mcbee (#3025) | Female 30-39 | 11:56:15 |
| 1411 | Jim Crouch (#2687) | Male 50-59 | 12:13:51 |
(note: we didn't have a complete list of Arkansas racers until after the race so I apologize for not getting photos of everyone but please feel free to look through the photos on our flickr page, you may be there)
Most of the racers disappeared quickly to beds, who could blame them. On Sunday morning we attended the awards ceremony. The big awards go to top male and top female. Congratulations to Alban Lakata and Rebecca Rusch.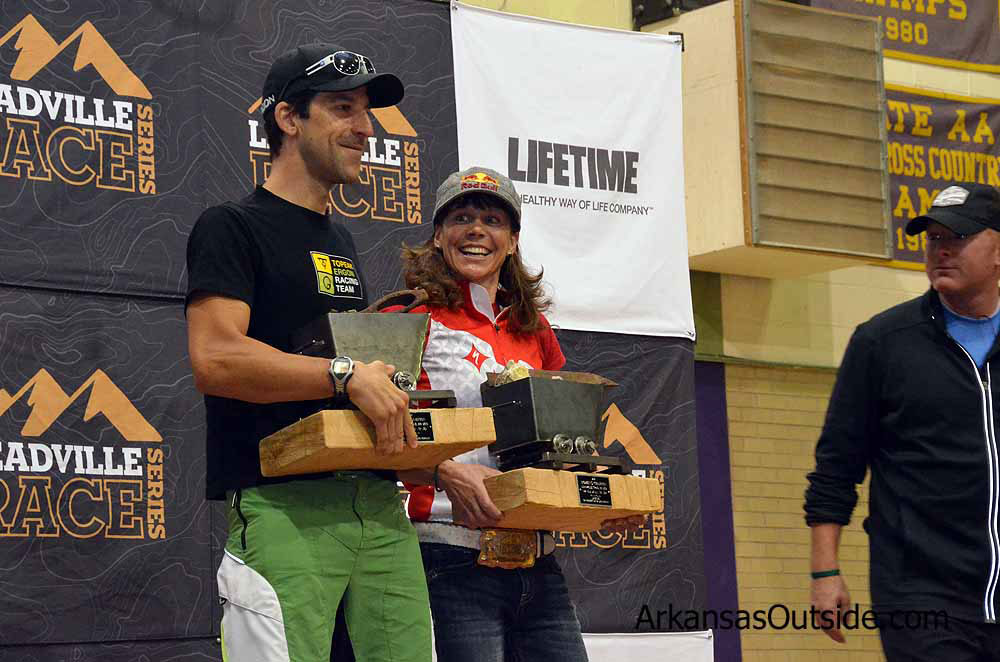 Art Fleming and Frederic Schmid finished in the 70+ class. Frederic is 79 years old. If he races next year they'll need to have an 80+ class.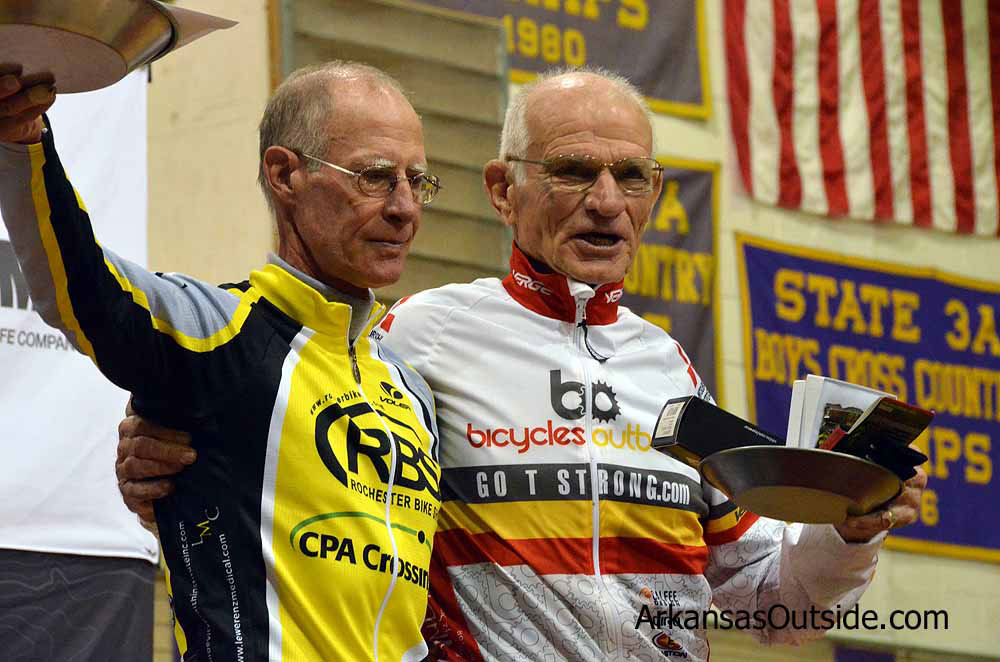 The Leadville Race Series helps support several great organizations including The Wounded Warrior Project and Ride 2 Recovery. Both organizations support wounded veterans. A group of very inspiring wounded soldiers were riding in the event. The event also donated over $20,000 to the International Mountain Bike Association…MORE TRAILS!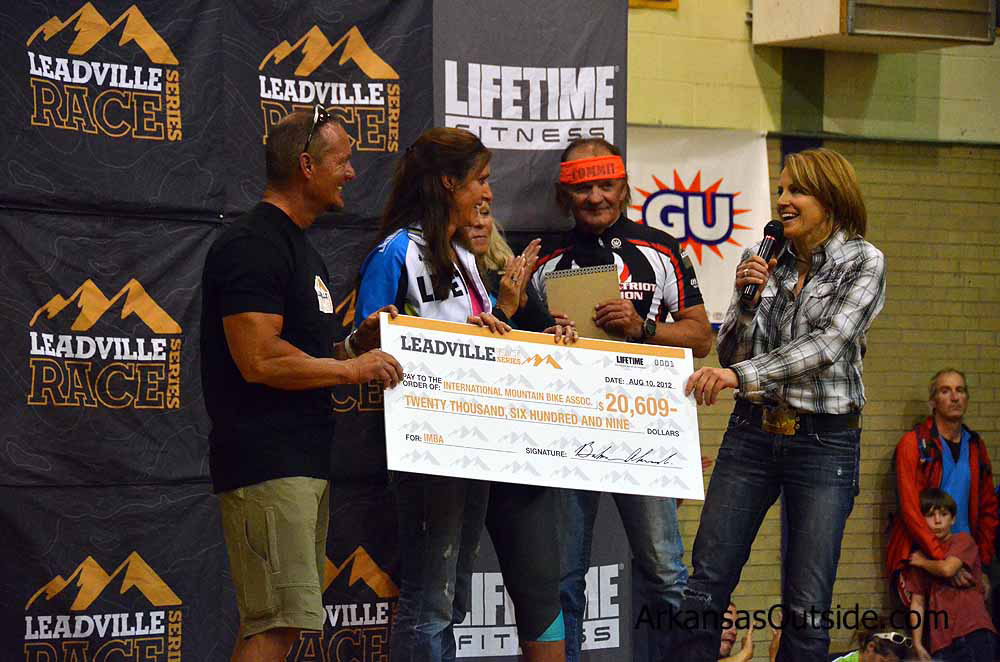 For a complete list of participants and finishers go to the Leadville Race Series website. Thanks to the people of Leadville for the hospitality. If it wasn't for the cool temperatures, it would have felt like home.