Arkansas State Parks has been a proponent of mountain biking in the state since the 1980's. This Summer, come by the Capitol on a hot day and check out the history of mountain biking in Arkansas State Parks, from the full rigid days of the 80's to the high-tech carbon mountain bikes and gravel grinders. Come check it out and then check out an Arkansas State Park trail.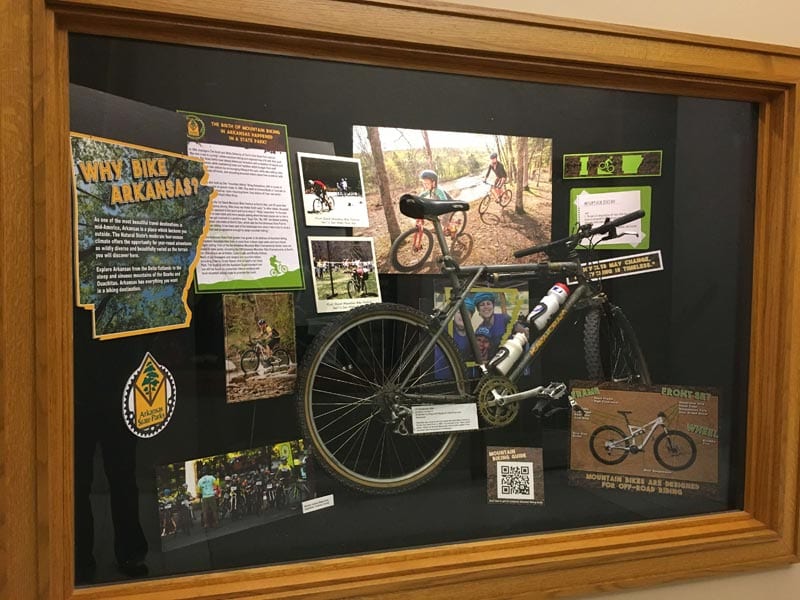 Here is what the Secretary of State's office says about the display:
Once upon a time, all bicycles were, really, "dirt bikes."  In cycling's earliest days, wheelmen—and women–followed uneven gravel roads and rough paths, both to get from point "a" to point "b" and for the sheer joy of the ride.  Today, many cyclists have rediscovered the fun and challenges of unpaved riding, and Arkansas's state parks offer a variety of such opportunities. This summer, the Arkansas State Capitol's first-floor galleries feature "Let's Ride: Mountain Biking in the State Parks of Arkansas," a celebration of adventurous cycling around the Natural State.

Created by the Arkansas Department of Parks and Tourism in collaboration with the Secretary of State's office, "Let's Ride" highlights the state parks' connection to the beginnings of mountain biking in Arkansas: two staffers at Devil's Den State Park helped organize the state's first mountain bike gathering, the Ozark Mountain Bike Festival, at Devil's Den in 1989.  Today, state parks feature mountain bike trails for cyclists of all skill levels, ranging from beginner routes to rocky advanced-level "technical" trails. The Delta Heritage Trail, a state park venture, is a crushed limestone rail-to-trail path that when completed will offer a nearly eighty-five-mile "gravel grinding" ride through the historic and scenic heart of the state's southeastern quarter.

"Let's Ride" includes scenes from and information about trails statewide, as well as select examples of the two-wheeled technology suited for them: one cycle, a 1980s-vintage GT "Karakoram," is a veteran of the 1989 Devil's Den event.  Others, loaned by area cycle shops and distributors, illustrate the variety of modern-day mountain cycles.

"Let's Ride: Mountain Biking in the State Parks of Arkansas" will remain on display in the Arkansas Capitol's first-floor galleries through Labor Day.  For more information about the exhibit, contact Chris Powell: chris.powell@sos.arkansas.gov | (501) 683-0057.  To learn more about mountain biking opportunities in the state parks, visit https://www.arkansasstateparks.com/biking/ .
Enjoy this video about the exhibit: