Can I tell you how excited I am that my son Connor is following in my footsteps as a mountain biker? My first two kids never really got the 'bug', but it seems to be growing slowly in my boy Connor. Now all I need to do is continue to feed the bug and not squash it out of existence. That came close at his previous race at Devil's Den State Park but to his credit, he is a resilient child, and up for almost any challenge.
His racing pedigree is short and unremarkable. He's certainly not the fastest kid around the block. His idea of riding is simply to cruise around while taking in the sights. I can't tell you how many times I've had to tell him to stop sightseeing and to pay attention to the trail. But with some encouragement and bribery, errr…incentive, he's started to take up bike racing. Not that there's anything wrong with a little bribery.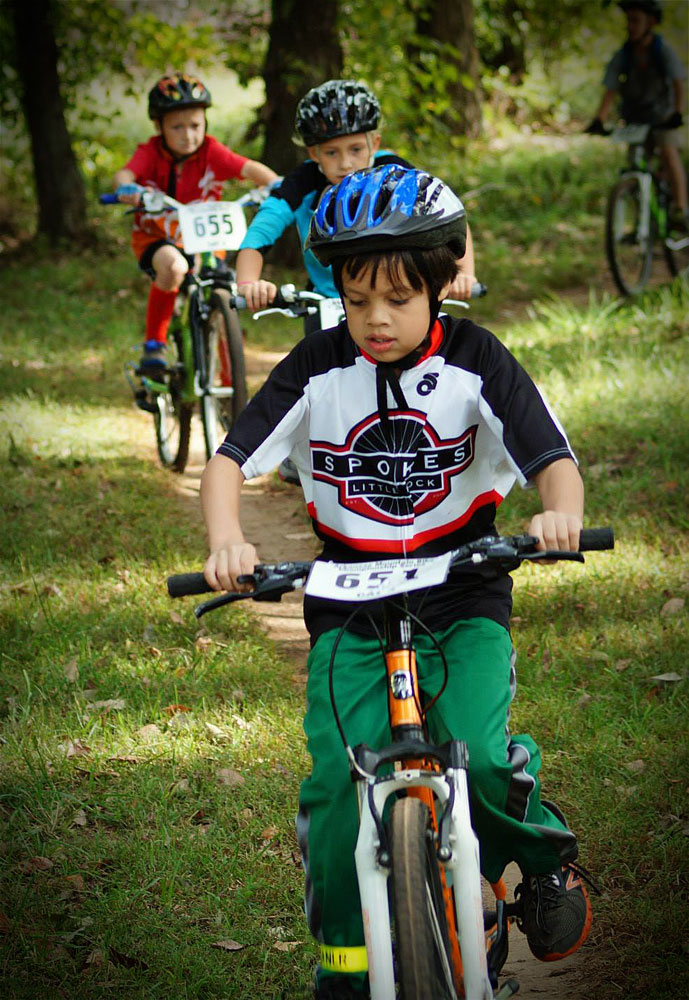 In the past, he's raced his mountain bike a couple of times at the Battle for Townsend's Ridge. He's done a few kids races at local criterium road races and the Phat Tire Festival in Eureka Springs. He's even tested the waters of cyclocross at Allsopp Park. Like his daddy, he's not super fast but he makes up for it in heart and a "no quit" attitude. In previous years, he could really just "take it or leave it" where racing's concerned, but this year, he seems to be more interested. It helped that I promised him a cycling jersey which he thought looks COOL (please don't tell him otherwise) if he participated in three races. I made good on that promise earlier this year after his second kids' race at the Ronde van Burns criteriums. Next bribe for him: another three races to earn a pair of cycling shorts.
So after struggling but finishing a very TOUGH race at Devil's Den State Park almost a month ago, which I would not have had him race had I known ahead of time just how difficult that course was for a kid, he got right back in the saddle for the Springhill Classic this past Sunday. The Springhill Classic is hosted by the River Valley Cycling team and takes place at Springhill Park, a Corps of Engineers use-area located in Barling, AR, just outside of Fort Smith. It consists of nearly 10 miles of tight, twisty, hard packed dirt singletrack that you can outright fly on. I call it "10 miles of Pfiefer Loop" in reference to our own tight, twisty trail in North Little Rock, AR.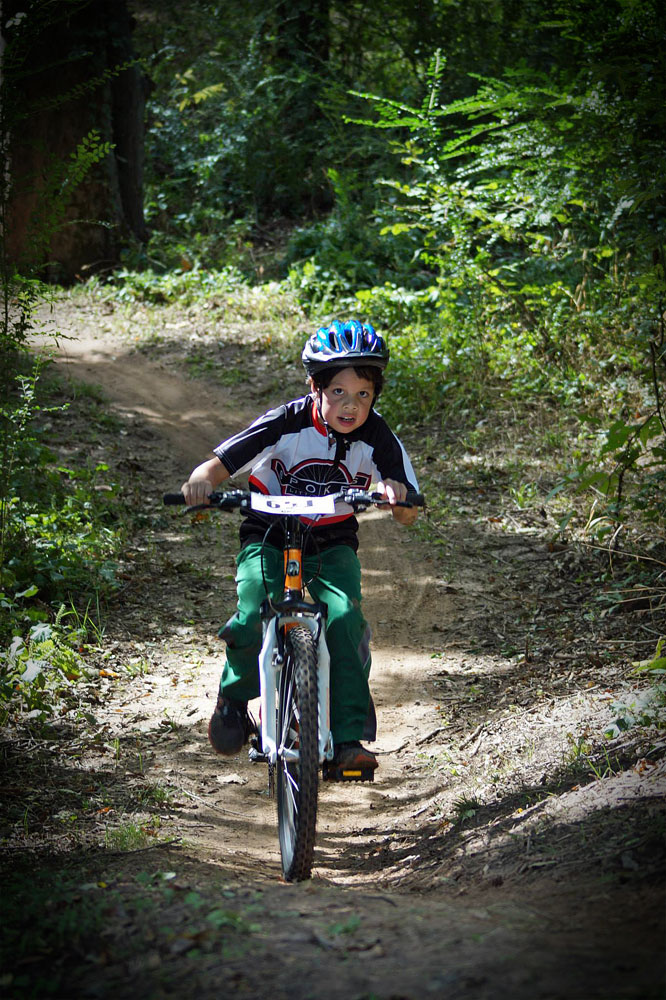 The Springhill Classic also distinguishes itself from other races in the Arkansas Mountain Bike Championship Series (AMBCS) by having a novice class for those racing for the very first time. The flat, non-technical nature of the course is perfect for those who are interested in giving a try at racing. Springhill Park is also a treasured location for those who knew Laura Wooldridge, who passed away after an accidental crash at the Phat Tire Festival earlier this year. This was the location of the very first womens-only mountain bike clinic that she organized a year ago. Several women promised her that they would race after that clinic and there were some present on Sunday making good on those promises. Those who knew her continue to honor her while they raced wearing long colorful "Laura socks", Live Like Laura wristbands, or even having the letters L-W marked on their calves. Even after her tragic passing, she continues to inspire people to ride and race.
Back to the story at hand. After a very tough, discouraging race at Devil's Den, Connor was on the fence about doing another mountain bike race with the memory of that one still fresh in his mind. I told him this one was going to be WAY easier and that I thought he would enjoy this one a lot more. It didn't hurt that I reminded him that he needed just one more race to earn his next "prize" in the Li Family Cycling Incentive Challenge. Even though we had just spent the entire previous day at the Big Rock Mountain Bike Festival/Take a Kid Mountain Biking Day, we were up before the crack of dawn on Sunday to make the 2 1/2 hour drive to Springhill Park.
We got there in plenty of time to set up the Team Spokes tent, get registered, and get a pre-ride in to get him warmed up for the CAT3 Junior 10 & under race. We rode the first 2 miles of the course and that gave him a good idea of what to expect. Soon after, he was lined up at the start line among nearly two dozen other kids waiting to get sent off onto the course. I reminded him to shift his gears when he needed to, especially after the harder start in the grass. That's something he still hasn't gotten used to doing on a regular basis, but he's learning.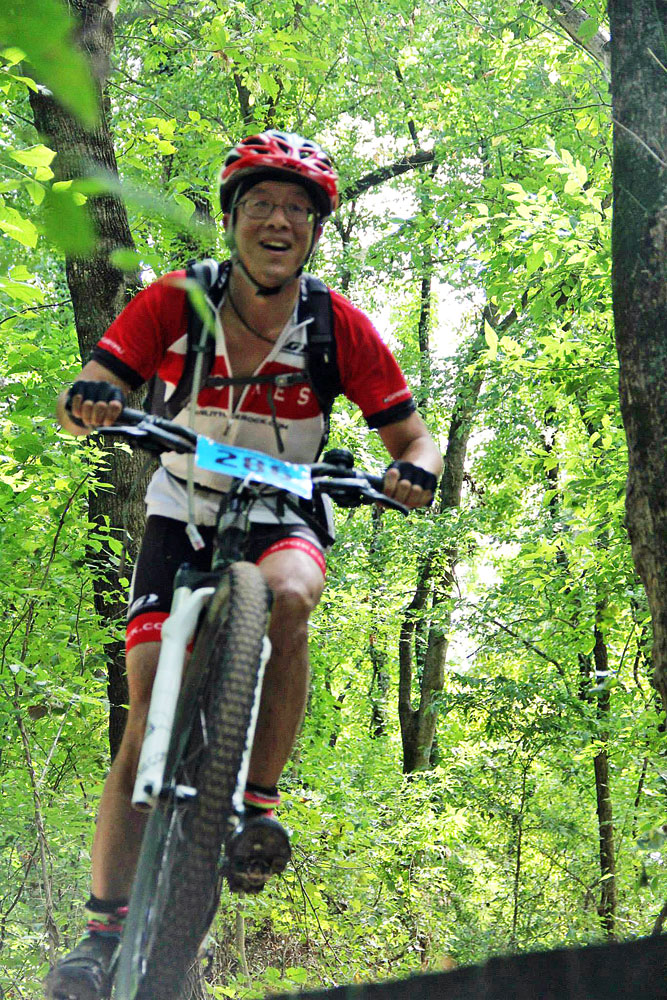 After roll call and making sure all the kids were present and accounted for, they were off, pedaling as fast as their little legs could pedal. I was happy to see Connor hit the singletrack not in last place and I hoped that would bode well for him. Feeling confident that he should do pretty well on this much easier course, I focused all my attention from that point on on my own race.
But since this is a story about Connor, I will dispense with the unexciting details of my own race, which pretty much went as expected. I went hard & fast and even set personal records (PRs), but everyone else was just plain faster. C'est la vie. After I finished my race, Connor came running up, excited to tell me how he did.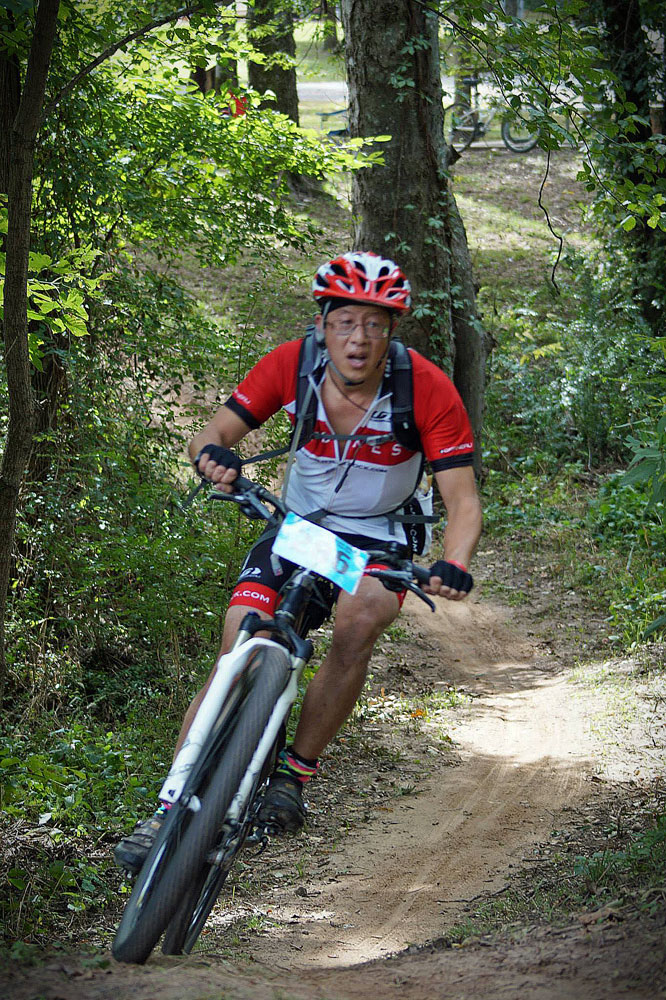 As I straddled my bike, gasping for air, and waiting for feeling to return to my legs, Connor animatedly told how his race went. "I passed five people!" he proudly exclaimed. "Oh yeah? That's great buddy!" I gave him a high-five. "Well, technically," he added, somewhat sheepishly, "only one on the trail. But I passed four people at the start!" "Hey, that TOTALLY counts!" I remarked. He went into detail about how he passed this one boy out on the trail who kept looking back at him and then eventually rode off the trail and crashed when he wasn't paying attention to where he was going. "I felt bad for him when he crashed," Connor stated, "but he looked like he was okay so I kept going." I told him THAT was the reason you never look behind you when you're riding. "I didn't even drink from my bottle!" he boasted. That was a good sign that he was taking it seriously and not just cruising along like he normally does.
I asked him if he had fun and he said he did, and that it was WAY easier than Devil's Den. He said he only crashed once, after riding off the end of a ramp that ended suddenly. I knew exactly what he was talking about as even I took the detour as to not go off the 2-ft drop and possibly wreck. He said he crashed in the dirt but he was okay. Tough kid! He said the trail was just like riding 10 Bridges(!!!) and Outer Loop(!!!) from back home. We had only ridden out at Camp Robinson a couple of times but it surprised me that he remembered the names of the trails out there!
"So….", he finished, "can we stop off at Spokes on the way home so I can get some bike shorts?" Kid has his priorities straight. "Unfortunately, Spokes is closed today, but we will stop by soon," I promised him. So, he didn't get last place which was an improvement from the previous race. He seemed a little down that he didn't get a trophy but I told him that it's not all about winning. I told him that I was super proud of him for just racing and that he was probably a lot more skilled than a lot of kids out there.
We have to start them young, and the Take a Kid Mountain Biking Day and kids races at all the scheduled races is one way to do that. This is definitely a race I would recommend if you are just getting your kids into mountain bike racing. I would not say the same about Devil's Den. 😉 Huge thanks go out to River Valley Cycling and the other sponsors for hosting a great race at a great venue with a good SWAG bag and good post-race food. And personal thanks go out to Spokes Little Rock for continuing to support our mountain bike team!! Hope to see more kids out there riding soon!
All photos from the River Valley Cycling Facebook Page.