I was saddened when the widening of the I-630 bridge over Rodney Parham Road destroyed the heavily-used basketball court under the overpass. The Arkansas Department of Transporation had explained at the time that the replacement of the basketball courts was not in their scope of work and local residents worried that the courts might never return. This is wonderful news. I am also looking forward to the work on the Tri-Creek Greenway moving forward.
---
LITTLE ROCK – Mayor Frank Scott, Jr., and the Little Rock Board of Directors last night approved a resolution to provide nearly $1.5 million in improvements to Kanis Park, including the rebuilding of basketball courts that were removed as part of the widening of Interstate 630.
"These historic courts are woven into the fabric of the neighborhood and really the entire city," said Mayor Scott. "Rebuilding them has always been part of the plan, so I'm grateful to the Board for approving the necessary funding resolution so that the City can contract to get them rebuilt."
The courts were demolished in 2018 when the Arkansas Department of Transportation began a project to widen a section of I-630 from six lanes to eight. The courts were located under the I-630 bridge crossing Rodney Parham Road.
The resolution allocates $1,459,439 for improvements to the park, including the rebuilding of the basketball courts, mitigation of an existing low-water bridge with the construction of a new park entrance roadway and bridge improvements, ADA-compliant trail improvements, and trail connections to the future Tri-Creek Greenway, a system of trails connecting seven City parks. According to the resolution, the funding will come from short-term financing and special project accounts, along with grant and grant-matching funds.
The improvement work will be completed by BMD Builders, the winning bid from three submitted to undertake the work. The construction plan calls for construction of the park entrance roadways and bridge improvements first to better enable access, with work then proceeding to the courts and trails.
"Kanis Park has had many upgrades in the last few years, including the addition of a very popular new pickleball court. But residents have been asking for the return of the basketball courts since they were removed, so we're certainly very excited to be bringing them back," said Leland Couch, director of Little Rock Parks and Recreation.
The resolution allows City Manager Bruce Moore to contract for construction. While still yet to be negotiated, the expected completion date for the contract will be this summer.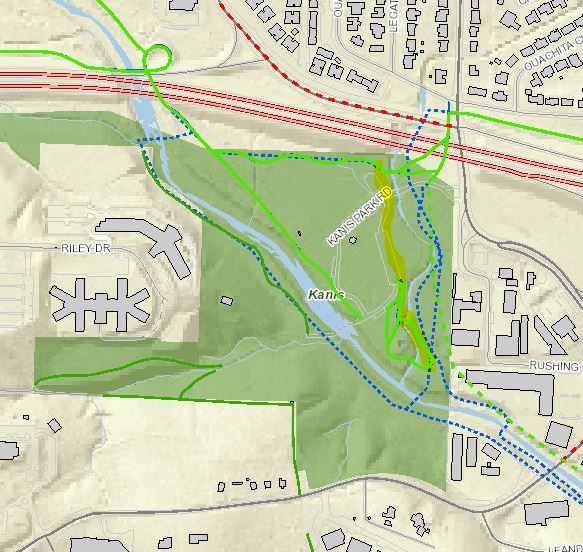 History:
Kanis Park occupies 46 acres of level to gently-sloping land along Rock Creek in the western part of the city. This tract of land was acquired from the E.D. Kanis family in 1968. The park was developed extensively in 1969 and in 1979; a link in the city bike path system was extended through the park.  In 2020, six pickleball courts were added.