2016 was a big year for Arkansas mountain biking. New trails opened up in Northwest Arkansas including the Back 40 system and an introduction to the Coler Trails. At the Governor's Conference on Tourism, held annually in March around the state, there was a buzz in the air on cycling culminating with Tom Walton winning the Tourism Person of the Year award for his work to create and improve paved and natural surface bike trails in Arkansas.
Bentonville hosted the International Mountain Bicycling Association World Summit this past November to rave reviews. Many don't realize that just before the summit, Bike Magazine came to Northwest Arkansas to test bikes for their annual Bike Bible issue. The ramifications of this important visit still to be experienced, but get ready.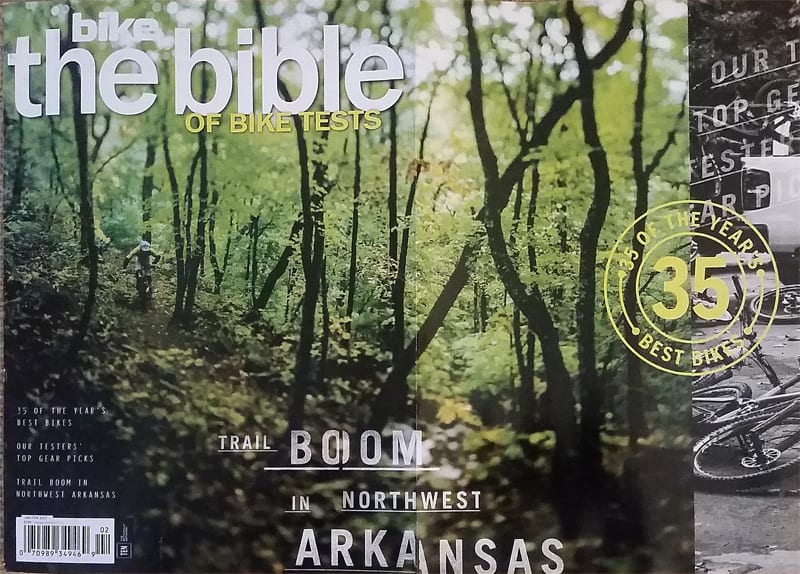 The January/February 2017 issue just hit my mailbox and it is a wonderful tribute to mountain biking in The Natural State. Besides the coverage of every kind of dream mountain bike imaginable, and the articles on how the staff went about testing the bikes plus vignettes on each of the reviewers, there is an article on Tom and Steuart Walton and their work through the Walton Family Foundation to improve the quality of life in Northwest Arkansas through trails. There are 14 pages of copy and photos describing the OZ Trails, the name given to the incredibly diverse trails of the Ozarks in that upper left corner of the state, the Trail Dogs of the Lake Ouachita Vista Trail and the Womble.
It is also encouraging to see the advertisements from the Walton Family Foundation, the OZ Trails, Phat Tire Bike Shop and please check out the pullout ad from the Arkansas Department of Parks and Tourism right in the beginning of the magazine. Our state is all in and it is wonderful.
We recommend you grab a copy and check out what we have, right here in our own backyard.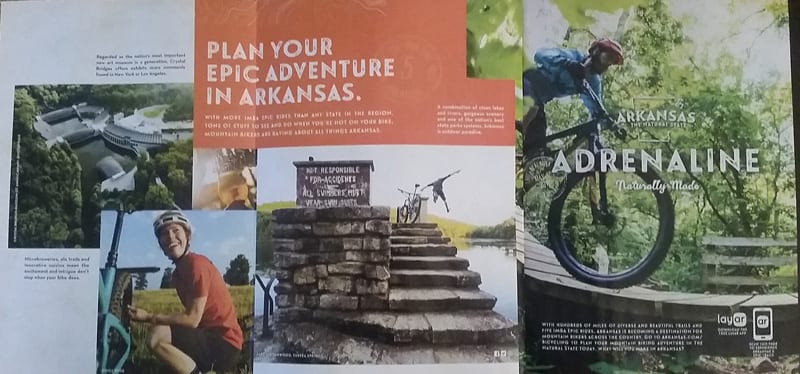 Here are a couple of stories they have already done: