(Although I wrote this in 2012, I like to share it every year as it is an incredible story. For the folks in Hollywood looking for some fresh material, here you go.)
Last night I attended a local high school production at the Clinton Presidential Library commemorating the Negro Baseball Leagues and integration in Major League Baseball. It was a nice tribute that mentioned other Black sports heroes like Jesse Owens, Jackie Robinson and boxer Joe Louis. I couldn't help but notice that they missed the very first Black-American World Champion.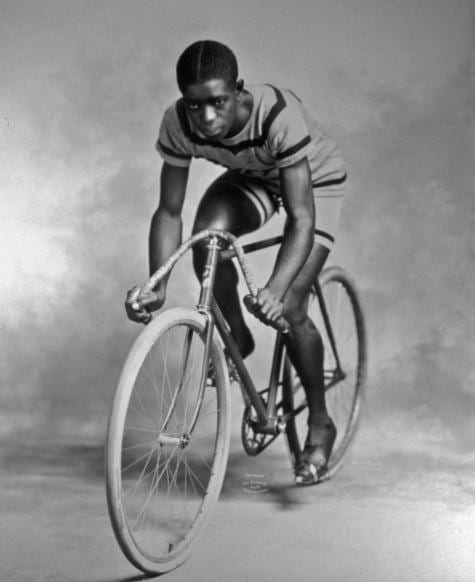 In 1899, 37 years before Jesse Owens set several World Running Records at the 1936 Olympics, 38 years before Joe Louis became a World Champion Boxer, and 48 years before Jackie Robinson broke the color barrier in Major League Baseball, Marshall "Major" Taylor became the first African-American to become a World Champion. His sport, bicycle racing.
In 1899 he won the world championship, preceded only by boxing bantamweight George Dixon (a Canadian) as a black world champion in any sport. In one six week period in 1899, Taylor established seven world records. These included the .25 miles, .33 miles, .5 miles, .66 miles, .75 miles, 1 mile, and the 2 miles. He did the mile from a standing start in 1:41, this record stood for 28 years.
At the time track racing was all the rage and Marshall Taylor excelled at the short races but he was not incapable of longer races. His first win as an amateur racer came just 4 years earlier when he won his first major race, a 75-mile road race near his hometown of Indianapolis, Indiana.
Taylor faced a great deal of racism during his career. He was not able to race against white riders in most of the south (which may be one reason I have not found any mention of him racing at the Little Rock Bicycle Track during that time). In his autobiography, he reports actually being tackled on the race track by another rider, who choked him into unconsciousness but received only a $50 fine as punishment.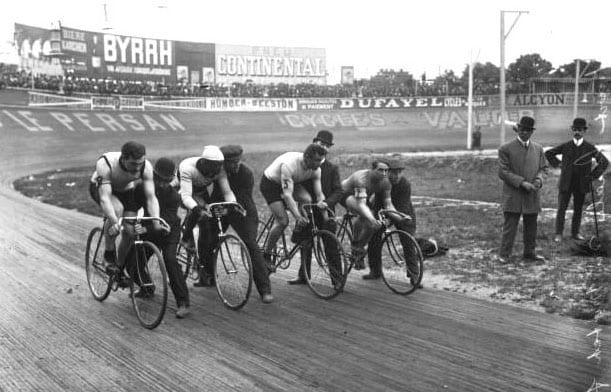 After racing in Europe, Australia, and New Zealand, Taylor retired at age 32 in 1910, saying he was tired of the racism. His advice to African-American youths wishing to emulate him was that while bicycle racing was the appropriate route to success for him, he would not recommend it in general; and that individuals must find their own best talent.
Poor investments, bad health, and the stock market crash of 1929 took their toll on Taylor. His marriage over, he died at age 53 on June 21, 1932, a pauper in Chicago's Bronzeville neighborhood, in the charity ward of Cook County Hospital, he was buried in an unmarked grave. In 1948 a group of former pro bike racers, with money donated by Schwinn Bicycle Co. owner Frank W. Schwinn, organized the exhumation and relocation of Taylor's remains to a more prominent part of Mount Glenwood Cemetery in Bloom Township, Illinois, near Chicago.
His story was featured in a 1992 mini-series, Tracks of Glory and in the book, Major Taylor: The Fastest Bicycle Rider in the World. I've seen a website for a new movie but no release date yet (As of 2020, this movie has still not been released). Also, Little Rock has a chapter of the Major Taylor Cycling Club.
Although it could be argued whether or not his actions opened the door for other black athletes to break the various color barriers in professional sports, I feel like his accomplishments would be better known if he hadn't been so early. When Americans finally looked into the mirror of racism that Nazi Germany held up and the pride we felt as a people when Jesse Owens beat them in their own Olympic games, we were finally ready to start the ongoing process. That process included creating new African-American sports heroes, new American sports heroes. I like to count Marshall "The Major"  Taylor as one of them.
"There are positively no mental, physical or moral attainments too lofty for the Negro to accomplish if granted a fair and equal opportunity."—Marshall Taylor