I like to think of myself as a nice guy. Someone you can count on for a beer hand up or helping with a mechanical or at a minimum cheering my friends on with a little cowbell. But I have a mean streak when it comes to cyclocross. With the fifth race of the Arkansas Super-Prestige Cyclocross Series fast approaching I found myself wishing for rain, hoping for mud, desperately seeking cold, winter weather. The first four races had been beautiful sunny days and although we did have a healthy dose of mud at the Reservoir Cross Race it was nothing like last year's Jingle Bell Cross at Boyle Park. That's the race that sold me on covering cyclocross events.
The only thing that the rain makes a little easier for me as a race photographer is the cloud cover offers even exposures, no worrying about shadows and highlights, but that is the only plus. Darker conditions along with trying to keep the equipment dry makes for a much harder photo shoot. But it's worth it for the suffer-faces.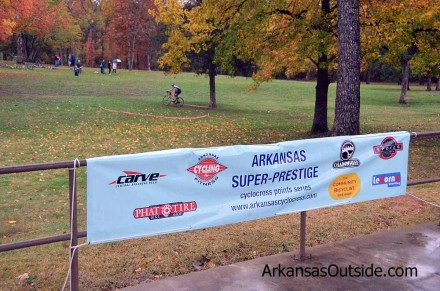 This year's Old Post Cyclocross event is a return to the series for Russellville. Along the Arkansas River near the Dardanelle Lock and Dam, this park has a lot to offer. Hiking and mountain bike trails, a disc golf course, tennis, basketball and baseball fields plus picnic areas. A perfect place for riding skinny tires in the mud and muck and leaves.
The course was a little more spread out than the previous courses this year with a distinct wooded area, a nice ditch with barriers a couple other barriers and a serious sand pit. Oh yeah, and rain.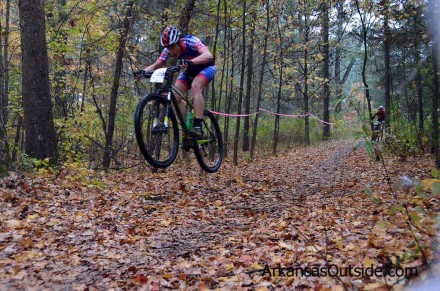 As we were driving west to the race we quickly left some patches of blue sky behind only to be replaced with some drizzling rain. By the time we got to the park we realized that this was going to be a great cyclocross day. A large pavilion was set up as race check in so we set up our banner and a bunch of free cowbells to give away and got ready for the races to start.
After first negotiating a very bumpy climb through wet grass, racers dropped down, crossed a bridge and then took a spin through the woods. Leaves covered the trail making it hard to see roots  and dips in the way. Once through this area they are greeted with a barrier, ditch, barrier that I only saw a few on mountain bikes compete without dismount.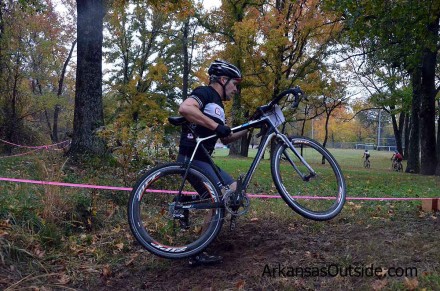 Then it was another grassy climb to the tennis courts, around the playground and on to the sand pit.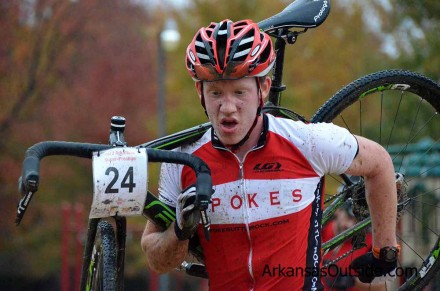 Once past the pit, racers had a relatively flat course along the river. An off-camber section that dropped down toward the river and then came back up was taken out due to the wet grass and an extreme penalty for failure meaning large rocks and briers at the bottom of the hill. Racers then came back around to cross a couple of barriers that many bunny hopped over.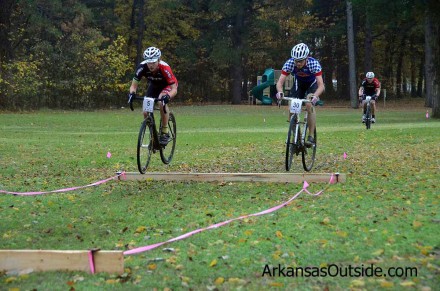 The rain was pretty heavy through the first race but mellowed a bit for the second but  by then the course was pretty sloppy. Just my luck the rain really came down heavy just after we left the park.
It was a great time watching the races at Old Post and I understand they are trying to have two races in the series next year. I wish them luck. Looks like a great place to play.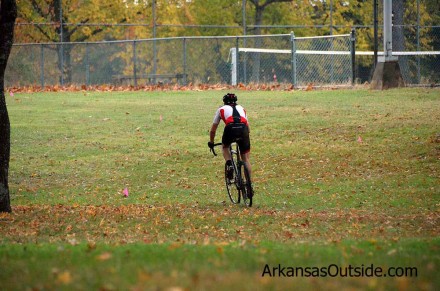 The next race in the series is the Turkey Burn at Boyle Park if it rains it will be perfect. We'll add the link to results once they are available.
Look for a lot more photos and suffer-faces from Old Post on our Facebook Page.