1984, Forest City Arkansas, was the start of something special. Of course, the sport of triathlon had been around for a few years. The true infancy of the sport of triathlon in the state of Arkansas started a year of so earlier than 1984. But the Mighty Mite came on the scene and its staying power is well known. The real male pioneers of the sport in Arkansas had names such as Robert Jacuzzi, Rick Korte, Brent Peterson, David Guthrie, Joe Whillock, Don Fletcher, Richard Kersh, Rob Walton, Bob McGowan, Kurt Truax, Michael Hunt, Pete Green, Bill Bell, Paul Irby, Robert Hanle, David Wonn, Michael Dwyer, and many many more. Female highly competitive pioneers were, Deb Strehle, Kathy Lindstrom, Bonaza Jelly Bean, Vivian Chwalinski, Sloan Burton, Jennie Devine, Lisa Thoreson, Laura Finan, Vickie Karolson and these are but a few.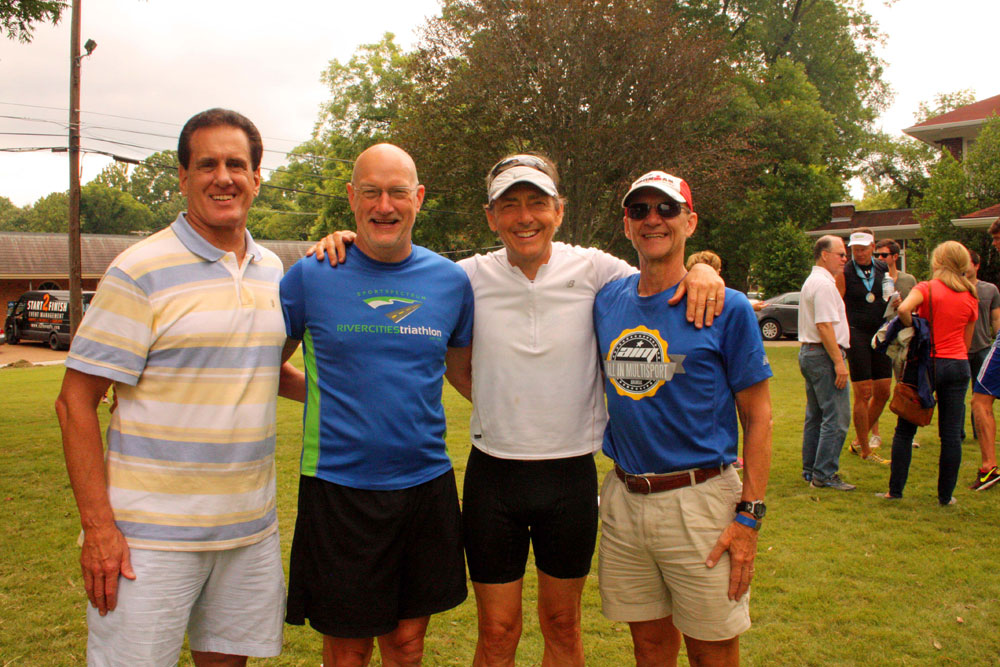 There were dozens of race venues covering the state in all directions over the years. Few triathletes today can come up with half the list of triathlons that have been home to Arkansas triathlon competitions. Even having been a competitive triathlete for 32 years now, I might not be able to create a perfect list of the races that have been executed in our state. A quick try would be the following: The Lake Norrell Triathlon, Jonesboro Craighead Forest Tri, or the Jonesboro Ridge Runner Triathlon, Fort Smith's early season indoor tri, The Walton Triathlon in Bentonville, Rogers Shark Sprint, Siloam Springs Bolo Dog Food Tri, Fayetteville's early Ozark Challenge in the U of A Hyper Building Pool, the current Ozark Challenge event held at Lake Weddington, Decatur Fitness Center Tri in Russellville, Conway Cone Triathlon, CATS Sprint in Conway, Arkadelphia Lake Degray events, Searcy Central Arkansas General, Hot Springs Liberty Fest, Forrest City Mighty Mite, Texarkana 4 States (actually Texas), Coors Light Silver Bullet Lake Norfork North Arkansas Triathlon, Arkanthaw at Lake Norrell, Hot Springs Tri the Village, Bryant, North Little Rock, El Dorado Y Tri, The Piney, Maumelle Park Pedal Paddle Plod, El Dorado Boomtown, and I don't know how many more. I've done most, but not all. I doubt anyone could come close. But having been involved with the sport for this long, I have seen lots, and done lots and above all that I have experienced, I have been reminded this week of events now and in the past, that we in the endurance sport community should learn from. Meaningful stuff…
The Mighty Mite is held the middle of July every year. MM is a unique triathlon in many ways: unique for awarding the top 10 males and females makes this race a very special one. For me personally, I once had a child who was born late one night after I competed in the race, I chose to leave for home early before the awards ceremony. In so doing, I missed out on the drawing of my name for the big fast tri-bike giveaway! Uniqueness for its long service to the triathlon community. Another uncommon characteristic is that it is a point to point race, meaning you have to think, prepare, and set up in more than one setting to be able to complete the course as it is laid out. This can be daunting for both seasoned and non seasoned racers at times. The race has served as the Arkansas State Triathlon Championship race many times over its long life. Many times the final mile housed 5 to 8 Arkansas triathletes careening in a sprinting foot race around the inside of a football stadium as if we were in the Olympic arena, toward the finish line within 30 seconds of each other back in the mass start era of the race. The race was started by Bill Higgs, another triathlon pioneer that helped bring the event to its early start before being stricken at a young age by cancer. Bill was the driving force that created the life of the Mighty Mite. It was a devastation to the entire state triathlon community with he died. His likeness was included for years on the sleeve of the Mighty Mites unique shirts. Other unique items have been some of the most innovative trophies ever. See the photo and you will agree. Another unique occurrence related to this race is one that gave me pause to reflect, deeply, in regards to the Mighty Mite triathlon. Especially in light of other heart wrenching news that has struck the brothers and sisters of the Arkansas endurance community again this week.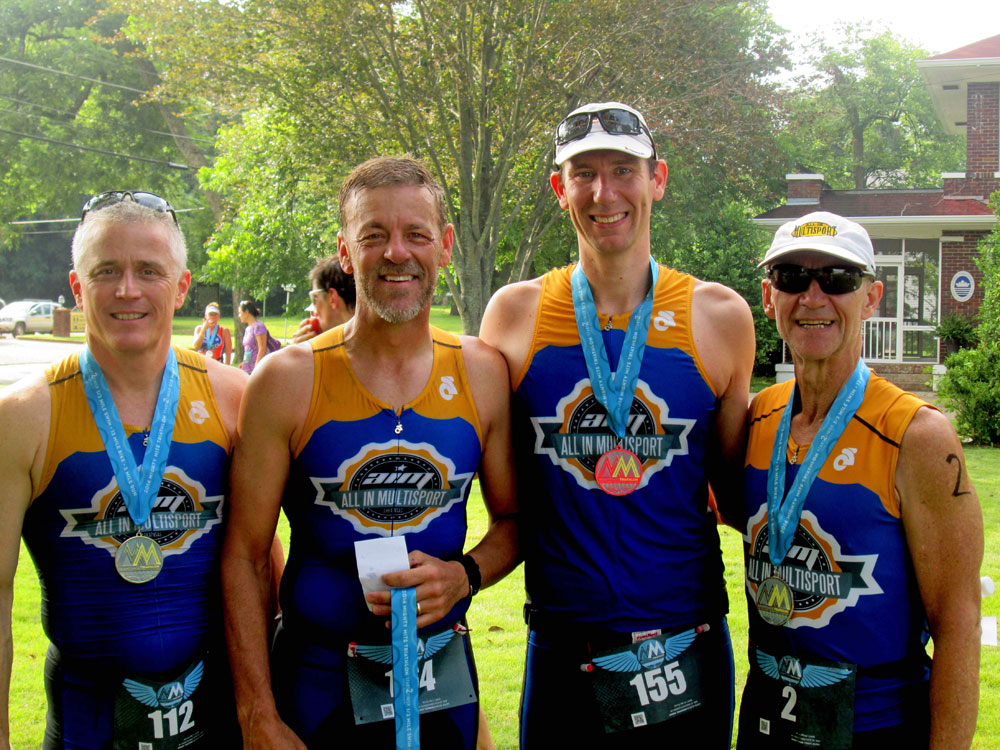 But first, let me tell you another Mighty Mite story.
I remember like it was yesterday, July 18, 1998. I was sitting in a small country cafe in Ferndale, Arkansas having just finished up a long hot depleting bike ride with fellow friends and athletes that shared very special times, efforts, plans and varying levels of result Endorphins and good spirits were floating around and literally bouncing off the walls of the place. For the moment we all felt young, powerful, engaging the fullness of life, a togetherness and brotherhood of sorts as fellow endurance athletes. We pined about the fact that we were missing the Mighty Mite triathlon, which we seldom ever would if we were living and breathing. We wondered how all our other usual friends, comrades and competition were doing. It was a hot, typical, humid day in mid July. Life, in that moment, was ours without concern or worry. Moments you wish every day contained. As we reveled, Mary Ann reached to answer her phone. Upon answering, her smile dampened a bit. Her brow furrowed ever so slightly, then deepened and deepened again…. Suddenly the face of this beautiful friend became wrenched and all the air in the room was flushed away in an instant as her demeanor and ours drained away….. "Something terrible has happened" she said, as she began to cry. Mike Dwyer collapsed and died during the Mighty Mite! Our hearts all at once deflated into hard knots of pain in our chests. "WHAT?" I yelled! "Yes," she repeated, "Mike died in the race." Feelings of loss, disgust, unfairness, disbelief, pain, hurt, and on and on, preceded a deep and dark feeling of pure sorrow. Most triathletes today wouldn't know of Michael J. Dwyer, Jr. or his death while in the midst of competing at the sport he help bring to fuller & richer fruition in the state of Arkansas, but leader, promoter, helper, producer, supporter, manager, willing to go many extra miles to put on races, train with others, creator of the original Central Arkansas Triathlon Society C.A.T.S. The instigator, coordinator and race director of the very first Kiddy C.A.T.S. Triathlon for kids at UALR. The Man was a machine of getting things up, off the ground, up in the air, & flying at mach speed like no ones business, had just passed away climbing the hill out of Village Creek Park. We were devastated. Mike had diabetes but managed it well. We all loved Mike. He was a Man's Man, and he treated everyone with full respect. We all lost a big part of our Triathlon brotherhood when Mike passed, but the state community of endurance athletes were all drawn very closely together in the aftermath of losing our dear friend and companion.
The Same thing has happened in a tragic way this week with the equally devastating loss of Laura Wooldridge. Laura was obviously a lovely soul, gifted in enabling others to experience and share joy, connectivity, engagement with others in the wonderfulness we all have come to know as endurance athletes. She was a perfect example of the goodness that working and playing together with others through encouragement, support, and treating others with respect can mean to humans. There are lots of emotions that humans can project upon others, but the good ones all seem to have been oozing from this girl. What a tragedy. What a loss. How does logic and intrigue ever manage to find a hold when wrestling with these things? What gains can be found in this time of loss? What things can be learned from this? Love and Joy are always out there for us to share. Multi-sport and Endurance sports are excellent ways to partner and share good times, good encouragement and many other great virtues and emotions to help support others in good times and in bad. Its the people like Bill, and like Mike and like Laura that shine brightly in contrast to the cruel, snotty, overzealous overcompensators that can drive the sport into the ground with crushing cruelty or insensitive self centeredness at times. Why not take the lead in making others feel good about their efforts. No matter how big or small, find ways to make the hearts of others grow brighter. Take the moments that you have with others and make them count Bill, Mike and Laura did and so many people were blessed by them, by their example Think of how many glowing hearts in our circles of influence can become the spark for more and more goodness and world peace that only Heaven knows we need so deeply! Savor the good you get from these and others who care to make a better path. Be the spark.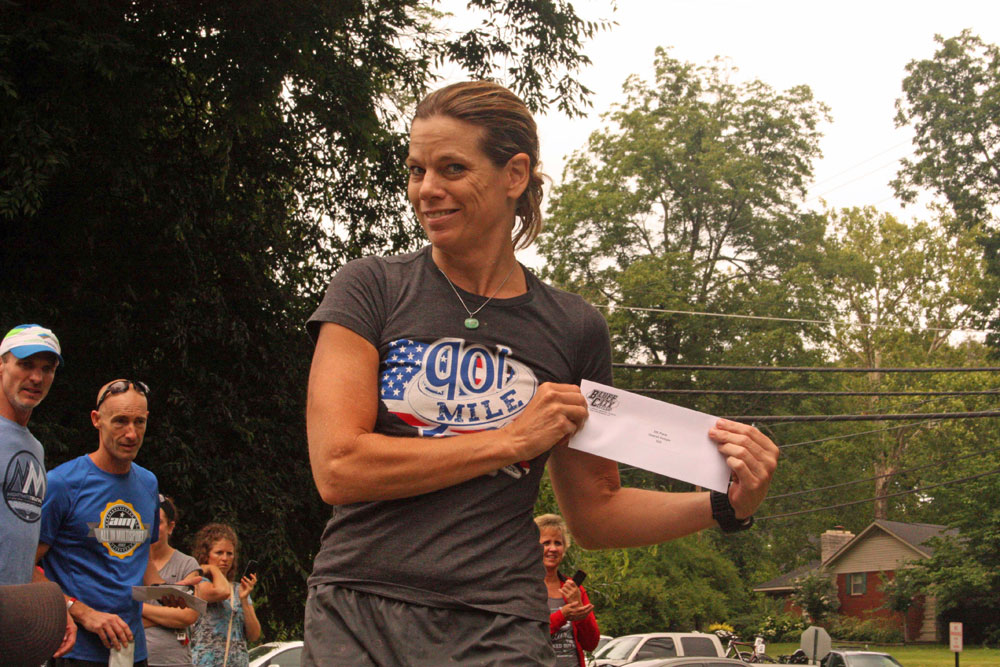 Back to July 18th, 1998. The joy of all that Mike Dwyer had meant to us grew larger from that day on, as the pain and sorrow would slowly subside. For those who didn't know Mike or have started in the sport since the turn of the century, that makes me feel older still, I hope you will take a gander at this link that will show you just a wink of the man Michael J. Dwyer, Jr. was beyond the sport of triathlon. Well worth a quick read. Please take time!
The 2014 Mighty Mite this year had more than 300 racers in all. In its glory days there were 500 to 600 athletes competing. A very strong contingent of beginner triathletes, old returning grizzled ones, and a bunch of formidable young strapping racers ready to show off, pin their ears back and obliterate the course, maybe the record, or anything that might get in their way. The weather was cool and overcast with very unique differences from most of the 31 years this race has been held. Most years the heat and humidity were only barely overshadowed by the usual stiff southerly gale force head winds that are known to blanket this course in summer.
The race swim start begins in the Village Creek State Park, along Crowley's Ridge, with a swim arc through the park's Lake Dunn. As I said earlier, this is a point to point event, meaning your finish line is far away from the beginning. In fact, the Race starts 13 miles out of town. You must swim at the park, then get on your bike at the park and ride toward town to the Community College. Here you must leave your bike, put your running shoes on, and run 3 miles away from the college to get into town where the finish line awaits your arrival. So for those who haven't put the pieces together, you have to place running gear at the community college before you head out of town to take your bike gear and swimming gear to set up at the park. Getting gear, and the right gear, to the right place, is very, very important in a point to point race like the Mighty Mite. And of course there are many options for retrieving all this wet stinky stuff and get back to your car which you left back at the park. Most will ride buses back. Others choose to run back up the course to the college, then retrace the route to the park on their bike, to pick up their car. So many choices. Village Creek Park is beautiful. Many different campgrounds or cabins are available to rent over night. All the campgrounds have nice facilities for restroom or showering needs before you have to start your post race journey home.
For the Mighty Mite swim start, these days they line you up in the order that you signed up for the race. They give you numbers that correspond with that sign up order. Then when the race begins, one person at a time, in order, splashes into the water every 3 seconds from the first to the last racer. This is called a time trial start. Its purpose is to avoid the crazy chaotic mass starts or heavily bodied wave starts that can be scary, perhaps unsafe, or lead to problems getting kicked, punched or swum over by all the bodies that inadvertently are trying to share or achieve space.
This years winners, like all the other years' winners, worked hard for their wins, whether they were first or last. We all, after all, are winners in this sport, no matter what our place. In my 32 years of hard nosed pressing toward and yes at times, beyond my personal capacity, I also learned something about pace, perspective and perseverance. I have learned that the racing part of these sports, is really silly. You find all kinds of things to learn and learn again and again as you spend more and more of your life pushing forward to achieve something. What could that be? That thing you pursue?
You know what I have learned? After winning 1st overall, in about 2 dozen multi-sport events in my 32 years, I have learned that the race result in and of itself, doesn't really matter. I still tell everyone who I can bore with the subject, that I still today hold at least three triathlon records that may not be beat. I would give that all away if I could spend more days with the likes of Bill, Mike or Laura. I would give it all away to have more friends like Bill or Mike or Laura. Wouldn't you? I would like lots of friends like that. Racing to win is fun. Racing to be 'winning with others', should be a higher goal. This last weekend I stood for a photo at the Mighty Mite with 3 other guys. The four of us all had very unique stories to tell about all the years we had been doing the Mighty Mite. One guy had 30 years of Mighty Mite under his belt. One guy had 29 years under his belt. The other guy & I had been age group competitors, out of state friends, and somewhat best friends with only this sport and this race, for the most part, in common. But what a friendship! What a bond I share with him. That is better than the 300 + awards I have stashed somewhere in that back room that I don't know what to do with. But when I see these 3 guys, my heart, mind and soul light up. That's winning. That's a keeper trophy right there.
Being in the moment, sharing with others, caring for others, being thought of as nice and helpful and considerate is a far better trophy than any race director has ever handed out. Go out and love your sport, connection and friends. Be their Bill. Be their Mike, or be somebody's Laura. The world needs trophies like you.
That's it for now. I am going to list a few trivia questions for all you late bloomers to try and find the answers to. I have the answers. I know all kinds of Arkansas triathlon trivia. So, maybe Joe will give whoever can answer all these question correctly, an AO Recovery Beverage Holder. More pictures will be available from a picture taking freak with a link from AO on Flickr (coming soon).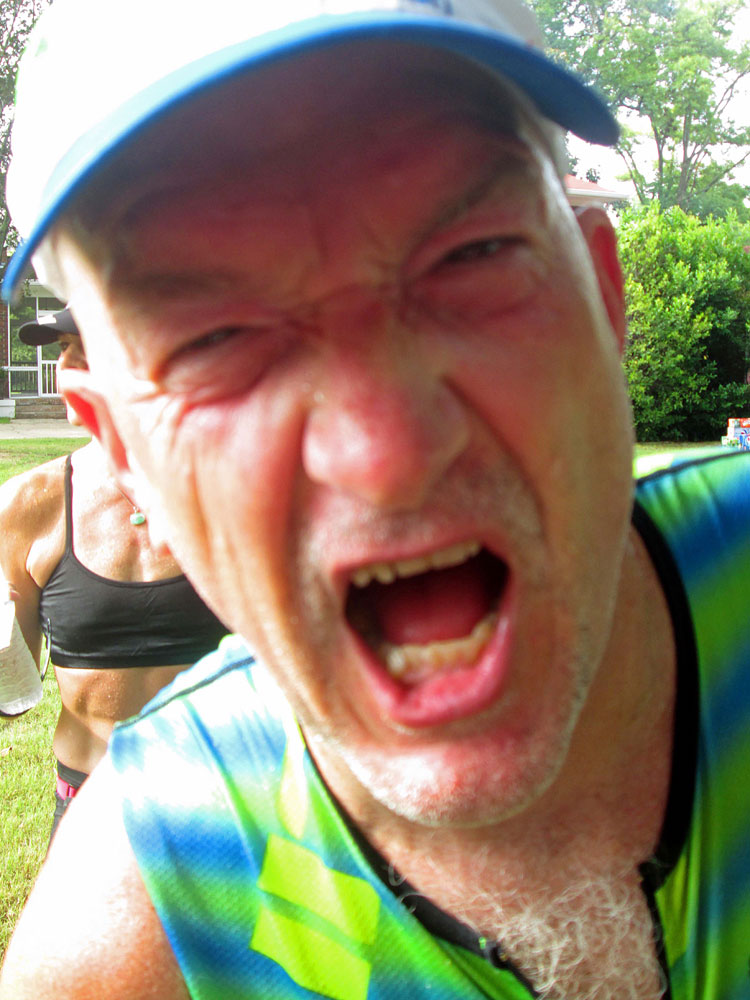 Mighty Mite Trivia Questions!!
1) Who from Arkansas had completed the most Mighty Mite triathlons?
2) What is the highest number currently of Mighty Mite triathlons any person has done?
3) What is the Current Course Record for the Mighty Mite of all times?
4) Who set the current Mighty Mite record?
5)What was the previous Mighty Mite record before the current one?
6) Who Set that previous Mighty Mite record?
7) Who won the 1st Mighty Might Triathlon? (1984)
8) Who hold's the record for the fastest time of any Arkansan for the Mighty Mite?
9) How many Arkansan's have broken the 1 hour barrier for the Mighty Mite?
10) What Arkansas Woman holds the fastest Mighty Mite time? (I admit I don't know this but I WILL find out!)
BONUS TIE BREAKERS
Over the years, there has been a big challenge of sorts, at least in early years, between the Memphis / Tennessee
triathletes attaining more top 10 places vs. the Arkansas triathletes taking more top 10 places. It's been back and
forth for many years. It brings to light another question that I currently can't answer without some real digging.
1) How many Arkansas male triathletes have won the Mighty Mite overall, 1st place?
I am talking males because as a young man I acted stupid in this regard as a young man will, thus only paying
attention to the male side of this story.
(I hereby fully apologize for spending my destined time as a male pig and not paying enough attention to the ladies!)
2) Who won the 2nd Mighty Mite triathlon 1st place overall male ? (1985)