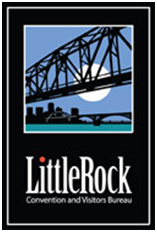 LITTLE ROCK, Ark. (March 29, 2012) – Throw a pair of walking shoes in your car, or take an extra pair to your office, so you can participate in the new "Monday Mile" walking program on your lunch hour in Downtown Little Rock in the River Market and Central Business districts.
Little Rock Mayor, Mark Stodola, will launch the "Monday Mile" Walking Program Monday, April 2nd as a way for people to meet others in the area who are also interested in joining a walking program, and form groups to explore the new walking routes in the Downtown and River Market areas.
"I'm excited about the opportunity to bring members of our community together to create a healthier city.  By walking together, we can encourage each other to get fit and set a healthy example for others", said Mayor Stodola.
On the first Monday of each month in both May and June, participants will meet at 11:30 AM at one of the following locations to begin the "Monday Mile":
The Market Mile Route:
The Market Mile, hosted by the River Market, will have its starting line in the River Market District in front of Ottenheimer Hall (on the West end of the tower). The route will continue to the Clinton Presidential Library, through the William E. "Bill" Clark Presidential Park Wetlands and back to the River Market. Each participant taking this route will receive an electronic pedometer to track their steps, miles or kilometers walked and calories burned. Participants will also receive a complimentary River Market water bottle and a coupon for participating retailers in the Market Hall good for that day.
The Main Street Mile Route:
The Main Street Mile route, hosted by the Downtown Little Rock Partnership, will begin on the corner of Main and Capitol streets and continue to I-630, being led by a downtown personality.
Each walking route is approximately one mile long. Maps of additional walking routes will also be provided to interested participants who wish to continue walking after the program concludes, or on their own time.
For more information on Market Mile visit http://rivermarket.info or call the River Market at (501) 375-2552.   For more information on Main Street Mile visit http://downtownlr.com or call the Downtown Little Rock Partnership at (501) 375-0121.