On Saturday night Steve Erickson sent me a photo of a little water puddle that would be included on Sunday morning's course for the State Championship Cyclocross event at Burns Park. Many of the cyclocross racers point to me as the one who really wants to see them race in the rain, mud, and muck. I know the truth. They love it. I have yet to hear one complaint about a wet muddy course. They were in luck for this final race of the Arkansas Super-Prestige Cyclocross Series. Just a few hours after receiving the photo of the wimpy little puddle I heard the rain coming down, in buckets.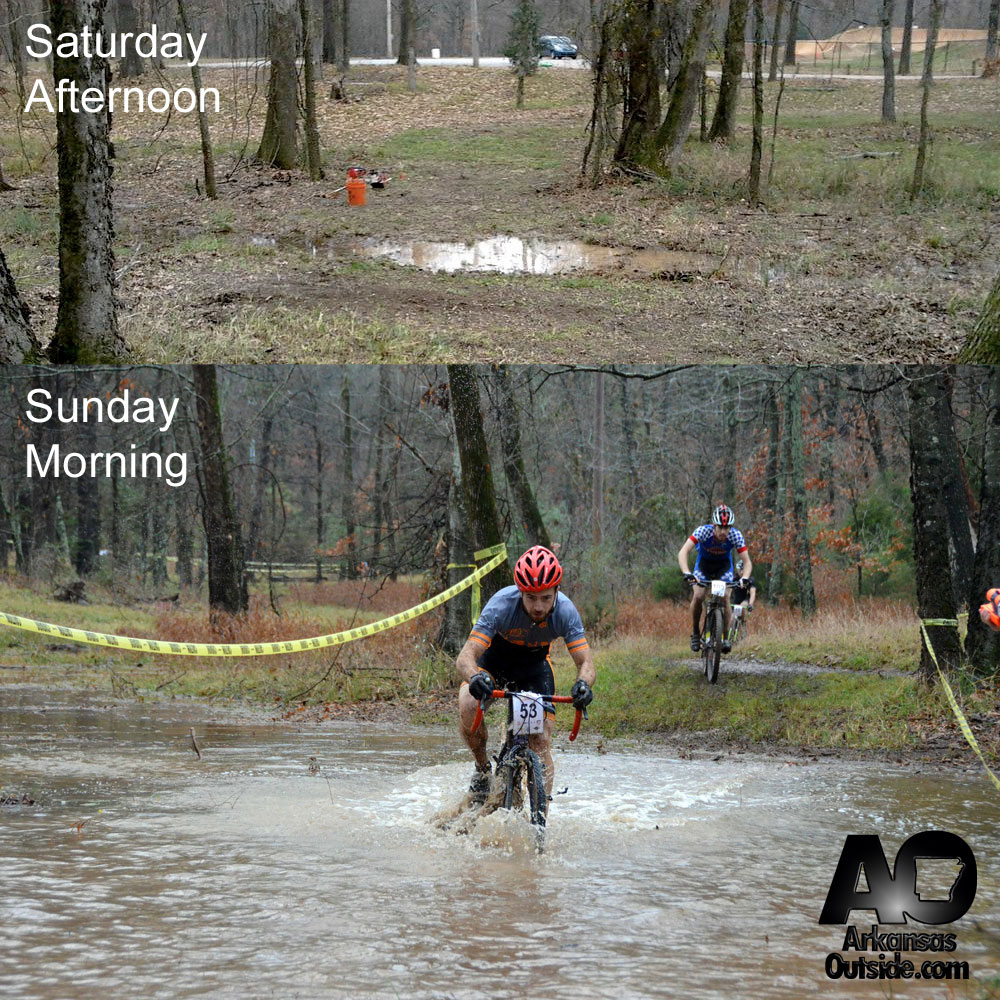 The puddle turned into a pond verging on being a lake. The course would be taking them through hub deep muddy water. On top of that, the entire course was wet and slippery. Although the course didn't have any major elevation sections like last week's race at Slaughter Pen, this race would challenge competitors with rear wheel-spinning, mud-flinging, sideways-sliding fun. Hairpin turns on the relatively flat ground turned into slow bike carries or crashes. This course offered no rest. It was mud wrestling at it's best.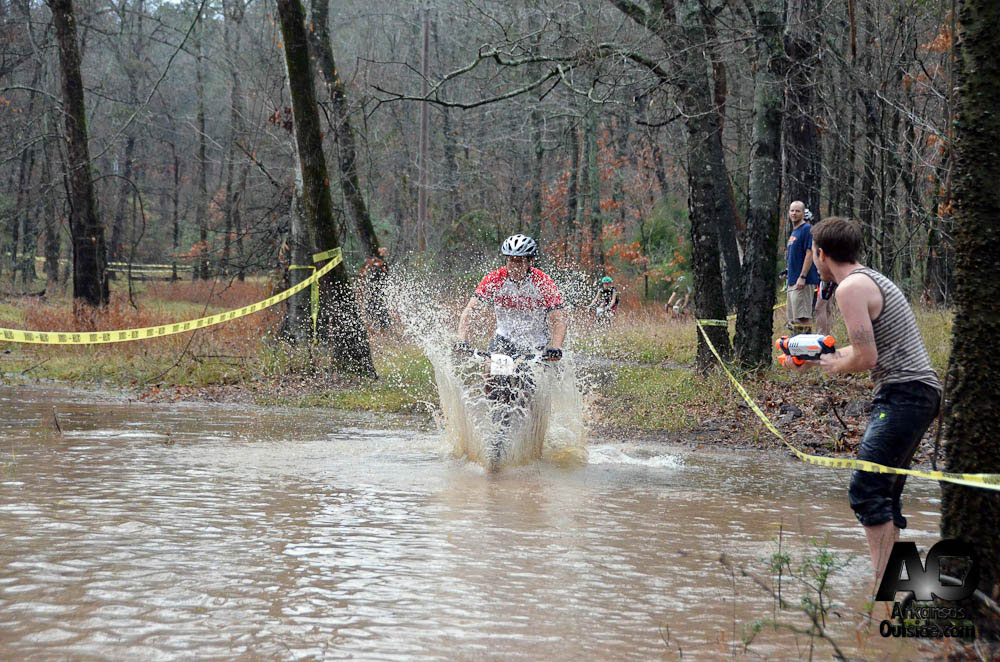 The B race started at 10 am with the following categories: Men Cat 4, Women Cat 1, Women Cat 2, Women Cat 3, Women Cat 4, Masters Women 35+, Masters Women 45+, Masters Men 30-34, Masters Men 35-39, Masters Men 40-44, Masters Men 45-49, Master Men 50-54, Masters Men 55-59, Masters Men 60+, Junior Men 14 & under, Junior Men 15-18, Junior Women 14 & Under, Junior Women 15-18. A USA Cycling sanctioned event, officials Steve Shephard and Ian Hope were on hand to keep things running smoothly. The B race goes for a total of 40 minutes.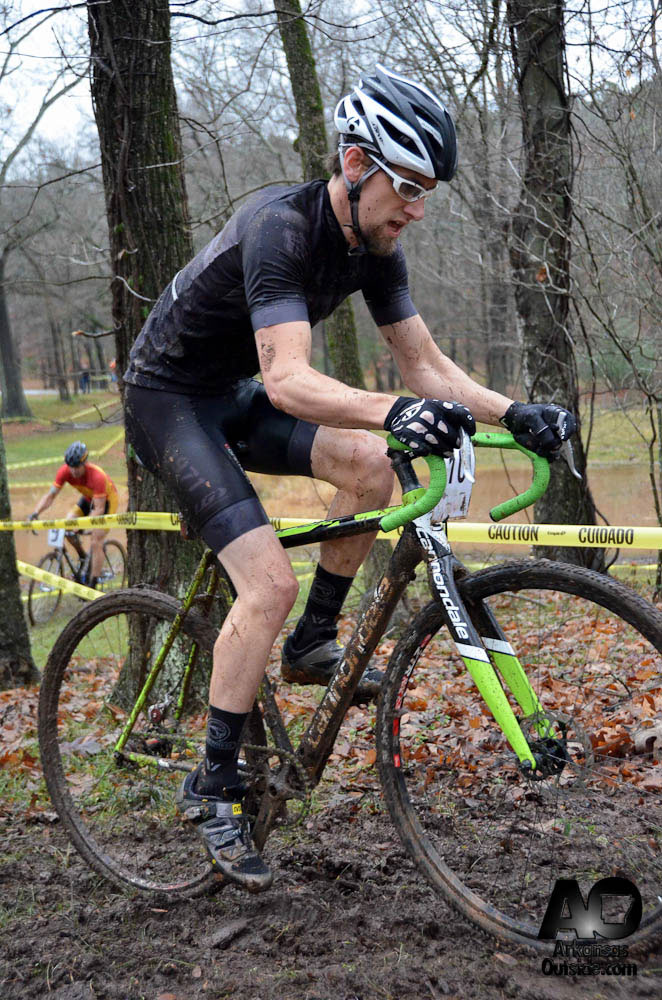 Racers started on the pavement but were quickly thrown into a series of sharp turns and barriers at the playground near the BMX track. Once clear of that section they were off to a little more road to an area east of the BMX course and then back down the road, off into a slick grassy area and up a small hill to cross some log barriers. It seemed about half of the riders crossed these while mounted but that dwindled as the laps piled up.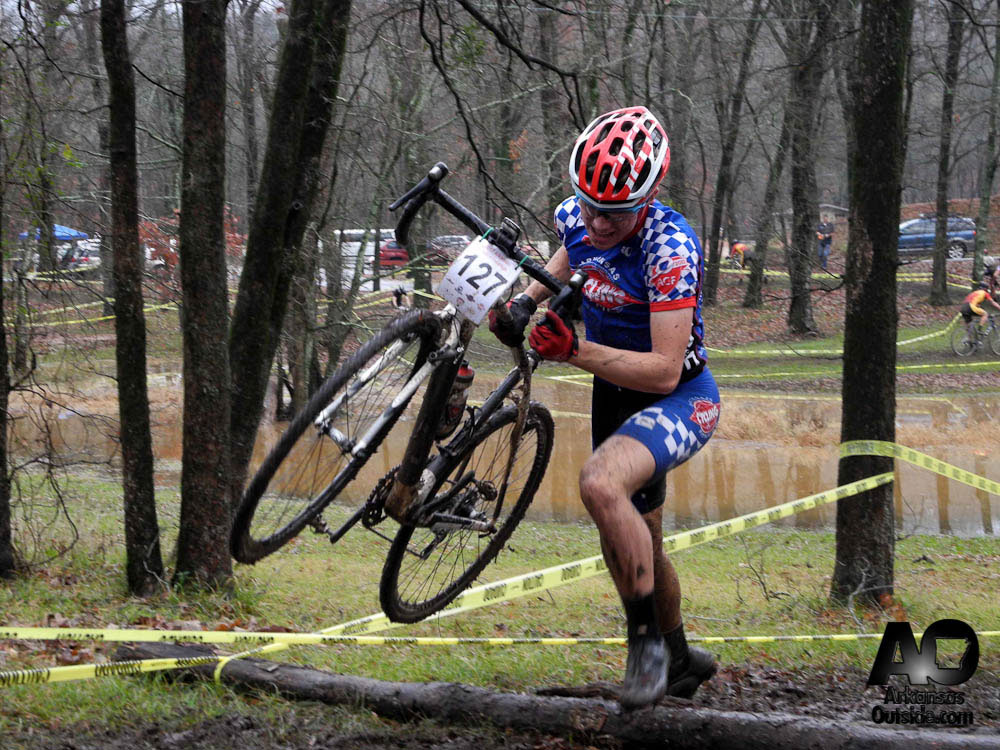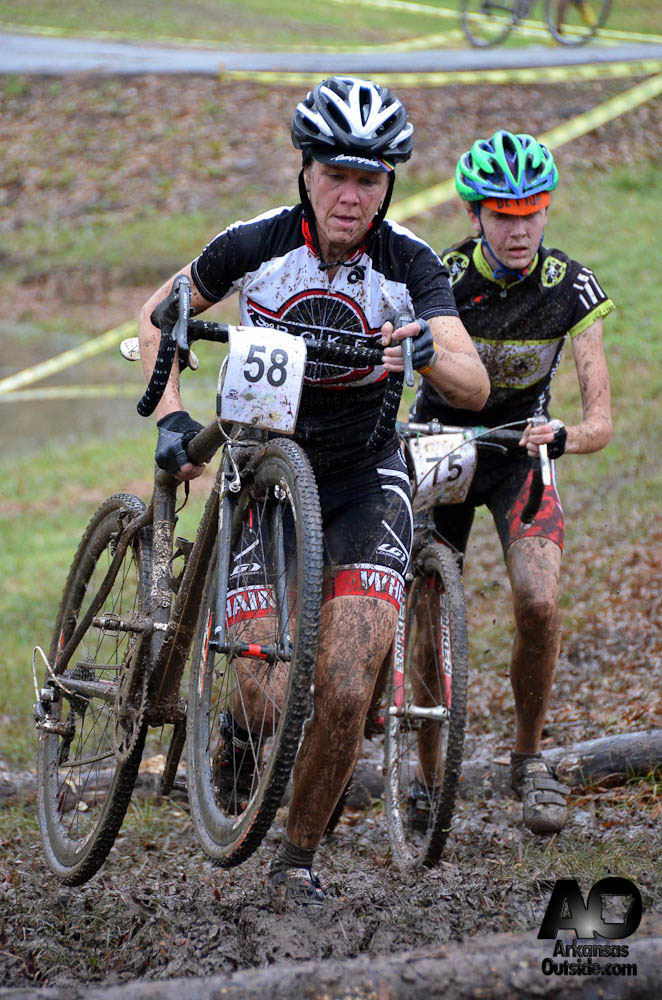 Now into the woods for a quick singletrack section en route to the water crossing. Many of the racers claimed that a patch of wet clay immediately after the water crossing was one of the tougher sections. A good number of the cyclists turned into runners as they ran carrying their bikes through this section and on up a short but slick hill. Next, they were back into the woods until they came to a fast paved road which brought them into another lap of torment.
With so many categories racing at once, spectators can enjoy several different battles going on within each lap. Cyclocross races are a great opportunity to watch from several vantage points in one race, moving around the course to see how competitors handle various obstacles.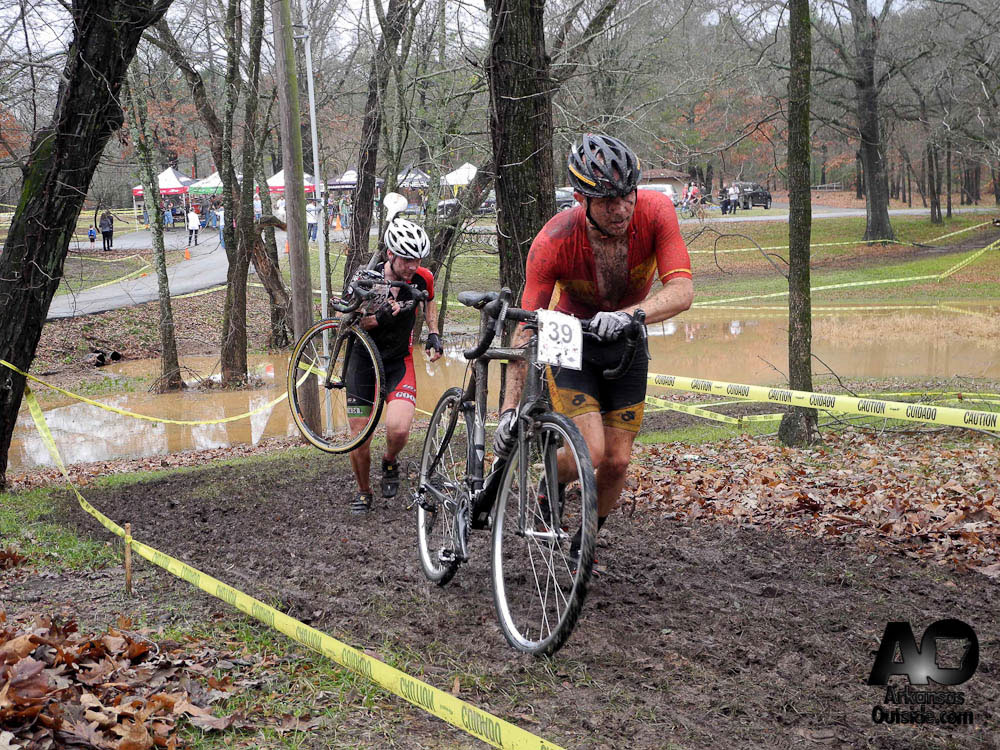 Next up was the open category. This race includes some of the fastest racers in the state as they go at it for 50 minutes over a course that is already pretty chewed up from the previous race. The open race is for all the marbles. A large group of tough and tenacious competitors with everyone going after 3 podium spots.
The lead group put on quite a show with Gerald Drummond and Seth Rider fighting it out right up to the finish. Seth was leading in a sprint finish but Gerald had the better eye for the finish line. Seth made the mistake of a slightly early celebration fist pump allowing Gerald to take him by less than half a wheel.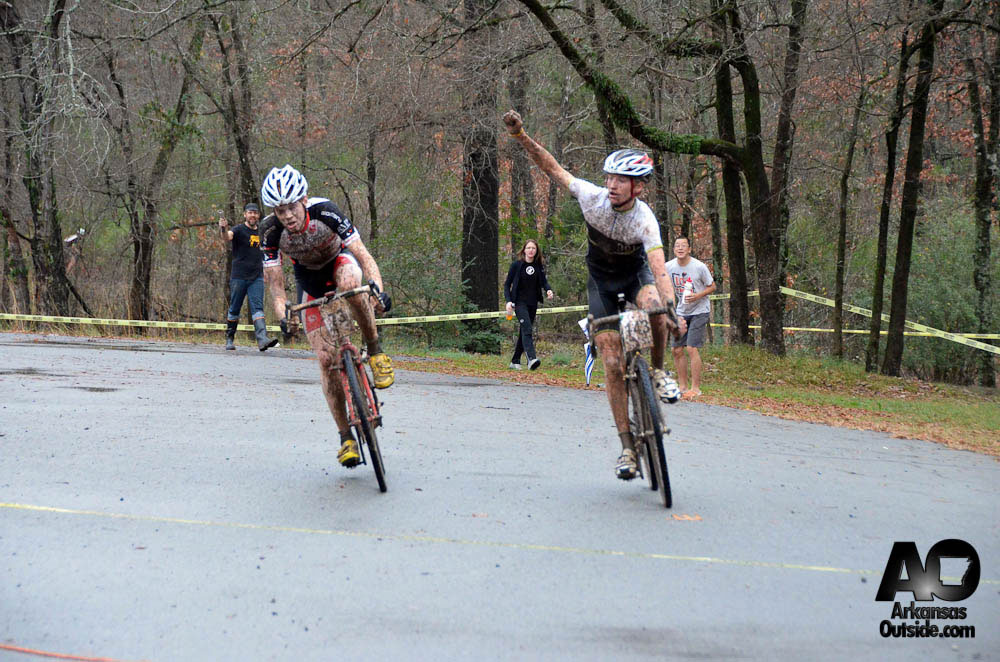 I was able to enjoy some of the other racers push each other to strong finishes. One of the great things about a series is that by the end racers get paired up with those with similar skills and abilities making for smaller races within the race. Cyclocross is quickly becoming my favorite spectator sport. I may even try competing next year. Why should I let them have all the fun in the mud and muck?
Some spectators got very involved including dollar bill hand-ups (gotta grab it with your teeth) contributed by Team Arkansas Cycling and Fitness, swag grabs from a clothesline in the midst of the mud donated by Chainwheel and I even hear tell that a mythical Arkansas Beer Fairy showed up deep in the woods.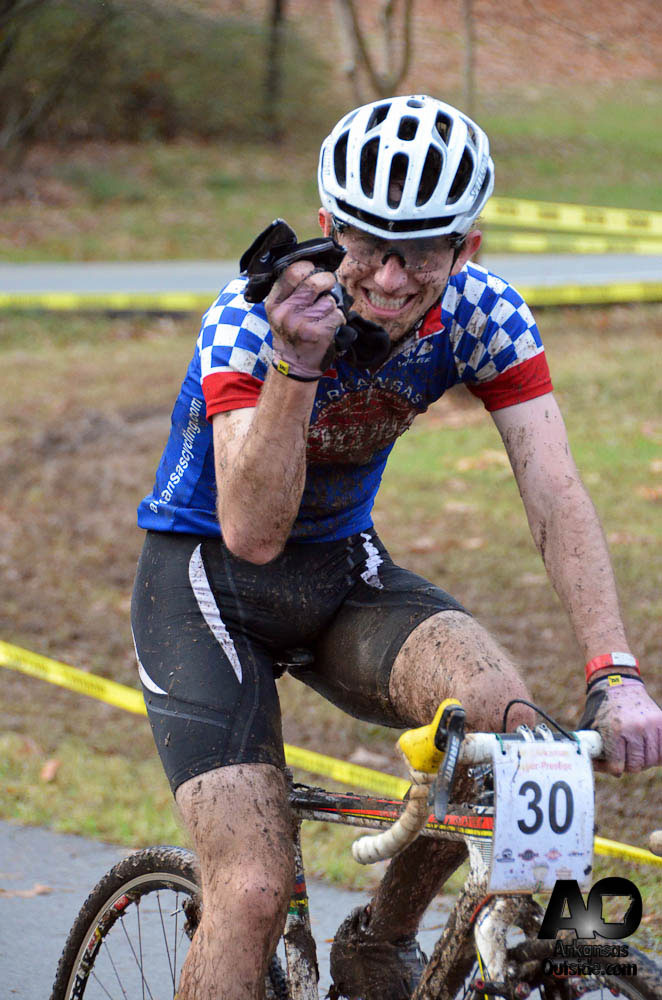 Series results will be posted as soon as they are available.
Enjoy the photos we put on Facebook (Part One and Part Two). We now have Awards Photos.  Also, watch for the story and photos of the Footdown Championship which took place just after the cyclocross race. Good Times.