After a hectic finals week schedule and a job interview that resulted in squat, I needed the three some-odd miles of mud and obstacles in Amity, Arkansas to feel like my old self again. My first Warrior Dash was also in Amity, as a training wheels session to see how much training I needed to cover before a Tough Mudder later that year. I never train for these things to beat a certain time; like Tough Mudder, Warrior Dash only times the competitive first wave and the rest of the waves are for taking your time and having fun. With that in mind, I invited a friend to join me who had never run in a race, much less a mud run.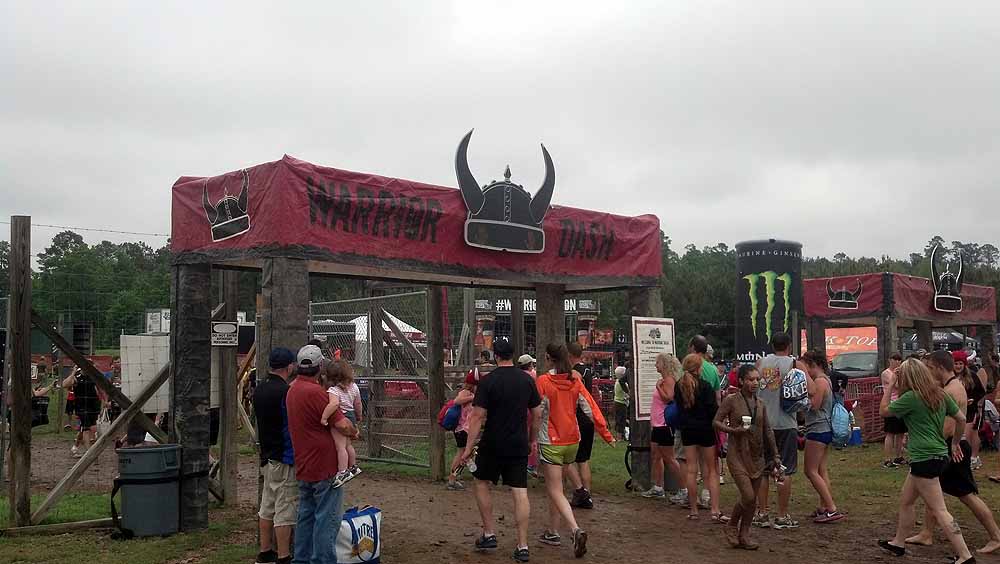 Warrior Dash was my first race (of sorts), back when I was new to running and not sure what to make of paying money to crash through someone else's yard. But mud runs are probably my favorite kinds of events, although trail running is becoming a close second. Sure, the road races are nice—no mud-soaked clothes!—but the ultra-competitive environment, the shiny name-brand shoes, and the equipment can turn off newbie runners. Although mud runs have their own share of elites (elite beer drinkers I guess?), events like Warrior Dash usually attract people who want to have fun and don't care if they look ridiculous. As a Lady Gaga body double for the RussVegas Half Marathon (which I covered in a previous article for Arkansas Outside), I'm not opposed to looking hilariously bad for a race. Luckily I still had a pair of pants from Tough Mudder, emblazoned on the back with the words "Mud Butt"; they never fail to get plenty of laughs.
ID's and spare clothes in hand, we loaded up on the school bus to head to Timber Lodge Ranch, the race location. Obvious field trip jokes ensued. When we passed through a gate, one participant wondered if we were headed to the ranch or to Jurassic Park. We arrived for the midday waves because those are the better times to run; it's not too hot outside and the previous waves haven't completely trashed the course and obstacles. The usual characters were there, too: women (and men) in tutus, guys showing off their abs and doing funny stretches (no complaints here), beers and bands getting people merry, and the faint warmth from pyrotechnics at the starting line. My friend and I stashed our stuff at the gear check and pinned our bibs to our still-clean clothes. We met an interesting fellow who liked sticking out his butt and stretching his calves in a sensual way. You rarely see that in a road race.
We didn't have to wait too long before our wave began. Everyone is excited to run the event at this point, including me, so people zigzag around slower runners and leap over or into puddles. As much as I enjoy Warrior Dash, I had hoped that we would get to an obstacle sooner. Since the race isn't very long, you want to see as much as you can. After a semi-brutal hill we made it to Mud Mounds, piles of mud separated by pits of water and more mud. I always think of the scene from Homeward Bound at this point, when Shadow falls into a pit and can't get out. That's how it feels unless people help push or pull you out of the muck. A ways ahead we made it to another obstacle which required you to climb up and over an obstacle with a roped net. It doesn't seem as challenging until you step down; all that bending over after running really messes with your heart rate and can leave you feeling light-headed. We ran to another, larger version of this called Diesel Dome, which mostly challenges one's fear of heights. For most to all obstacles in mud runs, the most important thing to remember is not to feel rushed or to rush the participant in front of you; you'll be amazed what you accomplish if you give yourself enough time to do it safely. Later we crawled through the trenches, happily getting soaked to the chest with muddy water. I didn't pay fifty dollars to be clean.
After the first mile we made it to the most brutal hill on the course. I remembered it from last year, because my friend who ran with me that time wanted a challenge and we attempted to run up it. I was in worse shape that year so I let him charge up it. But what comes up must come down; the huge hill had an even steeper downhill track with loose rocks and slippery long grass on the sides. I actually made it up the hill at an easy run, but it was no easy feat. I could have gone downhill really fast if I wanted to go down barrel roll style, but I wanted to keep all of my limbs and not take down a line of other participants, so I did a muddy version of the electric slide, sidestepping sideways until I got to more level footing.
At the halfway point, we made it to what would be my favorite and most fearful obstacle called Shocktop Unfiltered. It's basically a small climbing wall and a tunnel with an even taller climbing wall on the other side. Ever since I fell off Tough Mudder's Berlin Walls, leading in a cracked tailbone and a reclaimed fear of heights, I was a little shaky going over these walls, but luckily they were smaller and included plenty of rungs on the other side. I came over those feeling strong and badass. The last mile and a half included another climbing wall known as Warrior Peak and the famous Warrior Roast, where people run and leap over a small fire. One word of advice: avoid breathing in when you get close to this obstacle or your lungs will burn.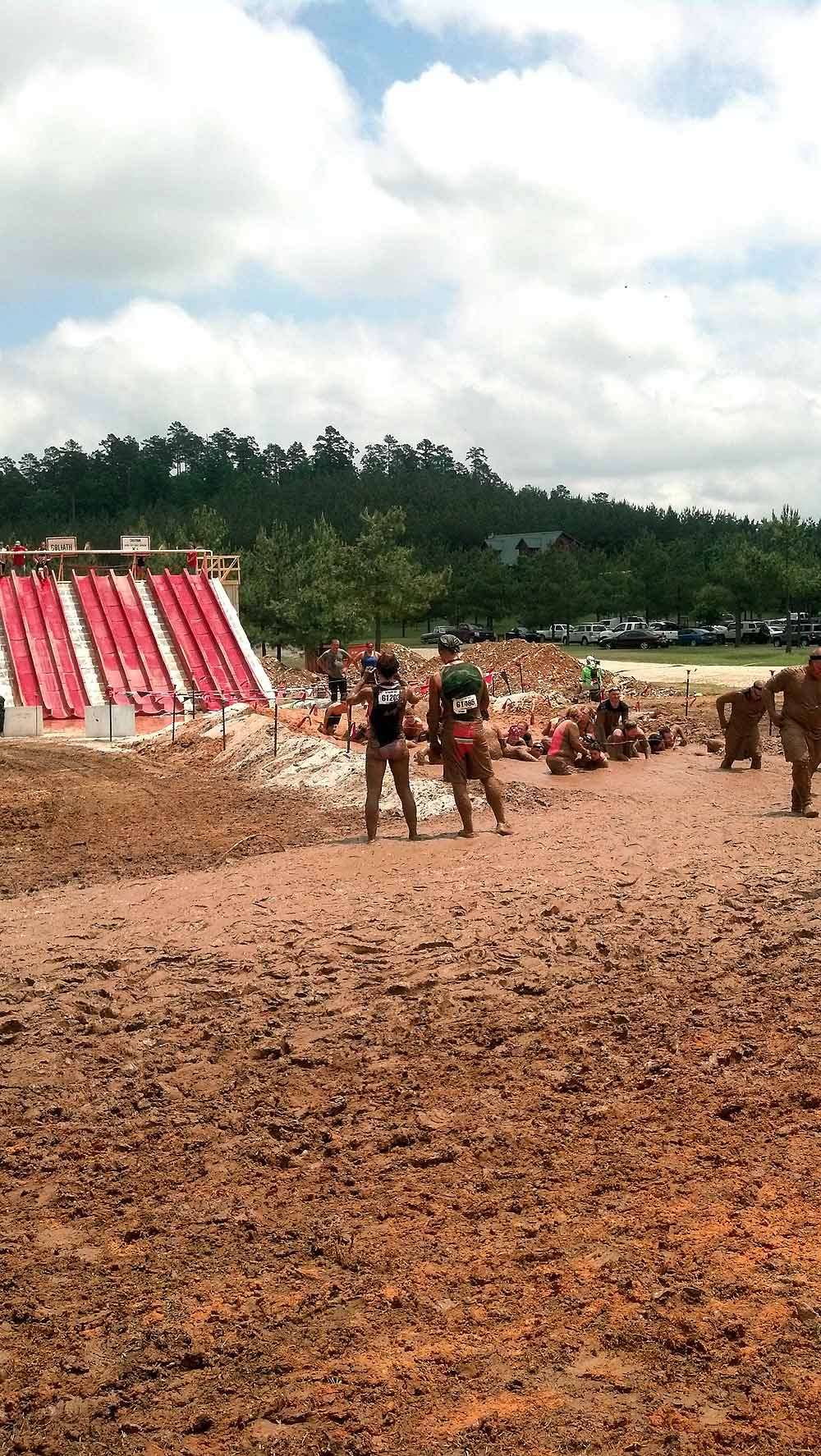 The next-to-last obstacle was another fun and new addition to the Amity location: Goliath was a huge construction that required you to climb a rope net, walk a plank over a steep drop into water, and slide into a muddy pool. Just as we found ourselves clean, we made it to the final and probably most well-known part of any mud run, a crawl under barbed wire known as Muddy Mayhem. This year, the mud was especially abundant and had the consistency of quicksand. Each movement forward was an effort for the entire body and the mud also pulled you a little further back. The trick in this obstacle is not to stop for too long; going too slow in this one can actually makes it more challenging. We crawled, kicked, and drug ourselves through the muck; I'm pretty sure I had a mud beard at the end of it. But we picked ourselves up (probably having gained twenty pounds of filth) and headed to the finish line, where water and medals awaited.
The next hour or so was my chance to watch other participants finish while I drank a complimentary Shock Top. I don't know what it is about mud runs, but they make beer taste like sweet, sweet nectar. I highly recommend Warrior Dash to anyone curious about mud runs. There are other events in Arkansas coming soon, like the Pig Trail Mud run and Conquer the Gauntlet. The smaller events are fun all by themselves, but if you're training for something like a Spartan Race or a Tough Mudder these will complement your training schedule nicely, as you will see many of the same obstacles in the longer distanced events.
If you are interested in completing a mud run, here are a few other tips and tricks to keep in mind:
Jump into mud as soon as you can. There's no getting around it.
Wear appropriate clothing, preferably something tight or shorts. My shirt turned into a dress after the weight of the mud dragged it down. If you're wearing a costume, disregard this advice. Also wear appropriate shoes. Lightweight trail shoes obviously work best, especially those that won't slip off your feet or hold you back. You can donate your shoes at most mud runs, but don't wear old or inappropriate shoes just for the sake of donating them or you'll wind up getting injured.
A lot of seasoned mud runners are on the fence about wearing gloves: some say they help you hold onto things while others say they get wet. I like wearing them because I don't have to worry about splinters or other poky objects when crawling on the ground.
If you don't want to wreck your underthings, wear a bathing suit or trunks under your clothes instead. After the race, you can wander around in beach gear instead of your panties.
The Amity location of Warrior Dash has a lake that most people use to clean off the mud. Bring a bar of soap or travel sized shampoo to wash the mud out of your hair.
Even if you complete number 5, one wash won't get out all the mud. It takes several showers to get out the mud in places you didn't know you could accumulate filth.
Mud will get in your ears no matter how hard you try to prevent it. You can get it out with Q tips and rubbing alcohol.
Unless you're in the competitive wave, don't think of the event as a race because it goes by too quickly and you don't get to enjoy it as much. Also, going too fast puts you and other participants in danger.
Bring a friend; you'll need someone to help you over obstacles and find your shoes in the mud.