Once again Team Arkansas Outside ventured Outside Arkansas to spend time in Colorado. Last summer our trip to Colorado meant seeing ex-patriate Arkansas friends, hiking and mountain biking. This year we were back for more time with great friends, hiking, mountain biking, river tubing, sand dune climbing and the pursuit of bragging rights to a Colorado 14er. Each year a large contingent of Arkansas runners make the trip to Manitou Springs for the challenge of racing up Pikes Peak, or up and down the Peak, or for the truly adventurous souls, up one day, up and down the next day. The Pikes Peak Ascent and Marathon weekend has become something of an Arkansas tradition. There are many stories to share, but this is one story, about one person and one big hill.
Hours of obsession and multiple changes of plan: the story of trying to decide what to wear, what to eat, what to carry when one plans to attempt their first run/speed hike from 6300 ft of elevation to 14,115 ft. The weather is unpredictable, do I carry a jacket? Eating can be problematic at elevation. No one needs a churning stomach on top of the effort of putting one foot in front of the other, what sits easy and still provides some of the calories needed? Luckily I was able to lean on the advice of many friends who've gone on this adventure before me. The night before the run, clothes and pack were laid out, race bib was pinned on, and I was getting texts and messages from all over Arkansas and a string of encouraging texts from San Diego kept coming. Thank you, Katy. By 6:00 a.m. I am dressed and have a banana and a boiled egg in hand. I walk outside to greet many other Arkansas runners who are ready to toe the line for the Ascent half-marathon. Veterans are giving last minute advice and well wishes. As we begin our walk down to the starting area, Pikes Peak veteran Susy Chandler grabs my "sweat bag", the one with the warm clothes they said we'd need at the top after the finish line. She points out that there is no need to work any harder than necessary, even on the short 15 minute walk to the start, then asks something I hadn't thought of-"Did you give someone your wedding ring?". I hadn't given a second thought to my wedding band, I hand it to Joe and later, I'll be thankful that I did.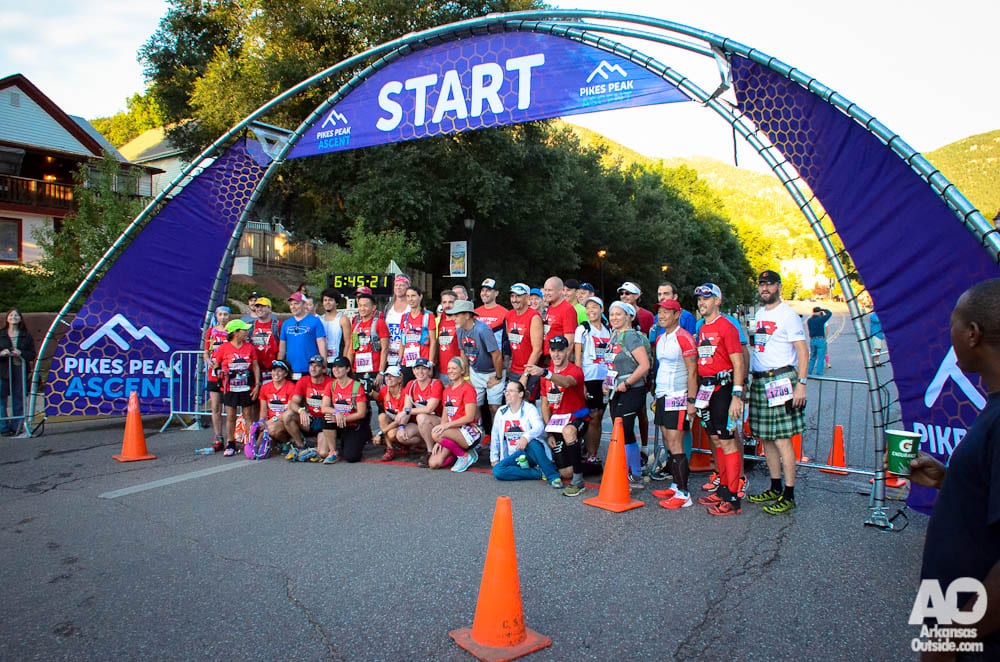 The Arkansas contingent lines up under the starting arch to call the Hogs. A tradition, so well known that the announcer calls the group up to continue the ritual. I feel like I've forgotten something, or some things. I find Christine Meroney and she invites me to her hotel room that is practically on the start line to take a last minute bathroom break and gives me some extra rock salt, just in case. Ready, set, go! Mile 0.25- oh lordy what have I gotten myself into. I'm running, jogging, whatever, my feet are moving faster than a walk and the slight incline on the pavement start already has my heart pounding and my breath short. Even at 6300 ft, this sea level girl needs more oxygen. Joe was able to ride in the lead out vehicle and I wasn't sure if I'd see him again before the summit. At mile 1, there he was on the side of the road for one last kiss for good luck. I was one mile into what was likely to be my most challenging race to date, I needed all the good luck kisses I could get.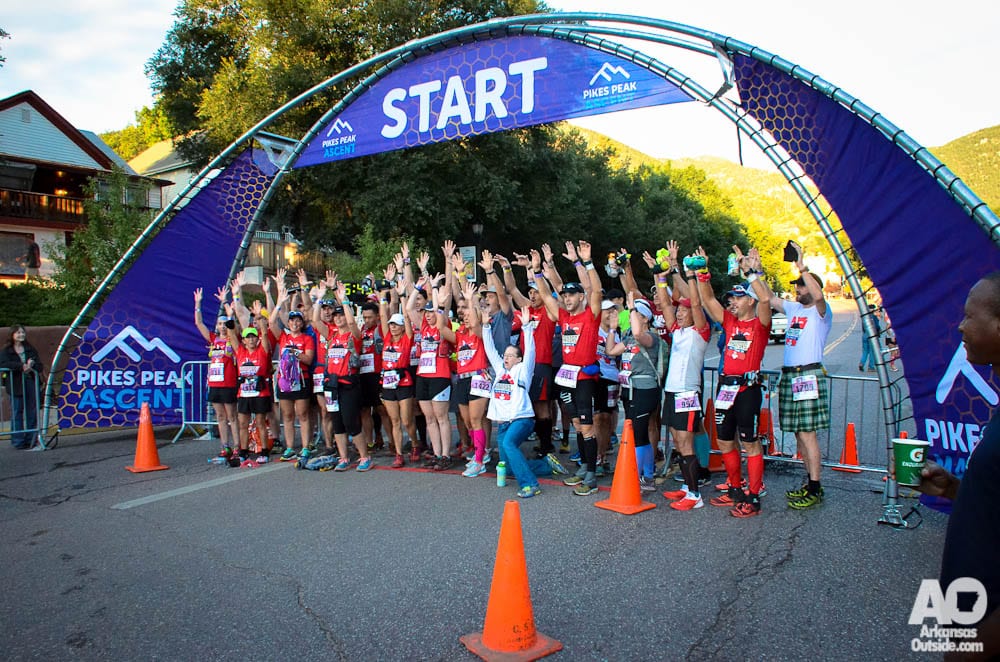 Once we hit the dirt I started feeling better. I love the dirt. The dirt usually loves me. Singletrack is where my heart feels at home. Before long, Christine Meroney and her pacing partner Amy Hill catch up to me and we spend miles together supporting each other, giving each other words to lighten the task. They had a plan to stay together and pull each other. My plan was to work as hard as I could and let the outcome be what it was. Once on the single track, there was not a lot of running; there was a lot of speed hiking. The average 13.4% incline of the early section of trail was apparent. Once past No Name Creek at about mile 4, we were able to run a little, but it never lasted for long. It took me a couple of water stations to figure out that the people working the stations did not actually know the runners around me, our names are on our race bibs, all they had to do was look. What a gift it is to hear so many people say "great work, Lisa! Keep it up" so often throughout the day. That mental boost of familiarity is so key and something I love about working aid stations when I can call the names of people I know.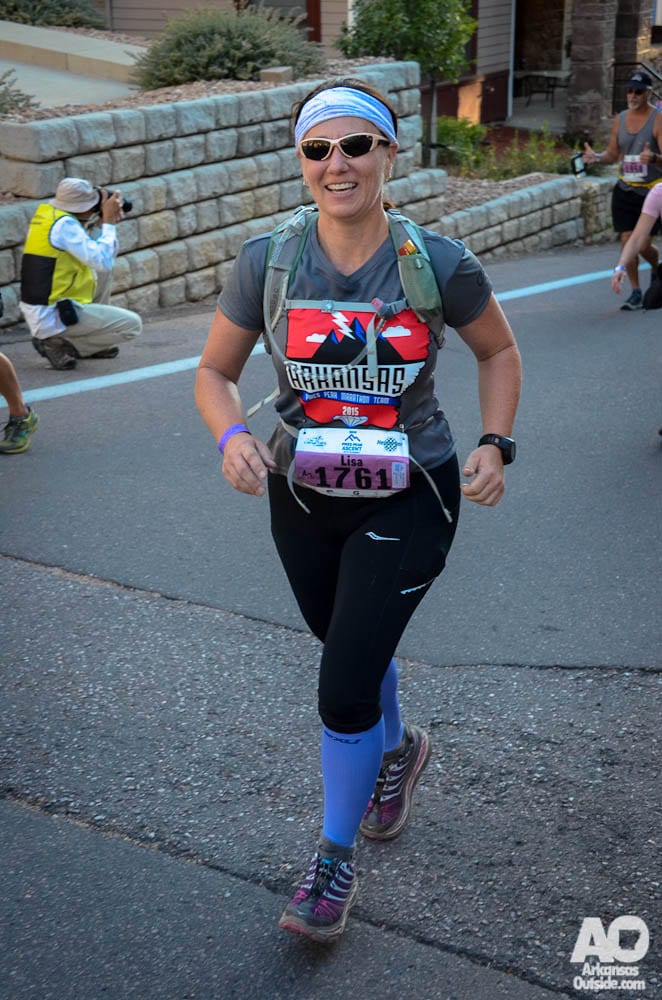 My focus was on the trail in front of my feet as I had three hours to make the first cut-off time at mile 7.6 Barr Camp. I wanted to make it with plenty of time to spare, knowing the terrain would become more difficult, but it was impossible not to look up and try to soak in the beauty of the trail. In one particularly lush, green section below Barr, Ronnie Daniel jumped alongside me for a minute to chat and take photos before returning to his mission of escorting his wife Lindsey on her first ascent. I may have shared with him my desire to burst into tears and/or start singing "O Beautiful for spacious skies, for amber waves of grain…." I now know why Katharine Lee Bates wrote those words. I made it to Barr Camp within my goal time and tried to get to the feed table to grab a banana and maybe a cookie. I always try to get in and out of aid stations quickly, I thought I had enough water in my pack to last me, maybe even to the top if I drank a cup at every water stop, too.
Just past Barr camp I bonked. My heart rate was erratic, my hands were so swollen that my wristband was tight and I was ever so thankful for the advice to take my ring off. Again, leap-frogging Ronnie came alongside and asked "are you drinking too much?" Wait. Can I drink too much at 10,000 ft on a day that is hot by any standard, but certainly hot for a Colorado mountain day? The answer is yes. While I'm struggling to put one foot in front of the other, Amy and Christine catch up and attempt to pull me out of my funk and tell me to "hang on our tail, let's go" I realized I was in a section referred to on the timing list as Bottomless Pit. How appropriate, that's exactly how I felt. I started regulating my drinking, had some salt and a few Skratch chews. Within a mile or so, I started feeling better, a lot better. Marcela, a tan little slip of a woman from Florida who was carrying a speaker blaring funk music while yelling at her friends and bounding from rock to rock, provided a little irritation when I was feeling awful and switched to inspiration as my energy returned. Hell, if she and her sea level compatriots can do this, I can do this. I put my head down and concentrated on the space in front of my feet. I concentrated on my breath, like holding a long yoga pose, breathe in deeply, breathe out slowly, control the heart-rate, return the focus to the strength of my body, release the pain to the winds. The 2.6 miles between Barr Camp and the A-frame cut off can be challenging with the average 13.4% grade, increasing elevation and rocky path. I made it to the cut-off at A-frame with three miles to the finish and a little more than two hours to make the final time limit. I'd been told the final mile could take as long as 45 minutes. I did the math in my head and watched my pace carefully. I can do this. I can do this. I can…Oh. This view. This glorious, magnificent, incredible view.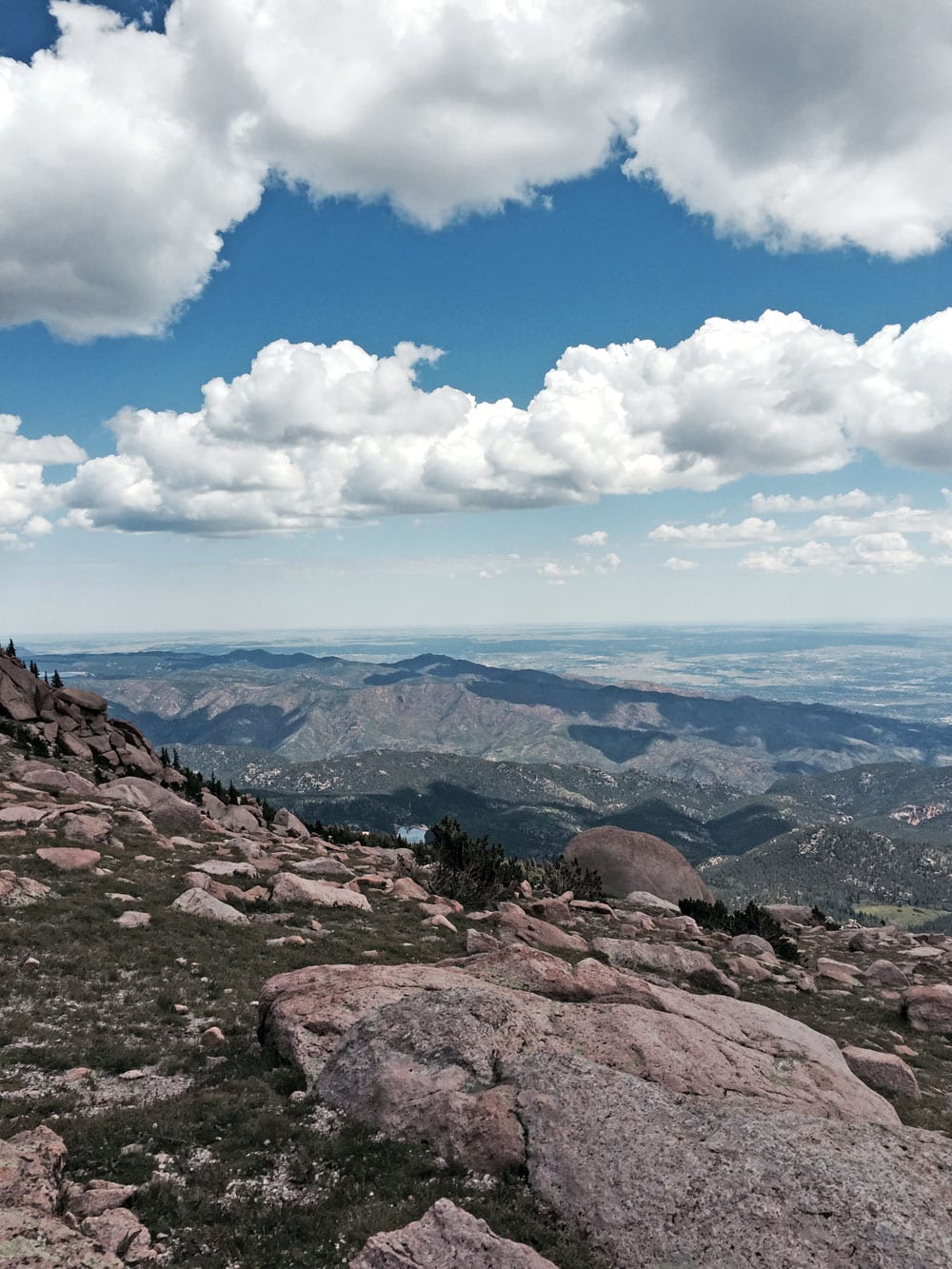 My friend Lacey warned me not to bow to the temptation to take pictures because if I missed a cut off by a few minutes, I'd hate myself. I could not resist. I stopped and hurriedly snapped photos that do no justice to the reality of the moment. "For purple mountain majesties" does not begin to describe. I can do this. This is hard. I can do this. "O beautiful for pilgrim feet…" This is so hard. With one mile left to go I knew I was going to make it, but I had let my water bladder empty and had to stop to get it refilled. The volunteer staff is so efficient, I estimate it took them about 20 seconds to grab my pack, pour and get it back to me.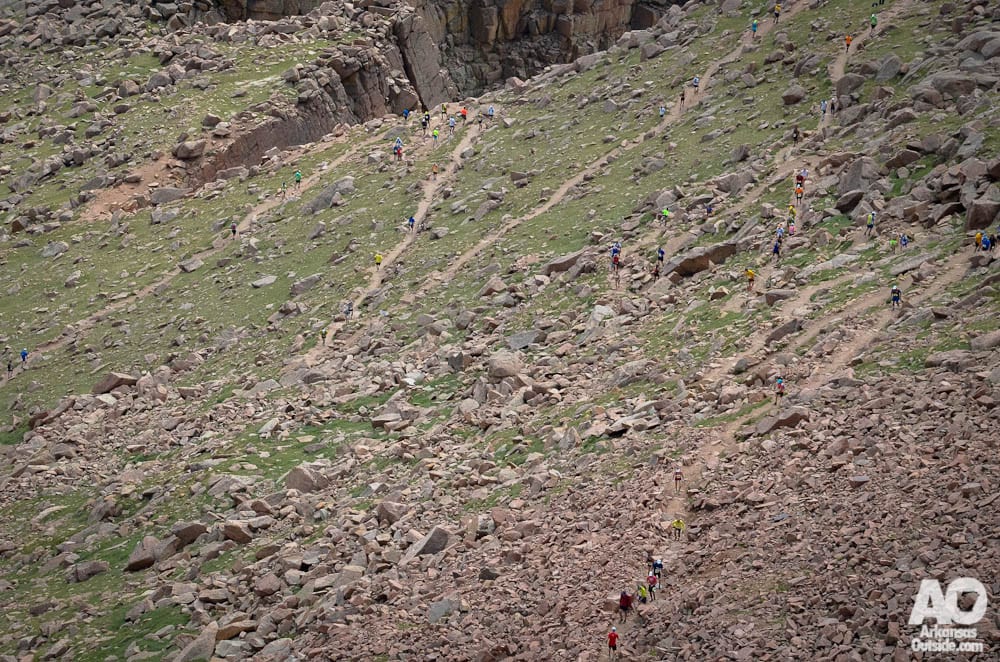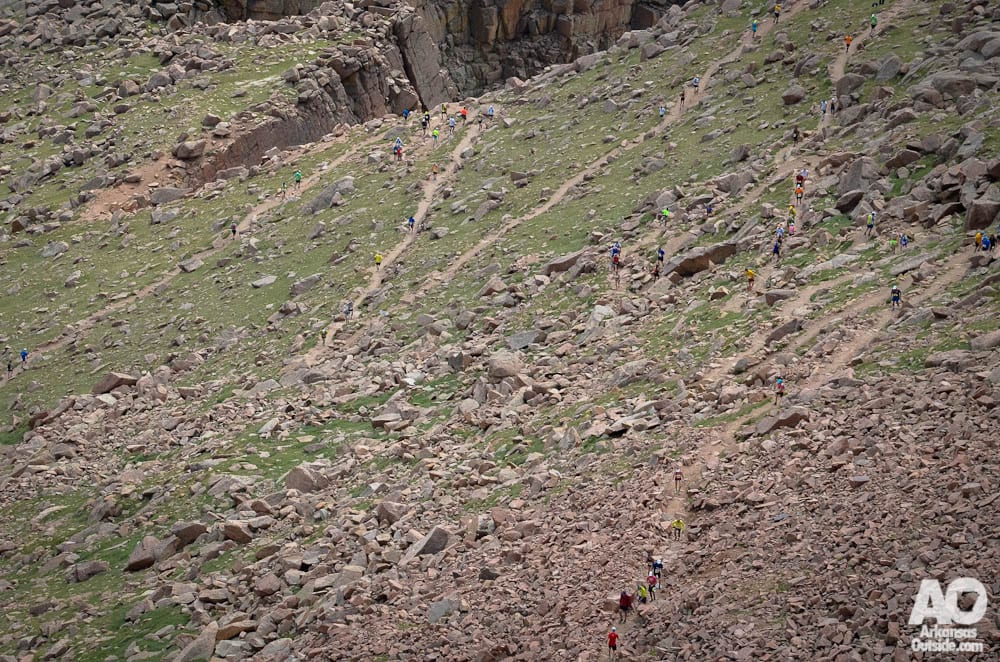 The finish was in sight, but it was a gut-wrenching, horrifying sight. Up, it was so very up; up steep gnarly rocky narrow switchbacks. I could cry. Then I heard a familiar voice screaming "WHOO PIG!" Many of the Arkansas runners were wearing matching team shirts so we could recognize each other as family even from far away. I looked up, with what looked like still so far to go even though it was less than half a mile, and screamed back "Money!" The nickname for my friend Patre came spilling out with the tears while she jumped up and down, waving from the rocks far above my head. I was not in the bottomless pit, I was coming home. My family is up there. I have a team waiting to hug me, high five me and give me that last push I need to make it up that torturous stretch of rock. After getting hugs and high-fives and a lot of encouragement from Patre, Justin, and John, I was so happy that my feet started nipping the heels of those in front of me. Can't you go any faster? I thought. I want to be there, now. I crossed the finish line, they hung the finishers medal on my neck and I stood there for a minute trying to digest what just happened. I'm standing at 14,115 ft with a medal around my neck after a little more than 6 hours of heart pumping climbing. I knew I heard people calling my name when I crossed, but I had no idea where the voices were coming from because there were so many people and so much going on around the finish. I may have been slightly frantic, not knowing what to do next.  I went to get my sweat bag, which was not necessary since the day was still hot and the summit was in full sun, unlike so many days atop the peak. I turned, searching for the familiar yellow and black AO hat. I couldn't find it. I took out my phone and deliriously took a selfie with my medal backwards. I texted my daughter while scanning the rocks, finally seeing that backwards AO hat and a big lens attached to a face so I could go get my finish hug while he waited for the rest of the Arkansas crew. Soon enough I found Ronnie and wife Lindsey who were waiting for those few behind me to finish. We cheered as Arkansas Road Running Club president David Meroney crossed the line and everyone went nuts when Amy and Christine appeared with just 3 minutes left on the timing clock. The team that had been just below the summit had come back up with them, cheering them in to the finish line. This was Christine's third attempt to make the summit in under six and a half hours and the team completely surrounded her at the finish. Because that's how the Arkansas Pikes Peak Marathon Team rolls.