Cycling is one of those sports that you can do your entire life. 6 to 60, or 70, or 80, or beyond. It supports a healthy lifestyle and social community. Unfortunately, until now, most high school sports have centered around football, baseball, and basketball, which are generally not sports that most people remain active with throughout their lives. Here is some information on how to get your kids involved in a sport that will support them for many years.
---
The Central Arkansas Chapter of the National Interscholastic Cycling Association (NICA) met last night at Shift Modern Cyclery in downtown Little Rock to introduce parents and youth to the Arkansas NICA league.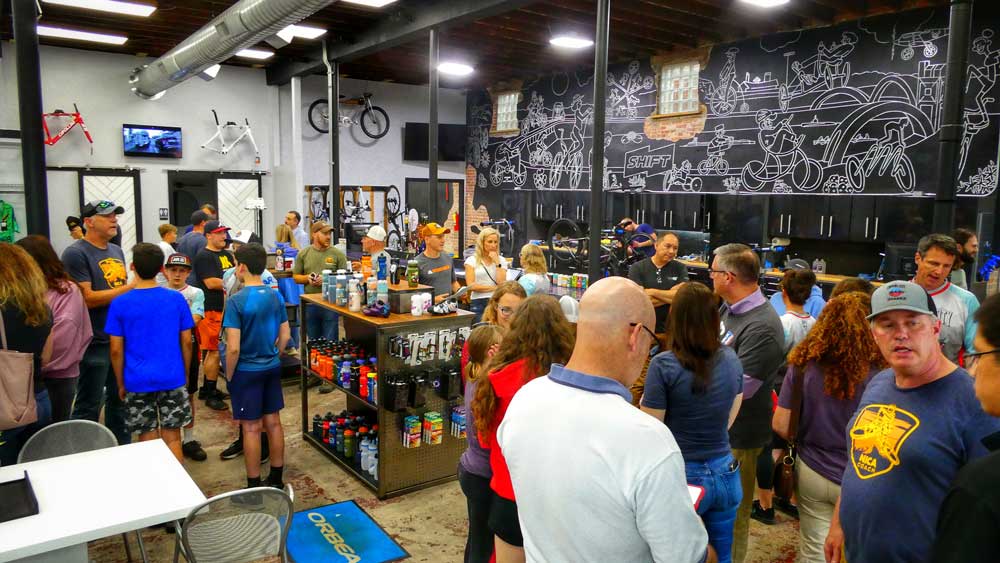 Some History
The first high school mountain bike series began in 2001 in California. As this grew to over 50 participating schools in California, In 2009 the National Interscholastic Cycling Association was founded to take this idea nationwide. In 2016, Arkansas hosted its first NICA racing season making it the 17th league to form. For an idea of how these races go, here is a report from the first race of the second season in Arkansas.
The Mission and Values
NICA is organized to provide a fun, sage, and high-quality mountain biking program for students in grades 6 through 12. They list among their values:
Fun: NICA inspires friendship, joy, and adventure
Inclusivity: NICA believes everyone should be able to participate in their programs and feel welcomed, respected, and supported.
Equity: NICA is committed to fair treatment, equal access, opportunity, advancement, and elimination of barriers to encourage participation for all.
Respect: NICA expects consideration for all others, oneself, and the outdoors.
Community: NICA unites diverse people, families, and communities through cycling by creating fun and welcoming experiences.
Race Season
The 2022 season will consist of 6 events. Participants are not required to race but if your kids like a little competition and want to push their abilities, it may be right for them.
GRIT RACE – AUgust 13, Siloam Springs
PRELUDE TIME TRIAL – August 27, Old Post, Russellville
RACE 1 – September 10-11, Spring Hill, Baring
RACE 2 – September 24-25, Cedar Glades, Hot Springs
RACE 3 – October 15-16, Clysta Willett Park, Mountain Home
RACE 4 – November 5-6, Centennial Park, Fayetteville
How to Join a Team
At a minimum, each student-athlete will need a properly sized/fitted mountain bike and mountain bike helmet, a water bottle, paid Arkansas NICA League Student-Athlete Membership, and Registration fees ($90 total). It also helps to be an enthusiastic learner. Later in the season, each rider will need a good bike light and/or helmet light.
If you need assistance obtaining any of these items, contact Jada Ellis at littlerockstudentmtb@gmail.com. There are programs available that can help, they really want to get the kids on bikes.
Be a Coach
NICA is very careful about who can coach the kids. The good news is that you don't need a lot of coaching or even mountain biking experience to coach. What you do need is to be certified by NICA. This involves three different levels of coaching. Certification includes a coaching fee and an online background check. If you are interested in coaching, contact Randy Hayden at randyhayden@sbcglobal.net for information.
Teams and Practices
There are currently two teams in central Arkansas,
Capital City Cranks (CCC) – This is a composite team of 6th through 12th graders from any local school or home school.
Little Rock Catholic High School Team (LRCHS) – Only students attending Catholic High in Little Rock can join this team.
These teams currently practice together and work closely together on team promotion. There are currently over 20 coaches and they are looking to add more this year. Practices are held at various mountain bike trails in central Arkansas.
Other Team Member Responsibilities
All student-athletes on a team are required to complete a minimum of 10 bike-related SERVE hours. Locally, the teams work with Central Arkansas Trail Alliance and Little Rock Parks and Recreation to perform trail work days on local trails.
For more information visit: