Here is a survey being conducting at the bequest of the International Mountain Bicycle Association. If you mountain bike and have a few minutes please answer the survey, heck, you could win a new drivetrain. Feel free to share this with your mountain biker friends.
(From Media Release)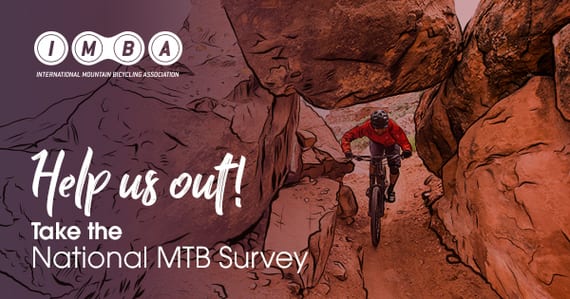 IMBA has launched the first-ever nationwide survey to understand the habits, access to trails and levels of engagement of America's mountain bikers. Never before has anyone attempted to reach such a broad and diverse audience of riders.
In partnership with Ohio University and the SRAM Cycling Fund, we're seeking to paint a comprehensive picture of the state of mountain biking, its opportunities and its challenges in the U.S. and we need YOUR opinion to be a part of it!
Everyone who takes the survey may choose to enter to win a SRAM GX Eagle groupset. If you do, your responses will still be anonymous.
Please take the survey! And be sure to share it with your friends who ride. We need to hear from every person who rides a mountain bike. It is open until September 20.
IMBA will own the data and use it to guide its efforts. A high-level summary of the findings will be presented at IMBA's 30th-anniversary celebration in Bentonville, AR, October 26-28, and be made available online via IMBA.com after that date.
And now for the fine print…
IMBA is working with Danny Twilley, a faculty member in the Recreation Studies program at Ohio University, and Melissa Weddell at Appalachian State University to conduct this research (IRB number, 18-E-29). Participation in the survey is voluntary and all responses will be kept confidential. No personally identifiable information will be associated with the responses. Individuals must be 18 years of age or older to participate in the study and live in the United States. The survey will take approximately 15 minutes to complete.
If you have any questions regarding this research, please contact Danny Twilley at twilley@ohio.edu or 740-597-3109.
Thank you very much for your time and cooperation.
— The IMBA Team