The wisp of clouds in the sky had just that kiss of orange that comes with the sunrise when we arrived at Murray Park in search of runners. The reason for our search was a planned group celebration of National Running Day on June 5th. Go! Running and the Little Rock Marathon sponsored a morning pace your own race fun run. Though a 5K route was pointed out and most runners chose that distance, a few hardy souls soles kept going for more mileage. This is the perfect kind of event whether you're cheetah fast, or you prefer to take your time and enjoy the scenery, to race is all up to you: fast or slow, long or short, the run is the thing. There were all paces out running along the River Trail and across the Big Dam Bridge, from sprinters to walkers.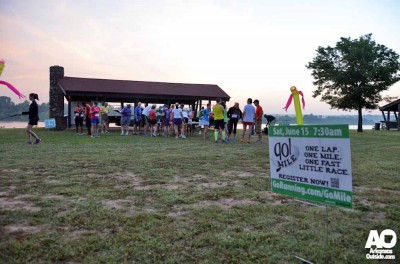 Runners were supplied with a bib that invited them to write down why the run, or where they run, or for whom they run or from what they run.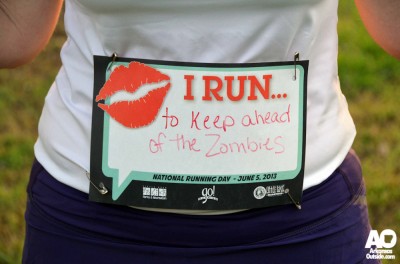 I RUN…to keep ahead of the zombies. I couldn't come up with anything better on the spot. Upon reflection though, I guess I run because I know it's good for me. I run because I want to be healthy and running is a great way to work out my heart and legs. I run because even when I am dreading starting out, I never regret it.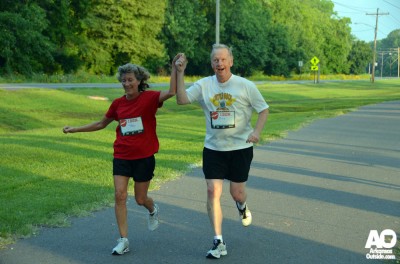 No matter your reason for running, staying ahead of the zombies, getting healthy, staying healthy, whatever, a great way to start is at the Go! Mile. They even have a special heat of runners called, "The First Mile" to get people new to running started. The Go! Mile is more than a run, it's a festival that allows runners to not only run but watch each other run. Heats of runners start every 15 minutes allowing you to enjoy and mingle with other runners. That's right, once you take that first step at the Go! Mile, YOU ARE A RUNNER.
So get out there and join the growing ranks of runners, no matter your speed or lack of speed it's a wonderful community.
Get registered today!
More photos of the National Running Day event are available on our Facebook Page, feel free to share, download, tag or comment.