We had the opportunity to pre-ride the cross-country course this past Sunday. This is going to be a fast fun course. There are only a couple of slightly technical spots on the route. The great thing is that the shorter course allows for better spectating which should be fun for the racers. The two new events added to the third annual Güdrun Mountain Bike Festival include a time trial and a slalom competition. Registration is still open. All the details are below in the event news release.
---
HOT SPRINGS NATIONAL PARK, Arkansas — Two new events and the resumption of a popular event have been added to the Third Annual Güdrun – Northwoods Mountain Bike Festival scheduled for November 12 – 14 at Hot Springs' Northwoods-Cedar Glades Trail System.
"We are super excited to be adding two new racing events and resuming the popular Slow Roll through the lobby of the Arlington Hotel for this year's festival," said Traci Berry, trails coordinator for Visit Hot Springs. "We already have riders coming from 13 different states, with riders ranging in age from 5 to 75 already registered. Riders still have until 7 p.m. on November 12 to sign up.
"Riders have registered from Arkansas, Arizona, Colorado, Florida, Kansas, Louisiana, Michigan, Missouri, Mississippi, Oklahoma, Tennessee, Texas, and Wisconsin."
Berry said the two new events added to the third annual Güdrun Mountain Bike Festival this year are the Gudrun Waffles & Coffee Time Trial, sponsored by Redlight Roastery & Coffee House, and the Güdrun Dual Slalom Competition, sponsored by Michael Irmen with Outbound Lighting and powered by Slaughter Trail Guides.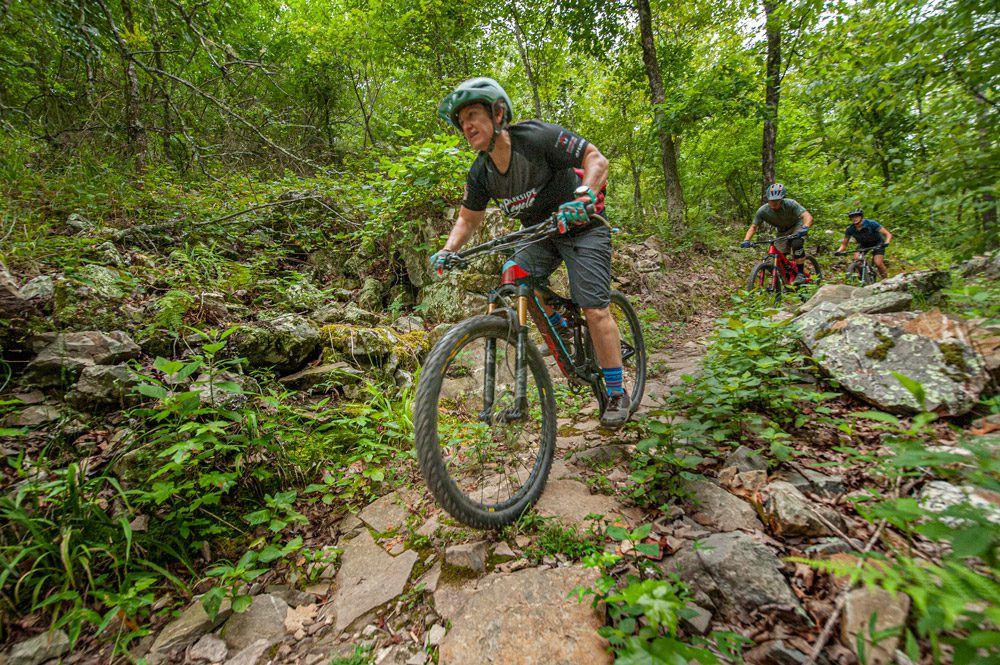 The Waffles & Coffee Time Trial will be a short, fast two-mile cross-country race on the Waffles & Coffee Trail at Cedar Glades Park.
"This race is perfect for the XC [cross-country] racer looking for something to do while the enduros are taking place on Saturday as well as those riders who have never raced before but are curious and ready to get their feet wet," she said.
"The Güdrun Dual Slalom Competition will be a fun, spectator-friendly event taking place off the end of the Cedar Glades Park Hilltop lit up by a light tower. Participants will have a pre-determined amount of time to make runs on the dual slalom course. Their best time will be their qualifying time. The finals bracket will be determined by the eight fastest qualifying times in each category: Men's Open and Women's Open. The racers will compete in the Dual Slalom bracket and each full round (going down each side of the run with the same opponent) will determine the winner and who will move on to the next round. Winners will be crowned Viking Warrior King and Queen of the Hill."
Berry said the Güdrun Slow Roll Fun Ride will once again take riders from the Hot Springs Convention Center, down Bathhouse Row through the Arlington Hotel Lobby, around Whittington Park, back through downtown, and ending at 420 Eats for the opening night celebration.
"Our festival isn't just for competitive mountain bikers," Berry said. "We want everyone to come out and enjoy the festivities. We will have food trucks and Superior Bathhouse Brewery as well as several vendors throughout the weekend. We are also really excited to have the Hot Springs RC Flying Club putting on an Air Show at the Remote Control Air Field at Cedar Glades Park located at the bottom of the Cedar Glades Hill.
"We are really pleased to once again celebrate the birthday of the Northwoods Trails with the Third Annual Güdrun Festival.
"Our trail system has been such a valuable addition to our community, what better way to celebrate such an amazing recreational space than to have a ton of fun biking with Vikings."
The Güdrun Festival traces its origin to the early days of the Attila the Hun Mountain Bike Race, which began in 1992 where the Northwoods Trails are located today.
The 2021 Attila the Hun competitive race to be held Sunday, November 14, will be the final race of the season for the 2021 Arkansas Mountain Bike Championship Series. There will be areas for spectators to see the racers and cheer them on.
Berry said the festival's full Enduro event sold out early, so race organizers increased the number of participants by 50 more slots. She said 18 open slots were left Thursday morning.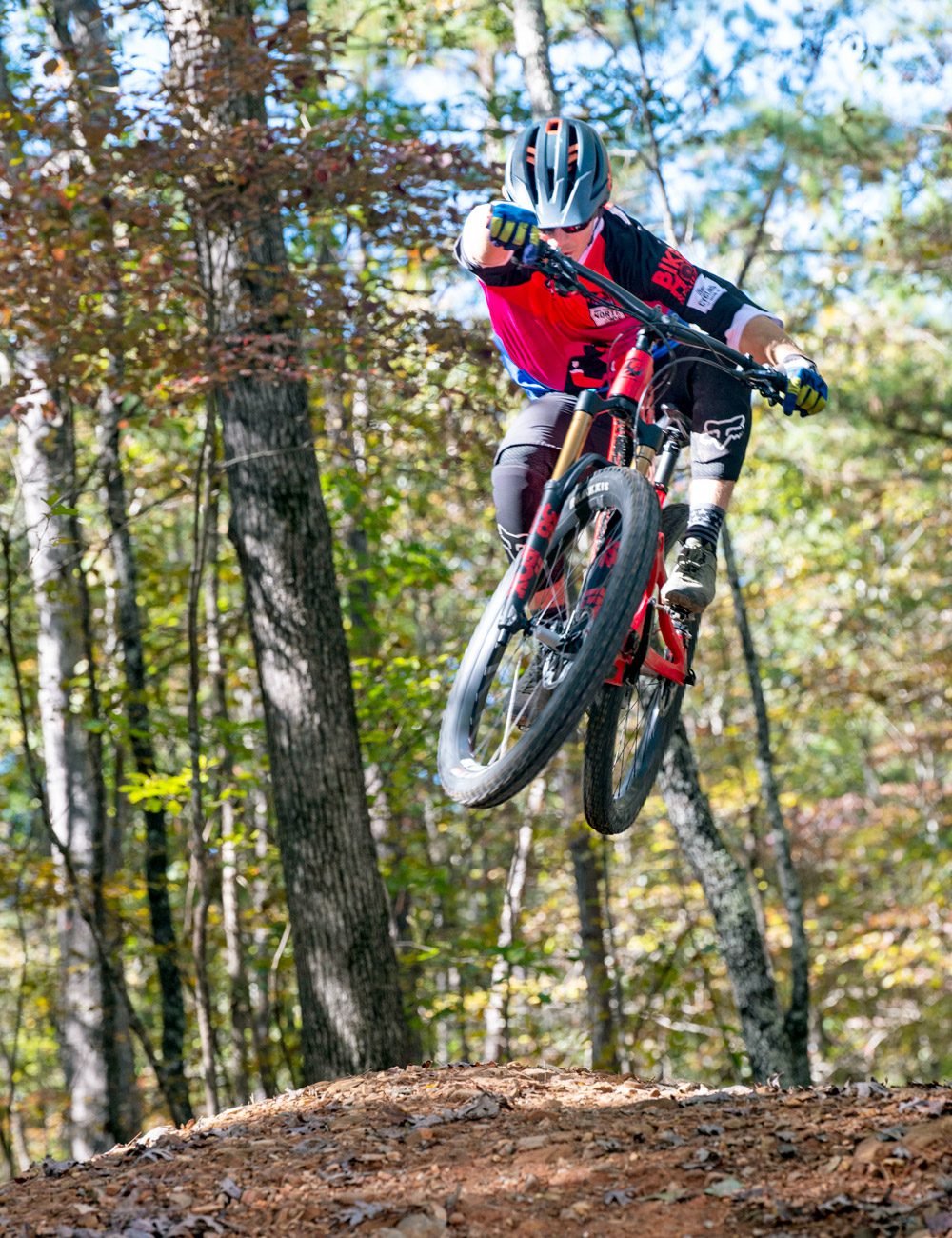 The Gudrun Enduro races will once again be powered by Slaughter Trail Guides. In Enduro racing, the timed portion (stages) of the race are mostly downhill. The stages can vary in steepness, length, and difficulty. Between each stage, the riders have an untimed section that is mostly uphill taking them from the end of one stage to the start of the next. The Mini Enduro will be three stages with the route running about six to eight miles in length.
The Full Enduro consists of six stages, with the route running about 15 to 18 miles in length.
Berry said that the Gudrun Jump Jam, sponsored by Holy Roller United of Benton, is a hit with spectators. Jump Jam contestants will show off their bike-flying skills, catching air on the skills jumps at Cedar Glades Park. "We have had guys pull 360s, backflips, superman, and more," she said. "We can't wait to see what they bring to the stage this year."
This year marks the 29th consecutive year for the Attila the Hun XC (Cross Country) Mountain Bike Race. The race format for this year's Attila will be a short lap course with multiple spectator areas. The course is around three miles in length and each category will ride a predetermined number of laps. With 43 different categories, it will be a full day of cross-country mountain bike racing.
Each Slow Roll, Enduro, Time Trial, Jump Jam and Dual Slalom participant will receive a swag bag that will include a long-sleeve T-shirt, a Specialized water bottle, a pair of Sock Guy socks, and other goodies, Berry said.
She said online registration is still open at www.gudrunmtbfest.com.
The full schedule for the Güdrun – Northwoods MTB Festival Schedule:
Friday, November 12
Noon – 7 p.m. – Expo/Packet Pickup
Noon – Enduro/Time-Trial Pre-Ride
5 p.m. – 7 p.m. – Gudrun Slow Roll Group Ride
7 p.m. – 9 p.m. – Opening Party
Saturday, November 13
8 a.m. – Packet Pickup
9 a.m. – 1 p.m. – RC Plane Air Show
9 a.m. – Gudrun Mini-Enduro
10 a.m. – Gudrun Full Enduro
11 a.m. – Waffles & Coffee Time Trial
1 p.m.  – Attila the Hun XC Pre-Ride
3 p.m. – Gudrun Jump Jam
5 p.m. – Gudrun Slalom
Güdrun Awards Ceremony Immediately following the Dual Slalom
Sunday, November 14
7:30 a.m. – Packet Pickup
8 a.m. – Attila the Hun XC
2 p.m. – Awards Ceremony
Find out about other events coming up soon on the ArkansasOutside.com Calendar of Events.