Work Begins February 10 on New Trail to Connect Park Avenue To Hot Springs' Popular and Successful Northwoods Trail System; Walton Family Foundation Grant Enables Project
Work begins Monday (February 10) on a new trail that will connect the Park Avenue Community in the northern part of Hot Springs to the phenomenally popular Northwoods Trail System. The project is a $104,000 grant from the Walton Family Foundation at the recommendation of Steuart Walton and Tom Walton.
The Pullman Avenue Connector Trail traversing 0.6 of a mile of Hot Springs National Park property off Pullman Avenue "will create a much safer and more accessible route by bike or foot" to the existing 16-mile Phase One of the Northwoods Trail System, according to Traci Berry, Northwoods Trails coordinator for Visit Hot Springs.
Existing access to the trails is via a trailhead at the Hot Springs Lakeside Waterworks facility and two trailheads in the Cedar Glades Park area in the neighboring Garland County property.
The Northwoods Trail System will become a 44.6-mile trail system when completed, according to Steve Arrison, CEO of Visit Hot Springs.
"This connector trail will establish a new, safer and convenient way for residents and visitors to gain access to this marvelous resource for Hot Springs," Arrison said. "This expansion will continue to improve the Northwoods Trails, which are not only a tremendous economic benefit to the city but also enormously enhance the healthy lifestyle and recreational opportunities for all of us. We are tremendously grateful."
Hot Springs National Park will join a list of just 47 of 419 NPS-owned properties that allow mountain biking on select dirt trails within their boundaries. The Pullman Avenue Connector will be accessible by bike or foot traffic only. No biking is allowed on any other trails in the National Park.
"The Pullman Avenue Connector Trail shows vividly just how much we can accomplish when the National Park Service, Hot Springs City Government, the private sector and Visit Hot Springs work together," Arrison said.
IMBA Trail Solutions will begin work on the Pullman Avenue Connector Trail Monday (February 10). And the project is expected to take six to seven weeks, Berry said.
The 0.6-mile trail through Hot Springs National Park property will connect the end of Pullman Avenue in the Park Avenue Community to the east side of the Northwoods Trail System at Hub Y, she said. The Pullman Avenue Connector Trail will be accessible to foot and bike traffic only.
"We are really excited and appreciative for the continued investment by the Walton Family Foundation in our efforts to build a world-class mountain biking experience for the residents and visitors of our city," said Hot Springs City Manager Bill Burrough. "The Pullman Connector Trail will provide the first neighborhood connection to the Northwoods Trails and will benefit not only the residents of the Park Avenue area but also the entire community, providing for an outdoor experience like no other."
Hot Springs National Park Superintendent Laura Miller added, "We are excited about this new addition to the trail system in Hot Springs National Park. While we have a long history of hiking and equestrian use of the trails in the park, this will be the first trail to combine hiking and mountain biking within the park boundary."
"The Pullman Avenue Connector Trail will create greater community connectivity between downtown and the city's Northwoods Trail System and will increase recreational opportunities for our visitors and neighbors alike. We are fortunate to have such a team that includes Visit Hot Springs, the City of Hot Springs, and the Walton Family Foundation who have worked so hard to make this happen," Miller said.
"The Pullman Avenue Connector Trail is vital to creating greater community connectivity to our Northwoods Trail System," Berry said. "The City of Hot Springs, the Advertising and Promotion Commission and the Hot Springs National Park went through a lengthy process to make this trail a reality because of the impact we all knew it can and will have on our community by way of improved community health and increased tourism.
"This project allows us to continue to enhance the quality of life for our residents and to build Hot Springs into w world-class mountain biking destination drawing riders from all over the country and world."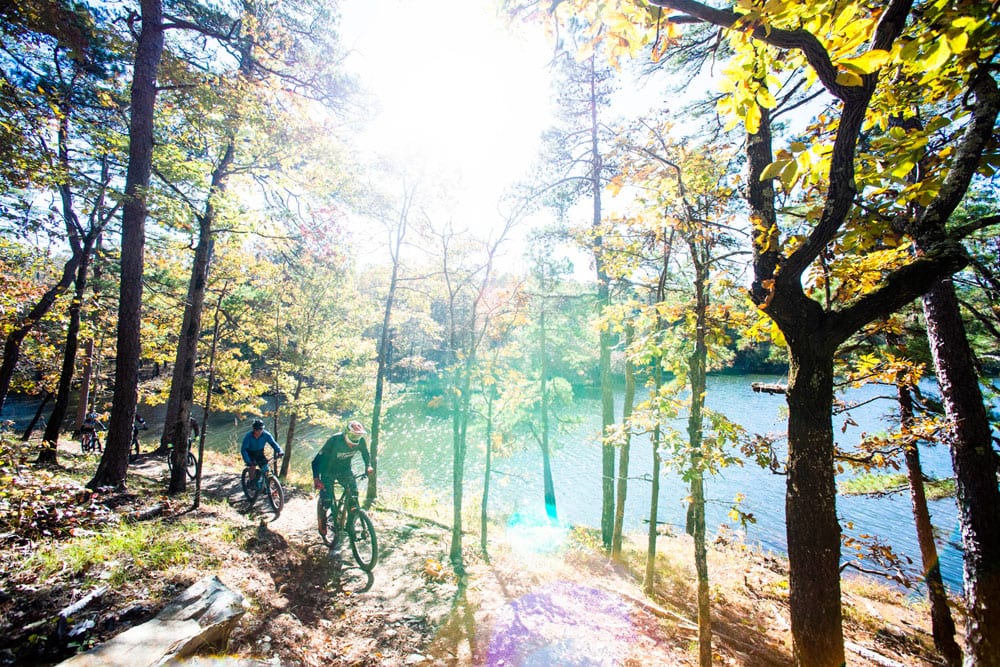 Phase One of the planned 44.6-mile system of mountain biking trails on the city-owned Northwoods/Cedar Glades properties in the northern section of Hot Springs opened in 2018.
When the Northwoods Trail Project is completed the end result will be a 44.6-mile system of first-class biking trails in the property that incorporates pristine forested hills and three lakes. It is in a 2,000-acre parcel of city property just north of the Park Avenue and Whittington Avenue Communities.
A $648,421 Walton Family Foundation grant for Phase One was matched by Visit Hot Springs, followed by a $450,000 Walton Family Foundation grant to Garland County for trail improvements to the existing 10 miles of trail and a bike skills area within Cedar Glades Park. IMBA Trail Solutions completed the Cedar Glades upgrade in December 2019. The Northwoods Trail System is connected to Cedar Glades Park, giving the residents of Hot Springs as well as visitors convenient access to 26 miles of mountain biking and hiking trails less than three miles from downtown.
"The Outdoor Industry Foundation has found that bicycling has fueled important economic growth in our area of the country," Arrison said. "In Arkansas, Louisiana, Oklahoma, and Texas, the OIF says, bicycling contributes $6.9 billion annually to the economy, supporting 66,000 jobs and producing $621 million in retail sales and services."
"In Arkansas, OIF estimates that outdoor recreation of all kinds generates $9.7 billion annually in consumer spending and creates 96,000 direct jobs," he said. "Sixty-three percent of Arkansans participate in outdoor recreation each year, with a significant portion of those enjoying bicycling in general and trail-biking in particular, according to OIF. Those numbers will only grow in the future and the Northwoods Trail System will position Hot Springs perfectly to capitalize on this economic powerhouse."