Arkansas is still in a drought. It was a very dry summer and the fall has not given us significant amounts of rain. This is not good for farmers, gardeners, kayakers or cyclocross photographers. It's kind of a joke around here, it's not raining on a cyclocross weekend, Joe won't be happy. You see, everyone wants the wet, muddy photos and I aim to please. The Old Post Cyclocross Race a couple of weeks ago gave us a hint of what could be but this weekend's Turkey Burn was as dry as an overcooked Thanksgiving fowl. None of that really matters.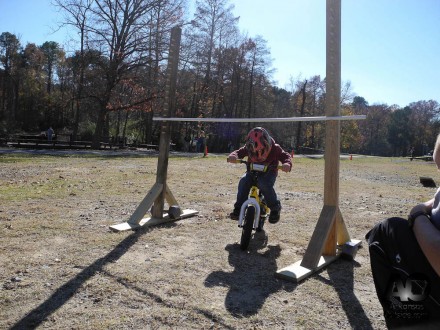 Besides not having to worry about getting camera gear wet, the beautiful weather brought out the kids. To keep the little ones busy while the big kids raced we brought out some of the obstacles from Take a Kid Mountain Biking Day.  It all made for a festive atmosphere. I noticed more than one friend giving the sport a try for the first time. (I should have brought my bike)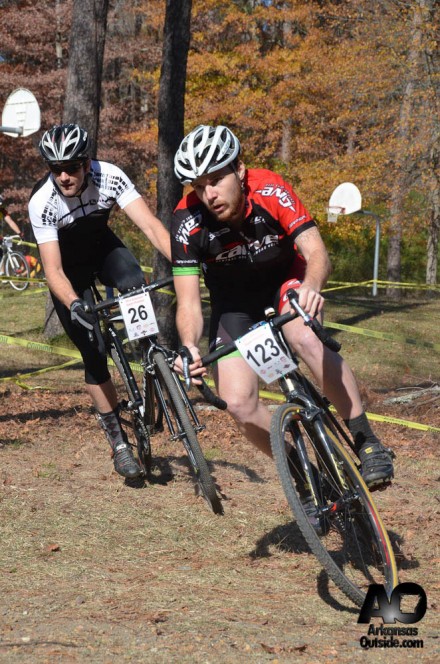 Part of the Arkansas Super-Prestige Cyclocross Series, the Boyle Park course is a race favorite with a nice mix of hills, wooded trails, natural obstacles and a couple of flat out speed areas. Trevor Edwards again did a great job in setting up the course and directing the races.
The day started off with the Women, Masters, Category 4 and Junior racers at 11 am. Forty minutes of pushing lap after lap as racers work through the course. The start is a straightaway on pavement and then turns to cross the parking lot and up a hill littered with various wooden barriers forcing racers to run uphill carrying their bikes almost straight out of the gate only to have to remount and head downhill through twisting turns with short straight areas just long enough to get up to speed and then have to go into a tight turn, turn after turn. Then there was a breakout across an open field before being slowed by a zig-zag around some boulders before a tough pavement climb. Finally there is a straight fast trail through the woods that narrows into a short evergreen forest before spitting  the rider out across a road and down through a curvy, off-camber downhill section. The course crosses the road one more time, making another dismount necessary to get over a huge log crossing and then back to the start line. Do it again until time runs out. Racer with the most laps wins.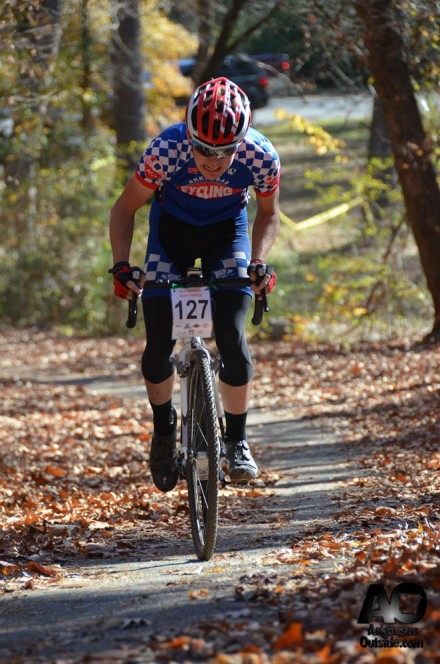 The Open race started at 12:30. These folks are fast. Cooper and Gerald Drummond pulled away quickly racing each other to the finish. The other racers battled it out for the 50 minute race. Since the course is relatively short, spectators can enjoy a lot of game play throughout the races. The key is knowing how much your body can handle without "blowing up." Racers keep track of each other and where they are in relation to those ahead and behind them hoping to be able to make a strong move as time starts running out. It really is exciting to watch the positions change as each lap goes by.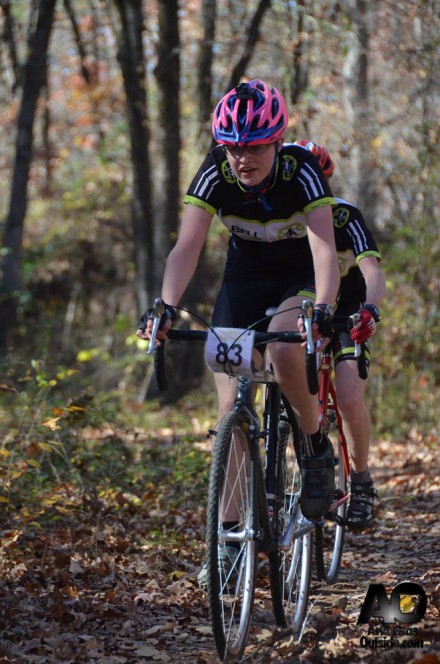 Once all the crazy grown-ups were done the kids had their chance to take a lap. The best part of watching the young ones race is seeing the dads running beside them making sure they have a good time and don't have any accidents. Now that's solid family bonding.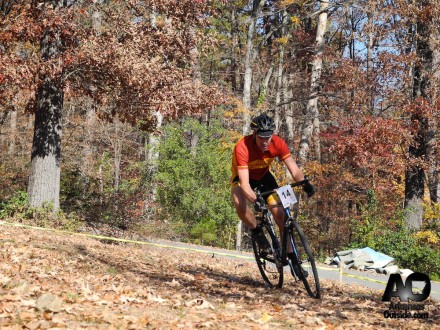 We have two races left in the series, the Phat Tire CX in Bentonville on December 2 and then the State Championship Race at Burns Park on December 9. I wonder if it will rain…
Photo Extra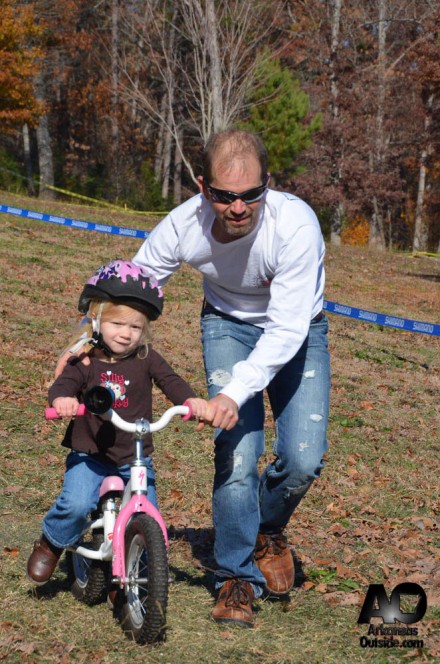 More photos available on our Facebook Page.