First female.
Top 10.
Course record.
These are not words that apply to me. They almost didn't happen.
I signed up on a sudden adrenaline surge that made the decision seem rational. After checking the registrants list, I immediately began to reconsider…there were only 7 other people that thought this might be a good idea. And I was the only female. Great.
Jim Sweatt joked at Lovit Marathon that'd we be guaranteed our first top 10 finish, which was true, I replied, if we were ABLE to finish. I tried dropping to the 100k twice. It really made more sense, most people agreed, as my training had been rather peculiar, and anyway, 62 miles on that course is more than enough. Dustin and Rachel Speer even told me they hadn't ordered buckles yet and switching regos would be easy.
And yet I didn't do it.
Something about that 100 miler had captured my heart, and I was determined to make the attempt. A few foolhardy souls encouraged this tilting at windmills, Dustin and Rachel among them, and I can't thank them enough. Sometimes it's nice to hear: If it's something you really want, DO IT.
A 6pm start sounded interesting in theory, but in practice it was hard to adapt. As I sat in the car 45 minutes prior to start, the sun was still out and it was nearly time for dinner….I mean 100 miles. My resolve began to quaver. Am I really about to run one hundred miles? My determination seemed to have hit its quota rather abruptly.
Spirits were high at the race briefing though, as Max Frumes (last year's 100k champion) ran around taking pictures with everyone, and Dustin reviewed course markings and made us vow not to drop. One other woman had signed up and Laura and I wished each other luck, Lining up for start line pictures made it clear how few of us there were….we were outnumbered nearly 2 to 1 by race volunteers!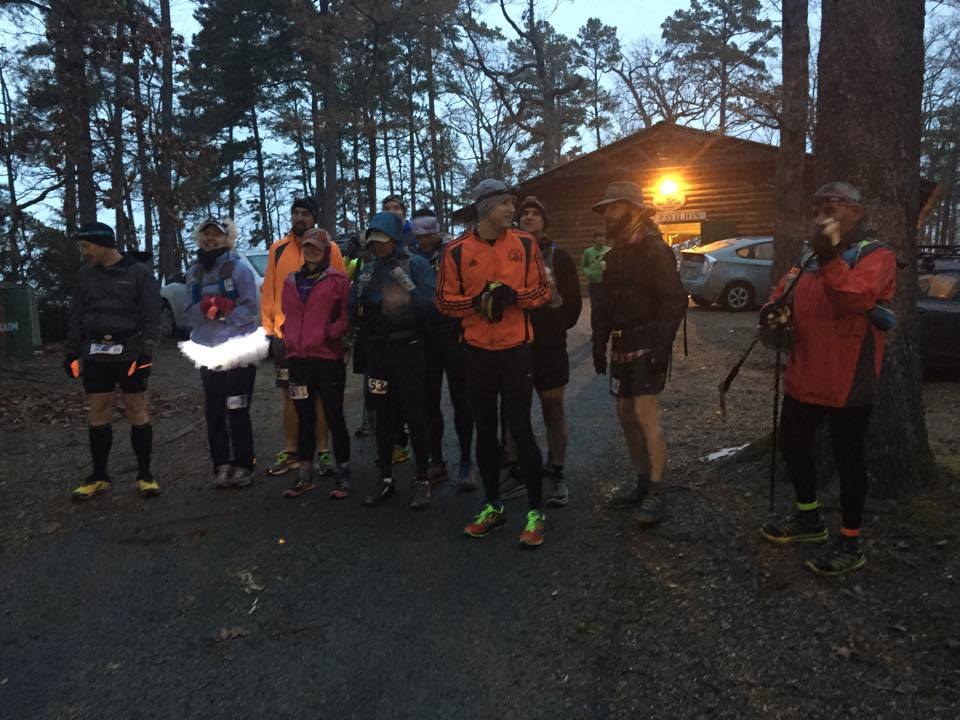 Soon enough, we were traversing ice covered forest service roads through dense fog, zero visibility, and intermittent thunderstorms. I was bonking through one of those thunderstorms when I felt a rock skitter out from underneath my left foot, and my whole leg made a 90 degree C shape as I instinctively caught myself from falling. I had an immediate twinge in my chronically injured knee, which had been silent up until this point, and I was irritated I had given myself an acute injury on top of the usual. The knee strain turned out to be much less of an issue than the ankle sprain I had given myself…but that didn't show up until later. Jim, Jeremy Day and I had formed a trio as we headed to the Hickory Nut check in and the hours just whiled away.
4:30am arrived relatively quickly, although the miles weren't dropping as quickly as I'd have liked. The ankle was getting progressively louder in its complaints but at least the sun was due in an hour and a half or so. Mentally I was feeling strong and looking forward to that sunrise; but as 6am rolled around, it became clear the weather was going to deny me a precious hour of sunlight as another vicious rain storm droned on.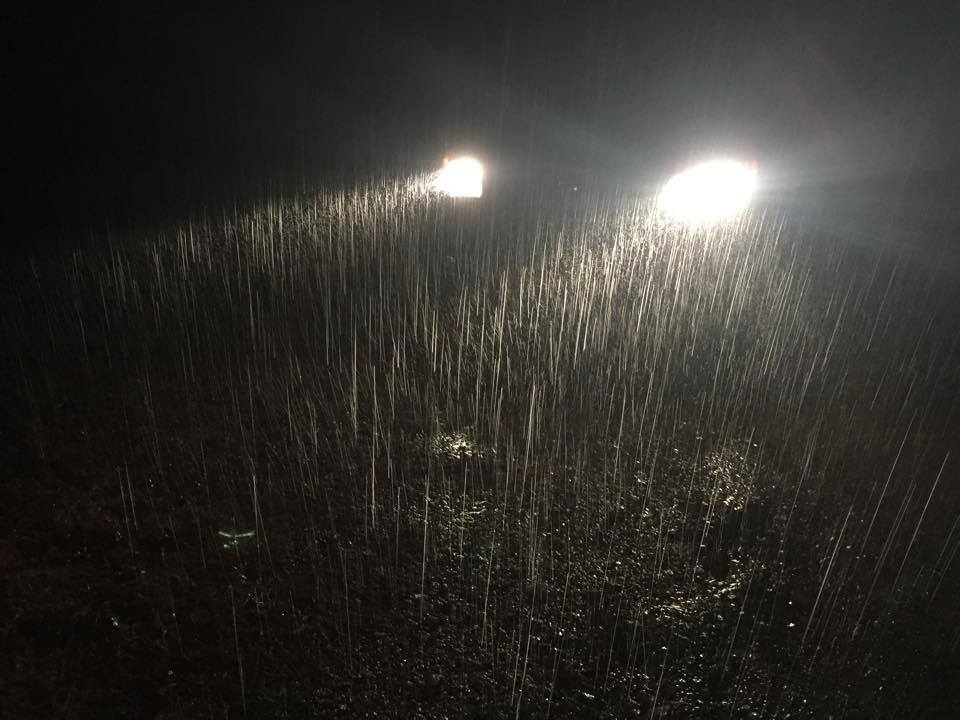 I decided to invest some time at Crystal Springs (mile 47) getting ready for the next 53. Temperatures were holding steady around 52* and although another a thunderstorm was forecast for that day, the sun was out. I finally shed my sopping wet layers for a fresh shirt, put my rain shell back on, took care of my macerated feet and an upset stomach, and got an enthusiastic hug from PoDog Vogler, who was having an excellent race.
As predicted, that thunderstorm rolled through and soon my thin layers were drenched again. The bitter wind that followed was the real deal breaker though, as it relentlessly eroded my core temp. I was facing an unfortunate dilemma: I needed to run to combat the hypothermia, I needed to walk to baby this ankle sprain. The hypothermia was winning.
Max comes bounding by with his pacer, looking as happy as ever. I am not. 5 miles on the ridge between Bear and Brady, I run into Justin Walker and his pacer Victor Brown, friends of mine from Ouachita Switchbacks. They ask how my race is going: "Shit." A hug and a promise to see each other at the finish line later, I'm on my way to Brady thinking of picking up my pacer and getting this done. I apparently stated I was dropping to the 100k at this point. I didn't mean it.
Paul Turner (PT) and Tina Ho greet me enthusiastically as I come down the hill, and I tell Tina: 1) I'm hypothermic, 2) my ankle is jacked, 3) I need to eat. We carjack Chris Baldwin's car to warm up, and she tells me I can make it to Avery to get my 100k finish but I've missed the cutoff. By how much? 45 minutes. When's the next one? 1:30. I look at the car clock. It's 11:45. I tell her I can't run the next 7.5 miles in 1:45, but I could do it around 2 hours. She thinks that's close enough.
I have been thinking of dropping to the 100k for hours at this point. I suggest Tina can pace Stacey Shaver if I drop and we trade pros and cons as we drop some serious miles. This is not how I want my story to end. I said I was going to run until they pulled me, and they haven't, so I am going to continue. Avery (mile 65) doesn't know what their cutoff time is, much less anyone else's. We do the math. We have 10 hours to get the next 35 done. That sounds doable.
My ankle has other plans. Getting to Avery by cutoff had its price, and that was most of my remaining ankle functionality. Our pace slows although Tina's feeding me all of her gels and freezing herself. At one point, I'm convinced the kids at Bear have moved their aid station (I forgive them though, as they made me the best gouda hashbrown sandwich at mile 50). The creek crossings continue to multiply as the temperatures continue to drop, but at least it isn't raining anymore.
Finally! Finally, Crystal Springs on the inbound. Mile 83. Only 17 miles to go, but that jet heater is awfully tempting. Tyler Wilkerson is calling it a night, also due to a non-functioning ankle, but I am not as smart as he is and I'm frantically trying to KT tape my ankle back together before final cutoff. I steal Tyler's pacer, who looks awfully excited to go run around in the woods for several hours for no apparent reason. Grayson and I head out with Dat Le, who's getting his 100k done, and we have a pretty good powerhike going on.
This continues to Charlton, where the courses diverge, and Grayson and I head down some of the worst terrain of the entire course to find bourbon, PT, and the last aid station for the next 13 miles. What's a half marathon now? We have enough food and water to last til finish! We leave Charleton in good spirits. We have Bob Marley and Taylor Swift to keep us company. Life is good.
My pace isn't. Try as I might, even whiskey-fueled, I'm not moving very fast. My gait had turned into a granny shuffle that probably would have landed me last place at the Senior Olympics. Grayson is indefatigably positive, almost maddeningly so. We make a left hand turn into 47a and OH MY GOD THERE'S A FIRE AND PEOPLE! The saints at 47a had only improved upon the fire they had earlier with more whiskey and coffee. A little more ramen later and we're heading up the last uphill trail section.
It never ends. At one point I ask Grayson to find the damn road, and he disappears for so long I think I have gotten turned around. I find him sitting on a bench with bad news – the road is nowhere to be seen. I begin to think I died at 47a and this is how I will spend eternity.
We see a UFO in the distance. I think I'm hallucinating by this point. Endless night continues but then I see taillights. Taillights? It's Josh Madison's Forester. He kindly allow me to carjack the drivers seat to warm up a minute, then switches out my hot hands. I feel super guilty for not sharing with Grayson, but not guilty enough to actually tell him. The saints at Hickory Nut are taking care of him anyway. How are there even people here? It's 2 hours past cutoff but the aid station is in full swing. Nothing is even really packed up! They extract their revenge by forcing me to hop over the rock wall though. Josh sends me on with an encouraging "4 miles to finish!".
4 miles to finish. That doesn't describe the 3 inch mud pit that is the backside of Hickory Nut. It also doesn't cover the lights you can see when you're still hours from the finish due to the U-shape the course makes. By the time I hit the paved road, I am fairly convinced I am done. I tell Grayson to take his phone and call the Speers or I will sit on the side of the road until the sun comes up and they find me. I am walking the downhills backwards because it's the only way the ankle can pseudo-function. It is a very long 2.5 hours.
I fully expect no one to be at the finish. But Dustin and Rachel are, as well my tireless crew chief Lalita, and there's even hot soup and fresh coffee left. It's a muted celebration but a celebration nonetheless. It's 4:21 in the morning. I have finished.
Stay true. Remain convinced. And don't stop tilting at windmills, whatever they may be for you.

All photos courtesy of Charles Atherton. More photos from the race will be on our Facebook page later tonight.