When I was in high school I was in Junior ROTC which required a regular Physical Fitness Test (PFT).  The PFT involved running 2 miles as fast as you could and maxing out sit-ups, push-ups  and pull ups.  I can still remember 30 years later how I hated the 8 laps around the football field to complete the two mile run requirement.  It was so painful.  But as we get older we learn, right…????
On Saturday I ran my first 50 mile race.  The Ouachita Trail 50 is a 50 mile and 50 kilometer event (runner's choice) that starts at Pinnacle Park (Pavilion #8) and takes you out from the Pinnacle visitors center over Pinnacle mountain then uses the Ouachita Trail to traipse out to the very western edge of Maumelle lake, ….and then back but without scaling Pinnacle mountain on the return trip (that would be dangerous for tired runners).  This year's field had about 207 runners from a regional draw, all ages, shapes, abilities and experiences.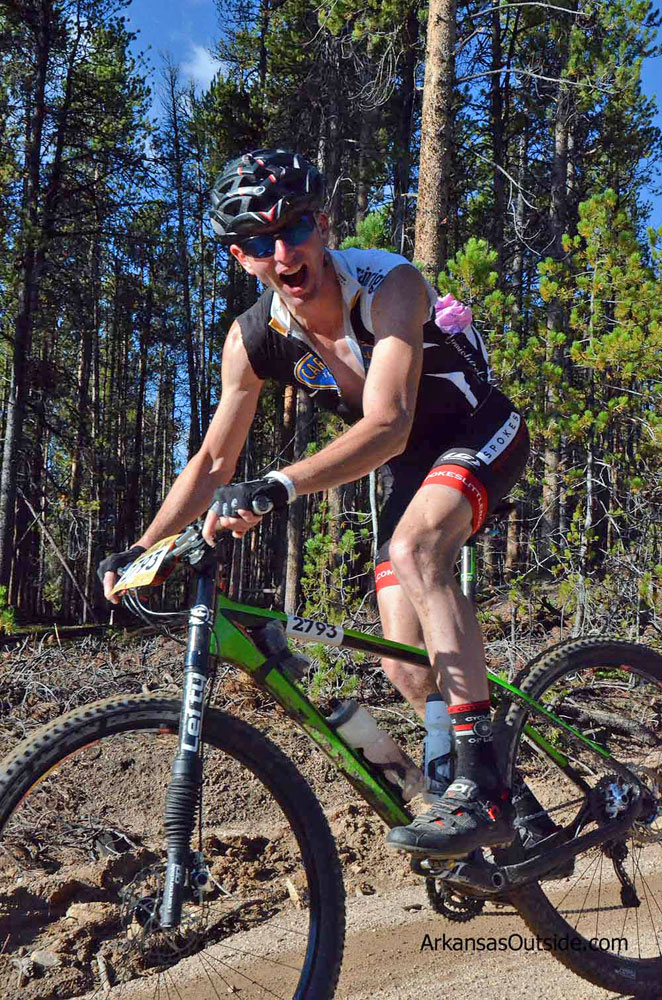 As background I have to say, and still believe to a certain strong degree, that running is crazy.  As a two time Arkansas State Mountain Bike Champion I often think while running "this would be so much more fun and easier with two wheels under me."  But, alas running has its own mystique and draw.  There is something to be said for covering ground on your own two feet, the ability to get from A to B without fancy equipment, a helmet and other gear that is prone to mechanical failure, just using your feet and determination.  That is what got me started running.  It was painful and hard at first.  My first 5k run in October hurt badly and I sprained a tendon carrying too big a water bottle that created an injury lasting months (now I use a nice hands free backpack camel-bak!).
Slowly I worked up my mileage.  I remember my first 13 mile run in Burns park.  I saw many of my mountain bike friends out while completing the run.  They did not recognize me in running shoes so I would have to initiate a hello, and then they would give me "the look" and say "where is your bike, stupid?".  That was a painful run too, and required an ice bath afterwards to help with swelling and recovery.
My first 50k was in February.  I felt well prepared and strong.  It was a looping course with 3 loops for about 29 miles.  Taking it easy on the first loop I felt good and decided to push harder for a strong finish.  While I burned up the second loop with a much better time, naturally I paid the price on the third loop.  A friend saw me 3 miles into the third loop and said I looked like a little old man trying to run.  My whole body was sore and every little shuffle step was painful.  Several ibuprofen and lots of encouragement got me to the finish.  It was a relief.  I was slowly learning that running nutrition and endurance while similar to mountain biking and cycling, is not the same.  There is so much less opportunity for recovery when running.  You can't coast on your feet like you can on a bicycle.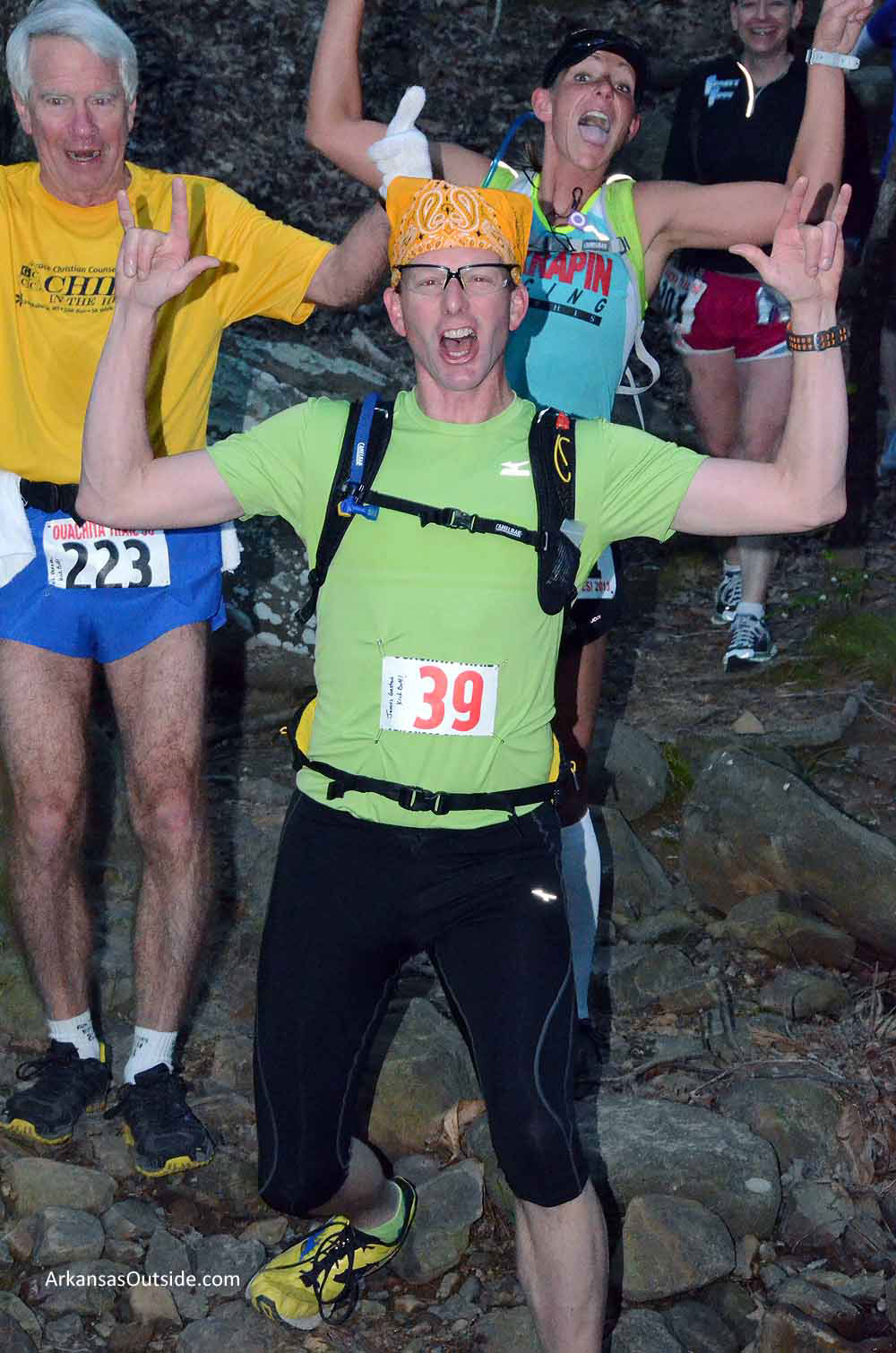 Cautiously optimistic was the tone for the Ouachita Trail 50.  I was fairly confident I could finish, the question was would it be within the 13 hour cut-off time or not?  I kept thinking back to my Junior ROTC days and how painful running could be, but back then I did not realize that it takes at least 2 miles just to warm up and get the juices flowing.  Having learned from the 50k event I took it super slow on the first 16 miles.  It was beautiful going up Pinnacle Mountain with the sun rising behind all of the runners as we scaled the granite.  Note to readers:  the East side has a lot more climbing and bigger rocks than the West side, what a challenge.  Having learned from the 50k not to burn myself up I took an easy pace from the North Shore aid station to the HWY 10 turnaround at 26 miles, which was achieved in 6:17.  Once I reached the turnaround there was a sigh of relief having been through the whole course and knowing it was not insurmountable.   The return trip flew by since the trail and creek crossings were more familiar.  Taking it easy on the front side of the event made pressing myself on the return trip a little easier.  I just kept as best a pace as I could and ate a lot of saltines with peanut butter at each aid station, hiked the uphill's with a purpose and let gravity be my friend on the downhills.
Somehow with 2.8 miles to go I was at 11:30 and had the inspiration to try to make it to the finish in less than twelve hours.  The last several miles are on the road and so I worked to get into a groove and ignore my tight muscles…"stay loose, stretch the stride" I kept thinking as I transformed from my old man shuffle to something like an ultra-marathon trail runner.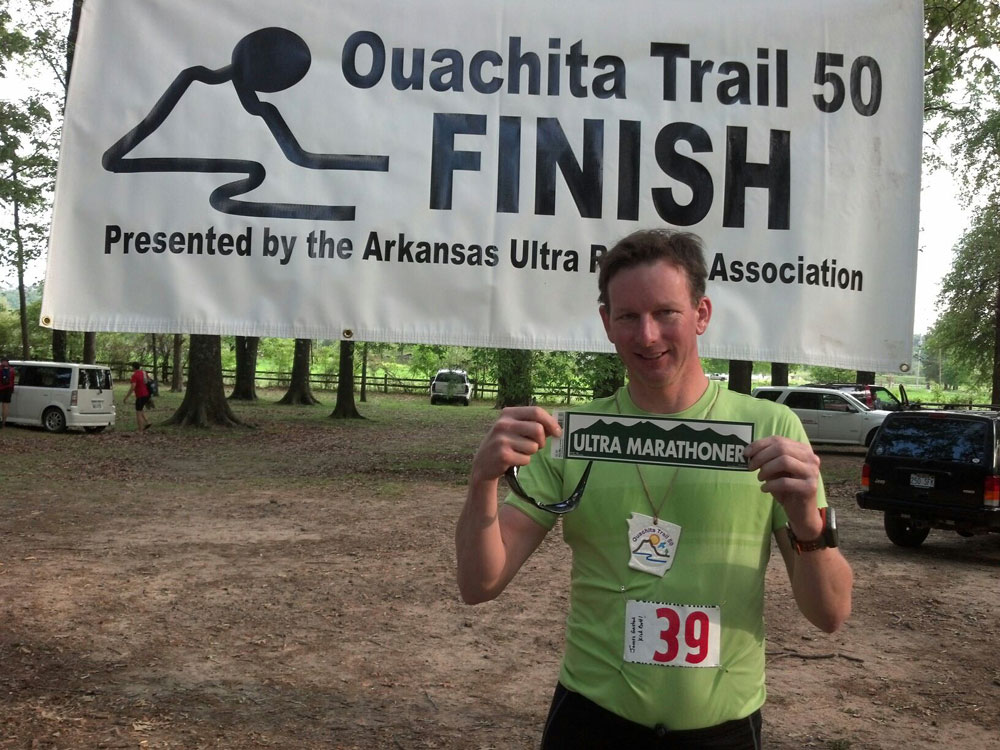 Nothing beats coming into a finish line and having strangers yell and cheer for you.  The Ouachita Trail 50 did not disappoint at the finish (or anywhere else, it was a superb event).  The crowds cheered and clapped as I crossed the line in 11:57.  One of the event staff gave me an "Ultra Marathoner" sticker.  Never has a sticker symbolized so much effort, pain, and accomplishment.
Just in case you missed them, here is yesterday's race story and photos from the race.