(This article is not an endorsement of a political candidate.)
We found this interesting as election season is getting kicked off. Outdoor recreation is a focal point in State Senate Candidate, Derek Huber will be riding and floating around District 23. This is all reminiscent of Governor Huckabee's campaign for the 1/8th cent Conservation Tax (later known as Amendment 75) that allowed for permanent funding for Arkansas State Parks, Arkansas Game and Fish Commission, Arkansas Department of Heritage, and Keep Arkansas Beautiful. The Governor and Janet Huckabee took a boat tour down the Arkansas River promoting the funding along the way.
The area has some fantastic outdoor recreation opportunities to leverage. Fly fishing, mountain biking, all water sports, hiking, river floating, etc.
From the media release:
Local State Senate Candidate, Derek Huber announces his "Ride The District" campaign today to travel hundreds of miles around Boone, Marion, Baxter, Fulton, and Izard counties by mountain bike and kayak over 7 to 10 days. Derek will be joined by a film and support crew to document the journey. The Huber for Senate Campaign announced on social media that the goal of the campaign is to highlight the beauty of the region and outdoor recreation opportunities within state senate district 23.
"We have a lot of goals with this project, we want to bring attention to the scenery of the area and our love of it, we also want to show and promote the tourism opportunities that exist here. My hope is that in the process of undertaking this challenge we can produce something genuine and unique to us in North Central Arkansas. From the beginning, I've wanted to have a very grassroots campaign and do things differently. I'm equally excited and curious to see what becomes of it because when you work on editorial or documentary-style video, you can only plan so much. The content produced will be an asset both to the area, local business owners, and our campaign. It was important to me that we work with local creatives and launch campaigns that would be helpful to the district, as opposed to just buying advertising." said Derek.
Derek has partnered with Jake Anderson of Norfork Adventure Supply to help with logistics, navigation, and potential equipment failures. Jake added, "We think this project is great because we are always looking for opportunities to show off not just what our area has, but what it could have. We are always working on raising awareness in our part of the state about the number of recreational opportunities that exist here."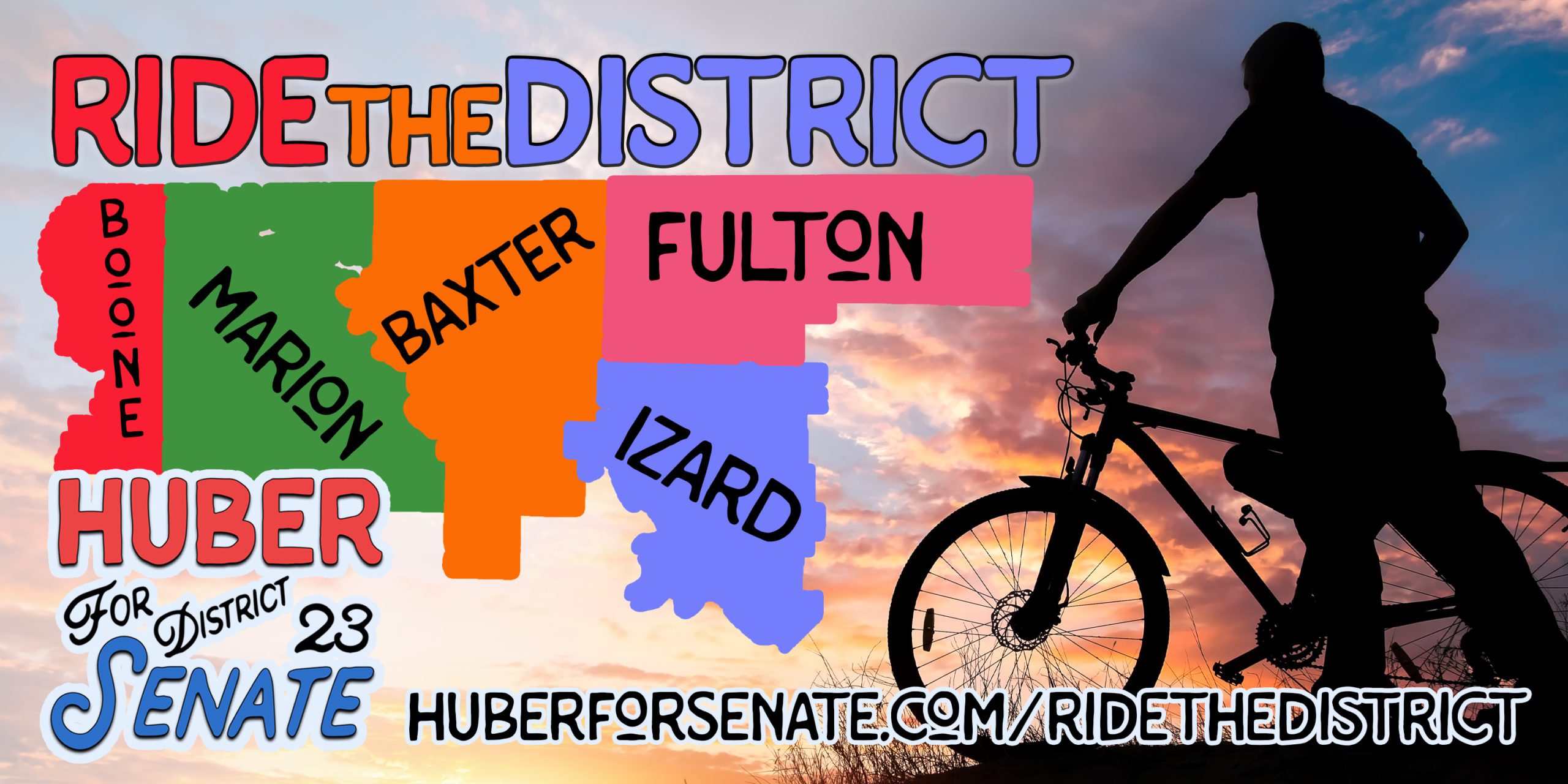 While the team has not released their full route yet, you can follow along on Facebook, Instagram, YouTube, and on the route page: https://huberforsenate.com/ridethedistrict