Bentonville, AR…The 3rd annual OZ Kids™ Bike & Book Fest returns to Bentonville Public Library (BPL) on Saturday, July 1, 2023, from 9 am – 11 am.
The festival is presented by the Ozark Outdoor Foundation, along with many community sponsors, partners, and friends. The outdoor event will showcase activities for kids of all ages, concluding with a bike parade at 11 am. Advanced registration is requested for this free event.
The Library will have a book giveaway of popular titles provided by KPMG. Storytimes will be shared at the Train Station Park gazebo. Throughout the morning, attendees can participate in several activities that include inflatables, art, and more. Live music by The Juice will entertain all on the main stage. Light food and drinks will be provided.
Children of all ages are invited to bring their own bikes and helmets to participate in the biking activities. The Strider Bikes' basic skills course is perfect for beginning riders. Attendees can enjoy Buddy Pegs' jump bag, a giant inflatable slide, and a landing pad. NICA is providing helmet safety checks and the Bentonville Police Department is hosting a bicycle rodeo that teaches riders the rules of the road.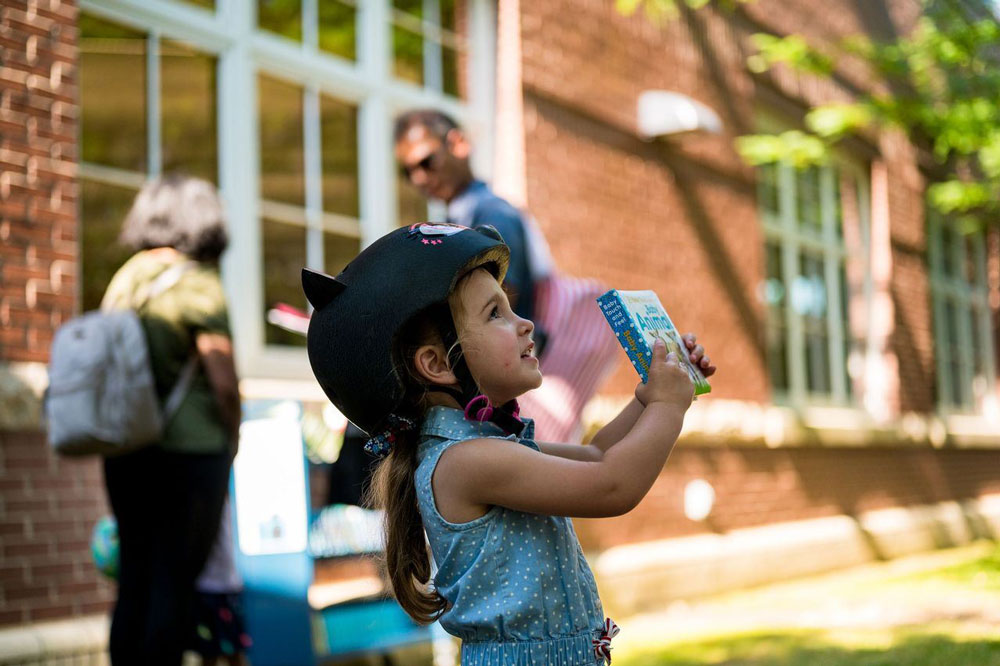 To celebrate the City of Bentonville's 150th anniversary, Pedal It Forward is providing 150 free bikes to local children. The City's commemorative coloring book will be distributed with the Library's Bentonville Book Bingo! And, a special Activity Sheet will lead participants around the festival, into the Bentonville History Museum, and inside the Library. To enter in a prize drawing for tickets to the Walmart AMP Fireworks Spectacular and Walmart's bike giveaway, completed Activity Sheets need to be shown at the Information tent before 10:30 am.
In preparation for the big parade finale, the bike decorating station will be packed with a variety of items to make any bicycle parade-ready. Attendees will begin lining up for the parade at approximately 10:50 am on South Main Street in front of Bentonville Public Library.
OZ Kids™ Bike & Book Fest is hosted by Bentonville Public Library and Bentonville Library Foundation and presented by Arvest, Ozark Outdoor Foundation, KPMG, The Walmart Museum, Walmart, and UAMS Health. The event is supported by the City of Bentonville, Flintco Construction, Altrusa International of Bentonville/Bella Vista, Satellite Rotary Club of Bentonville, and many other partners, sponsors, and friends. Learn more at bikeandbookfest.org and register to attend the event online.
Overflow parking is available at City Hall (305 SW A ST) and the Downtown Activity Center (215 SW A ST). Participants are strongly encouraged to check out any of the free public parking garages downtown and walk or ride to the Library.