I thought it was a little hot and humid for a onesie but that didn't stop several of our crazy friends from showing up to a bike race in various incarnations of one piece pajamas, some complete with footies.
We had been anxiously waiting for this day to come, our first Alley Cat race. We had missed one earlier in the year, one with a zombie theme and we weren't about to make that mistake again. Little Rock cyclist Keegen Knapp was hosting this race and he had decided on the pajama party theme.
Racers burned off the pre-race nerves by making fun of each others "kits". Here are some shots of these brave folks: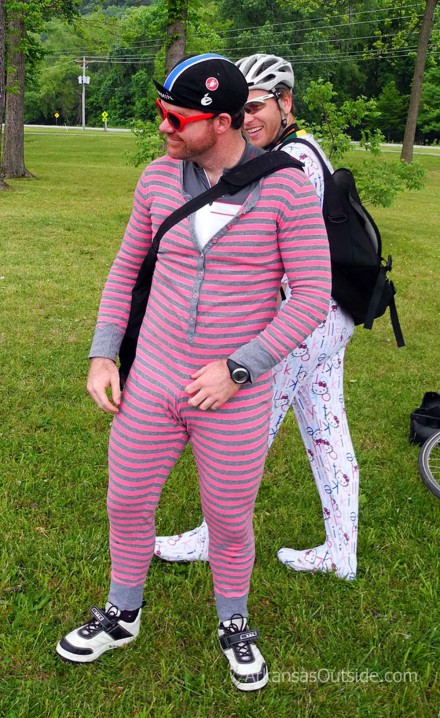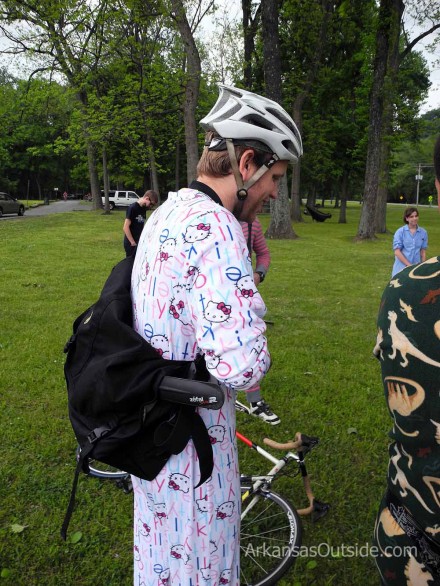 The race is made up of several checkpoints within a 7 mile radius. Although it started with a pajama theme, this race would finish off being all about a picnic. Racers were given a sheet of paper with locations of the checkpoints, some would be manned and special tasks would have to be performed and others were nothing more than a plastic bag tied to a tree, fence or signpost filled with items that had to be brought back to the finish. Since we would be having a picnic at the finish all the items related to picnic needs, paper plates, plastic utensils, condiments, etc.
Once we were given the checkpoints we had 3 minutes to look them over and decide on a route to get them all as quickly as possible (or as slow as possible for those attempting to win the Dead Freakin' Last award). The start looked like this:
Lisa and I were a team and we got pretty lucky. The course was laid out mainly in Hillcrest and Rebsaman. We know those parts of town pretty well and we also got lucky to have Tom Burks join our team. Even though he was singlespeeding it and we were on mountain bikes we formed up some pretty good pace lines coming down Rebsaman Park Road on our way to the finish and the win. One team had beat us in but they missed a checkpoint.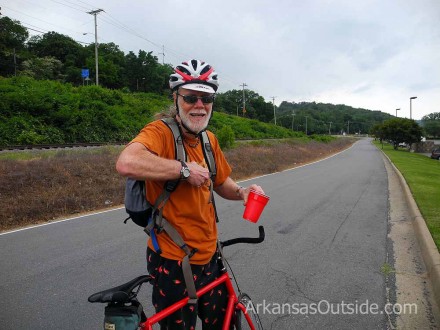 Everyone else came in pretty soon after we got there, even some folks from Russellville who spent most of the time pretty well lost. We helped them with a couple of checkpoints. They eventually found their way to Pizza D where we are told they found $1 jello shots. Soon we had hot dogs and chips going along with refreshing beverages.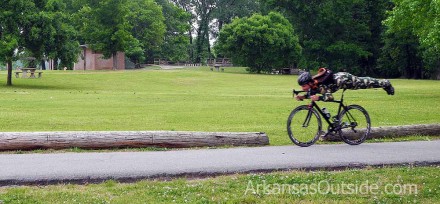 I have to say that everyone involved was a winner. It was a great day to be in a park, riding bikes and hanging out with friends.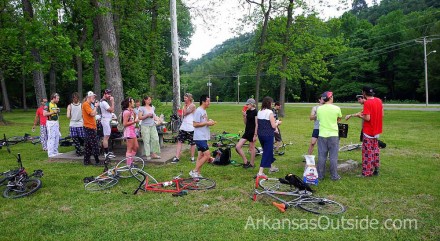 Quick shout out to Arkansas Chuggabugs: Proceeds from the race went to this group of young people doing some good and having an adventure. Thanks Alyx VanNess for manning a checkpoint.