Well, here I am at ArkansasOutside! That may be a bit of a surprise for folks who know me through my own JBarCycling blog, but Joe Jacobs asked me if I could fill in for him for an interview with Congressional candidate Pat Hays in advance of his Pedaling For Progress fund-raising event this Saturday, July 19. I agreed to do so as a favor to both Joe and Pat, as both are friends and Joe was committed to be up in the Ozarks covering something involving more dirt.
Hays and I decided to meet Monday night to get in a bit of a ride while we discussed some of his motivations and accomplishments as mayor of North Little Rock. A ride would also allow us to visit some of the infrastructure that was built on his watch.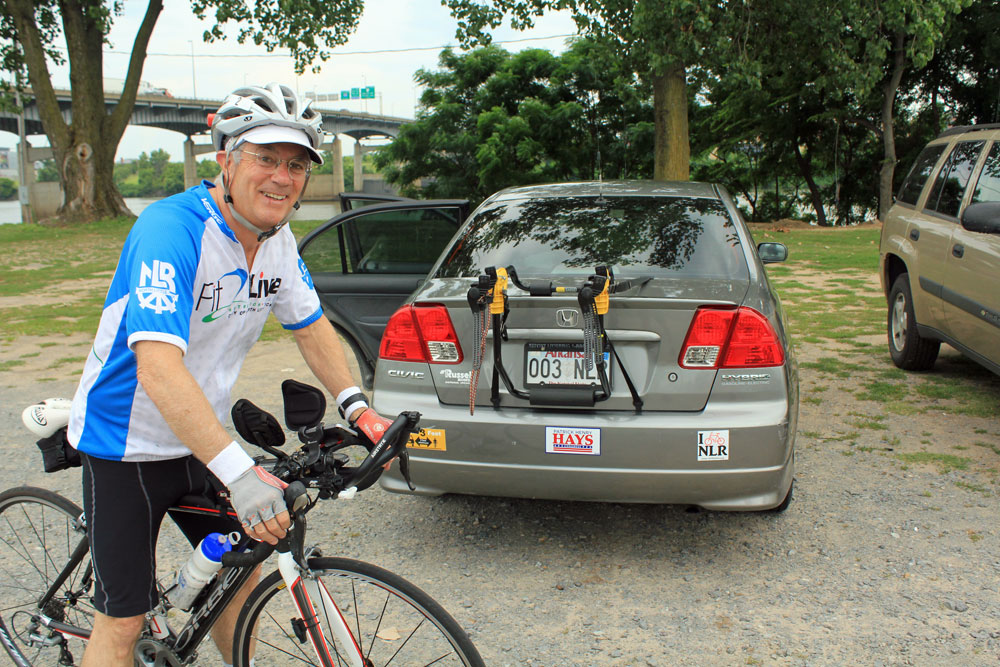 Our ride was cut short as a big thunderstorm rolled in, so we retreated to the shelter his compact hybrid car. Pat drove and talked while I pecked out notes on my phone.
Shortly after Hays took office as mayor in 1989, the 1990 census showed that for the first time in its history, the City of North Little Rock had lost population. Some of that was attributed to the incorporation of Maumelle and the growth of Sherwood, but the new mayor was disturbed by the numbers. The City of Little Rock had been considering an ordinance requiring city employees to live in the city, but Hays decided he'd rather have people want to live in North Little Rock.
As he visited cities like Portland and Chattanooga, he noticed that those cities had transformed their waterfronts by adding trails and parks, attracting new residents to city centers, and in general improving the quality of life. One of the things that really stood out in those cities was the number of people walking and riding bikes. And he felt that the human interaction created more of a feeling of community and security as many diverse groups shared those resources.
Hays recognized that North Little Rock had treasure in the form of the Arkansas River front. The city already owned about 65% of the land from what is now the Clinton Park Bridge to Murray Lock and Dam, and Hays made it a long term goal to acquire ownership or access to the rest. Burns Park made up much of it and the city had acquired land for the hydroelectric plant at the dam.
The trail system started growing; the idea of crossing the river at Murray Dam was hatched with Pulaski County Judge Buddy Villines and then LR Mayor Jim Daily, and somewhere along the way, Pat Hays started riding a bike. Subsequently, he has ridden the BDB100 several times and recently joined a couple of hundred folks in the first Little Rock Gran Fondo. Some local politicians kind of pretend to ride a bike for comedic TV commercials, but Pat puts in the miles and understands the benefits of bike/pedestrian resources to a healthier community.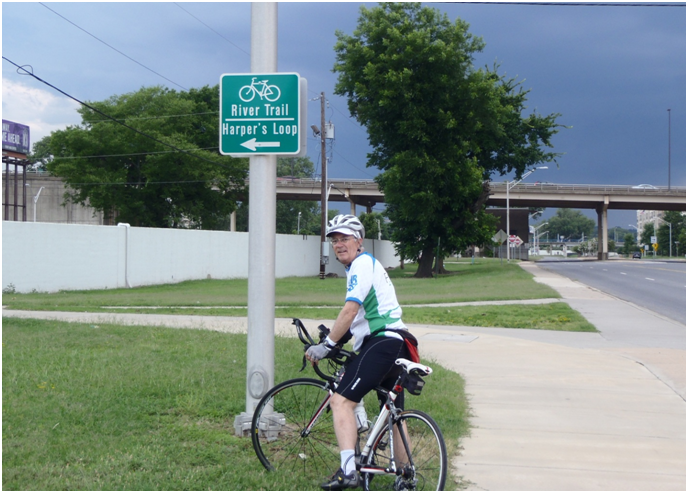 Hays give Judge Villines "97% of the credit" for the BDB, but Hays deserves much of the credit for the completion of the Arkansas River Trail in North Little Rock, the Highlands Trail across Fort Roots to Emerald Park, the acquisition of the Levy Spur and, of course, the designation of Harper's Loop. North Little Rock became Arkansas' first Bicycle Friendly Community as designated by the League Of American Bicyclists and many of the initiatives started under his tenure continue today under Mayor Joe Smith. Hays continues to demonstrate his commitment to our cycling community as a member of the board of directors of Bicycle Advocacy of Central Arkansas.
As mayor, Hays saw his responsibilities to be similar to that of responsibilities to shareholders in a business; that is, to ethically give taxpayers the best return on their investment possible. Sometimes that return is easy to see, as in the case of a sales tax to finance the Senior Center. Other benefits are harder to quantify but just as real, such as better health, a sense of pride in our community, increased property values, and the attraction of educated young people to North Little Rock.
On his 24 years in office, Pat clicked off a number of major accomplishments that have made North Little Rock a better place to live and a destination for visitors. In addition to the River Trail, North Little Rock is home to Verizon Arena, Dickey-Stephens Park, the Burns Park Soccer Complex, Burns Park Tennis Complex, the redevelopment of a decrepit downtown into the vibrant Argenta District, and the Patrick Henry Hays Senior Center (no, he didn't name it).
I can safely say that the Pat Hays Center is popular beyond belief, serving thousands of NLR seniors with fitness and recreational opportunities. The arena and sports complexes serve the entire region.
On Saturday, you have an opportunity to thank Pat Hays for his contributions to the Central Arkansas cycling community by supporting his ride with a donation of $45.00. In exchange, you'll get a 40 mile ride on one of the best bike resources in the country and, yes, there's more, and what promises to be a really good lunch. If you can't make the ride, you can still make a contribution. I think Pat Hays can be a voice of moderation and reason. Our country can use a little of both.