It's that time of year again when we meet with family and friends, some of whom we may only see once or twice a year, to gather round a table spread with treats and meats galore. The early risers start rolling out dough and basting birds. Many of us spend our day eating, drinking and making merry until we can't move from our chairs, or someone has to move to give Uncle Mike the heimlich or break up the fight between the drunk cousins who are arguing over which Duck Dynasty cast member has the best beard or whether to call it dressing or stuffing. Eventually a family member heretofore known as "the superstar" manages to wobble over to the TV set to turn the game on. Thus commences the afternoon glory of the post-gorge.
Or…
In keeping with our recent theme about families, we got up and joined a few hundred of our best running friends for a run around town. As we left the house to head over to the annual Go!bbler Turkey Trot at Arkansas Outside sponsor Go!Running, we stopped to pick up a friend, a member of our cycling and running family. We arrived to a throng of folks layered in wicking clothes, most wearing hats and gloves. Some were wearing various versions of a cartoon-ish turkey on their heads, or feathered headdresses or even pilgrim costumes. Any reason to dress up, right?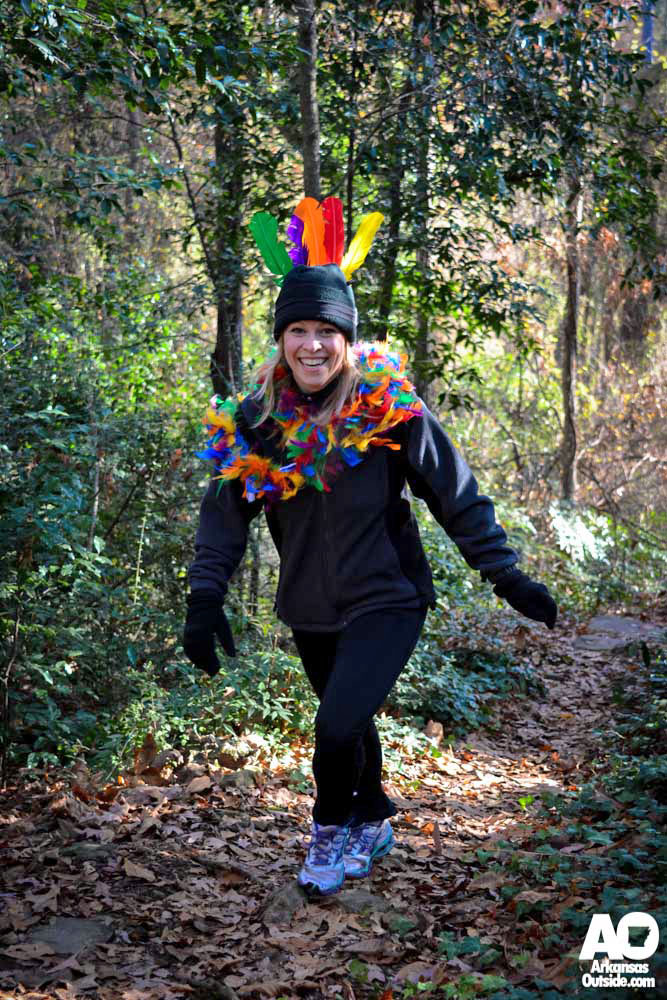 A lot of runners brought their families; adult daughters running with dads like the pair I ran with at the junior high or young parents pushing strollers or helping their toddlers along even if that meant piggy back rides.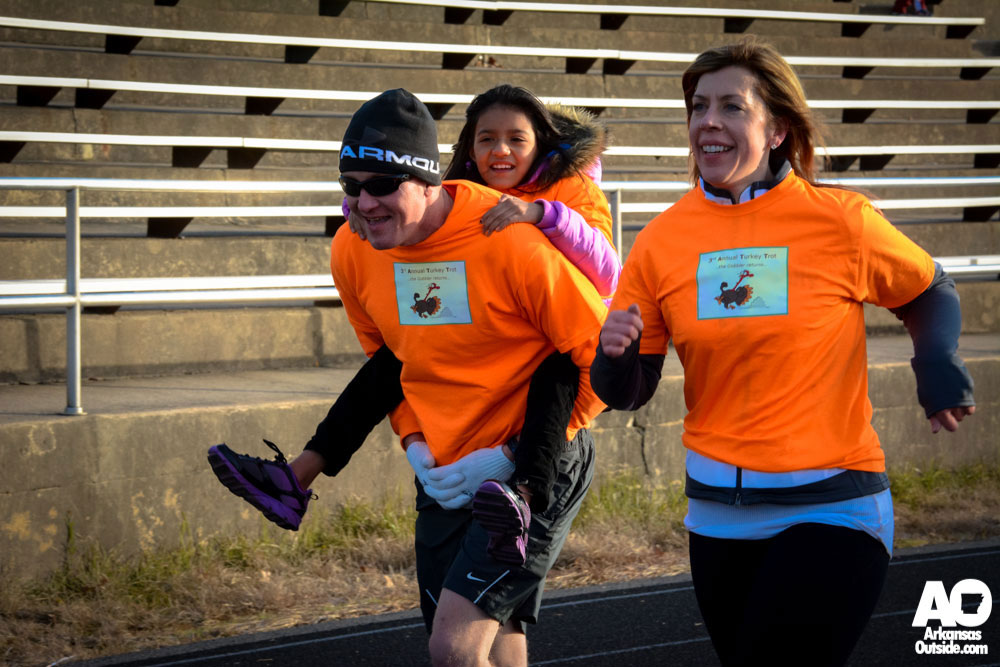 Instead of people we're related to either by blood, marriage or adoption, we might be surrounded by those we choose as our running family. As I made my way around the course I saw many of my own running family, especially in the role of volunteer. I passed Andi in her leprechaun  green fuzzy hat, and Bill taking care of keeping runners hydrated. I stopped long enough to get a hug from Jen and shouted back at Katie as she was shouting encouragement at the less than a mile to go spot. And the always excited Erin of the Go!Running Taylor family pulled me in for one last hug before the big finish. For much of the route I played leap frog with another couple of ladies whom I stopped at the finish line to thank for setting a great pace and to hear their stories. Allison and Austin have built their own running kinship as a way to stay healthy for their young families and to train for a half marathon next spring. They stopped long enough to take a finish photo with me before heading home to their families.
Like most of us, they were planning to have big Thanksgiving meals with family. The runners who came out to the Go!bbler Trot contributed non perishable food items to help families who might not be able to have a big meal together this year. Last year the Go!bbler gathered more than 1700 lbs of food. This year the goal was at least 2000 lbs. By the look of the overflowing bin in front of the store, the goal was met.
And for those who just couldn't wait to get started on the Christmas revelry, Santa himself was on hand to pose for photos and remind the little ones that he still knows when they've been bad or good, so be good for goodness sake.
Photos will be posted in the next few hours on our Facebook Page.