Standing  around me are people of all shapes and sizes, wearing numbered bibs just like me. In front of us the digital clock is ticking away. The closer it gets to 10:30, the more everyone begins to stir, like cattle before a storm. I don't know why, but I start to get that bubbling feeling in the pit of my stomach, like an engine of nerves and adrenaline beginning to rev up. Above me, a buzzing noise gets louder and closer. I look up to see a quadcopter camera drone capturing video of everything. The buzzing is quickly interrupted by everyone counting down: 10,9,8,7,6…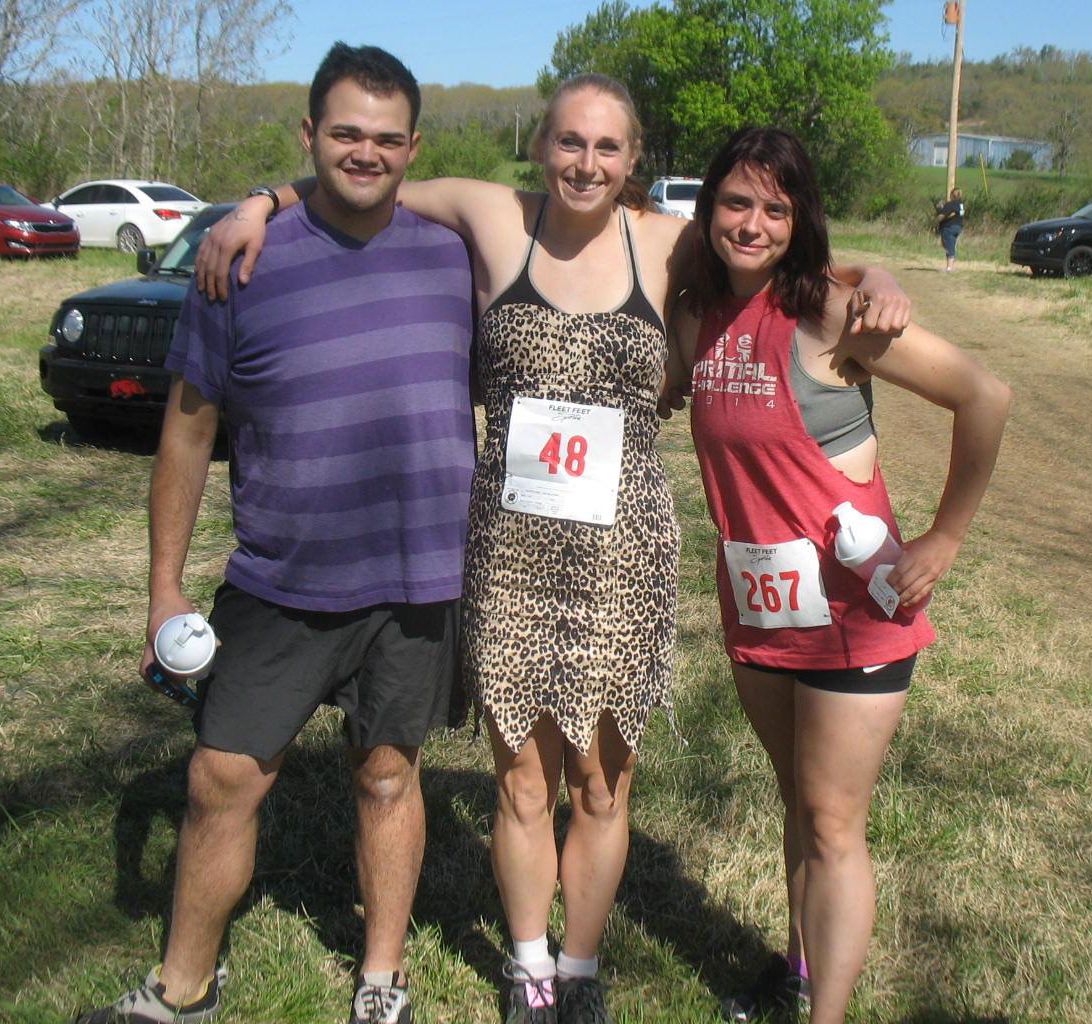 Before I go on, let me start from the beginning, where it all began. About a month before the race, two of my best friends from Fayetteville, Matt and Kylee, were posting  frequent social media updates about their weight loss journey and how far they had come. With these posts were pictures of them running familiar Fayetteville trails that I used to run before moving to Conway for college. Seeing this was just the motivation I needed.  At the time, I had gotten into a lazy rut;I didn't want to do anything but eat and be a technology zombie. So, I started running at Cadron Settlement Park again, and began getting my running groove back. About a week or two before the race, my cousin-in-law publicly challenged me to join her in the Primal Challenge race in Fayetteville. I was already planning on seeing my family in Fayetteville that weekend, so I figured, "Why not?" Without any hesitation, I asked Matt and Kylee to do the race with me. This was a big deal for them because they had never done a race like this before. Within minutes, they had registered and were boasting  about it on their social media pages.
So, there I was, standing with my friends and counting down: …5, 4, 3, 2, 1. An air horn blasted and we were off!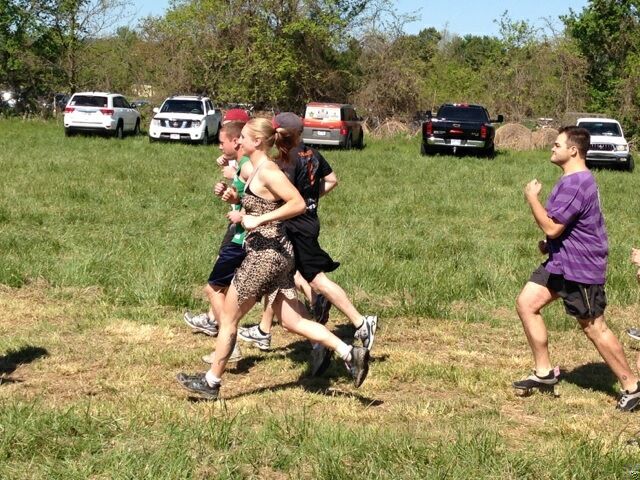 During the first few meters of the run I found myself worrying that I would have to walk most of it.  The day was hot and I had a slight ankle sprain from a run I had done earlier that week. However, my worries and my hesitant jog quickly diminished after the first few water pit obstacles. I was starting to have fun, and with each obstacle my excitement, as well as my pace, began to increase.  Before long, I was jogging from obstacle to obstacle with Matt and Kylee right behind me. The only section I ended up walking was the never-ending hill climb, which is what I am assuming is the mountain that a nearby street is named after, Dead Horse Mountain Road. At the top of the hill everyone was rewarded with water, only to have to do 20 weighted squats and 10 tire flips, which, oddly enough, I  enjoyed. I have done a few other mud runs before, but never anything like this. At every turn there was a new and unique challenge,  like running through a field of tires, climbing slanted and wooden traverse walls , crawling on hands and knees through mud and under barbed wire, carrying bags of sand and buckets of rocks both uphill and down , rope climbs, monkey bars, and more.
In addition, this  race provided an "opt out" option, in case you couldn't complete an  obstacle. The "opt out" option  entailed completing as many push-ups, burpees, or squats that the obstacle marshal  assigned you. I can honestly say that this is the first obstacle run I have done in which I actually felt challenged and slightly tired at the end. I had almost conquered every obstacle that they threw at me, until the very end…The SLANTED WALL!. Yes, I purposefully wrote that in all caps to portray how intense it was. On a normal day, grabbing the rope and climbing up would have been easy. But 3-4 sets of runners had already gone through and smothered the wall in slippery, challenging mud. Plus, the knots in the ropes were really far apart. I even tried it again after already "opting out" and doing 30 pushups, but, sadly, I have yet to conquer this beast. However, I was consoled by the fact that many others, including strong, athletic men, were also opting out.
One of the most exciting aspects of the race was the fact that my friends, Matt and Kylee, were never too far behind me.  Because this was their first race, this is  a big deal for them .  Matt, who has lost 154 lbs, says that this was a challenging test that pushed him to his limits, and that he looks forward to doing it again next year. Kylee, who has lost 70 lbs, says that she really enjoyed it, but wishes that the wooded parts of the race were more challenging. (Haha! Primal Challenge, if you're reading this,  I guess she just dared you to make it harder next year and bring out her inner primal self even more.)
 After the Race  (Photo by Keenan)
There I was, less then a mile from the finish, climbing the last few walls with whatever strength I had left.  The engine of nerves had died down long ago, but the adrenaline was still going strong, especially when the sight of the barbed wire mud crawl came into view. With the last muddy water obstacle a few miles behind, I was starting to feel the sting of the sun. The thought of the cool, refreshing mud provided me with enough motivation to keep running. Not only was the mud pit refreshing, but also the sport photographers were taking pictures on either side, giving me even more motivation to keep going. After my attempts at, and eventual opting-out of the Slanted Wall, I sprinted towards the finish line where I was handed a wooden primal necklace award. Shortly after, my friends came through too. As I was standing there, discussing the race with them, I couldn't help but think, "I can't wait to do this again next year!"
If you decide to run this race as well, I recommend training for anything and everything because the obstacles change every year. In fact, their Facebook page reads: "There won't be a neat little map of the race course or detailed obstacle descriptions to quell your pre-race anxiety. Like our primal ancestors, you simply need to be prepared for anything." Let the training begin for next year's Primal Challenge!
Thanks to Virginia Buff for a great guest post.