(This is the first in a series that Arkansas Outside Contributor, Nicholas Norfolk is writing on running clubs throughout Arkansas.)
I joined the Cabot Country Cruisers at one of their meetings and chatted with Club President Annette Blanton to get a behind the scenes look into the multisport club located in Cabot, AR.  Members are from surrounding areas of the "Cabot Metropolis," as termed by Annette, as well as Little Rock and Sherwood.  Their goal is to promote a healthy lifestyle in both adults and youth in their community.  When asked about the purpose of the club Annette believes "they go beyond promoting running in the community.  They are involved in the community in general."
Most clubs and organizations give back, but this group has made a commitment to paying it forward by wearing it as a badge of honor.  The annual Spring Fling 5k, hosted by the club, has donated over $20,000 to the Cabot Public School District PE4Life program over the years.  The partnership has been beneficial to both.  If you've ever done the Spring Fling 5k, you know how comfortable it is to have the awards ceremony in the Cabot High School Field House.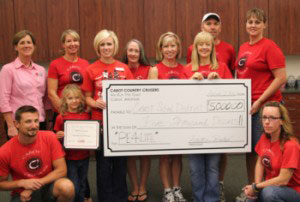 With physical education funding usually being cut first, the Cruisers have enabled the PE4Life program to purchase equipment, get the necessary training for staff, and ultimately stay true to their mission.  Working in tandem with Kelly Spencer, Cabot Public School District Health and Wellness Coordinator, the club continues to be a staple and asset to their community.
When kids are looking forward to the end of the school year, the club is gearing up for Summer Track Nights.  The 6-week program provides an opportunity for kids to use the track assisted by supportive adults.  Kids come out to the track ready to challenge themselves.  Although fun, they enjoy testing their speed and endurance with each other.  Laura Beasley and Jamie Oitker, local teachers and club members, continue to make this program a success.  Focusing on the kids is one of the reasons Annette believes people are attracted to the club.  "Many Cruisers are parents, grandparents, etc.  We want to influence them to be active.  We see so much of the sedentary lifestyle.  They want to stay inside and play video games, but we want to show them how much fun it is to go outside."
The Cruisers provide a litany of community outreach.  They adopted a mile along Highway 89 to add "cleaning up this town" to their efforts, donated winter items to Fishnet Missions in Jacksonville, have served as Woman Can Run leaders for over 10 years, contribute items to the THV Summer Cereal Drive, make donations to the Cabot Animal Shelter, and put on the Inspiration Run that spans across every school in the Cabot Public School District.  It's okay to take in a deep breath now.  I should have warned you, but those Cruisers are busy.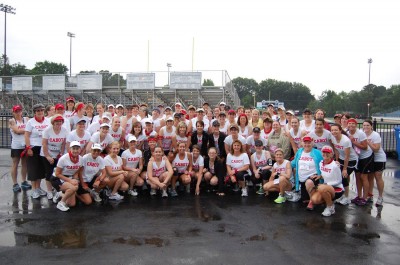 The Inspiration Run started in 2007.  Historically held during the fall, it is an event the entire community supports.  The Cruisers total 26.2 miles running and cycling to each school in the Cabot Public School District.  With each stop, they promote health and wellness to the students.  The students cheer, hold up signs, and encourage the members.
The Cruisers organize five weekly group runs.  All paces are welcome.  Be cautious when running with this group.  You may find yourself smiling, enjoying the company, and, before long, doing something insane like running a half or full marathon.  "We are always happy even after a long run," proclaims Annette.
Stick with them long enough and you could be convinced to become a Half Fanatic or Marathon Maniac.  Annette has a way of inspiring and motivating runners from everywhere to overcome what they deemed impossible.  She is a special person. The Cruisers and everyone that comes into contact with her are fortunate.
I tout David Meroney as being one of the main reasons that I'm involved in the running community.  I discovered at the meeting that Annette is one of his reasons for being equally as active.  This happened after he randomly sat down beside her at a dinner before the Tupelo Marathon.  That was all the time Annette needed to plant the seed.  David has since blossomed into a great runner always willing to help the running community.  Thanks, Annette!  I wondered what individuals were responsible for being the spark for Annette.
Joan Scarlata, David E. Hunt, Rick Pinedo, David Smith, and others were instrumental in advancing the mission of the club prior to Annette taking office.  She credits Jackie Clinton for setting the standard the club is trying to uphold.  It was Jackie's relocation that prompted Annette to take the position as president.  Now, with the help of Jane Gunter (Vice-President), Lisa Ford (Treasurer), Susan Cormier (Membership Coordinator), and Brenda Ransom (Running Coordinator), the club provides programming for kids, directs a race, participates in the Grand Prix, and actively gives back to their community.  According to Annette, "I may be the president, but I couldn't do it without any of the Cruisers."
One of the first things many take notice of when seeing this group are their red shirts displaying the club motto, "We Run This Town."  How does one get to wear what Annette told me was the "coolest club shirt in the world?"  Become a Cruiser and join close to 300 others that are running the town and, as it appears, painting it red.  She made a comment at the meeting that sums up the essence of the club for me.  She said, "We are not just a running club, but we are part of our community.  We do run this town, but we also give back to this town."
When I'm not running, volunteering, or writing, you can usually find me lurking on Twitter @absolut_zer0 or blogging at ICEdot Athletes.