Memorial Day weekend in Little Rock wouldn't be complete without Riverfest.  The food, music, fireworks, and heat are an integral part of the tradition.  The Rock-N-Stroll 5k Fun Run/Walk is looking to add to the tradition.  This is the fourth year of the race, but Katie's first year to chair the committee.  What she lacks in experience she makes up for in passion.
Katie has an infectious personality that you can't get enough of.  Combine that with her love for running and you have a formula for a fun, exciting race.  Katie and I talked about the race one evening at Starbucks.  She wanted a calming atmosphere and, more importantly, caffeine after a Woman Run Arkansas Clinic that she was co-leading.
[Nicholas] How does it feel to be a race director?
[Katie] I never really thought of myself as a race director.  I thought I was going to be the chair of the committee and be in charge of organizing.  I guess I am.  Gosh, I've never thought of it that way.  Now, I'm scared.  I never thought of it as a big deal, which is a real big shift for me.
Before I was a runner, I was totally intimidated   With the Dino Dash I had to do it for my job.  We had a volunteer chair and a race director.  I was just the staff contact person that took minutes and facilitated things.
[Nicholas] How is it different putting on a race that's part of a festival?
[Katie] The nice thing about this particular race is that I didn't have to find sponsors or get permits because the Riverfest staff did that.  The distinguishing thing about this race is it being part of Riverfest.  It's family friendly.  We even allow strollers.
[Nicholas] Any changes to the race from previous years?
[Katie] We changed it from Saturday to Sunday, so it doesn't conflict with the Grand Prix race, Rock Run 8k.  We moved it from North Little Rock to Little Rock, so it is mostly within the festival grounds.  We have a new route, new day, and new awards—it's kind of a new race.
[Nicholas] Tell me about this new route.
[Katie] I actually found the route.  It pretty much starts and ends at Heifer International.  It's neat that we'll be within the Riverfest boundaries, so there is a sense of being an insider and getting an insider look at something.  You go past the Clinton School of Public Service, across the Main Street Bridge and through the River Market District.
We are not having it certified until we're sure we like the route.  This is more of a fun race and not as competitive.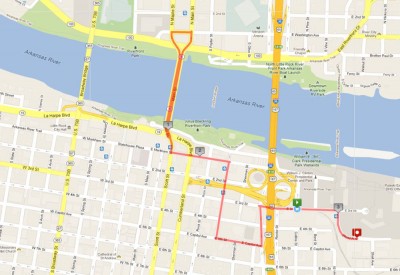 [Nicholas] What prompted the day change besides a conflict with a race?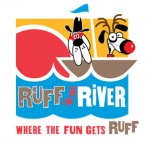 [Katie] We're hoping that even though it's on a Sunday morning, people will welcome the change.  Sunday is being developed into its own programming.  Immediately after the footrace is a pooch parade, Ruff on the River.  The lineup that day will be gospel music.
Another reason the race was moved to Sunday was the hope the Riverfest committee members could participate.  If the race was on Saturday, the committee was meeting that morning to prep to open the festival.  It'll be fun to see how many committee members work until midnight or early morning hours, and then come race the next morning.
[Nicholas] How early are we talking?
[Katie] The race starts at 9 a.m.  Race day registration opens at 7:45 a.m.
[Nicholas] What's the scoop on the new awards?
[Katie] The top 3 males and females will get some pretty rockin' awards. Also, the first fifty finishers are getting limited edition prints of the festival art. This year's artist is George H. Wittenberg, III, AIA.  In the future, I'd love to see some hand-crafted awards by an Arkansas artisan…know anyone? (chuckles)
[Nicholas] I always see pictures of people in costume at the race.  Is there an award for Best Costume? 
[Katie] We encourage people to have fun.  Costumes are welcomed and we do have an awards category for Best Costume.
[Nicholas] How many aid stations?
[Katie] We have one water station on Washington in North Little Rock after runners cross Main Street Bridge. In addition to getting water, runners will be treated to the cheers of a great volunteer group called the Go! Go! Girls
[Nicholas]  Is the race chip timed?  
[Katie] Previously, we were doing the manual method, but now we're doing chip timing with Mac's Race Timing.  The thing I love about Ken is, well, first of all we know he's such a great guy.   Him and his wife are so well connected.  Yes, they do this for work, but they obviously love it.  We love that he has his own finish line music and a blow-up arch.  
Another new thing is we have a truly an online registration system.  Whereas in the past you'd fill out a form online, the information would come in an e-mail, and someone would have to type it into an Excel document.  We are using Ken's system and I can get stats and order t-shirts off of that.  I love technology.  It reduces human error.
[Nicholas] I would not want to be the person entering in that data.  About how many people run or walk the race?
[Katie] 200-300
[Nicholas] – Will there be race day registration?
[Katie] Yes, come up to the registration table and get registered if you need to.  Look for the Go! Running arch.  They are sponsoring our bibs, so we're going to put their arch up over the registration area to make it easy to find.
[Nicholas] When and where is packet pickup?
[Katie] Packet pickup is Friday and Saturday at Go! Running.  The reason for both days is so people that want to attend Riverfest on Friday can get their tickets.
[Nicholas] Runners get tickets to Riverfest?
[Katie]  A cool thing is your race registration includes a 3-day admission pass to Riverfest.  If you think about what you'd pay to participate in a race, it's worth it.  You're not only getting a race experience, but also you're getting a weekend of entertainment.  Volunteers get Riverfest tickets, too.  I think that's pretty slammin'.
[Nicholas] How much is registration?
[Katie] Pre-registration is $30 and race day registration is $35.
[Nicholas] How can people get information about the race?
[Katie] The Rock-N-Stroll website is a good place to start.  We also have a Facebook page where information is posted and people can interact.  We don't have a Twitter account, but Riverfest does.  It's @ARKRiverfest.  Be sure to use hashtag #rockNstroll when talking about the race or #RiverfestLR when talking about the festival.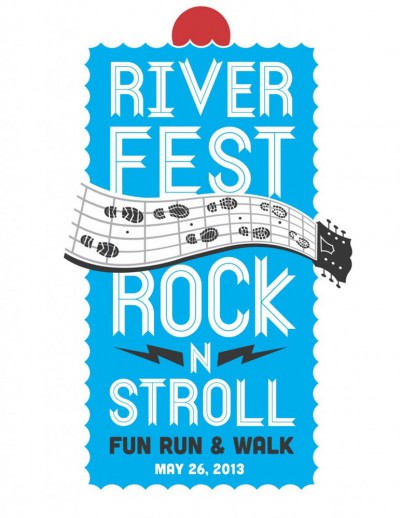 [Nicholas] Any plans for the future?
[Katie] Something we haven't done that I'd like for us to do in future years is to have entertainment along the route.  It's called a Rock-n-Stroll, but we do more strolling than rocking. 
[Nicholas] Earlier you joked about being scared, but if you ask me you're prepared in ways you didn't know and the race is going to be fantastic.
[Katie] Three or four years ago the whole thought of having to organize a race just freaked me out.  I had no experience with it.  I wasn't a runner.  I hadn't really spectated an athletic event.
It makes me think about how much my life has changed because of being involved in races.  I think that's the most exciting thing for me.  Seeing ordinary people, like myself, reach their own goals and doing things that might not have ever crossed their mind.
Tell us what your first 5K race was or if this will be your first in the comment section to be entered in a drawing for a free entry to the race.
When I'm not running, volunteering, or writing, you can usually find me lurking on Twitter, blogging at ICEdot Athletes, or on #Runchat.