The official grand opening of Rock City Running was June 1.  Customers have had time to get a feel for the store as it opened its doors to the public on May 25.  There were giveaways and samples throughout the rainy day.  The rain didn't stop customers from dropping by to get a glimpse at the newest running store to hit Little Rock.
Customers were able to partake in the welcoming atmosphere and cozy sitting area along with a Keurig machine, yes, a Keurig machine.  What better place to watch the Prefontaine Classic?  The mural of runners from this year's Capital City Classic 10k decorating the shoe wall is a nice way to show the store's connection to the local running community.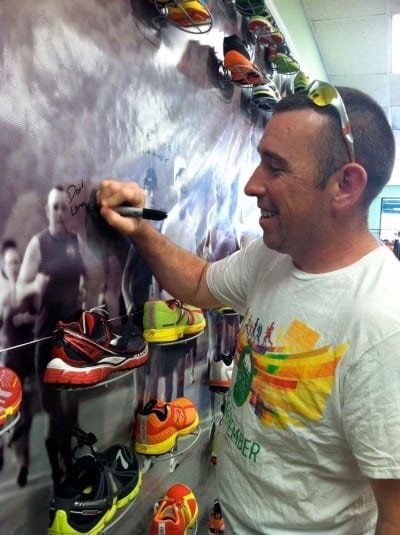 New products and brands adorned the shelves.  Though unfamiliar at first, unknown products to Little Rock stores will become favorites and people will wonder how they were able to live without them.  Oiselle, Swirlgear, Karhu, INKnBURN, EPIC, and Drymax are brands that runners may have seen in magazines, at expos, or heard about, but not had them readily available.  Rock City Running now gives people the opportunity to get them locally.
When I went in for the first opening, the staff was energetic, however, I'm sure they could not wait to get some sleep.  They had been diligently working to get the store prepared for opening.  Located in the same shopping center as Chainwheel, Kroger, Firehouse Subs, and Senor Tequila, foot traffic should not be a problem.  That's the basic idea of the store, but what about the man behind the store?
You may know him as the man with an unorthodox stride, race director of a slew of races, or a runner that's responsible for the growth of the Little Rock running community.  I enjoyed a nice conversation with Bill Torrey to learn about his passion for the running community, what prompted him to run, and why he wanted to open a running store.
Q: How did you get introduced into running?
A: I got introduced in 1979 by some co-workers at a restaurant that I was a bartender at in Atlanta, GA.  I had just moved there and while talking with one of the employees she said, "I run."  I said what do you mean you run?  "Well, I run six miles a day," she said.  She was getting ready to do the Peachtree Road Race.
I decided one day to go out and try it.  I lived in an apartment complex.  I had run a couple of miles and in order to get back, there were two hills.  I had to walk.  I was determined that I was going to run until I could go up those hills without walking.  I've been running ever since.
Q: How old were you then?
A: I was 25.
Q: What was your first race?
A: My first race the Peachtree Road Race in 1979.
Q: Are you training for anything now?
A: No, I run six days a week.  I typically will do 40-45 miles a week.  I'm running for the Grand Prix series.  Maybe somewhere down the road I'll run another marathon or half marathon.
Q: I have to ask about the mystery behind the Bill Torrey stride.  Have you always run like that?
A: [laughing] It's gotten worse over the years because the body doesn't function.  A few things contribute to that stride.  As a kid, I broke my collarbone.  One shoulder has always kind of drooped a little more than the other one—the right over the left.
The other thing that occurs is I've fought lower back pain over the years.  My wife tells me that most people would actually have back surgery if they have the type of back I have.  I think what happens is the muscles on my right side have constricted a little bit, so that pulls me that way.  I'm not stretched in that area to stay upright, but I've always pretty much run that way.  It's always gotten me there pretty quickly.
Q: What has been your greatest running accomplishment?
A: Well, two things.  I did real well in Boston in '87.  I went up there to run as fast as I could.  It was to get from point A to point Z.  I only really remember a couple of things at Boston for several reasons.
The main thing was I was so focused on running that I really didn't take in a lot of the sights.  Going through the ladies at Wellesley, at that time they were allowed onto the street, was only about two wide to run through there.  They weren't behind fences back then.
Then there was Dick Hoyt, who runs with his son in a wheelchair.  I passed him at about mile 20.  The energy field around that man was amazing!  It's not a description you can give to somebody; you'd have to experience it.  It was amazing to run past him, his son, the crowd, and the energy.  I was always really proud of that first Boston.
I trained some people to do the Dublin Marathon back in 1999 and 2000 for the Arthritis Foundation.  The race is on a Monday.  You fly back on a Wednesday.  I went down to the Arkansas 20k that Saturday in Benton both years.  For the first year, I ran okay.  It was real hot and I caught a bunch of people.
The second year I came back and I ran 1:16, which is pretty decent time and finished like fourth in the race.  On a small scale, I really like that because it was unexpected.  I had just run a marathon, spent twelve hours on a plane Wednesday, and then turn around on Saturday and was able to run.  I always felt that my strength, which has gone away, was the longer the distance the better for me.
I mean I wasn't fast off the line, but as we got into an event, 10k, 20k, I could get to one gear and stay there for a long time.  I had, I thought, a pretty good ability to absorb the pain to stay at that threshold for a long time.
Q: What was the first race you directed?
A: The American Red Cross Turkey Trot 7K at Maumelle.  I think I started it in 1986 and I did it for 12-13 years in a row.  If not the first, it was one of the first ones I did.
I got involved through Capital City Classic 10k, but back then it was Pepsi.  During those years in '86 or '87 we didn't have computers or timing chips.  We did everything with manual results.  Results could take a long time.  I'm talking up to two hours just for age groups.
I took it upon myself to take the challenge to see if I could get results faster.  I devised a little system.  I think we got the results within an hour—that's all the age groups.  We didn't' do overall.  That had to be compiled later.  Doing that was a pretty good accomplishment.  That was one of the first challenges I took on and then I got involved with the Red Cross and doing the turkey trot.
Q: When did you come to Arkansas?
A: I arrived in 1983.  It's funny with the location of the store.  Right across the street was El Chico.  I was the general manager.  I was in Baton Rouge working for El Chico as an assistant manager.  They offered me the store up here on Breckenridge.  That's how I got to Little Rock.
Q: Is that the reason why it closed?  No, I'm kidding. [laughing]
A: Yeah, yeah, yeah. Probably.  I have been a way from there for a long time, but that's probably the reason.
Q: What made you want to open a running store?
A: I've thought about this for well over 20 years.  I can remember a conversation with a running friend of mine that owned a business.  I talked to him in 1989 or 1990 throwing ideas about what a running store should be like.  I had family, work, and I was in the restaurant business, which was 60-70 hours a week.  Then, I got into industrial sales.  I got married and started a family.
When I worked at EasyRunner, my hope had been to one day possibly own it.  I knew Gary was going to retire, he's older, and I'd hoped we could work out a deal.  It didn't work out.  I decided to move forward.  It was going to be now or never.  You have to go ahead and take a shot, so that's why I went ahead and did it.
I want people to come here and feel like they have ownership in the place.  If you want to come in sit on the couch and chat, that's okay.  Sure, I want people to buy things, but I want it to be a friendly environment.
Q: Why come to a running specialty store like yours as opposed to a "big box" store?
A: We are runners.  We are going to help you to improve your running or make your running easier because not everybody is 5'10" and 120 pounds.  The average American male is probably 5'10" and 220 pounds.  A 220-pound man isn't going to run like a 110-pound speedster.  A lady that's a 150-160 pounds is not going to run like Leah at a 110 pounds.  She'd be surprised I said that. [laughing]  Be sure to put that in there.  Bill said Leah was 110.  Oh, God, that'll get me in trouble.
Q: What do you think about the Arkansas running community?
A: We have a great running community.  You can run a race anywhere from a mile to 100 miles. I'm sure it's that way in other parts of the country.  We have been fortunate to have a strong group of experienced people that have done a good job of putting on events.
The Grand Prix series has really educated the population on how to put on events because we have a set of standards that we ask races to maintain.
We talked a lot longer than this, but you would've been reading all day.  Be on the lookout for a group run being done at the store.  It may be in the morning, as Bill is a morning runner.
The grand opening had Salomon, Suunto, and Brooks representatives asking questions and demonstrating their products.  Representatives from Altra (June 7) and Hoka (June 15) will be making visits.  Ask at the store for more details.
The best place to get up-to-date information right now about Rock City Running is on their Facebook page.  The Twitter page and website are currently under construction.  For you social media savvy users, they have an Instagram shoe giveaway you'd be interested in.
We'll leave you with a little pre-run warm-up in front of the shop.
When I'm not running, volunteering, or writing, you can usually find me lurking on Twitter, blogging at ICEdot Athletes, or on #Runchat.