Preparing
It took weeks of planning, endless phone calls to vendors and suppliers, enlisting friends to lend help and support, all for a couple of hours of chaotic activity and then it's over. There were moments of frustration, I may have yelled at some people. There might have been a few tears, too. No I wasn't planning a wedding, I was organizing a 5k. Though I've participated in many races and charity events of all sorts, I've always been on the participant or observer side of the registration table.
Being a race director was not something I ever planned to do. But of my many outdoor loves in life, Pinnacle Mountain State Park in Little Rock is high on the list. It's a place I go to get my workout in, a place I go for solace and solitude in the woods, and by helping the Partners for Pinnacle volunteer board organize this race I had the opportunity to help raise a little money and a lot of awareness about what the park has to offer and how volunteering can help.
After the hours and hours of preparation, worry and stress, race morning brought slightly higher than normal temperatures for November and just a few clouds that would soon burn away in the morning sunshine. The lines began to form to pick up race bibs, timing chips and swag.I began to see a lot of faces I recognized from other races.
The Race
Soon we had more than 100 runners lined up at the starting line while Cassandra Smith of The Floating Lotus Yoga Studio led pre-race stretching. With a borrowed bullhorn in my hand and wearing my magic tutu, I stepped up on a stool and all the weeks of preparing came to fruition with a "on your mark, get set…" and a push of the siren button. The runners were on their way.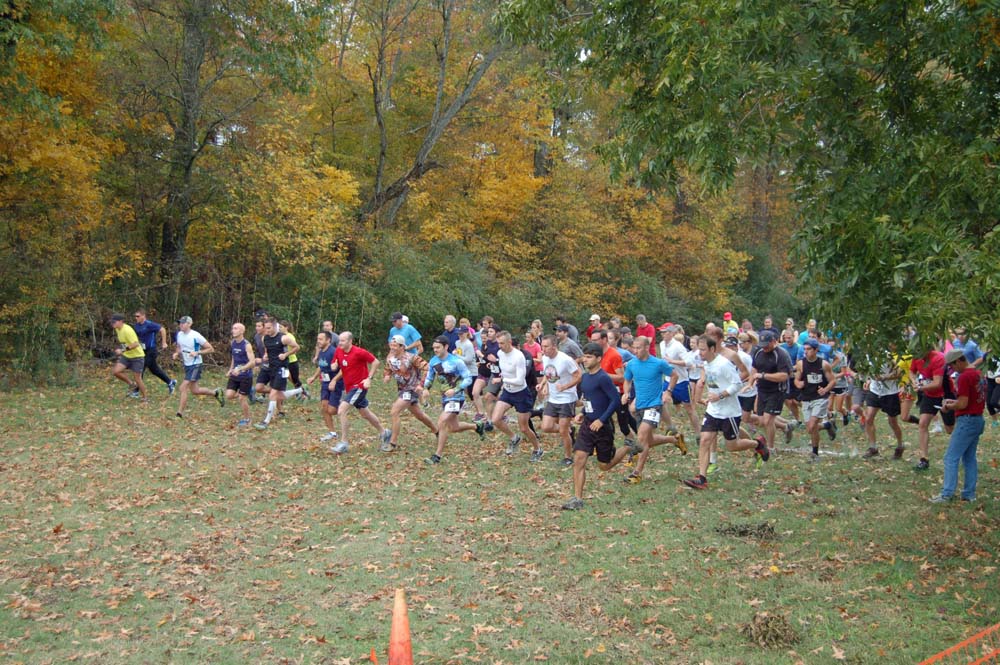 Start photo courtesy of Pinnacle Mountain State Park Superintendent Ron Salley.
I estimated the first runner to be done in 21-23 minutes. Yes that's fast, but I've seen these guys in action, they're fast.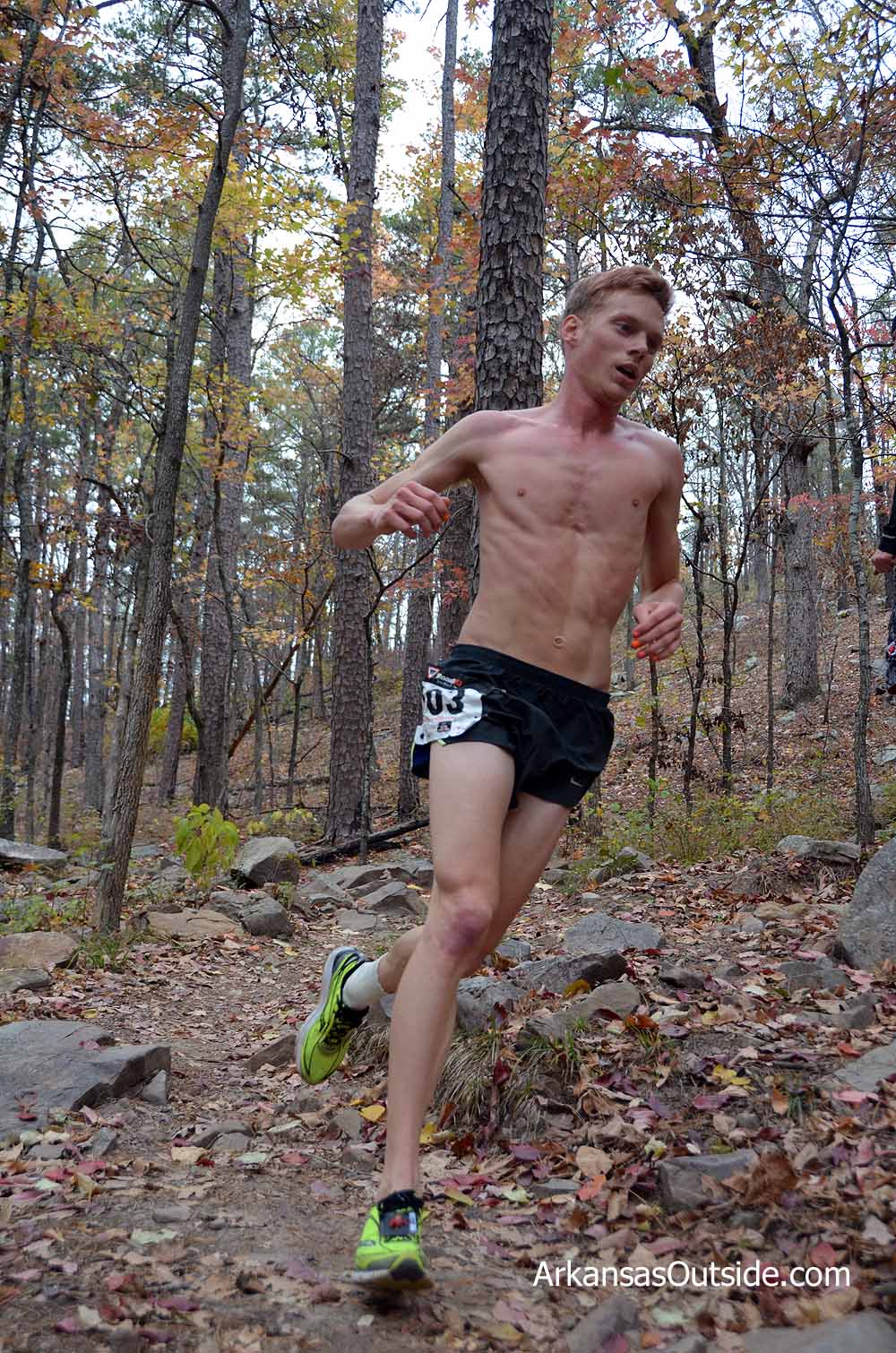 Arkansas Outside contributor Cliff Li showed his support by wearing an AO shirt and decided to keep his cyclist title by riding his bike to and from the race. He had trouble figuring out that whole running thing which explains his alternative method for clearing the rocky sections.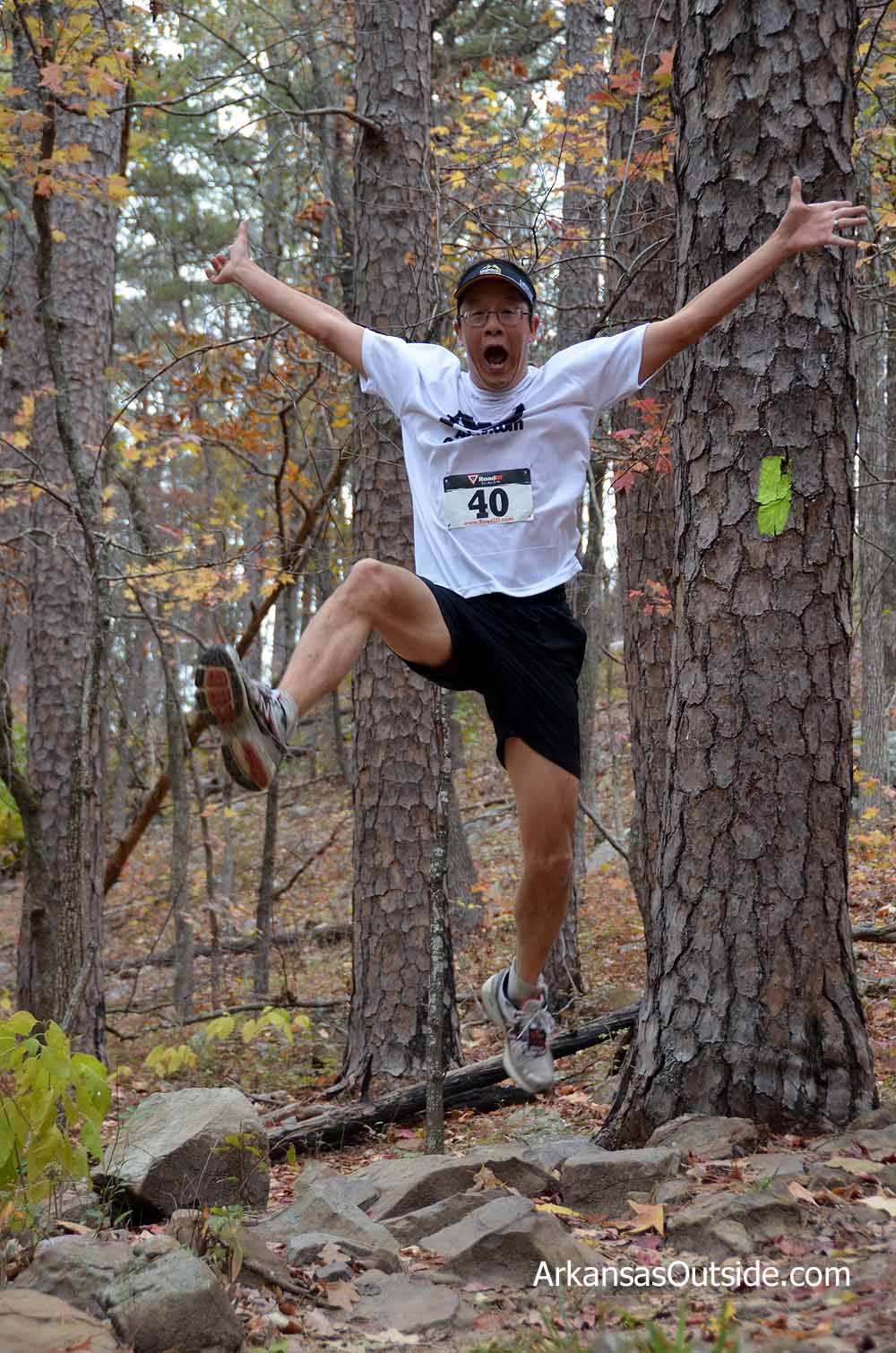 From the start line runners crossed Stuckey Field, the big parking area across Hwy 300 from the park, along a wide gravel road then under the highway and across a small bridge before using a small portion of the Kingfisher Trail to arrive at the big recreational field in the park. It was then an open field run along the treeline, past the playground, along a little more of the Kingfisher Trail before one more open field run to the Little Maumelle River and the old Base Trail entrance.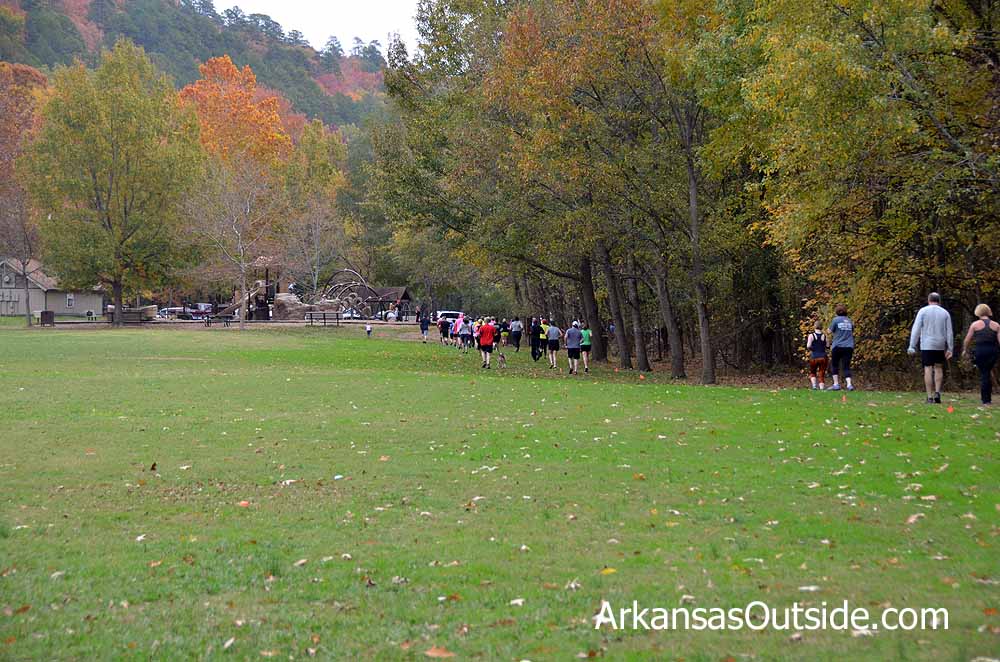 Runners were now officially on the trail following the original Base Trail which is riddled with large tree roots, then up a short hill and on to the Trail that is now called the Base Trail. Following the Base Trail counter-clockwise, runners crossed very rocky terrain as they soon passed the East Summit Trail and to the newest section of the Base Trail north and west of the mountain. Some runners came with friends or family, some brought their four-legged family.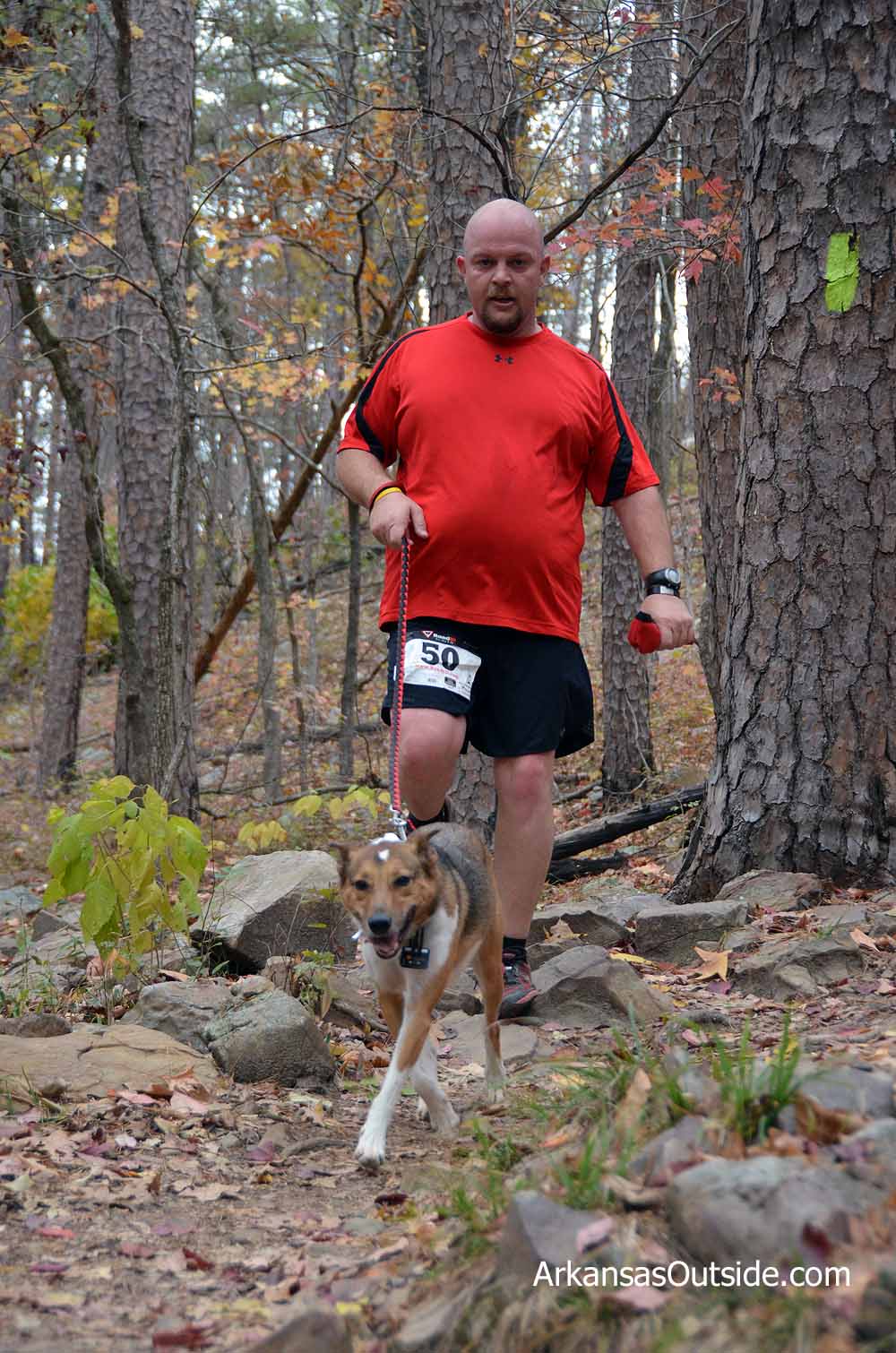 As runners neared the finish they were directed down a temporary trail into the day use area of the park where they were guided through a chute to the finish at the park pavilion. From the smiles you would think these guys love running over rocks and roots.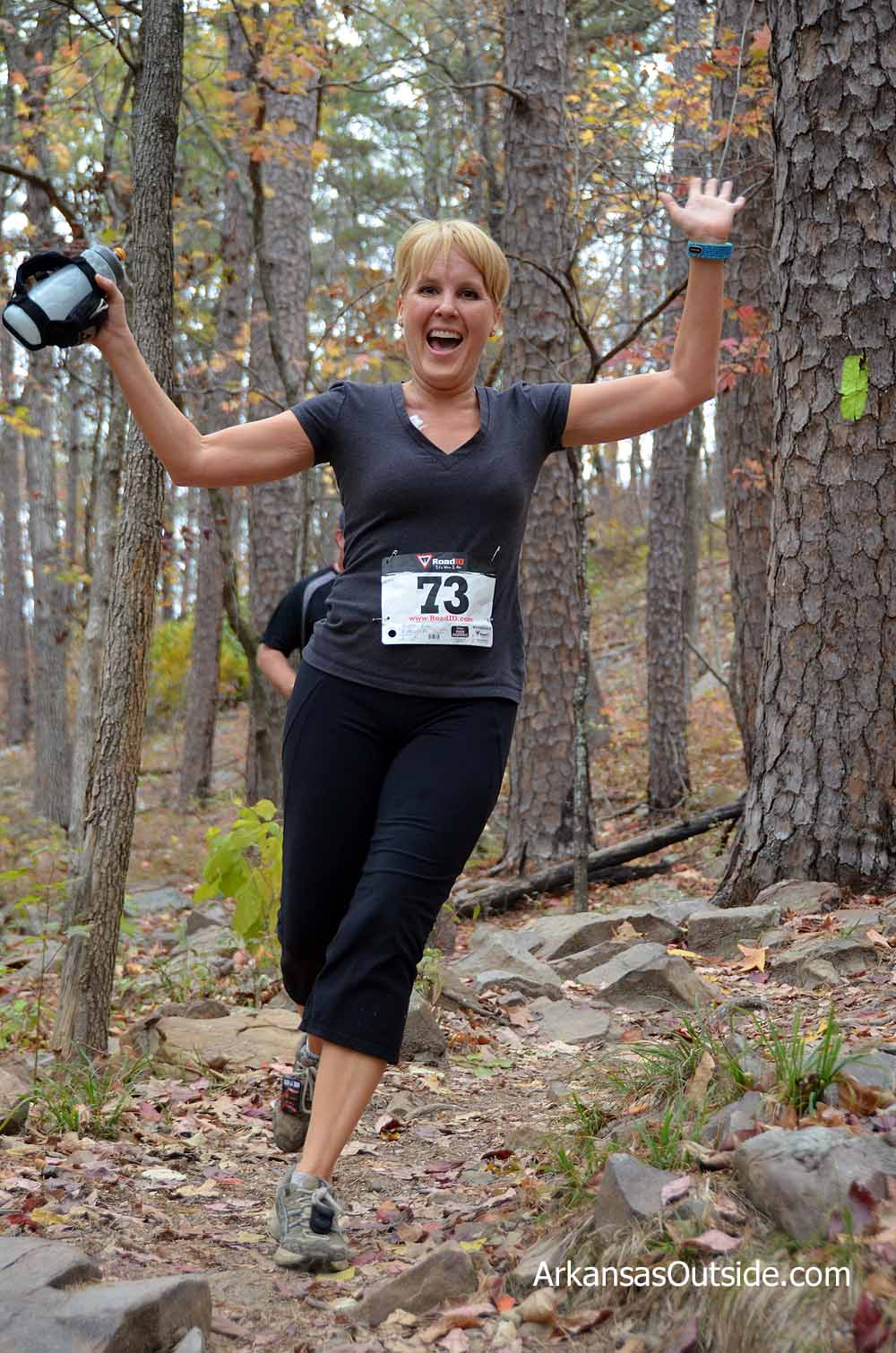 The Finish
The first runner, Christopher Dunbar, came through the finish at 22 minutes 11 seconds with 2nd place finisher Jake Anderson about 40 seconds behind. Top female finisher Krissa Thoreson finished just over 6 minutes after Christopher. By the time the race clock struck 1 hour, all our runners were at the finish area. Thanks to RoadID and Go! Running, we had some gifts to go along with the beautiful trophies donated by Partners for Pinnacle volunteer Ken.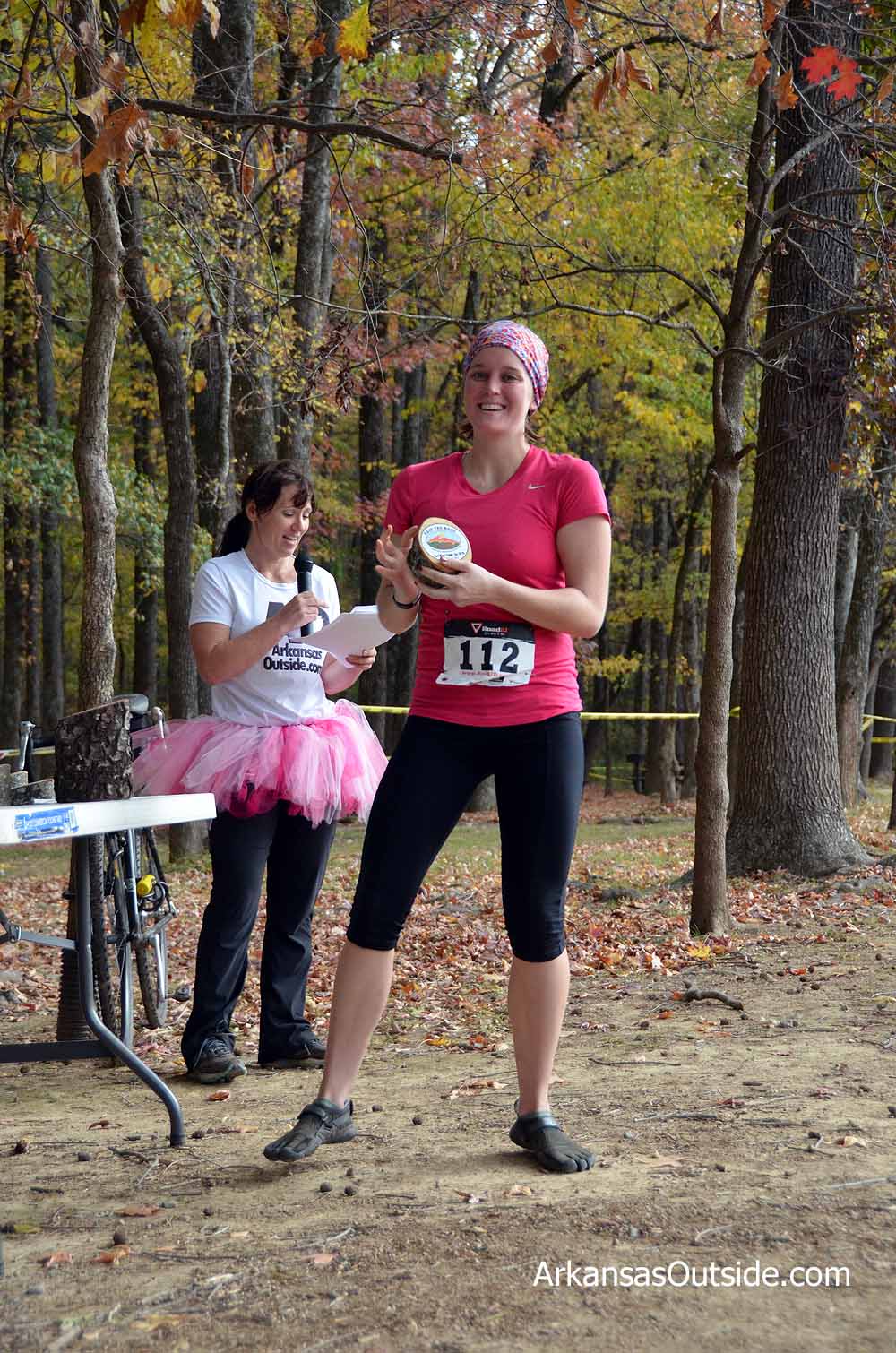 Volunteers make these events happen so I had a whole crew of Partners for Pinnacle board members and others who volunteered like Cassandra from Floating Lotus. Dr. Ben Pittman, DC was on hand with his chiropractic skills after the run. Our PFP crew laid out food and drink for the runners, volunteer Gabe organized the trophies and helped hand them out. Volunteers from UALR's Chancellors Leadership Corp and Central Arkansas Master Naturalists took care of the water station mid course, giving course directions and helping us clean up. We had a total of 19 volunteers giving 62 hours of time on race day. If you'd like to volunteer for the park you can get involved through Partners for Pinnacle or contact Cale Davenport the Pinnacle Mountain State Park volunteer coordinator at the park . 501-868-5806
As a reminder, the Base Trail is a wonderful place to run, hike and enjoy the woods without having to climb the mountain. Of course it can also be used as a warm up to the climb. Please take some time to enjoy the park safely. Also get the next race in the series on your calendar. A slightly longer but less technical race, Mount Nebo Bench Trail Run.
Almost 600 photos from the race are available on our Facebook Page for you to tag, share and download.