**Photos from the 2022 Race the Base are available for free download HERE.**
Saturday November 4, 2023 9 a.m.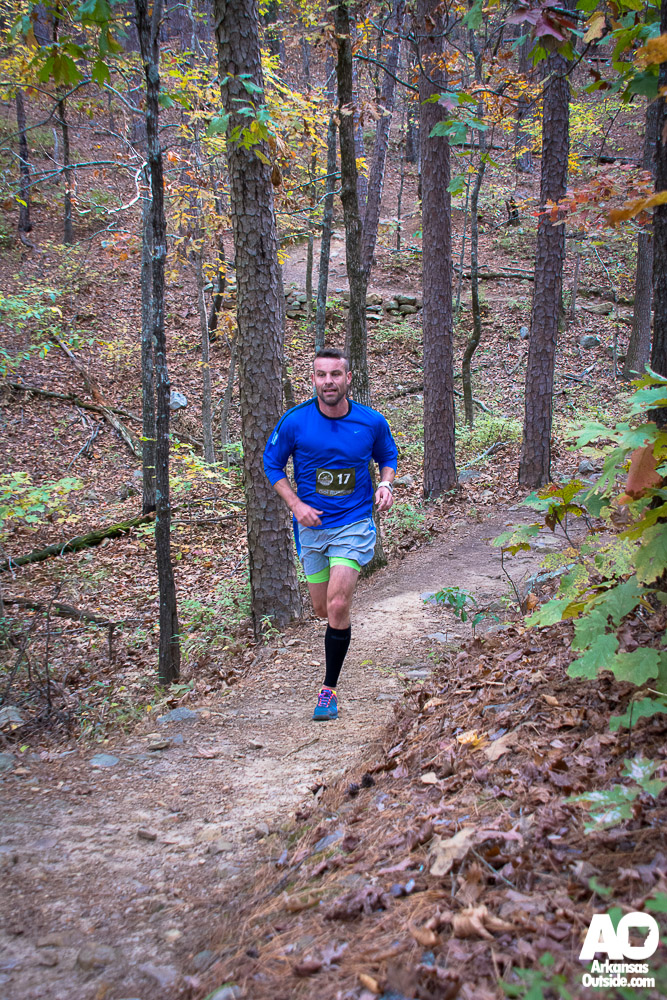 Event Summary:
Race the Base Trail Run Saturday 11-4-2023 9 a.m.

Race the Base is a 4 mile Trail Run with a mixture of paved trail, gravel road, and technical single track. This race is a fundraiser for Partners for Pinnacle, working to keep Pinnacle Mountain State Park accessible and enjoyable for generations to come.
---
Event Details for Race The Base Trail Run :
Race parking and the start will be in Stuckey Field at Barrett Rd and HWY 300 opposite the Pinnacle Mountain State Park day-use area entrance. The start time for Race the Base is 9 a.m.
Course: The course begins on gravel road for approximately .5 mi, switches to paved trail for .75 mi, and the remaining 2.75 miles is technical single track with a little surprise thrown in.
Awards will be 3 deep for: Overall M/F, under 19 M/F, 20-29 M/F, 30-39 M/F, 40-49 M/F, 50-59 M/F and 60+ M/F
Awards will be 3 deep for:
Overall M/F, under 19 M/F, 20-29 M/F, 30-39 M/F, 40-49 M/F, 50-59 M/F and 60+ M/F
Race fee online registration is $35.00 before midnight 11-2-23
Race Day if available registration is $40
T-Shirts for Race the Base: Long Sleeve Technical T-shirts guaranteed to preregistered runners.  A limited number of shirts will be available for other runners registering on race day on a first-come, first-served basis.
Watch our Facebook page for updates, news, fun stuff.
 The Kingfisher Kids Run
We'll have a free kids run on the 3/4 mile paved Kingfisher Trail at approximately 10:00 a.m. No fee, no frills, just good fun with the kiddos. All ages under 12 welcome including stroller kids. Parents are welcomed to run/walk with their kids, too
Sign up NOW! Registration is open at Run Sign Up
This race has a 250 runner cap. Once 200 runners have registered the race will close. If 250 runners are registered prior to race day, there will be no race day registrations.
Pre-race packet pickup for Race the Base only will be on Friday, November 3rd at Fleet Feet 11525 Cantrell Rd from 4 p.m. – 6 p.m.
Race Day pickup at Stucky Field will begin at 8 a.m
Results will be posted at www.macsrts.com and http://www.arkansasoutside.com/ao-sponsored-events/race-the-base/
To encourage social distancing and to allow participants to depart at any time, instead of a full awards ceremony this year, we will have a backdrop for pictures and will try to give awards as winners finish.
Post Race Refreshments will be available