The tents were going up by 7:30 Sunday morning along the south side of Riverfront Drive in North Little Rock. It wasn't hot yet but the humidity hanging in the air was thick enough be cut with a knife. The rain showers on Saturday afternoon didn't help and like last year, the Star Spangled Classic Criterium was going to be a scorcher.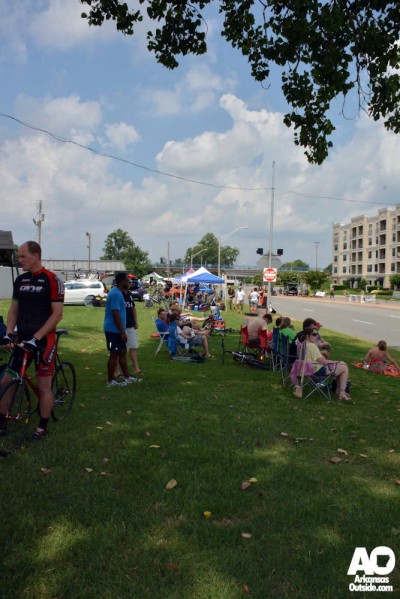 Various team tents were up plus sponsor tents from Shimano and Riverside Subaru, who showed up with cars to show off and podium girls. A flatbed trailer was set up for officials and the emcee. Speakers were strung along behind the tents for music and color commentary. In anticipation of the heat a water table was available for all to use. The city of North Little Rock had partitioned off the course and with the help of Teen Challenge, had everything secure. Cyclists were rolling through the course warming up and creating their own breeze to keep cool. Just a little after 8am they were ready to race.
The first race was the "citizens race." Designed for those who haven't done a criterium (crit) before, this was only 20 minutes long. I will probably spend the next year wishing I had joined in on this fun. The storytelling is always more enjoyable from a behind-the-handlebars perspective.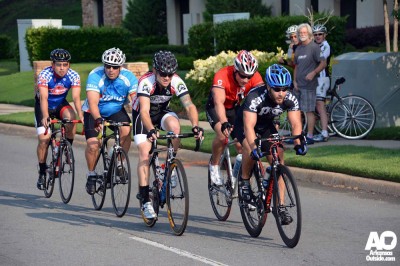 Next up was the men's category 3 and 4 along with the women's cat 1,2 and 3,  it was a 50 minute race that included a lot of strong team play by Team CARVE. Team race strategies come in to play when the breakaways happen and this race gave us some thrills. After a few early lead outs, a three man break seemed to hold. Since a CARVE rider was with the leaders the CARVE team held the group back. In the end with only two left in the break it was a final sprint for first. Unfortunately, none of the cat 1,2,3 women were racing.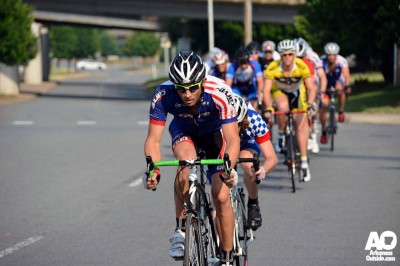 The 40 minute men's cat 4 and 5 plus women's cat 4 race was up next. Chrissy Fox hung in there for 1st for the women's race with Krista Anderson coming in second. Without a strong breakaway the racers were resigned to finish with a wide-open sprint. These are fun to watch as they take a combination of great bike handling, knowing when to go hard and some strong legs and lungs. The homestretch is wild with fans cheering, yelling, and bringing out the noisemakers. You gotta love a lot of cowbell ringing and vuvuzela blowing.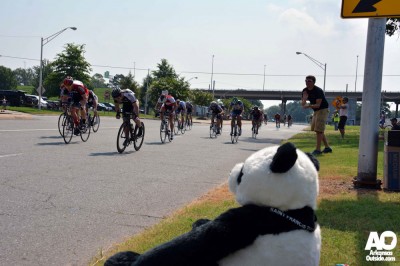 It was getting pretty hot out by the time the men's cat 1,2,3 race started. Hot Dog Mike was there slinging dogs for the fans and the racers. Team SimplexQ had a strong group in the tough fought race. In the end it was Hunter East of Team OKC Velo finishing first with Nolan Reed of Team SimplexQ in 2nd, Andrew Moffitt of Team CARVE in 3rd and Peter Beland of Boston Mountain Cyclists in 4th.
These events are always made better when kids races are included. The kids are nervous and excited when they hit the starting line. Some are very intense and some are distracted. Once race starter Steve Shepard yelled "GO!", they were off. It is great to witness the future of cycling get excited about competing and being included in the sport.
About this time a group of riders from the JOMO-NOLA ride came through to watch some of the racing. They were in the middle of a ride from Joplin, MO to New Orleans, LA to raise $150,000 for people affected by the tornado's in Joplin, Hurricane Katrina in New Orleans and Hurricane Sandy in New York/New Jersey. Visit their website to see how you can help.
The final race of the day was the masters race. Don't let this fool you as it did me the first time I jumped into a road race. These guys are not going to be going around the course talking about their grand-kids, they are serious. Many of them have raced at the professional level and know every trick in the book. A lot can be learned by watching these guys race. Again, a three man breakaway turned into a two man but his time after 50 minutes of racing on the one mile course, the leaders had almost lapped and caught up to the main pack.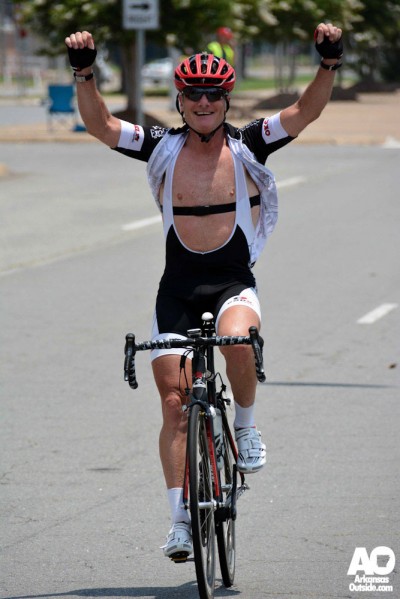 It really was a wonderfully festive event. The Arkansas Outside tent was next to the SimplexQ tent which led to some shenanigans during the races that included various noisemakers and a stuffed panda named Pandamonium. The criteriums in Burns Park should be back next year and the season will probably finish off with the Star Spangled Classic again. It doesn't matter if you race bikes or ride bikes or don't even own a bike, come on out and cheer on your favorite rider. It's great fun. See you next year.
Check our Facebook Page for hundreds of photos. We'll post a link to results once they are available.
For more on criterium racing including a one lap video see this article. Also, spectator friendly bike racing will be back in a couple of months with the Arkansas Super-Prestige Cyclocross Championship Series.