Yep, it rained. It poured. But that didn't stop folks from hopping on their bikes and taking on Arkansas's first Bike & Hike last weekend.
The event was a chance to enjoy the outdoors but also served another purpose: to raise awareness about ALS, a rare disease that damages the nerves that control voluntary muscle movement. There are a lot of unknowns about it. No one knows the cause. There is no cure.
Bringing Attention to ALS (Amyotrophic lateral sclerosis)
Nationally, the ALS Foundation has deemed 2012 the year to bring attention to the condition. Folks like former New Orleans Saints player Steve Gleason –who is now battling ALS– are active in spreading the word.
Bike & Hike event coordinator Tim Vahsholtz, an avid cyclist whose father Les was diagnosed with ALS in January, spearheaded the new fundraiser.  "Since there seemed to be so many cycling tours and 5k's, I felt the need to do something different," he said. "One of my cycling friends suggested a hiking fundraiser event, and while considering that idea, dreamed up the idea to both bike and hike. My experience working event logistics during triathlons while at Orbea gave me some pointers on how to make it work.  I wanted it to be an event anyone could train to do during the course of the summer."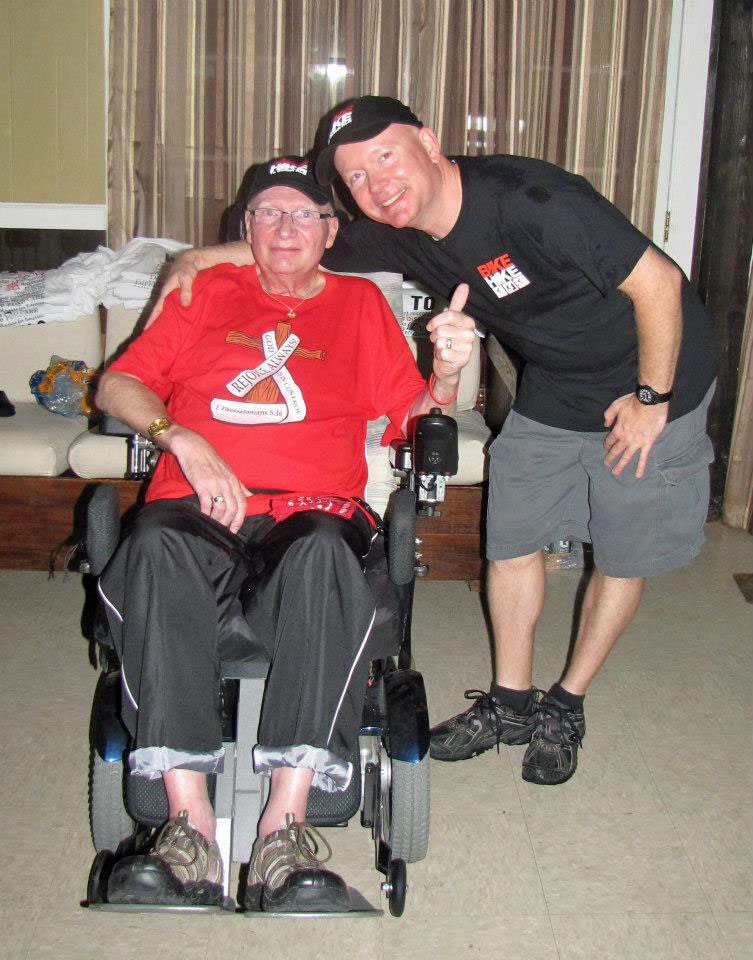 A Wet Event
The biking portion had riders starting in downtown NLR at the River Trail Station (Fike's Bikes, the bike rental shop- an inviting spot that hosts great live music too). The start time was at 7 a.m. and riders started filtering in early to check in and get ready. It was dark and raining and two popular topics involved the weather ( "What's the radar look like?') and the forecast for the event ( "Are we still riding?" ).
As to the atmosphere of the rainy debut: "I wasn't sure what to expect," said Vahsholtz. "At 6:10 am on Saturday, it was raining. I was nervous, and I wasn't sure who would show up!  We kept watching the weather, hoping the rain would quit. 133 had registered as of Friday night, and by 6:45 am Saturday, about 75 braved the weather and were set to go."
Vahsholtz's father had traveled from Kansas City to be at the event and sounded an air horn to signal the start of the ride.
From the starting line, riders biked along the River Trail, over the Big Dam Bridge, over Two Rivers Bridge, through Two Rivers Park to Maumelle Park then to Pinnacle Mountain State Park via Pinnacle Valley Road. Riders then hiked Pinnacle and biked back the same route to the start/finish after party.  All in all around 20 miles of cycling each way, and around a 3 mile hike.
As to picking the course, "At first, it was all about logistics," Vahsholtz said. "Since we're lucky to have such a fantastic river trail system that leads out to Pinnacle Mountain, it seemed like enough of a challenge and yet be accessible to offer rest stops and support."
Of note, the hiking portion was changed a bit (to the Base Trail)  due to the weather though some hard core souls still took on the original route to the peak of Pinnacle despite the slick rocks.
"Aside from the concern for everyone's safety riding slick roads and climbing slick rocks, we felt like the event went extremely well," Vahsholtz said. "The comments I heard at the finish line were all quite positive. It seems like everyone is ready to do it again next year."
Vahsholtz said he has already penciled in a date for a 2013 event.
"The rush of seeing an event like this unfold that was an idea six months ago is quite thrilling," he said. "Especially this one. Bike & Hike for ALS is in honor of my dad, and brings together people affected by the disease. I expect this will be a perennial event."
Personal Connections
One of the most surprising things Vahsholtz experienced during the event was the number of people that have a personal connection to someone that is, or has, battled ALS.  Among them was Marvin Winston, who was riding the course with his son Caleb in honor of his best friend Scot. "He was the guy that would do anything for you", said Winston about his friend. "He was a great dad to his two daughters and a wonderful husband to his wife. He passed away just two weeks before the ride after a 6 year battle with ALS."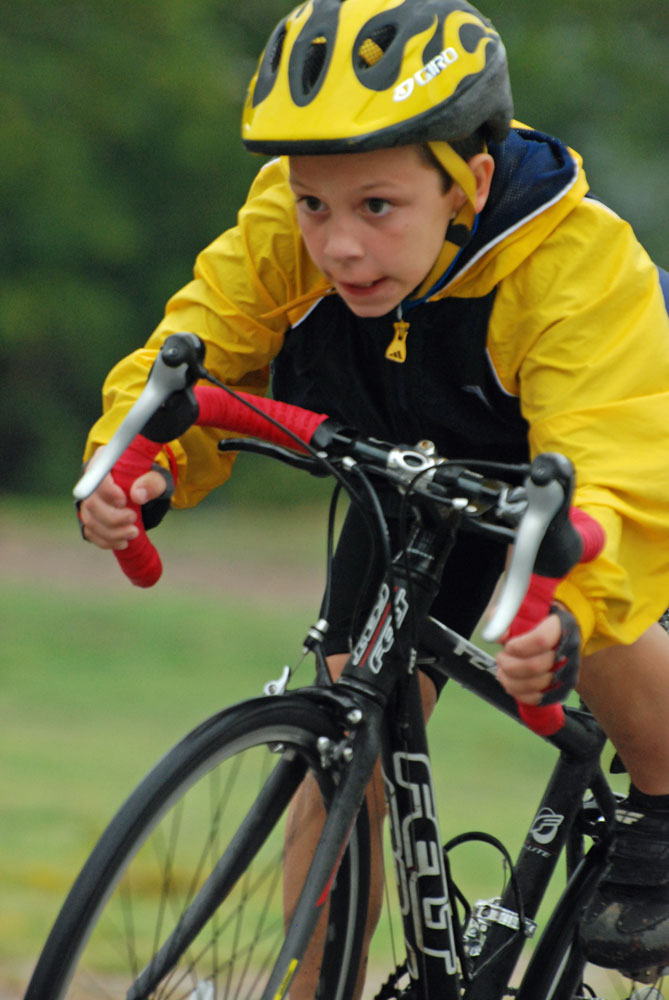 Experiencing the course with his son was "an unexpected joy."  "When I went to wake him up Saturday morning, I expected he wouldn't want to ride in the rain," said Winston. "He jumped right out of bed and wanted to do this for Mr. Scot as he told me. We had a nice ride together and were able to have some quality father/son time. It was probably the most memorable ride I've ever had with one of my boys."
Winston had done the MS 150 the previous weekend that had aggravated a previous knee injury. He got a cortisone shot in his knee the night before Bike & Hike so he wouldn't have to miss the event.
"The rain added something to the ride," said Winston. "Maybe a little suffering. It made me think about Scot and his family and how they have suffered with ALS."
"I think the hills around Pinnacle are my favorite," he said about the course. "Hills are always a challenge for me. Hiking in the rain was also fun with Caleb- he splashed in every puddle he could find."
Let's do this again…
Overall, the day seemed to signal overwhelming support of the Bike & Hike idea.
Also on the planning team was Monty Cole, logistics coordinator, and Andrea Welch, Executive Director of ALS Association of Arkansas.
According to Vahsholtz, the support the first time event received was inspiring.
"I was amazed at how some of my closest friends really came through and helped me put on this event," he said. "Without them, this would not have happened…I'd like to thank every single person who participated, registered, told their friends about it, encouraged us, volunteered, donated and just wished us well."
So what did Vahsholtz's father think of the day? "He enjoyed himself," he said. "I know that a lot of people came up to him and said hello. I explained to him that this event will live on and foster his desire to learn more about ALS and help others down the road.  His ALS is progressing quickly, and I wanted this to happen this year (as opposed to next), so he could be here and see the community of support, and see the seeds of a perennial fundraiser event."
For more details on Bike & Hike, check out the their facebook page at http://www.facebook.com/BikeHikeForAls
(note: photos by Andrea Welch, Tim Vahsholtz and Stephen Forrest, respectively)
Make sure you sign up for the 2nd Annual Bike & Hike for ALS.