(from media release)
Ozark cycling hotspot the newest home to Rapha's latest pop-up retail and cafe space
Bentonville, Arkansas – a cultural gem of the South, and burgeoning cycling hotspot in the Ozark Plateau is the latest home for a Rapha pop-up retail space. Opening its doors on April 16th, 2018 at 110 NW 2nd St., this latest Rapha Pop-Up celebrates the incredible multi-discipline riding opportunities and local cycling infrastructure in Bentonville, continuing the longstanding Rapha tradition of creating retail spaces in compelling cycling environments. And like Rapha's Miami and Los Angeles Pop-Up spaces opened previously, the Bentonville space will feature the latest Rapha cycling apparel collections, events, coffee, and weekly community and club rides.
Despite boasting some of the highest peaks outside the Rockies and the Appalachians, the Ozark Mountains exhibit huge expanses of rich, green forest and rolling hills which hide a landscape of narrow, steep-sided gorges and crystal clear lakes – largely uncharted territory for all but those cyclists in the know. The new Rapha Pop-Up Clubhouse in downtown Bentonville is the perfect base from which to explore these undiscovered hills, putting the region firmly on the map as a bucket-list destination for any discerning cyclist.
The Rapha Bentonville Pop-Up Clubhouse will serve as the hub for great local rides, events, and programming, including the Rapha Prestige Ozark Plateau on May 12. Rapha Prestige events are a hallmark of the Rapha brand by offering a challenging but ultimately rewarding day on the bike. These events are full of good-spirit, camaraderie, and celebration. Team registration for the Rapha Prestige Ozark Plateau is now closed, however during the Bentonville Prestige weekend, there will be an additional event that riders can participate in called the Ozark Gravel Fondo. Cyclists will tackle a 55-mile route with over 3000 feet of climbing.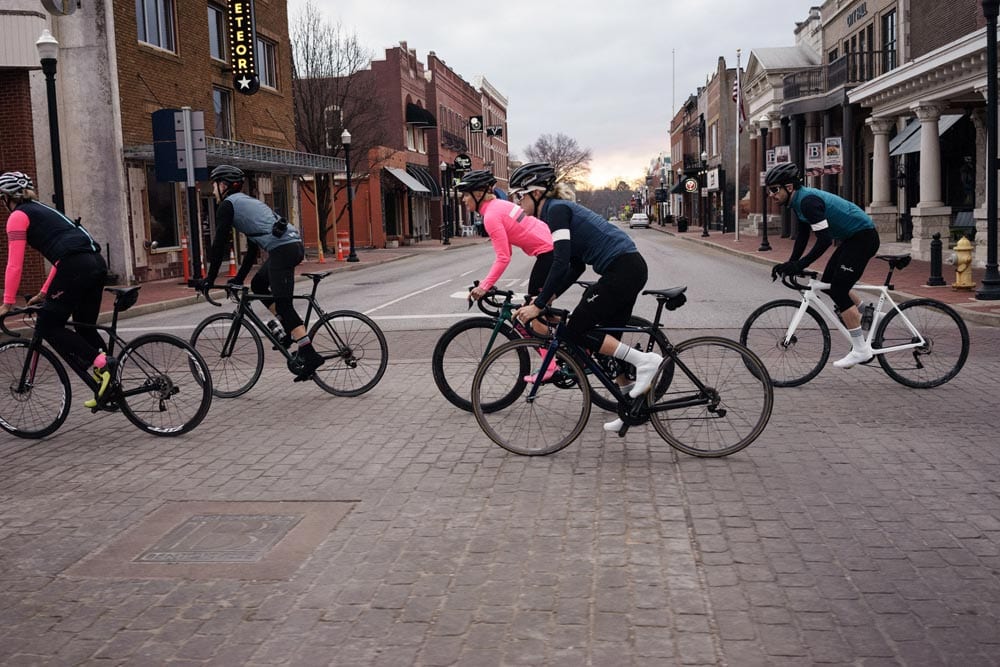 The Rapha Bentonville Pop-Up Clubhouse will be open to the public from 8 am until 6 pm, Monday through Saturday, and from 8 am until 5 pm on Sunday, starting April 16 and continuing for several weeks.
Additional Rapha Bentonville Pop-Up Clubhouse details can be found here.
Rapha is excited to join the cycling community in the heart of the Ozark plateau with a pop-up store in downtown Bentonville, offering a full range of cycling apparel, gourmet coffee and food, race viewings and group rides — some on well-worn routes and some further afield.
ABOUT RAPHA
Rapha was established in 2004 to address a need for stylish, high performance cycling clothing. It now provides products for every road cyclist, from urban commuters to world class professional teams and continues to push the boundaries of innovation in cyclewear. Alongside this, Rapha has cultivated a global community of passionate cyclists who come together as members of the Rapha Cycling Club (RCC), the largest club of its kind in the World. Rapha's direct to consumer model and unique brand values come to life in its travel offering and in the global network of Clubhouses that combine retail, a cafe and cycling culture under the same roof.