Eating well and fueling properly while backpacking can be challenging if you're hiking longer distances with elevation and burning a lot of calories. While I am always a fan of the convenience of eating in the bag dehydrated meals that only require boiling water, a few minutes of waiting for rehydration, and a fork, sometimes it's nice to make a backcountry meal with fresh ingredients.
Over the past couple of years, my friend Tina and I have been backpacking sections of the Ozark Highlands Trail together. We have shared many mountaintop snacks and campfire meals. On a recent trek, we ended our hiking day at an established primitive campsite near the trail and not far from a forest road. We usually prefer to camp creekside; however, we were camping not long after days of heavy rain so camping higher provided a better opportunity for dry firewood. It was a clear, sunny afternoon when we stopped to make camp, but the temperature was going to drop quickly as the sunset. We made sure to have a good fire going in the large established campfire ring before doing anything else. We took turns tending to the fire while the other set up their tent and started boiling water in preparation for dinner.
Tina's refuel after a 10-mile hike with over 1600ft of elevation gain was a healthy pasta and salmon dinner. She had soba noodles, a foil packet of salmon, to-go packs of honey and soy sauce, and she carried her own fresh garlic and ginger to slice up for added flavor.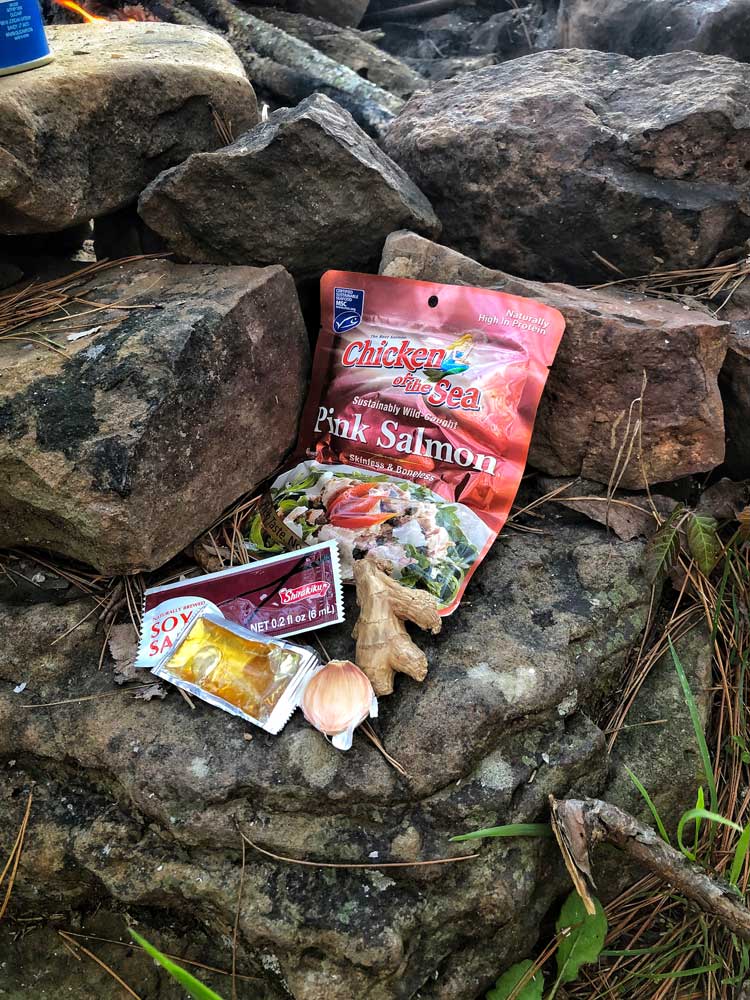 Soba noodles only require 4-5 minutes of boiling so they don't take a lot of time to prepare. It helps to have a good ultralight stove like her MSR Pocket Rocket to get water boiling quickly.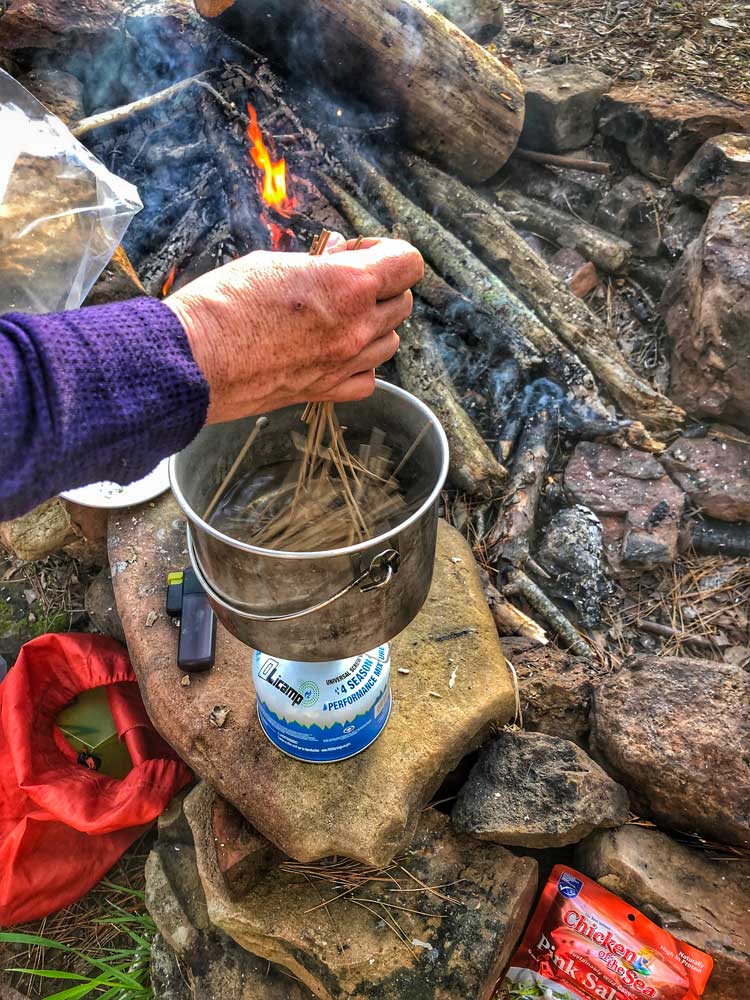 Foil packets of tuna, chicken, or salmon are staples on our camping and backpacking trips. They are light in weight, provide good protein for muscle recovery, and the tuna comes in a lot of great flavors to jazz it up.
While the noodles were boiling, Tina sliced and minced the fresh garlic and ginger she packed in.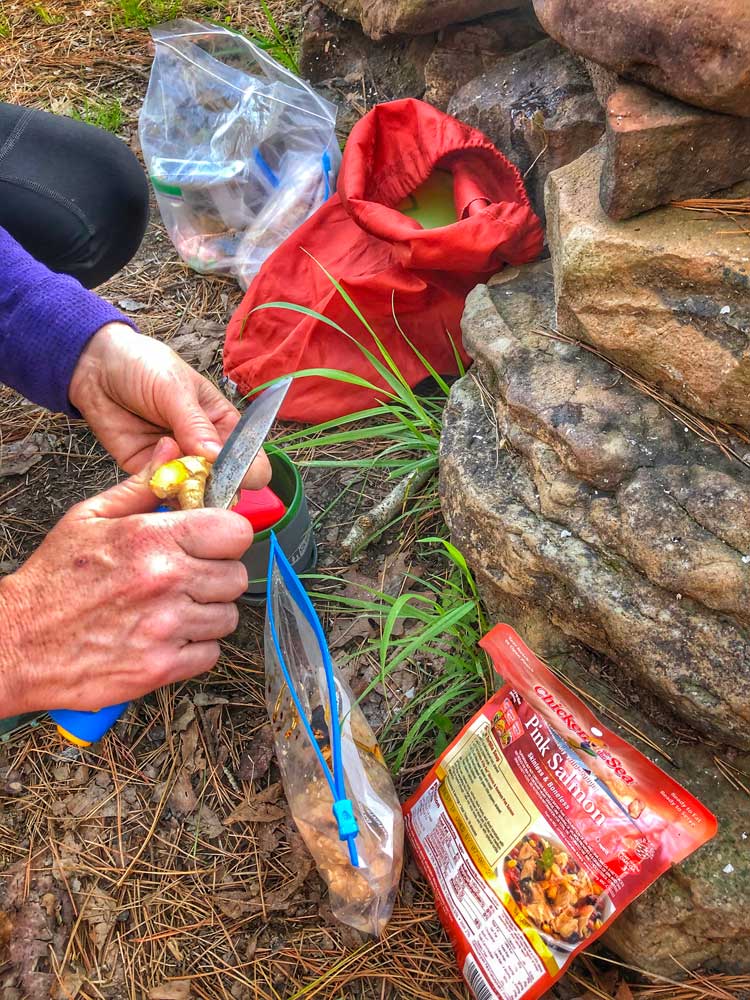 As soon as the noodles were cooked and drained, she added the noodles, garlic, ginger, salmon, and the packets of honey and soy sauce to a baggie and massaged it to marry the ingredients.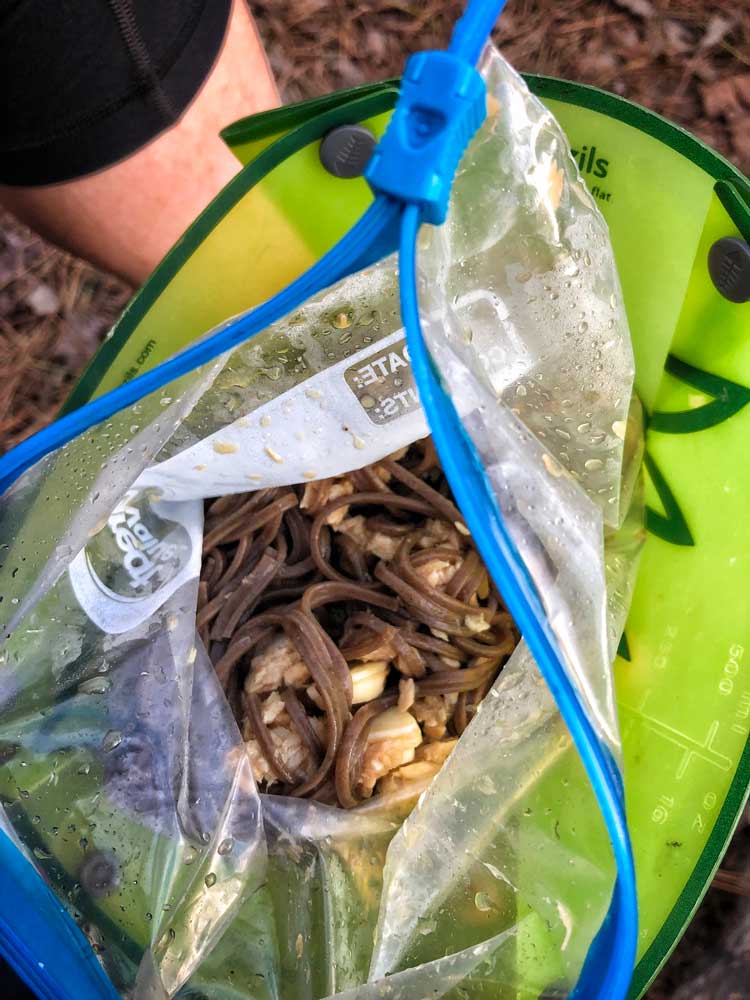 We are both fans of the Fozzils flat bowls. Even if we are not eating directly out of them, we often use them to hold whatever container our meal is in to make it easier to hold. I really like the snap closures on my set of Fozzils versus some I've owned previously that have tabs to hold them in place. Being able to lay the plate or bowl out flat makes for easy cleaning, plus, it's really simple to slide it in even when your full pack is already full.
Stay tuned for more Refuel: meals from the trail. Coming up we'll talk about snacks. We love snacks. Snacks are essential on long days of hiking or biking to stay energized.  Do you love beef jerky, but hate the cost? We'll test Tina's homemade jerky recipe.
Previous Refuel Ideas:
#Refuel #AROutside #ThisIsMyArkansas